The SCG Tour returns to action this weekend with another Team Constructed Open in Philadelphia, Pennsylvania! SCG Richmond showed off all three fresh looking formats last weekend and will act as a guide to those preparing for Philly.
In Standard, Azorius Control and Temur Reclamation were the clear winners thanks to some Theros Beyond Death standouts like Dream Trawler, Elspeth Conquers Death, Shatter the Sky, Uro, Titan of Nature's Wrath, Thassa's Intervention, and Storm's Wrath. While Mono-Red Aggro and Simic Ramp were also popular, both decks came up short on Day 2 of #SCGRICH and looked to struggle against the top finishers. The story to watch this weekend will be what deck preys on Azorius Control and Temur Reclamation or will we see the top decks adjust their builds for these matchups?
For Pioneer, Dimir Inverter was absolutely dominant. All four Pioneer players in the Top 4 of #SCGRICH played Dimir Inverter and the deck took second-place in the Pioneer Classic as well. Dimir Inverter got players' attention late last week, giving those looking to play or beat the deck little time to prepare. With it being the known best deck coming into this weekend, can Dimir Inverter be beat or will players make changes in the list to be more acclimated for the mirror? Mono-Red Aggro and Azorius Spirits put up decent numbers in Richmond while Five-Color Niv-Mizzet took down the Classic, so all hope is not lost.
Lastly, Amulet Titan stole the show in Modern with a deck rework that maximized the power of Dryad of the Ilysian Grove. The powerful ramp/combo/control hybrid deck took up 35 percent of the Day 2 Modern decks at #SCGRICH, but a couple archetypes were able to punish the most-played deck. Eli Kassis' winning Dimir Whirza build went undefeated against Amulet Titan on the weekend. Combining the combo of Thopter Foundry/Sword of the Meek in a Dimir control shell with the Mystic Sanctuary/Cryptic Command package allowed Kassis to disrupt, control, and finish games efficiently. Aaron Barich Golgari Yawgmoth deck also cleaned up on Amulet Titan as she followed up her Knoxville Open title with a Top 4 finish in Richmond.
Season One Points Race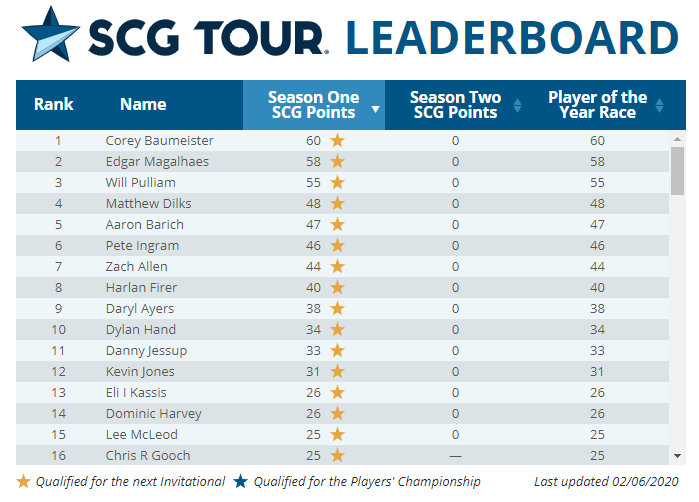 It only took just over a month of regularly attending SCG Tour events before Corey Baumeister took over the #1 spot in the Season One points race. To no surprise, the top three players all have made the elimination rounds of the first three events, but Baumeister's win in Richmond and Top 4 finishes in Columbus and Knoxville push him ahead of Edgar Magalhães and Will Pulliam. Matt Dilks is next in line with two losses in the finals of the the Team Opens and only a Top 16 finish in Knoxville after losing his win-and-in match against Pulliam.
Aaron Barich, Pete Ingram, Zach Allen, and Harlan Firer follow, all with Open wins on the year. The bottom half of the Top 16 is filled with familiar faces as Dylan Hand, Kevin Jones, Eli Kassis, and Dom Harvey all move up after strong finishes in Richmond. Lee McLeod jumps into the Top 16 with another consistent finish, tying with Chris Gooch after his runner-up finish in Knoxville.
Many of the top names will be jumpable this weekend as Baumeister, Magalhães, Ingram, Ayers, and Kassis will be playing in Players Tour Phoenix this weekend. Will Dilks and Pulliam be able to overtake Baumeister and Magalhães or will other players make big moves with a strong finish in Philadelphia?
SCG Philadelphia Team Spotlights
Some of the SCG Tour regulars will be in Phoenix, but plenty of strong squads will be battling in Philly. Check out some of the teams that will make the Teams to Watch leaderboard on coverage.
Will Pulliam – Aiden Brier – Matt Dilks
Matt Dilks
Will Pulliam and Matt Dilks have been crushing this season alongside Edgar Magalhães, but this weekend they will have Aiden Brier filling in for Magalhães as he plays in Phoenix. Dilks and Pulliam already have two runner-up finishes in Team Constructed Opens this year and Pulliam made Top 8 of the Knoxville Modern Open between Columbus and Richmond. Brier has big shoes to fill, but the 16-year-old already has two Open trophies of his own. Pulliam and Dilks are staying in Standard and Modern, respectively, leaving Pioneer to the youngster.
Dylan Hand – Casey Lancaster – Dom Harvey
Dom Harvey
Dylan Hand and Dom Harvey are coming off Top 4 finishes with different squads in Richmond, but are joining forces with Casey Lancaster this weekend. Hand played Jund Sacrifice in Standard last weekend, but noted the deck is past its prime. Harvey stuck to Amulet Titan in Modern and delivered, but will most likely have to tweak the deck or sideboard to prepare for the deck's counters from Richmond. Lancaster used to be a mainstay in the Legacy seat, but has recently embraced Mono-Red strategies and will be taking on the Pioneer responsibilities.
Zach Allen – Dan Jessup – Harlan Firer
Zach Allen
The winning team from SCG Columbus returns with its sights set on another set of trophies. Harlan Firer made the Top 4 in Richmond with Kevin Jones and Dom Harvey while Dan Jessup finished in tenth place with his brother Andrew and Daryl Ayers. Zach Allen didn't make Day 2 last weekend, but made up for it with a Standard Classic win and will be taking on Standard for this event, leaving Pioneer for Jessup and Modern for Firer.
Aaron Barich – Ross Merriam – Becky Adlman
Aaron Barich is coming off a win in Knoxville and a Top 4 in Richmond in Modern, but will be swapping over to the Standard seat this weekend as Becky Adlman takes over Modern and Ross Merriam slots into the Pioneer seat. Merriam's squad took fifth place in Richmond with him playing Mono-Red Aggro in Pioneer. Adlman has three Top 8s with Primeval Titan, so you can count on her putting Prime Time onto the battlefield one way or another.
Jeremy Bertarioni – Chris Barone – Zan Syed
Chris Barone
2019 SCG Tour Player of the Year Zan Syed squads up with 2019 Season Two Invitational champion Chris Barone and 2019 Players' Championship competitor Jeremy Bertarioni. Syed will be back in Modern after finishing in 20th on Heliod Company with Dylan Donegan and Noah Walker last weekend. Barone will be looking to find another big finish after his Invi win and rough Players' Championship run, but will be playing Pioneer – the format he showed great talent for at the Season Two Invitational. Bertarioni will be playing Standard with a Lotus Box build of a top deck.
10 More Teams to Watch
Gary Troy – Andrew Jessup – Joe Demestrio
Evan Petre – Ethan Gaieski – Brian Rogers
Zack Kanner – Zac Hill – Will Courson
Abraham Stein – AJ Kerrigan – Evan Bucholz
Lee McLeod – Chris Rogers – Chris Castro-Rappl
Anneliese Faustino – Andrew Hung – Emily Zhang
Nick Stetter – Justin Miller – Drew Miles
Jim Davis – Nicole Callahan – Jason Imperiale
Jonathan Blank – Russell Lee – Brad Bonin
Philadelphia Food Options
I'm going to be real with you – food in the King of Prussia area is pretty rough. The Valley Forge Casino and Resort isn't really close to anything other than the tavern inside the hotel and the woefully below average food court (though it at least has a Dunkin'). Most options are a short trip to the mall where you can find the usual fare.
Choolaah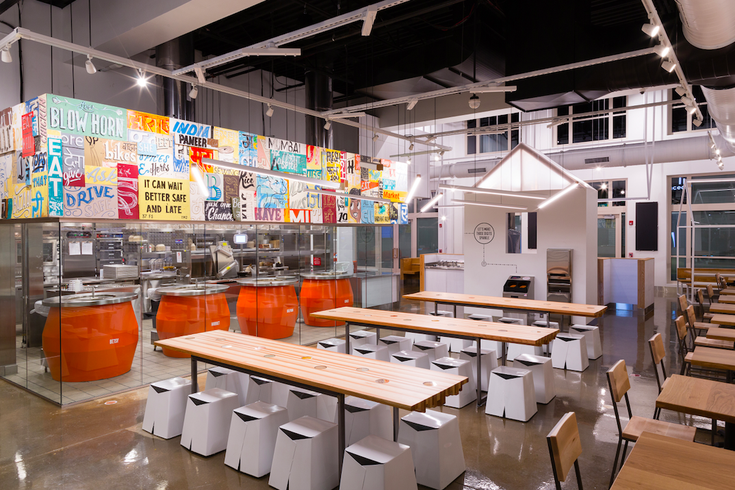 Solid Indian BBQ mixed with a Chipotle-style of ordering and service. Pick a bowl, add your protein (or don't), and go from there. One of the many decent lunch options at the mall has plenty of offerings to feed your whole party. Check out the menu online.
Chiangmai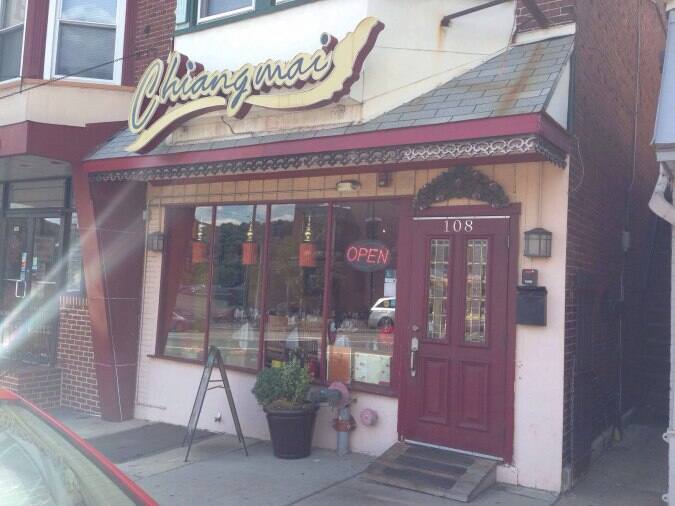 This Thai recommendation comes from SCG Organized Play rep and fellow foodie Riki Hayashi, so you know it's great. It's a bit farther than the mall, so prepare for a trip, but it comes as Riki's most recommended dinner option for #SCGPHILLY. Check out the menu online.
Shake Shack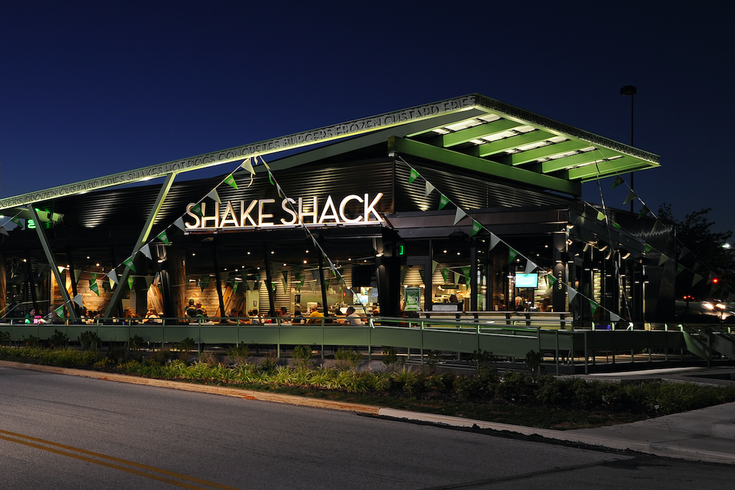 Despite it being inferior to In-N-Out Burger in every possible way (CEDitor's Note: This is easily one of Nick's worst takes), Shake Shack does a fine job at offering up a good burger and a shake. This is a quick and comfortable lunch/light dinner option for #SCGPHILLY and I usually cap an early Friday night with it. My go-to burger is the SmokeShack (make it a double) and a black and white shake. Check out the menu online.
Coverage
Join Cedric Phillips, Patrick Sullivan, Ryan Overturf, Todd Anderson, myself, and the rest of the SCG Tour coverage team for all the action starting at 10 a.m. ET on Saturday and Sunday at twitch.tv/starcitygames!