Wizards of the Coast (WotC) released their MTG Arena State of the Game for February today, bringing some interesting changes and new events.
In correlation with Theros Beyond Death Draft being featured at the upcoming Magic: The Gathering World Championship, MTG Arena players will be able to Direct Challenge others in Limited Tournament Matches.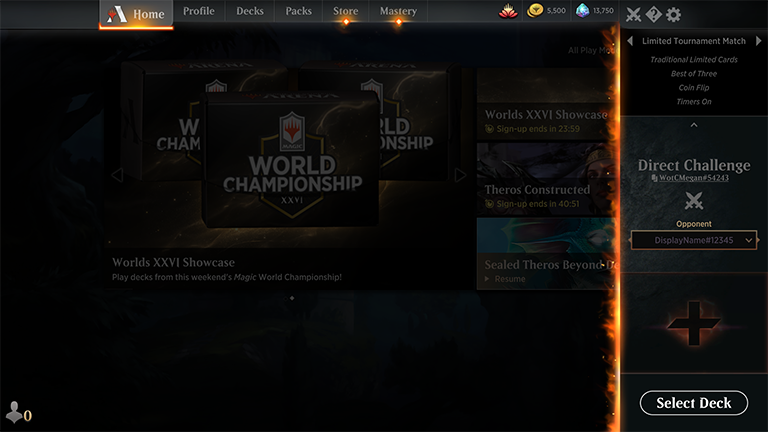 These Direct Challenges will "follow the same rules as other Best-of-Three Draft formats in MTG Arena" and players will "have the option to choose a 40-card deck as one of the options for other Direct Challenge matches, where you can play around with options like timers and who goes first."
While this is an exciting addition, WotC also stated that this features is "…not what we meant when we referred to eight-person drafts in our developer roadmap", and intends to fully implement drafting against other players "…in a game update later this year."
Be Your Champion
During the weekend of World Championship XXVI (February 14-16), players can participate in a Best-of-One event featuring the decklists submitted by the sixteen World Championship competitors.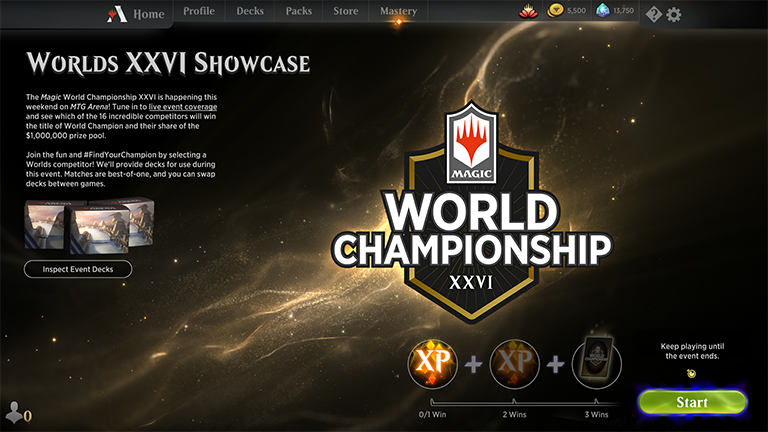 The event will begin at 8AM PT on February 14 and end Monday, February 17 at 11AM PT. It has no entry fee and will award prizes for the first three wins.
Festival of the Gods
Starting February 22, players can earn showcase style cards from Theros Beyond Death by joining the weekly Festival of the Gods events. A new set of Gods and Demigods will be featured each week, beginning with Purphoros.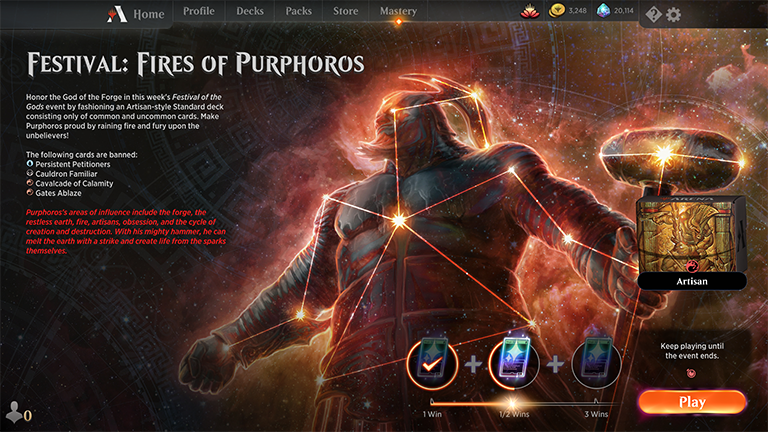 Entry Fee: 2,500 gold or 500 gems
Event Formats:
Fires of Purphoros: Standard Artisan
Nylea's Call of the Wild: Giant Monsters Emblem
Heliod's Glory: Immortal Sun Emblem
Erebos's Memoir of Death: Historic Brawl
Thassa's Briny Bounty: 150-card Preconstructed Singleton
Workshop Series
Workshop Series events are "intended to give players a small taste of a variety of formats, and the only thing you have to do is show up and play." These events will begin on a Monday and run for 48 hours. They are also free to enter and do not require deckbuilding.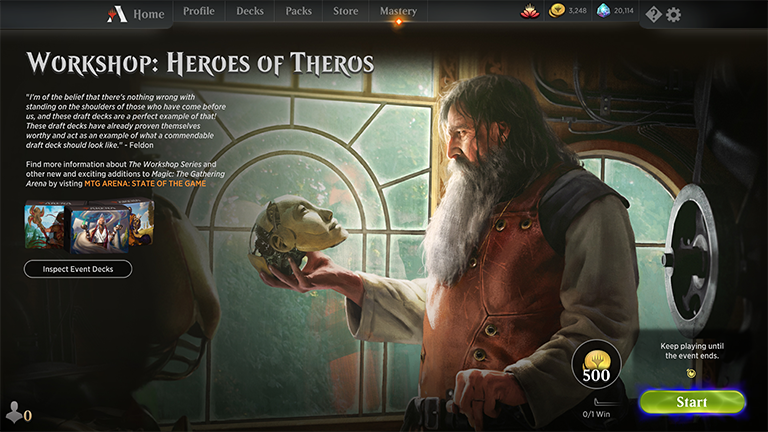 February Workshop Events
Power and Glory: "Brawl! If you're new to the format, we're providing a couple of decks for you to try out before Wednesday rolls around or you head over to the Guildhall."
Heros of Theros: "Play with Limited decks drafted by other players who managed to earn a 7–X record in their event. Have you ever asked yourself what a good Draft deck looks like? If so, this Workshop is for you!"
Uncharted Paths: "Play with Standard Constructed decks purposefully designed to be a little off-meta. Sure, they'll never Top 8 a Mythic Championship, but we love them anyways."
Ranked Draft Availability
Due to a decrease in participation, Ranked Draft for Theros Beyond Death is being disabled from February 14 – 27 and will follow a two-week rotation schedule until 8-player Drafts are released.
Upcoming Reddit AMAA
With lots of changes on the horizon, Magic: The Gathering Game Director, Jay Parker, and Executive Producer, Chris Cao, plan to host an "AMAA ("ask me almost anything") on the /r/MagicArena subreddit…"
This AMAA is currently scheduled for Monday, February 10 at 11AM PT and will cover events, formats, and more.
Summary
Direct Challenge for Limited formats added.
Play with World Championship decklists in the Be Your Champion event, February 14-16.
Earn Theros Beyond Death showcase card styles during the Festival of the Gods, beginning February 22.
Experience new formats every Monday for free with the Workshop Series.
Theros Beyond Death Ranked Draft availability rotating every two weeks.
Join Jay Parker and Chris Cao for an MTG Arena AMAA on Reddit February 10.
Read the original article from Wizards of the Coast.