PT COLOMBUS
This Pro Tour was yet another example of how badly things can go for you if you don't test for a Constructed event. The majority of my team ended up playing a Blue/Black/Red Scepter Tog deck that was mediocre at best. I think the average finish for anyone playing the deck was maybe Top 128. None of us really felt like testing, and the format was too wide open for us to just pick a deck and run with it. My favorite moment was when I was playing for Day 2 in the last round and in game three my opponent plays a turn 2 Goblin, turn 2 Piledriver, and a turn 3 Warchief, and I draw a Morphling. Cool! Nice deck!
I wasn't sure how much fun I was going to have outside of Magic, because I had given up drinking after a disastrous outing the prior weekend that had me thrown out of a club into a pile of garbage and vomiting all over Penn Station. My ban on drinking didn't last long, however, and I was dancing up a storm soon enough. It was Halloween, so there were a lot of people in the club dressed in costumes and having a great time. We met a group of girls dressed as a bridal party, and Knutson decided to impress them all by dancing to Michael Jackson's "Thriller" using the exact choreography from the video.
Olivier Ruel and Masashi Oiso made yet another Top 8, adding to their already impressive resume. Gadiel Szliefer also made his presence on the tour known, as did Nicholas West (kind of). The biggest story of the Pro Tour though was Pierre Canali, a young Salsa Dance instructor from France, who took an innovative Affinity deck to his first Pro Tour and won the whole thing. Some say I was too harsh in my critique of Canali's "unique" play style. I probably did go overboard a bit, as I was fired shortly afterwards, but Canali and I are friends nowadays, so there are no hard feelings.
PT NAGOYA
Nagoya, as a city is concerned, was not nearly as boring as Osaka, but nowhere near as entertaining as Yokohama. I forced Green in almost all the drafts, and it worked out pretty well for me as I finished in 10th place. The Top 8 was pretty solid. Anton J played in Sunday of another limited PT despite me cursing him when he was 9-0 and proceeding to lose four straight. Murray Evans made his second Top 8 using a draft strategy that can only be described as… interesting. Invitational winner Terry Soh also made his second Top 8, and made history in the process. In a very tight semi-final match versus Frank Karsten, Soh pulled off what many called "the bluff of the century." Spectators were shocked when Soh managed to win an unwinnable game against Karsten by simply convincing Frank he didn't have a Spirit in his hand. No one was more shocked than Frank when Soh revealed the Soulless Revival, nearly falling out of his chair. Frank whispered something along the lines of "he 'is' the chosen one," and extended his hand. The crowd roared, and Frank simply sat there in disbelief and embarrassment, he was totally bluffed by a true bluffmaster.
Pro Tour Innovation introduced: The Pro Players Lounge. The Pro Players lounge was never as good as it was in Nagoya. Plentiful food, cute Japanese girls waiting on us, and flat screen televisions playing Kill Bill… quite the innovation Wizards, nicely done.
PT ATLANTA
Another team Pro Tour and once again, I have a new team. This time around I was playing with my good friends Gerard Fabiano and John Fiorillo. Gerard and I decided to team with Fiorillo because, even though he never Q'd for the PT, we knew he was talented and wanted to help him get on the gravy train. At least, that's the reason we told him. The main reason I wanted to team with Fiorillo is because he's my favorite person to go out drinking with, and having him attend the Pro Tours was a priority for me. Going to a club with John is like fishing with dynamite, if you catch my drift.
Our team name was No Fat Chicks, but when a television show from G4 TV decided they wanted to spotlight us for a feature they were doing on Magic, Wizards made us change our name to NFC. Pretty lame, but I liked the film crew following us around on Day 2 when we were winning. However, once we started losing it got much more annoying. We ended up going 2-3 on Day 2, finishing out of the money.
Drinking and Dancing took place, blah blah blah. You get the idea. Kenji Tsumura made his first Sunday appearance of many. I think the most memorable thing of this PT was the fact the Nassif finally won a PT. Along with Dave Rood and Gab Tsang, Gabriel Nassif finally got over the hurdle and got a much-deserved win to add to his robust resume.
PT PHILADELPHIA
I really enjoyed this Block Constructed format because of the variety of decks that were available. Generally there are only two, maybe three, decks worth playing at a block PT; this time around there were a handful. My team was quite large for this event, comprising Dutchies and Americans, and most of us either played Gifts or Blue/Green/White control. I went with the latter because it matched up quite well against Snakes and White Weenie, two decks I thought would be very popular. The deck did pretty well for me, putting me in the T48, and a lot of people did well with it. Steve Wolfman made the Top 8 playing the same list, and Mark Herberholz made his second Top 8 playing our Gifts list.
This Pro Tour was unique because it featured a new payout system Wizards was trying to implement. It basically reduced the amount of money at the high end, and tried to spread it more evenly among all the competitors. Now you got paid every time you won, and the amount you got paid increased the further you moved along in the tournament. This system ended up being a terrible mistake on Wizards part (in my opinion) and I hope they never try anything like that again.
Kenji Tsumura made Top 8 once again but was defeated in the finals by Gadiel Szleifer. This was Gadiel's second Top 8 of the season, and his deck of choice was Gifts. Gadiel was now a force to be reckoned with. If you don't believe, just check out this picture on his MySpace…
PT LONDON
I think I can easily say this was close to one of the worst Pro Tours I've ever been to. I decided to spend a week in London with my close friends John Fiorillo, Gerard Fabiano, Antonio De Rosa, Joshua Ravitz, Alex Lieberman, and Billy Pumplestinkle (a.k.a. the Seven Kings). The first few days of the trip were actually a lot of fun; we drafted, went out sightseeing, and hit up some bars. All in all, it was a pleasant experience. Then the PT started. First of all, the site was awful and in a terrible location, with very few options in terms of food. Second, the apartment we rented for the week was broken into, and my iPod and camcorder were stolen. To make matters worse, I had to play my good friend (and roommate at the time) Eugene Harvey in round 1, and not only is he better than me, he also had Umezawa's Jitte. John and I spent the majority of Saturday – since we both failed to make Day 2 – getting lost around London trying to find a police station and the American Consulate (because John had his passport stolen). If I hadn't been for my friends, I might have just quit Magic right there and then.
I honestly can't even remember if anything memorable Magic-wise happened at this event. Johan Sadeghpour made Top 8… anyone? Tomi Walamies made his triumphant return… Buehler? I don't know, whatever, Geoffrey Siron won this Pro Tour, and he had a mono-Red deck splashing White.
Oh wait, one high note. We got to see Tomi Walamies perform his standup routine on Sunday night. The house was packed with gamers, and one German couple. He was great, as were the comics before him. That was a good night.
PT LOS ANGELES
So it was time once again to deal with Extended. The format wasn't nearly as wide open as it once was. It was Magic Online legal for the first time in a long time. This was a good and a bad thing, because it meant people on my team could test easier with one another online, but it also meant everyone else could too. I had a large team once again for this event, and we even had Mike Flores testing with us, so I was quite excited. The format wasn't as big as past Extended formats, but there was a new base set out. It meant new cards and mechanics needed to be examined, so hard work was going to have to be done to find all of the cool new cards and interactions that were now available to us. Now with that in mind, let me tell you the story of how I ended up playing a Goblin deck in this new field.
*Begin flashback sequence
It is a Sunday night, and Osyp is quietly sitting on a park bench in front of a 7-11, thinking about what he is going to play at the Extended Pro Tour that was only a week away. Suddenly, thunder clouds appear, and a flash of lightning hits the gravel of the parking lot. The impact of the lightning strike knocks him off the bench. As the smoke and mist begin to clear, a phone booth suddenly appears in the middle of the parking lot. Osyp is startled and simply sits there speechless, as two figures walk out of the phone booth and make their way towards him.
Osyp: Who are you guys?
Man #1: My name is Bill S. Preston Esquire…
Man #2: And I'm Ted Theodore Logan…
Both men: And we are, WYLD STALLYNS!
Osyp: How did you get here? What was that lightning all about?
Ted: We're from the year 1989.
Bill: We were working on a history project, and we heard that you were having trouble finding a deck for PT LA.
Osyp: Really… Wait, how do you guys know about that? Was Magic even around in 1989?
Bill: Don't get hung up on the details.
Ted: Yeah… Ever hear of a thing called suspension of disbelief?
Osyp: Alright… Well, I guess I'm glad you're here. I do need help.
Bill: Listen bro, we're here to tell you that Goblins is the way to go!
Ted: Totally!
Osyp: Goblins… Really? There's a lot of new stuff out now… Ravnica has some pretty powerful cards. I don't know if Goblins is really a deck that can keep up.
Ted: Listen Osyp, if it was good in our day, it's good now.
Osyp: Are you sure? I mean, I heard the dredge mechanic is pretty sick. Are you sure Goblins is powerful enough to deal with these new cards?
Bill: Is George Michael a ladies' man?
Osyp: Actually, we found out-
Ted: Listen to us, bro! Goblins is a most excellent deck!
Osyp: Umm… Alright, I guess I'll play Goblins!
Both Men: Excellent!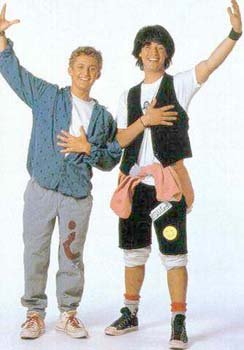 Goblins… Excellent!
So that's how I ended up playing Goblins in a field of vastly superior decks. Of all the people playing the deck, I was the only one to make Day 2. In fact, I was even in Top 8 contention with two rounds to go. Sadly, I lost to Raphael Levy and his double Engineered Plague in Round 15, and then lost to Dave Williams and his double Armadillo Cloak in Round 16. I was upset that I lost my last two rounds, but since I really didn't test that much, I suppose a Top 48 was respectable.
I think everyone remembers where they were when they heard that Billy Moreno made Top 8. I was sitting talking with some friends when Gabe Walls ran over and broke the news to us. Billy has gone on to prove himself as being a Constructed master and terrible dresser. Antoine Ruel got a much-deserved Pro Tour win, defeating Mr. Moreno in the finals.
WORLDS
Two Japanese Pro Tours in one year, I nearly wanted to vomit when I heard the news. As much as I love thirteen-hour flights, twice a year is a bit much for me, and I can only hope Wizards does not make us endure this ever again. Yokohama is perhaps my favorite Japanese city, so there was a silver lining. In terms of my performance, I can easily say that it was the pinnacle of mediocrity. I managed to go 3-3 on each day of the competition, an average performance by every definition of the word.
Some interesting things that happened at this event:
Friggorid made its first public appearance in the hands of yours truly, courtesy of Paul Sottosanti. I can't help but think had I just not played that deck in public, GP Charlotte might have been the easiest GP in history.
Alex Lieberman got violently drunk and ran away from us into the night in downtown Yokohama.
The Hall of Fame ceremonies took place, and we all go to honor Darwin Kastle. Given their lifetime Level Three status, we all look forward to Alan Comer's awkward smile for years to come.
Japan totally dominates us in every aspect of the game, by winning the Player of the Year title, World Championship, and Team World Championship.
Frank Karsten gets bluffed again in the finals by Mori and his Seedborn Muse.
So that's the 2004-2005 season folks, next time . . .
Some deep introspection
A look at Hawaii
PT Prague predictions
Randy Buehler gives us a look at some future innovations for the PT
All this and more on the next Ask Joe Black
Osyp "Joe Black" Lebedowicz