Well it's been ten years and a thousand tears
And look at the mess I'm in
A broken nose and a broken heart,
An empty bottle of gin
Thanks everyone on the great feedback regarding the Ayli, Eternal Pilgrim deck I wrote about last week. I really liked how the deck turned out but now I've got some great ideas from you I need to work into the deck.
This week for FNM I've got a sweet new Standard deck I'm stoked to try out that I think some of you will enjoy, but I'm going to wait until next week to talk about it so I can share some (hopefully positive) tournament results with you. In honor of the Eldrazi decks that have wrapped their tentacles around Modern and even slithered into Legacy, I decided this week to present a sweet colorless Eldrazi Commander deck with Big Daddy Kozilek, the Great Distortion as our commander. What do we want our Kozilek deck to do? Well, we want to ramp up our mana so we can cast Kozilek, right? And since we want to ramp anyway we might as well go ahead and play most of the sweet high-mana colorless Eldrazi, and since we're going to be dipping deeper into the Eldrazi end of the pool we might as well just go ahead and swim in it.
What A Waste
When Battle for Zendikar's Ulamog, the Ceaseless Hunger came out, I was curious how difficult it would be to build a manabase for a colorless deck without having to stretch into lands of questionable quality. After researching all the possible lands it turned out there were plenty of good ones to choose from at the time. Now that Oath of the Gatewatch is available, we've got a whole new angle we can explore for mana in our colorless decks thanks to this sweet little innovation…
Wastes gives us a basic land that we can play as many copies of as we want without stepping on our colorless color-identity toes, and they open up a handful of sweet cards that really didn't fit into our colorless decks before now.
Terrain Generator, Walking Atlas
These are great cards to include when you want to accelerate your mana and you've got plenty of basic lands to put from your hand directly onto the battlefield. A deck that wants to be able to play its Commander Kozilek, the Great Distortion certainly qualifies!
Surveyor's Scope, Sword of the Animist, Burnished Hart, Solemn Simulacrum
Here are some ways to search out Wastes and put them directly into play. I probably won't play with all of these – Surveyor's Scope in particular can be a bit tricky to gain value from without ways to manage your own land count – but I'll certainly play with a few of them. How nice it is to actually get to play Solemn Simulacrum in our colorless Commander decks now!
Thawing Glaciers, Armillary Sphere, Journeyer's Kite, Pilgrim's Eye
Much like the Spice on Dune, your mana must flow and these cards help keep the Wastes coming. Journeyer's Kite is another card I'm extremely excited about being able to play in our colorless Commander decks now.
I initially thought Myriad Landscape would be a sweet inclusion since it can search for two basic lands, but it requires the two lands share a land type and Wastes do not have a land type. Ah well.
More Ramp
Eldrazi Temple, Shrine of the Forsaken Gods, Temple of the False God, Mage-Ring Network, Sol Ring, Mana Vault, Voltaic Key, Plague Myr, Mind Stone, Fellwar Stone, Thought Vessel, Grim Monolith, Commander's Sphere, Pristine Talisman, Ice Cauldron, Hedron Archive
So yeah, when our Commander requires ten mana to cast the first time – not to mention all of the other expensive Eldrazi we'll want to cast too – we want to ramp and ramp hard! We get a lot of lands that help us with that, and then there things like Sol Ring and the usual two- and three-drop mana rock suspects. Since we're ramping hard, I went ahead and dipped into Voltaic Key plus Mana Vault and Grim Monolith too.
I've written before about Ice Cauldron as a way to hide cards from your hand and put them into exile where they can't really be touched outside of pesky Eldrazi processors, but it can also be used as a ramp spell of sorts. If on your opponent's end step you store six mana on Ice Cauldron and exile Ulamog, the Ceaseless Hunger, you can untap and then spend six more mana and cast Ulamog far earlier than seems fair. That's a pretty big game on, say, turn six! But you know what, the "hide cards from your hand in Exile" shenanigans actually works really well alongside Kozilek, the Great Distortion's cast trigger since the fewer cards you have in hand the more cards you draw from it.
Eldrazi
Eldrazi Mimic, Matter Reshaper, Warden of Geometries, Kozilek's Channeler, Reality Smasher, Walker of the Wastes, Conduit of Ruin, Endbringer, Oblivion Sower, Kozilek's Pathfinder, Bane of Bala Ged, Deceiver of Form, Breaker of Armies, Artisan of Kozilek, Void Winnower, Desolation Twin; Ulamog, the Infinite Gyre; It That Betrays, Endless One
While we wait to cast Kozilek, we want to have plenty of scary Eldrazi minions hit the battlefield to wreak havoc on our opponents and we certainly have no shortage of them even when limited to the purely-colorless options. I ended up reluctantly cutting Blight Herder and other processors since I didn't want to have to find room in the deck for more ways to exile cards that belong to my opponent. This had the effect of really limiting my options for Scion tokens, which made Deathless Behemoth far less appealing. How awesome and scary is Walker of the Wastes going to be in a deck that's 1/5th Wastes along with lots of ways to search out copies of Wastes? Ginormous trampling Limited fodder for the win!
Spells In A Colorless World
Actual Spells: Warping Wail, Spatial Contortion, Titan's Presence, Gruesome Slaughter, All is Dust, Scour from Existence, Not of This World, Eldrazi Conscription
One downside to playing a colorless deck is that your choices of cards that aren't creatures, lands and artifacts are pretty slim. Luckily Battle for Zendikar and Oath of the Gatewatch gave us some great ones to add to the Eldrazi spells from the last time we visited Zendikar. Spatial Contortion can be a Giant Growth or removal spell, Warping Wail and Not of This World (and also Kozilek, the Great Distortion's activated ability) give us counterspells, Titan's Presence and All is Dust gives us pinpoint removal, All is Dust and Gruesome Slaughter gives us board sweepers, and Eldrazi Conscription lets us turn any Eldrazi into an old-school Annihilator spaghetti monster. That's still rather limited, so I wanted to include cards that give us some spell-like abilities.
Non-Spell Spells: Eye of Ugin, Maze of Ith, Arena, Mirrorpool, Thespian's Stage, Winding Canyons, Ruins of Oran-Rief, Sanctum of Ugin, Sea Gate Wreckage, Tomb of the Spirit Dragon, Arcane Lighthouse; Mikokoro, Center of the Sea; Miren, the Moaning Well; Scroll Rack, Seer's Lantern, Unstable Obelisk, Oblivion Stone, Tawnos's Coffin, Nevinyrral's Disk, Citanul Flute; Predator, Flagship
For more removal options you can use Arena, Unstable Obelisk, Oblivion Stone, Tawnos's Coffin, Nevinyrral's Disk and Predator, Flagship. Seer's Lantern in addition to being a mana rock gives us some library manipulation alongside Scroll Rack. Eye of Ugin and Citanul Flute give us the ability to tutor for the Eldrazi we want. I particularly like that we can activate Citanul Flute the turn we cast it for zero mana and put Endless One in our hand. Mirrorpool lets us copy a spell or creature. Sea Gate Wreckage and Mikokoro, Center of the Sea draw cards. Tomb of the Spirit Dragon and Miren, the Moaning Well provide us with a nice bit of extra life.
Here's what I've got cooked up for the next evolution of colorless Commander:
54 cards in the deck directly produce mana, and that's not including things like Walking Atlas or Journeyer's Kite. That might end up being a touch excessive, but I've certainly got tons of things to do with all that mana. The mana curve here is a bit flatter than I normally build, which is partially due to having so many higher-cost spells, but it also makes it more likely for us to have a variety of casting costs on our cards in hand available to pitch to Kozilek's activated ability.
I just had a vision when casting Gruesome Slaughter you've got a huge Eldrazi – say, Desolation Twin – equipped with Batterskull and… wait for it… Thornbite Staff. Tap it to deal fourteen points of damage to a creature, gain fourteen life, and when the target dies Thornbite Staff untaps our Desolation Twin, allowing us to keep going until we've killed just about every creature on the board and gained hundreds of life. It's very tempting to find room for Thornbite Staff in the deck. It would go nice on Endbringer, wouldn't it?
I'm digging this sweet Eldrazi deck, but it doesn't feel like this is the end of the story. For instance, what about these awesome Eldrazi?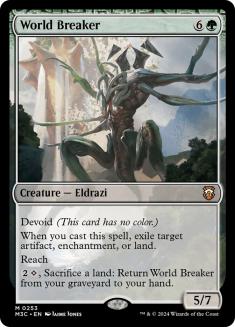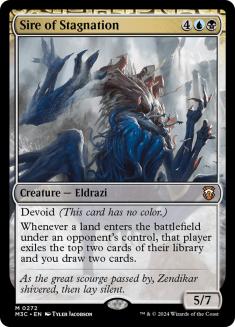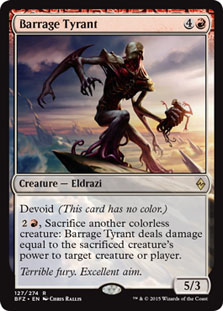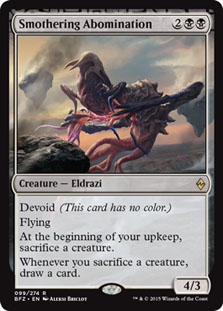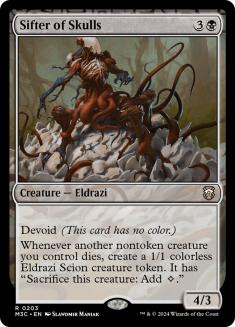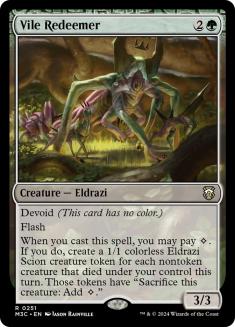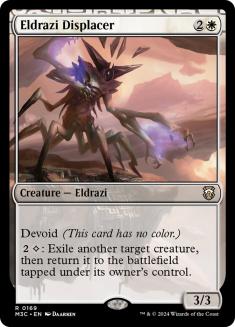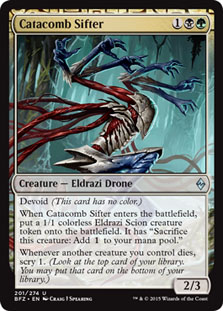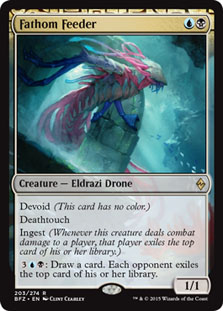 We undoubtedly have enough Eldrazi to make a five-color Eldrazi tribal deck now, don't we? Hm, that's certainly an interesting thought. So who might be our Commander for such a deck?
The answer is obvious.
But we'll save that for another day. What do you think of the Kozilek, the Great Distortion Commander deck? What sort of cards do you think I overlooked?
Life goes by so fast
You only want to do what you think is right.
Close your eyes and then it's past;
Story of my life

New to Commander?


If you're just curious about the format, building your first deck, or trying to take your Commander deck up a notch, here are some handy links:
Commander write-ups I've done
(and links to decklists):
• Zurgo Bellstriker (Bellstriking Like a Boss)
• Dragonlord Ojutai (Troll Shroud)
• Karrthus, Tyrant of Jund (Dragons, Megamorphs, and Dragons)
• Dromoka, the Eternal (One Flying Bolster Basket)
• Shu Yun, the Silent Tempest (Tempests and Teapots)
• Tasigur, the Golden Fang (Hatching Evil Sultai Plots)
• Scion of the Ur-Dragon (Dragon Triggers for Everyone)
• Nahiri, The Lithomancer (Lithomancing for Fun and Profit)
• Titania, Protector of Argoth (Titania's Land and Elemental Exchange)
• Reaper King (All About VILLAINOUS WEALTH)
• Feldon of the Third Path (She Will Come Back to Me)
• Sidisi, Brood Tyrant (Calling Up Ghouls with Sidisi)
• Zurgo Helmsmasher (Two Times the Smashing)
• Anafenza, the Foremost (Anafenza and Your Restless Dead)
• Narset, Enlightened Master (The New Voltron Overlord)
• Surrak Dragonclaw (The Art of Punching Bears)
• Avacyn, Guardian Angel; Ob Nixilis, Unshackled; Sliver Hivelord (Commander Catchup, Part 3)
• Keranos, God of Storms; Marchesa, the Black Rose; Muzzio, Visonary Architect (Commander Catchup, Part 2)
• Athreos, God of Passage; Kruphix, God of Horizons; Iroas, God of Victory (Commander Catchup, Journey into Nyx Edition)
• Kurkesh, Onakke Ancient (Ghost in the Machines)
• Jalira, Master Polymorphist (JaliraPOW!)
• Mishra, Artificer Prodigy (Possibility Storm Shenanigans)
• Yisan, the Wanderer Bard (All-in Yisan)
• Selvala, Explorer Returned (Everyone Draws Lots!)
• Grenzo, Dungeon Warden (Cleaning Out the Cellar)
• Karona, False God (God Pack)
• Doran, the Siege Tower (All My Faves in One Deck!)
• Karador, Ghost Chieftain (my Magic Online deck)
• Karador, Ghost Chieftain (Shadowborn Apostles & Demons)
• King Macar, the Gold-Cursed (GREED!)
• Niv-Mizzet, the Firemind ( Chuck's somewhat vicious deck)
• Roon of the Hidden Realm (Mean Roon)
• Skeleton Ship (Fun with -1/-1 counters)
• Vorel of the Hull Clade (Never Trust the Simic)
• Anax and Cymede (Heroic Co-Commanders)
• Aurelia, the Warleader ( plus Hellkite Tyrant shenanigans)
• Borborygmos Enraged (69 land deck)
• Bruna, Light of Alabaster (Aura-centric Voltron)
• Damia, Sage of Stone ( Ice Cauldron shenanigans)
• Emmara Tandris (No Damage Tokens)
• Gahiji, Honored One (Enchantment Ga-hijinks)
• Geist of Saint Traft (Voltron-ish)
• Ghave, Guru of Spores ( Melira Combo)
• Glissa Sunseeker (death to artifacts!)
• Glissa, the Traitor ( undying artifacts!)
• Grimgrin, Corpse-Born (Necrotic Ooze Combo)
• Jeleva, Nephalia's Scourge ( Suspension of Disbelief)
• Johan (Cat Breath of the Infinite)
• Jor Kadeen, the Prevailer (replacing Brion Stoutarm in Mo' Myrs)
• Karona, False God (Vows of the False God)
• Lord of Tresserhorn (ZOMBIES!)
• Marath, Will of the Wild ( Wild About +1/+1 Counters)
• Melira, Sylvok Outcast ( combo killa)
• Mirko Vosk, Mind Drinker ( Outside My Comfort Zone with Milling
)
• Nefarox, Overlord of Grixis (evil and Spike-ish)
• Nicol Bolas (Kicking it Old School)
• Nylea, God of the Hunt ( Devoted to Green)
• Oloro, Ageless Ascetic (Life Gain)
• Oona, Queen of the Fae (by reader request)
• Phage the Untouchable ( actually casting Phage from Command Zone!)
• Polukranos, World Eater (Monstrous!)
• Reaper King (Taking Advantage of the new Legend Rules)
• Riku of Two Reflections (

steal all permanents with Deadeye Navigator + Zealous Conscripts

)
• Roon of the Hidden Realm ( Strolling Through Value Town)
• Ruhan of the Fomori (lots of equipment and infinite attack steps)
• Savra, Queen of the Golgari ( Demons)
• Shattergang Brothers (Breaking Boards)
• Sigarda, Host of Herons ( Equipment-centric Voltron)
• Skullbriar, the Walking Grave ( how big can it get?)
• Sliver Overlord (Featuring the new M14 Slivers!)
• Thelon of Havenwood ( Campfire Spores)
• Varolz, the Scar-Striped (scavenging goodness)
• Vorosh, the Hunter ( proliferaTION)
• Xenagos, God of Revels (Huge Beatings)