In case you've been hiding under a rock for the last few weeks, welcome to what is quite possibly the hardest Limited format we've ever encountered. Last week, I talked about the impact five guilds and seven colors has had on Sealed Deck, and the inherent complexity that comes with the balancing act that is good mana versus high-quality spells. I played in a Pro Tour Qualifier this past weekend and spectacularly mis-built my deck, to the point where I was playing 39 cards and one embarrassment in the hopes that the last card would just do what I asked and never get drawn. Six rounds later I've finished my day at 4-2, losing only to players named "Igor Frayman" and "Scott McCord", and as far as I am concerned that is pretty darned respectable… especially considering that I was at a game-one handicap versus the world, and didn't even realize it until the middle of round three.
"Beware of Five-Drop"
1 Dimir Aqueduct
1 Izzet Boilerworks
1 Skarrg, the Rage Pits
2 Swamp
5 Mountain
6 Forest
1 Gruul Signet
1 Farseek
1 Spectral Searchlight
1 Fiery Conclusion
1 Douse in Gloom
1 Gather Courage
1 Sundering Vitae
1 Embarrassing Card
1 Silhana Ledgewalker
1 Selesnya Guildmage
1 Scab-Clan Mauler
1 Golgari Brownscale
1 Goblin Spelunkers
1 Sabertooth Alley-Cat
1 Stinkweed Imp
1 Bloodscale Prowler
1 Savra, Queen of the Golgari
2 Ghor-Clan Savage
1 Grave-Shell Scarab
1 Golgari Rotwurm
1 Streetbreaker Wurm
1 Skarrgan Firebird
1 Siege Wurm
"What I Should Have Played"
1 Izzet Boilerworks
1 Skarrg, the Rage Pits
3 Island
5 Mountain
6 Forest
1 Gruul Signet
1 Farseek
1 Spectral Searchlight
1 Fiery Conclusion
1 Gather Courage
1 Sundering Vitae
1 Vacuumelt
1 Repeal
1 Mark of Eviction
1 Silhana Ledgewalker
1 Selesnya Guildmage
1 Scab-Clan Mauler
1 Goblin Spelunkers
1 Golgari Brownscale
1 Goblin Flectomancer
1 Bloodscale Prowler
1 Snapping Drake
1 Ogre Savant
1 Streetbreaker Wurm
2 Ghor-Clan Savage
1 Belltower Sphinx
1 Skarggan Firebird
1 Siege Wurm
After all of last week's discussion, I see a certain irony in my failure to take my own advice, but hey… there was a lot of advice to take, and a lot of rules pulling you in different directions. As far as mana goes, the second deck's mana is better, while the first deck more nearly follows my rule of "play all your double-lands all the time." The deck was ceding too much time to the opponent as it was, and waiting one turn for what could possibly be your first Blue mana just didn't seem quite as worthwhile as I usually expect a double-land to be… but then, this deck was very hungry for colored mana, with repeating use of its minor color in either configuration and some heavy use of its major colors to boot. The first deck went something like 3-6, while I only lost one game with the post-sideboarded deck, for a happy total of 7-1. That one dropped game ended the match, as the third game against Scott McCord and my second loss of the tournament, in which my opponent came in 9th at 5-0-2… talk about rough.
I'm sure somehow I was not the only person to have a "sideboard deck" by the middle of the tournament, and you'd think that playing the super-sketchy Blockbuster would have been a clear sign that something was up. As it was, with just a Fiery Conclusion and a Douse in Gloom to call my own as far as "real" removal goes, I got a little frantic trying to use my "bomb" cards and squeeze in as many pseudo-removal effects as I could. Hence Savra, Blockbuster, and Stinkweed Imp getting leaned on hard just so I could play my Grave-Shell Scarab. In the end, I never drew the Imp and learned quickly that my commons and uncommons were much better than that dumb Rare, and splashing for Blue instead of Black just gave me a flat-out better deck. It was sad that I had to cut five-drops, having too many in my mana curve either way you looked at it, and I chose Greater Forgeling as the weakest link and squatted him on the bench.
Having played more with Ravnica-Guildpact Sealed Deck in a pressure situation, I learned a few things about how to play Green properly, and no small amount of my success was due to the lone Silhana Ledgewalker enabling my Bloodthirst all the time. A 5/6 on turn 4 or 5 is truly difficult for anyone to handle, and my decision to play Sundering Vitae worked out well in my favor: the best answers to fat are enchantments, be it Pillory or Fetters or even just Strands on a guy, and killing that enchantment is like getting your best guy back. When you don't get real removal, or even really much in the way of combat tricks, you have to take what you're offered… and like Noah's story about Annul from Tuesday, to beat good decks you have to be able to beat the best answers, and a Disenchant effect maindeck can really help with that. So two of the keys to playing Green are to enable your fatties (Silhana Ledgewalker, or better yet Dryad Sophisticate if you can get her) and protect your fatties from removal (Growth tricks, Gaze of the Gorgon, Disenchant effects). You don't need removal if your creatures are just bigger and tougher than theirs, because when combat happens you make up for lost time quite quickly and the Bloodthirst has a nasty habit of fueling itself if you let it, with a constant parade of fat across the Red Zone forcing your opponent into worse and worse situations.
My advice for playing against Bloodthirst comes from being the one beating down trying to pump his next guy's size, and that is: don't make any unnecessary sacrifices to prevent yourself from taking damage. Against one opponent, my game got a lot easier when I realized that if I attacked he'd block no matter what, and more than one charge of the Golgari Brownscale saw a much better creature jump into the graveyard unopposed… the most embarrassing of which (for him, anyway) was seeing Boros Guildmage with Red and White untapped jump in front of the Brownscale and just… die. If your creature's stats seem equal, and it's not something of quality so high that you'd never be willing to lose it in combat, by all means throw your blocker into theirs; either they'll play a card to imbalance the trade, and likely lose the ability to play anything really threatening with Bloodthirst or without, or they'll make the trade when they don't have to in order to get that bloodthirsty bonus online — if you can gum that up, so much the better. Bloodthirst encourages bad play: if you're the one who realizes it before they are, you'll be the one able to capitalize on it, whichever side of the table you happen to be on. My advice is simply to nut up and be a man and pretend that nothing will ever get a bonus for you getting hit first, because for most of the cards it's not worth the sacrifices you make to prevent the bonus from happening. In a few noteworthy cases it'll punish you… but only if they have the card in their hand, that turn. Bloodthirst is only on so many cards, and only really worth trying to prevent on three or four of them, and even if they don't have bloodthirst active that turn they will probably still have a decent use for their mana. Reading your opponent and knowing when an attack is just an attack is going to be pretty key against Forests… and if you have the Forests, having a two-drop that turns on your ginormously fat five-drops is pretty savage. Underestimate Silhana Ledgewalker at your peril, because it may not be big but it is hard to stop from getting through for a point early in the game, and that's more than enough to make it worthwhile to the Gruul fatties that can so define a Green deck in Sealed Deck.
I've already raved about two of my favorite commons from the new set, Pyromatics and Orzhov Euthanist, and Pyromatics is expensive but clearly quite good in a format that has some very important low-toughness creatures. Orzhov Euthanist is even better, though the Euthanist's proper home is next to pinging cards rather than in the kind of decks you usually see playing heavy Black. Viashino Fangtail is this guy's best friend, unless you've gotten Wojek Embermage, which is pretty disgusting with the Euthanist and any sacrifice outlet. In response to the destroy trigger, sacrifice my Euthanist and haunt the soon-to-be-dead creature, kill a second guy? With a little work, this can be closer to Reckless Spite than to a clunky Dark Banishing, and if you can get multiple Euthanists then you will be well rewarded for the extra legwork you put in to making them shine. Vacuumelt is also quite a bit better than it is being given credit for at the moment, because getting Undo at twice the price is still more than worthwhile.
From my further Draft exploits, in addition to my poking around with Sealed Deck, I've learned that those who never bothered to try experimenting with the off-color guilds in triple-Ravnica draft are going to be at a severe disadvantage to those who did. I've seen Top 8 Draft tables where Red was still somehow sorely under-drafted, and no-one toying with the things that by all rights should not work yet, such as Black/Red draft decks. Sealed Deck is all about flexibility, and knowing the value of synergy when building your deck to interact with your opponent's, while Draft is all about having a plan and executing it, all while dodging your neighbors' plans and reading the packs for the signals that are quite literally your lifeline. This is a Limited format that makes signaling even harder than before, due to the fact that everyone is pretty capable of playing anything from any starting point of the Draft. Reading a clear signal to find an underdrafted color makes everything worthwhile, and staying out of the same-deck dogpile (that inevitably happens to some players stuck in a row) is absolutely crucial. Anything is good enough to win, because there are a lot of different tactics that can be made to work in any combination of two or three colors, and building your deck without having to take the leavings of three people ganged up to your right is much better than being at the bottom of that mess.
That said, I've been thinking a lot about the most influential cards in a Sealed Deck, having asked myself the question "If I could open a regular copy and a foil copy of any one common in Ravnica, which commons would I want the most?" Some of the answers were clear-cut, being generally among the best cards of their colors, but at least a few of them surprised me:
1. Civic Wayfinder
2. Galvanic Arc
3. Last Gasp
4. Peel from Reality
5. Vedalken Dismisser
6. Faith's Fetters
7. Lurking Informant
8. Viashino Fangtail
9. Compulsive Research
10. Farseek
Each and every one has the distinction of being a cornerstone around which you can build a synergistic Sealed Deck, which is why Farseek makes it in but the clearly-good Disembowel does not. The best of the best is the hope of having double-Wayfinder in your deck, as it is the best (just-) Green common in a world as polychromatic as this one is turning out to be, or at least the most important to have access to in Sealed Deck. Advancing your color consistency and smoothing your draw as you like it, while also playing out a reasonably-sized Grey Ogre, is pretty amazing, as is a source of card advantage in a color that otherwise has to make do with swarms of tokens. Galvanic Arc and Last Gasp both speak for themselves, but the Arc clearly takes the top notch between the two because of all the positive synergy built into this block when you have a critical mass of enchantments feeding into each other. Last Gasp is still the top-quality Black removal spell, thanks to its low cost and consistently good effect, working as either pure removal or a combat trick depending on what the situation demands. And from there, things start making a little less sense…
Blue is clearly the best color to have the best cards in, as the elements of a quality Blue deck combine to form a nearly-impenetrable lockdown on the board, sometimes quite literally so. Bounce is good on your cards or on theirs, and so while not quite as good as removal it allows for better synergy with your needs of the moment. Returning stranded permanents enchanted with Fetters or Pillories, turning off your opponents' quality enchantments, disrupting the Magemark cycles, and providing positive tempo in a tough situation — it's all good. Peel from Reality is the highest-quality bounce, potentially usable as a low-cost bounce spell with a benefit: bringing back a dying or negatively-enchanted creature. Peel from Reality is the most powerful Blue bounce spell you can ask for, just chock-full of open-ended synergy and opportunity to take advantage of its apparent symmetry. Right next to Peel is the creature you'd most love to Peel, Vedalken Dismisser. Entrancer may get more love when it comes to acting on a plan, but it is the Dismisser that usually does all of the hard work to get you to the point where the board is yours to control, especially if you ever get to re-use its effect with Peel — or worse yet Mark of Eviction. (In some countries, enchanting Dismisser with the Mark is a crime against God and Country. The DCI does not, however, recognize these laws when handing out penalties during the course of a match.)
Faith's Fetters is up next, and yeah it's good, and you'd love to have its versatility to turn of your opponent's most powerful cards… but between the quality of bounce effects like Ogre Savant (that can negate it without losing you a card) and the slow-growing tendency to have enchantment removal accessible game 1, it's just not quite as good as the ones that don't have to sit in play turn after turn to have their effect. This can sway you right into a solid White deck, but it's just not as impressive as the cards that came before it or quite as important to the deck you are building to want to have two of them.
The next guy, though, is so under the radar that his presence comes as a surprise despite the fact that myself, Nick Eisel, and others have been spreading the news about him for months now. Lurking Informant is a game-altering card, in that proper use of the Informant not only gives you information control over your opponent or the occasionally needed ability to filter your own draws to improve card quality, but also allows you to single-handedly lock the opponent in a cycle of dead draws as mana floats to the top of their deck and quality spells see their way into the graveyard.
Lurking Informant is a slow way to deck the opponent, but if you use it on your opponent every turn the game should never, ever come down to decking… you should murder them far before then, so long as you don't die to their first volley of spells. Having the Informant should automatically draw any removal spell at hand, and playing with the Informant on the table should drastically alter how the match plays out on both sides… and not to the benefit of the player who can rest assured that he'll have nothing but lands and Signets for the rest of the game, unless you're willing to be generous and give them a bear instead of risking an actually good card coming off the top of the deck instead.
I might actually prefer to have double Lurking Informant even more than I'd prefer to have double Last Gasp or double Wayfinder, just because an active Informant is so hideously and disgustingly unfair. Having two copies would radically change the deck I played out of most normal card pools, and so the impact of having this guy available to you reaches much further than is conventionally thought… after all, it's a single-card lock on the entire game, and all it asks is two mana the first time and two mana every turn. Pretty fair for an effect that should win you the game unless something very unusual happens, just by shafting your opponent's draw while you draw normally off the top of your deck. If it were a rare, they'd have called it Spell Severance, and it would properly only target your opponent's deck, never your own. This may be number seven on the "relative power" scale, but in my mind at least it's tied for #1 on pure impact alone, as far too many a game has been won by my side by causing my opponent's deck to draw like a dead fish. If I had two of them, my choices during deckbuilding would likely be very, very different, especially since either of two colors can be used to sneak this little wonder into play.
Viashino Fangtail is clearly good, but its value goes up greatly with each additional pinging effect you get access to, like Hypervolt Grasp, Gelectrode, Rain of Embers, and Wojek Embermage. Pinging effects feed each other very nicely, and starting off with two copies of the best one is pretty thoroughly unfair, but it's very unlikely that you'll reach that avalanche of ping effects that it takes to make this really and truly shine. It takes more work than the Informant to become ridiculous instead of just "really, really good", and so it goes beneath it on the list, though this is preferred card number one to get out of Ravnica if you want to enable Bloodthirst. Compulsive Research and Farseek should also both be very obvious, as they improve your deck's consistency in the early game, and good Green mana-fixing is not so common in Guildpact… while Compulsive Research is the best and most powerful of the Blue card-drawers, and having two copies starts you well on the way to doing the constant flow of unfair things that a good Blue deck will do if given time to set up and live. This conveniently also helps with setting up in the early game, simply because having three more cards to choose from is really, really solid. Apparently we've known that since Alpha or something, and anything that can even pretend to be Ancestral Recall is top quality.
The purpose of that little exercise was to check my thinking on the format to come up with the Sealed Deck power commons, and needless to say if you can make a deck that starts with as many of those as you can squeeze in together you'll be rather happy with yourself. But it is also intended to show how things have changed with the inclusion of Guildpact, because I don't seem to recall Lurking Informant having gotten quite that amount of love from the Internet types when it was just Ravnica we were talking about. We're all getting a feel for Guildpact still, but its effect on how the Ravnica cards work seems pretty undeniable, with a definite shift in the value of some cards and a complete skewing of how mana works in the Sealed Deck format. Which Guildpact commons do you want to get two of?
…
Next week, I'm going to have a good hard look at Grand Prix Dortmund, to put numbers and results where I am currently going with insights, trends and personal opinions. But before I leave you, I'm going to bring up something fun we've been toying with over at Neutral Ground, and with enough creativity you can have fun with the seemingly egotistical pieces of cardboard that come in every starter deck of Ravnica. Who hasn't gotten a good laugh out of hearing Gadiel Szleifer whine about how so-and-so is terrible and has a Pro Player card but he doesn't? It's great fun, but you can get more fun than that out of your Pro Player cards if you want to.
To play this properly, it's more fun if the Legend rule comes up sometimes, so we like to play with three full sets of Pro Player cards because it's amusing to see people booted as the game is laid out. The idea is simple: using just a D20 and your knowledge of the players on the card, simulate any format of Magic ever played, or perhaps some non-Magical fun on the side. Take three sets of Pro Player cards and shuffle them up, and choose a number of players on your team (one for solo formats, two for 2 v. 2 money-Draft or Two-Headed Giant, 3 for 3 v. 3 money-Draft, Team Rochester Draft, Emperor, whatever you want!) and rank the players as they appear. It's best if there are five tiers: Tier 1 for the best of the best, like either Ruel brother in Extended or Jon Finkel in Urza's Block Draft. Tier 2 for the "could-have-been" guys, like Jeroen Remie in Extended if he'd stop playing Rock, or Olivier Ruel in the Player of the Year Race. Tier 3 is for your "average Pro," someone who's good but not a spectacular leader in the format… after all, not everyone can be Anton Jonsson in a Limited format. Tiers 4 and 5 are for the slightly (and greatly) handicapped at the format, which can be quite amusing as the formats get stranger and more unusual. Lack of recent practice tends to put you in the categories "below average," — and yes, that's you Brian Kibler that I'm looking at when I say this — or a spectacular handicap that has proven true despite one's best efforts to get over the hump. Make a note of each player's tier as the teams are set up, three versus three as they face off against each other.
For each tier of advantage one player has over the next, you get a +2 on the die roll. If Anton "Limited Machine" Jonsson is playing 3 v. 3 money draft for $500 a head, he'll probably get a +10 on Brian "Hasn't Touched A Card In Months" Kibler on the outcome. If Kibler rolls a 20 and Anton gets a 9, well hey… everyone gets manascrewed sometimes.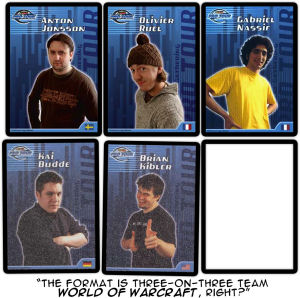 As the teams unfold, second copies of appearing players on either sides destroy each other, leaving room for new players to enter the fray and get in on the action. This may not be such a big deal, but if it's Team Constructed and you've got Murray the Mauler, it's quite possible you might be hoping to "topdeck" a second Murray Evans off the top. And if we're talking about Team Rochester, where the center man points the draft and the skill at pointing the draft will give your entire team a bonus in comparison to the talent of the opposing team's lead drafter, or Emperor, where the center player going down ends the game regardless of whether your Kai Budde on the right has taken on all comers and survived, then anything that can shift a player out of the center seat after they've been placed there can be quite a swing in who wins.
Maybe this is just a little obsessive, for those who love their Pro Tour history and personalities, but then that's why this game was mostly thought up by Pro Tour Historian Brian David-Marshall and only partly helped by myself, Steve Sadin and Kevin An one slow afternoon waiting for a tournament to start at Neutral Ground. You can have as much fun as your imagination lets you, if you're just willing to be creative and perhaps a bit silly, and besides… what else are you ever going to do with your Pro Player cards? Doesn't Kai Budde deserve to be more than a Saproling token? Can't Jon Finkel do better than chump-blocking an incoming Streetbreaker Wurm? Jon's not the kind of guy to see an incoming attack and say "Ow, my face!" after all… and while it may be more fun to Draft yourself, it can be infinitely amusing to argue with your friends about the outcome of a Kai, Kibler and Finkel versus Anton, Olivier and Nassif three-on-three Big Box Draft.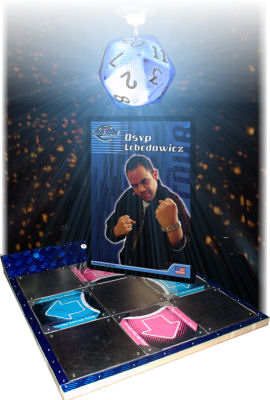 The Pro Player cards were meant to be fun and interesting, and so long as you think of them as something positive that you can maybe have a bit of creative fun with instead of griping on a newsgroup about how Wizards is ripping the players off again, or how much you'd prefer a foil Land instead of a goofy Antonino DeRosa Pro Player card. Maybe I've just wasted three minutes of your life reading about this silly game BDM and a few others came up with on the fly to try and have fun with something everyone else considers worthless… but maybe you'll try it and have fun, if you let your imagination get the better of your common sense. Hey, if they prove to be fun and get a positive response, maybe you'll see more of them in the future… and one can always hope that they get their own Pro Player card in the future, can't they (Gadiel)?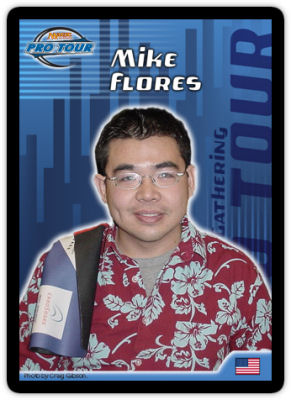 Study and grow strong… but don't forget to have some fun while you're at it, alright? I'll be back next week with some conclusive thoughts on watching the Pros play with Guildpact, and a good long look on what it takes to make a winning Sealed Deck when you're trapped in a labyrinth of difficult choices and confusing judgment calls.