So I'm back this week, after taking a little break from writing last week. Did you miss me? While I wouldn't say it's easy to write about Magic every week,
I do love writing about Magic nearly as much as I love playing Magic, so having things to write about usually does come easy. Last week though, real life
had intruded and left me feeling burned out mentally and emotionally, and Cedric was kind enough to give me the week off to recharge.
WATCHING THE PRO TOUR
In general I'm not a fan of having the vast majority of Magic coverage take place as streaming video. I know I'm in the minority there, and I certainly see
its value in letting people all over the world learn from watching better Magic players in action. However, my life is pretty busy, and I don't usually
have the free time to sit and listen to Magic streams on the weekends; when I do have that sort of free time I prefer to hunt down a game of Magic I can go
play in. That's why I continue to highly value what text coverage out there I can read later on and pick up lessons that way.
This particular weekend was a bit different for me. I had to work a twelve-hour shift on Sunday, and it involved sitting in front of a computer all day and
answering phones. The call volume was unusually light, so I was able to pull up the Pro Tour coverage from Portland and watch just about all day. I
thoroughly enjoyed being "plugged in" to the Pro Tour and got to see some great Magic moments along the way to what I thought was a rather disappointing
finale with snoozefest Blue/Control taking the trophy in the end.
I really liked Top 8 player Yuuki Ichikawa's Jund Planeswalker deck in no small part because it reminded me of the RUG deck I've been playing for a while
now that is really stocked with planeswalkers. My midrange heart loves permanents that stay out there and do stuff each turn, and while I tend to prefer
creatures for this, in a world with so much removal relying on creatures to get it done can be rather futile. Watching Ichikawa play his deck gave me new
respect for Chandra, Pyromancer and Vraska the Unseen, two Planeswalkers I like but have generally been underwhelmed by. In particular I was impressed with
how he handled Vraska, sculpting the board state so when he ticked Vraska up with its +1 ability it would have required two creatures attacking her to
remove her from the board. This would have generated two-for-one card advantage for Ichikawa, so that generally meant that Vraska got left alone turn after
turn. At one point I was wondering if he might end up killing his opponent with Assassin tokens, but the game never got that far.
The

quarterfinals match of Yuuki Ichikawa playing Jund Planeswalkers versus Jackson Cunningham playing Green/White Aggro

really stood out to me for the now famous Best Golgari Charm ever. From the text coverage here's what happened:

Cunningham… untapped and swung in with just his Wurm token. Ichikawa slid the now 4/4 Ooze into a block. Cunningham passed. Ichikawa grew the Ooze to a
5/5. Cunningham had been waiting for this, and played Selesnya Charm to exile the Ooze. Ichikawa tapped two and turned over Golgari Charm, announcing
"Minus one, minus one." The spectators watching the video feed in the next hall erupted in loud applause. Cunningham's Charm was countered, as the
token was no longer a legal target, and then Ichikawa put another counter on the Ooze, defeating the now 4/4 Wurm. The spirit token from Voice of
Resurgence died, apparently of loneliness.

Ichikawa's Ooze soon became an 8/8
With Mutavault's help
,
it cut Cunningham's life total in half. Another attack and they were on to the final game.
That play was truly a joy to watch, Magic being played at its highest level. Unfortunately for Ichikawa, Cunningham was able to take the match in the third
game and eventually faced Ivan Floch's Blue/White Control deck in the finals. Floch's deck is basically a nightmare for anyone who enjoys a good game of
Magic: seven Wraths, six Divinations, eight counterspells, and four Sphinx's Revelations (yes, my bias is showing). Elixir of Immortality, two Mutavaults,
and possibly a Jace ultimate, are his only win conditions game 1. I was pulling hard for Cunningham to take this one down, and he certainly did the best he
could, pushing it to five games before Floch finished him off with several Nyx-Fleece Rams and an Archangel of Thune; he grew them large enough (I think
they were 3/8s) to smash down his life total. The only consolation prize was that final play gave the world this hilariously inspired tweet from Brian
David-Marshall:
I really admire how Ivan Floch realized he could not win as the control player and flipped the
script to become the bleatdown. #PTM15

— Brian David-Marshall
(@Top8Games) August 4, 2014
KHANS OF TARKIR
San Diego Comic Con popped up recently and with it a bunch of tantalizing information about upcoming Magic products, the most interesting of course was
teasers on Khans of Tarkir. It was confirmed that Khans would focus on three-color combinations much like Shards of Alara, but instead of three allied
shards it would follow the "wedge" color pattern of two allied colors plus their opposite enemy color. While there was suspicion that this would be the
case for a while, it was exciting to get confirmation, especially for Commander fans that have long wanted some additional support for wedge color
combinations for Commander decks. One wedge Legend was even revealed-Zurgo Helmsmasher!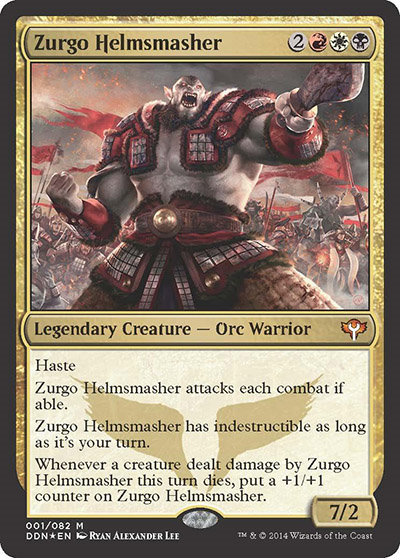 Zurgo is quite an interesting fellow to ponder for Commander. He's built to smash face: haste, indestructible during your turn, and his power of seven is
perfectly divisible into the magic number of 21, which means just three hits and he kills anyone at the table with Commander damage no matter what their
life total. And if you chump block him well that just makes him angrier and bigger. Sure, that two toughness looks rather puny, especially on other
players' turns, but it's not like Lightning Bolt is something that's played very often in Commander games. Toughness only really matters when a creature
tussles in the Red Zone, and Zurgo is pretty much built to only be tussling during your own turn when he attacks. Red and White provide some solid options
for aggressive Commander decks, and I look forward to seeing what adding Black to the mix brings.
Zurgo is the Khan of the Mardu Horde, and each of the other wedges has been assigned an associated clan and a named Khan, so we can look forward to at
least one new Legend for each wedge color combination that will give us some exciting new options for Commander.
PLANESWALKER COMMANDERS
Speaking of Commanders, it was revealed that the fall Commander product will consist of five monocolor decks, and each deck will feature a brand new
Planeswalker that can be used as the Commander. Whoa! I know some Commander fans have toyed around with variant rules where you can use planeswalkers as
Commanders, but the official rules indicate that only legendary creatures can be used as Commanders. This rule isn't changing (and that's straight from
Sheldon Menery's mouth)-however, each of these cards specifically "breaks" this rule by saying that this particular planeswalker can be your commander.
They previewed one of these at Comic Con, and it's a doozy: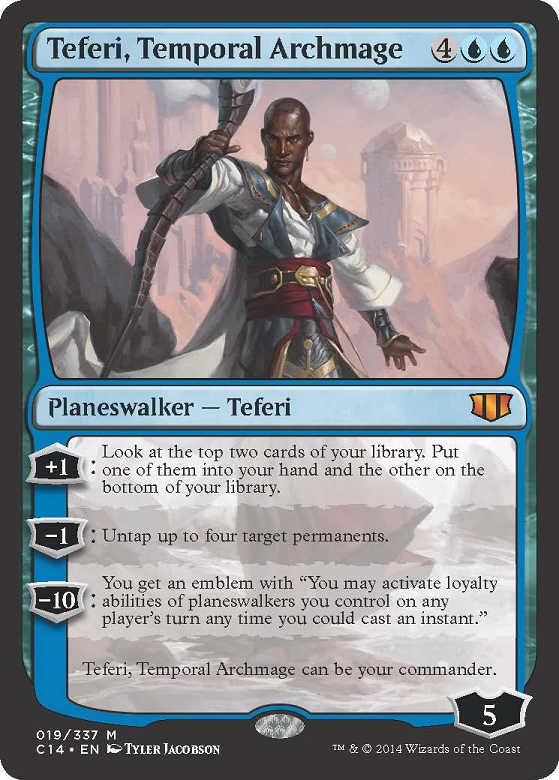 Yes, the blue legend every Commander player hates has now become a Planeswalker that will keep coming back from the Command Zone every time you try and put
him out of your misery. That ultimate ability in particular is exciting, not only breaking the timing rules of planeswalker abilities, but also allowing
you extra activations during each other player's turns. I see Teferi, Temporal Archmage making the biggest impact in decks that can also run Doubling
Season, letting you get that emblem immediately after casting Teferi, but getting the emblem in his own mono-blue deck will be quite nice as well
(especially if you toss in some other blue planeswalkers).
We also got to see a new Legend from the monoblack Commander deck, Ghoulcaller Gisa!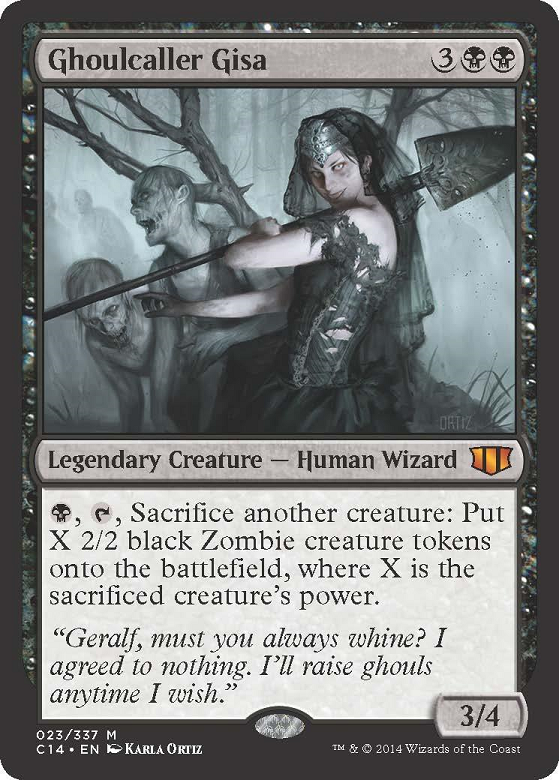 I really love this card! Not only is it a fantastic support card for zombie tribal, but it's a fine black card even without zombie support. Just sacrifice
any creature with power greater than zero and you get at least one 2/2 zombie; sacrifice that zombie and you get two 2/2 zombies. The sacrifice is cheap –
just a black mana and a tap – and the zombies come into play untapped. Just sprinkle in ways to increase a creature's power (Loxodon Warhammer and
Lashwrithe come to mind) and you can generate army of zombies fast! How about Skullclamp for an extra 2/2 zombie token and two extra cards in hand? I feel
an evil cackle coming on…
STANDARD
Last week I made it out to Friday Night Magic and got to try out my crazy Master Engineer/Disciple of Deceit deck. I went 2-1-1 with it and wasn't unhappy
with its performance, but I also realized I was trying to be too cute with the Disciple of Deceit tutor engine and a bunch of silver bullets that likely
belonged in the sideboard (Pithing Needle, Ensouled Artifact, Ratchet Bomb, Phyrexian Revoker, Aether Spouts). I should probably run all the removal spells
I kept boarding in each sideboard game. On the plus side though, using Daring Thief to convoke out a Trading Post to make an 0/1 goat that you can trade to
your opponent for his best creature during your untap was pretty sweet, and Scuttling Doom Engine was all that and a bag of chips.
I've retooled the deck and this is how it looks now:
Creatures (20)
Lands (24)
Spells (16) I was also pleasantly surprised by a few other cards. King Macar, the Gold-Cursed was really good against creature decks that didn't have a bunch of
removal. It wasn't that hard to set up a board where he basically becomes The Abyss against your opponent while feeding you a bunch of Gold artifacts you
can use for mana or to feed your Trading Post. Jorubai Murk Lurker also impressed, especially when you could give Desecration Demon or Scuttling Doom
Engine lifelink; they also didn't do too badly giving themselves lifelink when you had a Swamp around. I'm probably going to give this another run at Game
Day this Saturday.
MODERN
The newly minted Hushwing Gryff has had me thinking a lot about getting hateful in Modern. I love that he has flash just like Aven Mindcensor and how
bringing their hateful abilities at just the right time can hose an opponent's crucial play. Which has led me toward thinking about Aether Vial with things
like Judge's Familiar, Leonin Arbiter, and Spellskite. The problem with hatebears like Arbiter, Mindcensor, and Gryff is that their abilities aren't
cumulative, so playing multiples are like playing vanilla bodies, and in a world of Tarmogoyfs vanilla bodies don't always cut it.
Which led me to pondering Fauna Shaman. Fauna Shaman is undoubtedly powerful, but it's had a tough time impacting Modern in no small part to being
vulnerable to Lightning Bolt and just being so slow to impact the board. You cast it, you really can't block with it, so you wait until your next turn, and
then you've got to spend a green mana to go get what you want, and losing that mana for the turn could be a crucial loss of tempo.
Enter Aether Vial, which saves you a boatload of mana in addition to all its other benefits. Say you've got an active Fauna Shaman, an Aether Vial set on
two, and an Aether Vial set on three: I daresay the world is your oyster! You can sit back, wait for your opponent to make a move, and then go fetch up the
perfect hate creature for the situation and simply tap a Vial to put it into play at instant speed.
I'm thinking something like this, obviously a very rough first draft:
Creatures (26)
Lands (24)
Spells (10) With Aether Vial saving so much mana, it makes sense to toss in a few Swords, and I decided on Light and Shadow because the life gain could be crucial, and
getting a creature back in your hand plays so great with both Aether Vial and Fauna Shaman.
Spellskite gives a little bit of a Mother of Runes-vibe when it comes to Lightning Bolts, don't you think? Even if it eats a Path to Exile or an Abrupt
Decay, if it's protecting the Thalia, Guadian of Thraben that's been putting the screws on your opponent, then it's well worth it.
I was also considering branching into red for Magus of the Moon and Lightning Bolts, but that would be adding too much greed with the hate… wouldn't it?
I guess that brings me up to speed with all the goings-on in the Magic world. Did I miss anything?

New to Commander?


If you're just curious about the format, building your first deck, or trying to take your Commander deck up a notch, here are some handy links:
My current Commander decks
(and links to decklists):
• Mishra, Artificer Prodigy (Possibility Storm Shenanigans)
• Yisan, the Wanderer Bard (All-in Yisan)
• Selvala, Explorer Returned (Everyone Draws Lots!)
• Grenzo, Dungeon Warden (Cleaning Out the Cellar)
• Karona, False God (God Pack)
• Doran, the Siege Tower (All My Faves in One Deck!)
• Karador, Ghost Chieftain (my Magic Online deck)
• Karador, Ghost Chieftain (Shadowborn Apostles & Demons)
• King Macar, the Gold-Cursed (GREED!)
• Niv-Mizzet, the Firemind ( Chuck's somewhat vicious deck)
• Roon of the Hidden Realm (Mean Roon)
• Skeleton Ship (Fun with -1/-1 counters)
• Vorel of the Hull Clade (Never Trust the Simic)
Previous Commander decks currently on hiatus
:
• Anax and Cymede (Heroic Co-Commanders)
• Aurelia, the Warleader ( plus Hellkite Tyrant shenanigans)
• Borborygmos Enraged (69 land deck)
• Bruna, Light of Alabaster (Aura-centric Voltron)
• Damia, Sage of Stone ( Ice Cauldron shenanigans)
• Emmara Tandris (No Damage Tokens)
• Gahiji, Honored One (Enchantment Ga-hijinks)
• Geist of Saint Traft (Voltron-ish)
• Ghave, Guru of Spores ( Melira Combo)
• Glissa Sunseeker (death to artifacts!)
• Glissa, the Traitor ( undying artifacts!)
• Grimgrin, Corpse-Born (Necrotic Ooze Combo)
• Jeleva, Nephalia's Scourge ( Suspension of Disbelief)
• Johan (Cat Breath of the Infinite)
• Jor Kadeen, the Prevailer (replacing Brion Stoutarm in Mo' Myrs)
• Karona, False God (Vows of the False God)
• Lord of Tresserhorn (ZOMBIES!)
• Marath, Will of the Wild ( Wild About +1/+1 Counters)
• Melira, Sylvok Outcast ( combo killa)
• Mirko Vosk, Mind Drinker ( Outside My Comfort Zone with Milling
)
• Nefarox, Overlord of Grixis (evil and Spike-ish)
• Nicol Bolas (Kicking it Old School)
• Nylea, God of the Hunt ( Devoted to Green)
• Oloro, Ageless Ascetic (Life Gain)
• Oona, Queen of the Fae (by reader request)
• Phage the Untouchable ( actually casting Phage from Command Zone!)
• Polukranos, World Eater (Monstrous!)
• Reaper King (Taking Advantage of the new Legend Rules)
• Riku of Two Reflections (

steal all permanents with Deadeye Navigator + Zealous Conscripts

)
• Roon of the Hidden Realm ( Strolling Through Value Town)
• Ruhan of the Fomori (lots of equipment and infinite attack steps)
• Savra, Queen of the Golgari ( Demons)
• Shattergang Brothers (Breaking Boards)
• Sigarda, Host of Herons ( Equipment-centric Voltron)
• Skullbriar, the Walking Grave ( how big can it get?)
• Sliver Overlord (Featuring the new M14 Slivers!)
• Thelon of Havenwood ( Campfire Spores)
• Varolz, the Scar-Striped (scavenging goodness)
• Vorosh, the Hunter ( proliferaTION)
• Xenagos, God of Revels (Huge Beatings)