Once again, I am honored to have had a vote in every Magic Hall of Fame class since the Hall's inception. As I've done in previous years, I will share my votes and how I arrived at them with you. This is not an easy process; it's certainly not a completely objective one. HoF voters are allowed to use their own criteria, which makes it a far more organic process. While I don't agree with some of the gamesmanship which goes on ("I won't vote for LSV, because I know he's going to get in anyway"), I nonetheless support that voter's right to choose to do it that way. One can disagree with choices while still respecting them.
My first and most important criteria is results. That comes in the form of Pro Tour Top 8s, Top 16s, Top 32s, and Top 64s. I no longer consider lifetime Pro Points a major factor (they might end up being a tiebreaker, though). I used to consider 300 points kind of like being in the 3,000 hit club, but given the higher number of points being given out these days coupled with the fact that there are simply more and more Pro Tours every passing year, Pro Points becomes more of a longevity thing. Compared to athletes, Magic players can have infinitely long careers. At a certain point, too many people will hit any arbitrary threshold for it to be considered a qualifying factor. Maybe when someday soon Martin Juza hits 500 points, I'll reconsider that (if he's not already in). For the most part, I want someone to have at least three Pro Tour Top 8s in order to consider them. Four makes them a much stronger candidate. This year, I'm going to give a strong look to someone with only two.
Everything else is a secondary criterion or tiebreaker. Grands Prix exist in a weird middle ground, because while they're results, the competition and numbers can vary widely. Grand Prix numbers will make me look more closely at someone, but since this is the Magic Pro Tour Hall of Fame (not the Magic Pro Player Hall of Fame — more on that later), GPs simply don't measure up to Pro Tours. The rest includes community involvement, skill, deckbuilding, and sportsmanship. Unlike the others, sportsmanship is also something which can get a player disqualified from my ballot. I don't care how many Pro Tours you win, two suspensions means you're out. A history of shadiness will lead you to not be considered. The others don't carry that kind of weight. Even if you never wrote an article about the game, if you have a bunch of high finishes (and nothing else disqualifies you) you'll get my vote. After all that, I look one final secondary and completely non-objective criterion in the case of borderline cases: do they have the intangible Hall of Fame quality? Are they a giant of the game and/or its history? When it comes down to it, my instinct is to not vote for a player who is borderline. The Hall of Fame is a special and distinctive honor. The difference is between the questions "What is the reason to not vote for the player?" and "What is the reason to vote for the player?" I don't want "close enough" to put someone in the Hall of Fame. There are plenty of players out there who have had great careers and are good people but don't have achievements quite high enough to be considered Hall-worthy.
After the first cuts for number of Pro Tour Top 8s and sportsmanship, I'm left with a short list which consists of Willy Edel, Eric Froelich, Mark Herberholz, Tsuyoshi Ikeda, Marijn Lybaert, Justin Gary, Tomohiro Kaji, Osyp Lebedowicz, Kazuya Mitamura, Jamie Parke, and Craig Wescoe. The player with only two T8s who I'm adding to the list for consideration is Shouta Yasooka because the guy is an absolute master. That a dozen choices. Analyzing the numbers (accepting that I'm not a math expert) reveals something interesting.
You can get a good look at the numbers on the Mothership. I won't paste all of them here, but I did a comparative analysis of these twelve players' rankings relative to each other in Top 16%, Top 32%, and Top 64% (noting that no one outside this group on the current ballot besides Gerard Fabiano and Brock Parker stacked up even remotely closely). A distinct pattern emerged. Here's the table, sorted by Top 64% (and remember, the ranks are only relative to the class).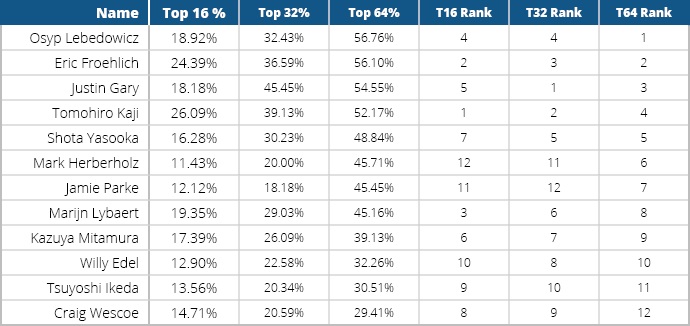 The numbers on four of these players separate them from the field: Osyp, Efro, Justin, and Tomohiro, with Shota and Marijn distinctly but not that far behind. I get that percentages don't always tell a complete story, especially when the sampling sizes are radically different (demonstrated by Kaji's 23 Pro Tours and Ikeda's 59). I also get that ranking doesn't offer a necessarily statistically accurate view – there could be wild swings in standard deviations and whatnot. Nonetheless, this kind of comparison helps crystallize my choices.
The stats game not really being my thing, I'm not going to go back and compare these results with players already in the Hall of Fame. The question I ask myself is whether or not I'm confident in voting for a particular player in this class, that 'intangible' I mentioned above. Relative rankings aside, if the answer is no then I'm not going to include them on my ballot. That is the case with two players.
First is Marijn Lybaert. Last year, I said "so close." I'll say it again. This year's deeper look at how Marijn stacks up against the rest of his class casts him in a favorable light, but we'll agree that this isn't the strongest class. No offense to great Belgian players such as Vincent Lemoine (four-time National Champion), Jean-Louis d'Hondt, Peter Gysemans, Dominic Coene, Dominic Symens, Jan Doise, Mark Dictus, and others, Marijn is the greatest Belgian player of all time from a country with a powerful Magic history. Still, that's not quite enough. I'm still rooting for a comeback.
Second is Tomohiro Kaji. He's just barely qualified for the Hall of Fame (152 Pro Points) and with only 23 Pro Tours, his results could be nothing more than a good run. The good news is that he doesn't really have to keep up this blistering pace in order to get a vote down the road. Anything close will do.
After looking at those numbers (and the rest of the stats) and giving some thought to all the viable candidates, this is the vote I have cast:
Eric Froehlich
I know he sometimes gets a bad rap for his public profile, which in my estimation he has gone a long, long way to repair in the last few years, but there is no denying the numbers. Efro is one of the great players in Magic history. His ability to evaluate board states and game situations is unparalleled. He is that guy that you absolutely don't want to see on the other side of the table, whether it's for a Feature Match or a three-on-three draft. He is a strong advocate for fair play and is not shy about identifying shadiness when he sees it. Based on his four Pro Tour Top Eights (not to mention thirteen 13 GP Top Eights), I had a strong suspicion going in that he would be on my ballot. Running the numbers simply reinforced what I already know. Efro is this year's slam-dunk candidate.
Osyp has been an honorable mention on my ballot for more years than I can count until last year when I realized that I wasn't looking at the numbers quite right. I thought that he would constantly be in the position of being a great player, an awesome person, and a resume just too short. I'm happy that I decided to look at the numbers from a different perspective, and I'm even more pleased to give him my vote. His Top 16 percentage is even better than Efro's, and he has a win to go with all of it. He was one of the most popular writers and figures in the game's history. He is a remarkably charming and funny human being, as well as also being adorably dorky. If he is elected to the Hall of Fame, he will certainly be its clown prince, a role I suspect he would embrace with the same kind of gusto with which he embraces everything else. For years, I would have loved to vote for him. Just like last year, now I can do so with a great amount of confidence that he's earned it. A vote for Osyp is a vote for awesome.
Justin Gary
This will be the third year in a row I cast a vote for Justin. I think his candidacy has actually suffered by being associated with Team Your Move Games because it's difficult to seem great amidst such mighty companions as Dave Humpherys, Rob Dougherty, and Darwin Kastle. Still, his Top 32 percentage is absurd. He's a Worlds Team Champion and won a US National Championship when US Nats was effectively another Pro Tour. I'm still amazed at his generally-ignored resume because it stacks up with the best of all time. It seems like his candidacy never got any steam because his Pro Tour participation started falling off around the time the Hall got rolling. Nonetheless, I consider him Hall-worthy.
Shota Yasooka
Despite "only" having two Pro Tour Top Eights, I'm voting for the guy we called "Showtime" on the coverage team. He's simply amazing. His other numbers, helped along by nineteen Grand Prix Top Eights, help qualify him. So does his remarkable play skill. He's the guy other Pros would watch play and the one they'd hope to get secret tech from; that tells me more than I need to know. His run at the 2012 Magic Players Championship was nothing short of jaw-dropping.
Honorable Mention
Willy Edel: There has been a good deal of chatter on social media and in articles about the combination of Willy's Pro Tour accomplishments and his contribution to the Brazilian Magic community. I think he simply fails on the numbers. If he didn't have the fourth Top Eight, he may not even be in the conversation given his lack of other consistent high finishes. His contributions to the game would definitely push him over the line. I simply don't see him close enough to it for the final bump.
Craig Wescoe: Good man Craig Wescoe will get some votes due to most of his success being relatively recent. Being that he's active and playing at a high level, he may earn his way into the Hall. Just not yet.
Mark Herberholz: Like with Willy, Hezey's non-Top Eight resume simply doesn't stack up. He was a good personality to have around the Pro Tour, perhaps one of the best, but he needs to seriously buff the resume to earn Hall-worthiness.
The Hall And Non-Players
This year's creation of the Magic Judge Hall of Fame is a step in the right direction. Now it needs to be added as a wing to the Magic Pro Tour Hall of Fame. I'm not going to repeat the argument that I've made over the last two years (although I'll link it), I'll just give you the highlights: the Pro Tour is successful because of more than the players (although the players are the primary reason it's successful). I'll call your attention to the fact that it's the Pro Tour Hall of Fame, and not the Pro Player Hall of Fame. Sports already do it. For example, baseball's greatest umpires, commenters, and other significant figures are in their Hall; it is time Magic followed suit.
The committee to elect people to the non-player wing would be made up of a different committee (people who have the bigger picture), plus maybe votes from existing Hall of Famers. Let's say for argument's sake that people who are employed by Wizards of the Coast aren't eligible until their employment terminates. That would make someone like Skaff Elias immediately eligible but not Scott Larabee, for example. The details and mechanisms are less important than the idea. I suspect that I would have a vote on such a committee. Here's are my top three votes (and note that the vote doesn't include anyone already in the Judge Hall of Fame, because once this wing opens, they're already in):
Brian David-Marshall: All non-player votes must include BDM or risk being dismissed. It's that simple.
Toby Elliott: The most influential judge whose influence you probably didn't know about until relatively recently.
Skaff Elias: It's hard to put everything into a single sentence; it's arguable that there might not be a Pro Tour without Skaff's influence.
If the vote extended out, there are great arguments for some other folks, to include Rashad Miller and Richard Hagon. Once again, it's not the mechanism which is important, it's the message. It's time to enshrine the greats who made the Pro Tour what it is alongside the players.
This Week's Deck Without Comment is the version of the Ruhan Do-Over Project which actually got built as opposed to designed (since it's somewhat different due to what cards I had available when I assembled it).
Creatures (28)
Planeswalkers (4)
Lands (38) Check out our awesome Deck List Database for the last versions of all my decks:
ADUN'S TOOLBOX;
ANIMAR'S SWARM;
AURELIA GOES TO WAR;
CHILDREN of a LESSER GOD;
DEMONS OF KAALIA;
EREBOS and the HALLS OF THE DEAD;
GLISSA, GLISSA;
HELIOD, GOD OF ENCHANTMENTS;
DREAMING OF INTET;
FORGE OF PURPHOROS;
KARN, BEATDOWN GOLEM;
HALLOWEEN WITH KARADOR;
KARRTHUS, WHO RAINS FIRE FROM THE SKY;
KRESH INTO THE RED ZONE;
LAVINIA BLINKS;
LAZAV, SHAPESHIFTING MASTERMIND;
ZOMBIES OF TRESSERHORN;
MELEK'S MOLTEN MIND GRIND;
MERIEKE'S ESPER CONTROL;
THE MILL-MEOPLASM;
MIMEOPLASM DO-OVER;
NATH of the VALUE LEAF;
NYLEA OF THE WOODLAND REALM;
OBZEDAT, GHOST KILLER;
PURPLE HIPPOS and MARO SORCERERS;
ZEGANA and a DICE BAG;
RITH'S TOKENS;
YOU DID THIS TO YOURSELF;
RURIC THAR AND HIS BEASTLY FIGHT CLUB;
THASSA, GOD OF MERFOLK;
THE ALTAR of THRAXIMUNDAR;
TROSTANI and HER ANGELS;
THE THREAT OF YASOVA;
RUHAN DO-OVER;
KARADOR DO-OVER;
KARRTHUS DO-OVER
If you'd like to follow the adventures of my Monday Night RPG group (in a campaign that's been alive since 1987 and is just now getting started with a new saga called "The Lost Cities of Nevinor"), ask for an invitation to the Facebook group "Sheldon Menery Monday Night Gamers."