Oh man, it's almost here! Myself and many (many) members of the SCG crew are on their way to New Jersey to hold what is sure to be one of the most
memorable events of all time!
The swag! The guests! The sheer scope of such an event! We're currently the third largest of all time; let's break that record people!
This event is packed with value and we've made as many accommodations as we possibly could to make sure you'll have a great time. Feel free to peruse the
other blog posts at the end of this article to learn more.
For those coming, check out the Location & Travel section of magicgp.com to find out the best way to get
yourself to the venue.
But what if you can't make the show? Then allow the professionals at SCGLive to bring you all the action from
the comfort of your own home! Cedric Phillips, Patrick Sullivan, and Matthias Hunt will take you from the first round to the finals along with some special
surprises! Watch the broadcast to see us debut a new way of showcasing and explaining archetypes like never before.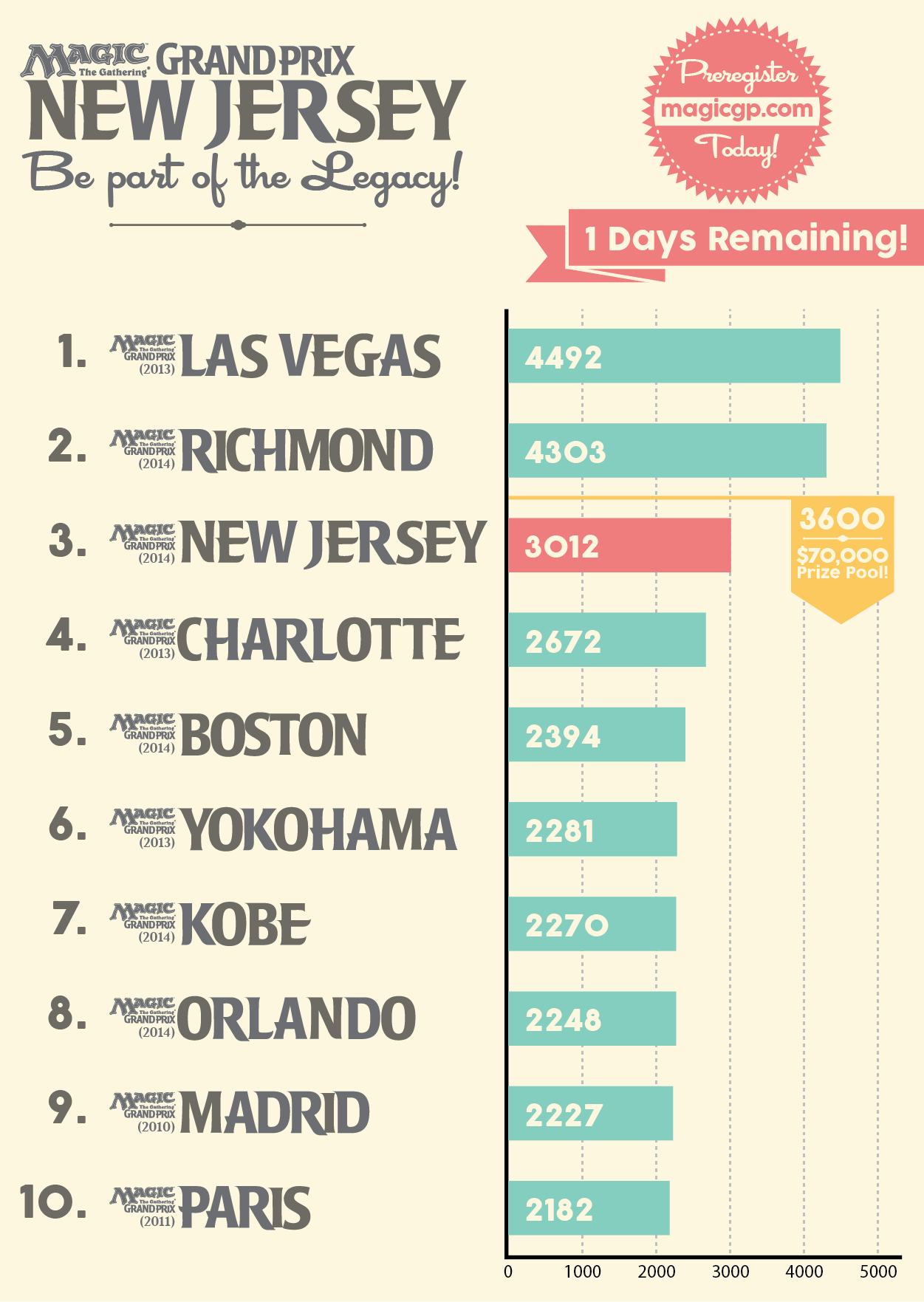 Catch all of the action on Twitch or via our coverage page that goes live as soon as all the fun begins.
Here are the schedule broadcast hours for this weekend:
Friday (Live VS Series with BBD & CVM) – 6PM to ~9PM
Saturday (Day One of Grand Prix New Jersey) – 10:30AM to end of Round 9
Sunday (Day Two of Grand Prix New Jersey) – 9AM to end of the event
One more day! I hope you guys are as excited as we are, and we'll see you this weekend in New Jersey!
Previous Grand Prix New Jersey Daily Updates:
– 2 Days Out: The Staff For GP New Jersey
– 3 Days Out: New Side Events And AMA Answers
– 4 Days Out: AMA Questions/Miscellaneous Information
– 8 Days Out: Artists and Vendors
– 9 Days Out: Side Events Lineup
– 10 Days Out: Rewards For Playing