Hello everybody and welcome to another edition of-wait a minute…this is the Grand Prix New Jersey blog! That means I get to gush over all of our sweet
Registration Rewards and what a huge event like this will look like! We're currently at 1,467 players, putting us on pace to be the largest Magic
tournament ever!
I'm sure you've heard of the Registration Rewards so far, but let's look at some images of those fine products: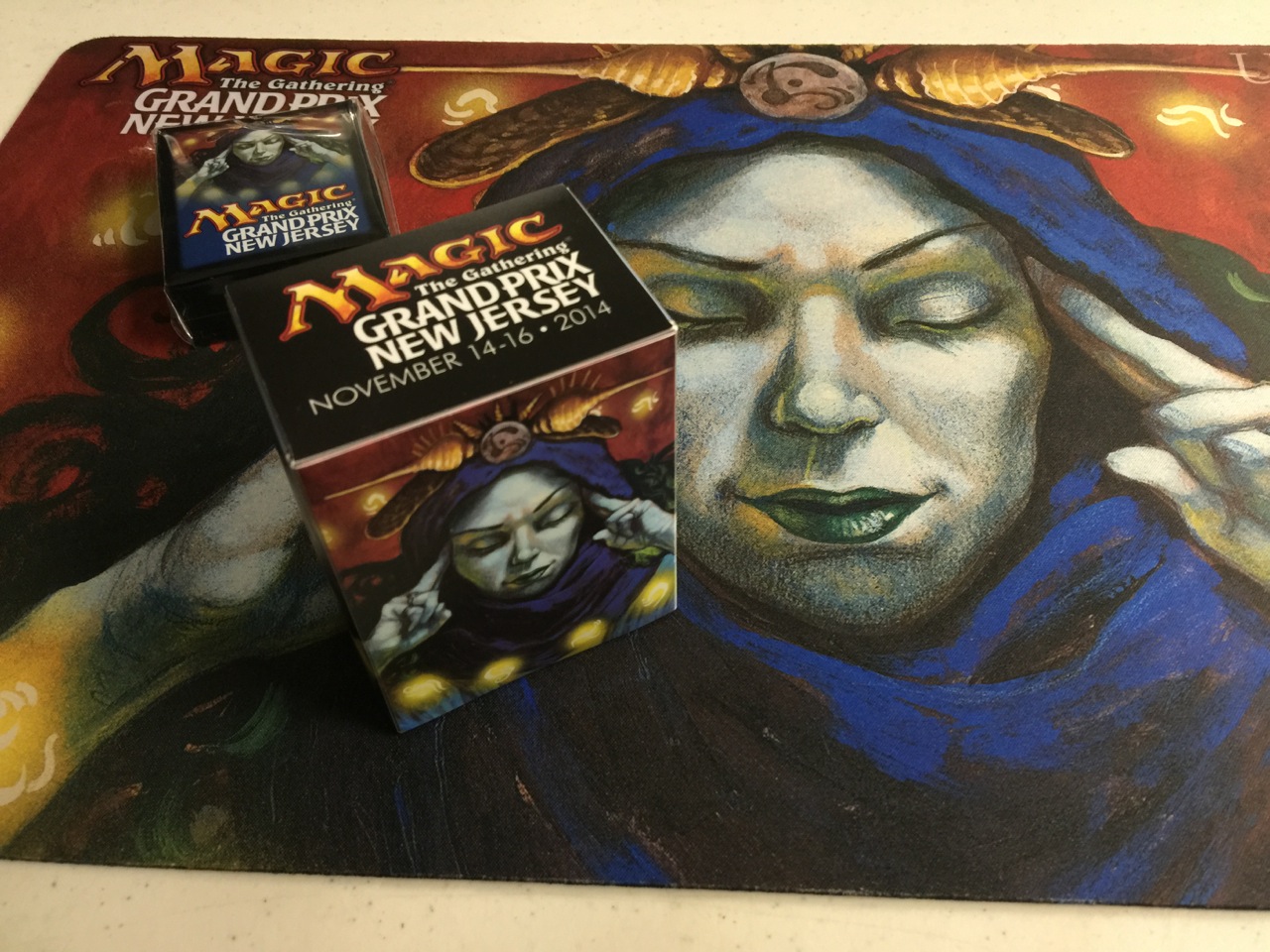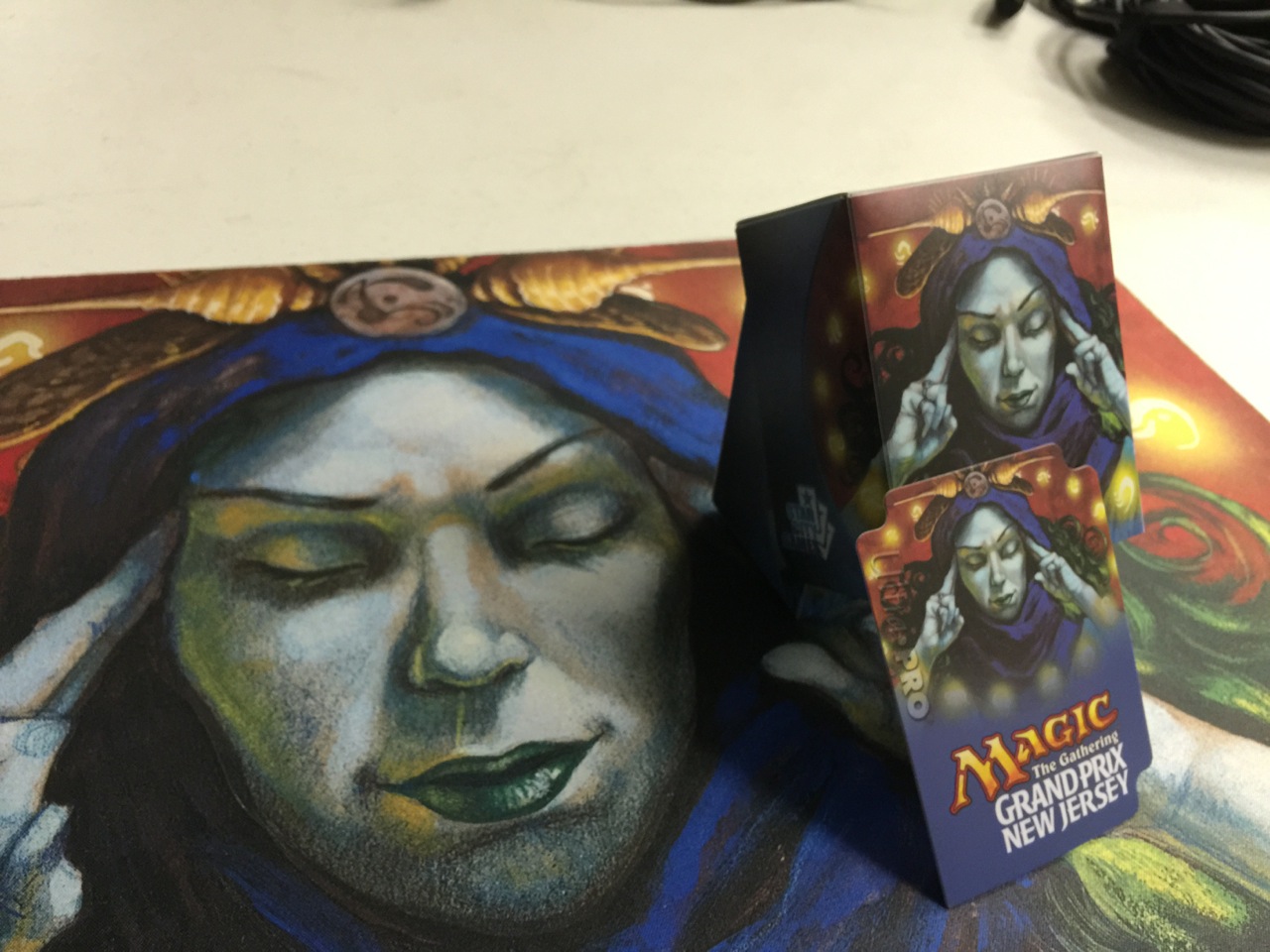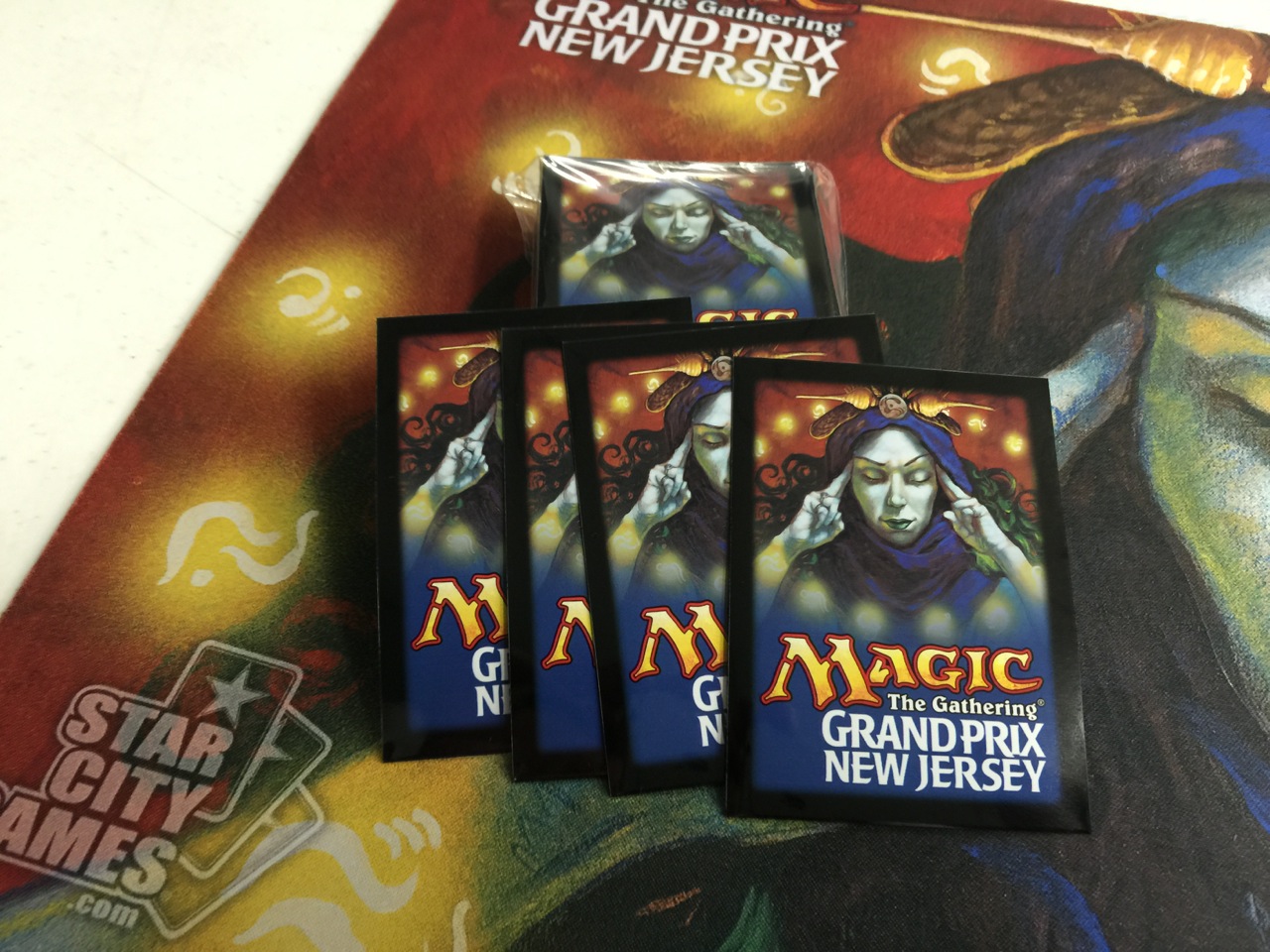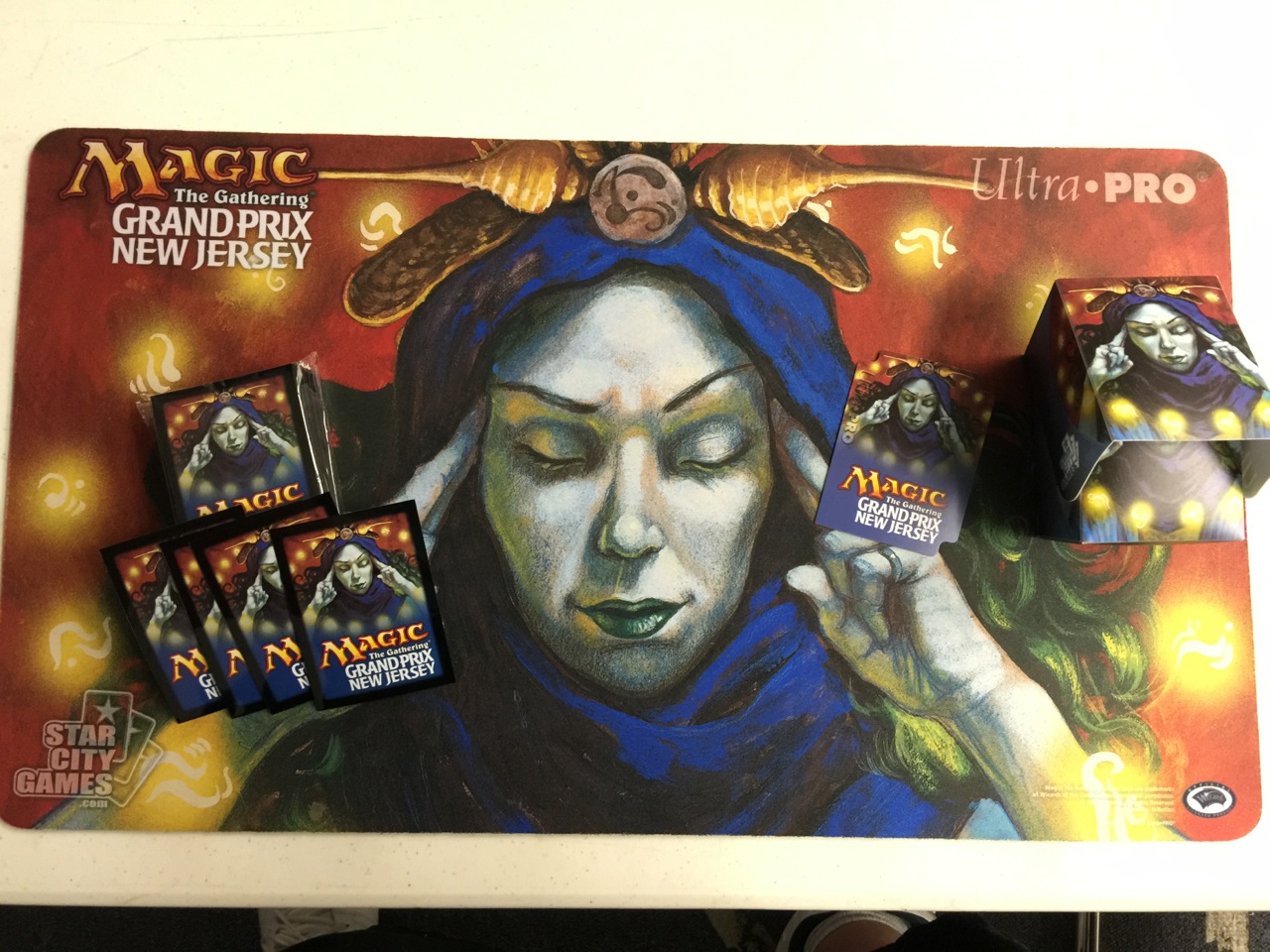 For those who haven't heard: You get a complete set of Brainstorm products (playmat, deck box, and 80ct. pack of sleeves) just for playing in the Grand
Prix! But that's not all – you also get the Grand Prix foil Batterskull promo and a voucher for a free month of StarCityGames.com Premium! You don't have
to win anything, or be the first X people registering. Just show up and play to get rewards! All of these items are guaranteed, so no matter what,
you'll be getting these items at the show!
Ah that sweet, sweet Brainstorm swag. Promotional swag that has, in fact, never ever been done in this manner before. While there have been plenty
of GP playmats, deck boxes, and other promotional items, never before has the same Magic promotional image been seen on all of the products simultaneously!
Remember – this is a one-time event. The only way you can your hands on a Brainstorm playmat is by playing in the main event or being a VIP. The only way
to get a Brainstorm deck box is by playing in the main event, while VIPs get a pair of them.
But those sexy Brainstorm sleeves? You have LOTS of ways of getting these on-site. Attaining additional packs of Brainstorm sleeves while at the event is
easy:
Play in a $20 Friday Sealed Spectacular (11AM, 12PM, or 1PM)
Win a Grand Prix Trial (on-site)
Win an 8-player side event
Go 4-0 in any Challenge Event
Go 4-0 in the Rebound Legacy Challenge on Saturday
Make Top 64 of the Super Sunday Series
Do any of those things for an additional pack of those one-of-a-kind limited edition sleeves!
But what if you don't want to do any of that, and you want some perks on top? Well for twice the price of registration, you get twice as many
packs of Brainstorm sleeves and an additional deck box! But that's not all for VIP, of course. You also get an exclusive Brainstorm pin that is only
available to VIPs: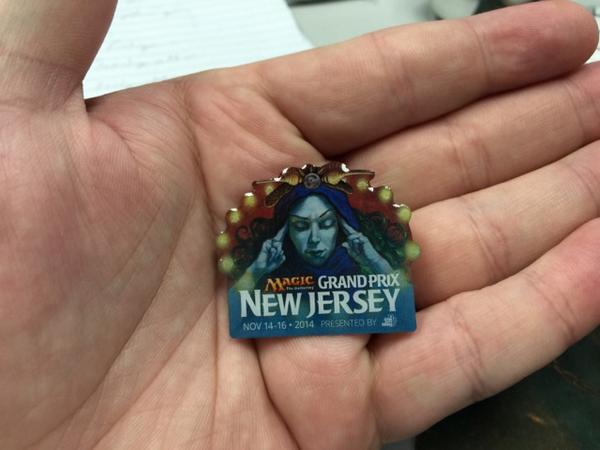 …and much, much more. Here is the full list of VIP benefits:
Brainstorm playmat
2 Brainstorm Deck Boxes
2 Brainstorm 80ct. Sleeves
VIP-exclusive Brainstorm pin
VIP badge and lanyard
Exclusive access to the VIP area
StarCityGames.com water bottle
Access to water station with unlimited refills
Access to phone and electronics charging station
Exclusive access to our VIP concierge (to signup for scheduled side events)
Exclusive side event registration area (avoid the lines!)
Private pairings boards
Needless to say, we tried to pack our VIP with as much value as we possibly could for such an incredible event – and for those thinking about going VIP,
you better act fast! VIP packages are over 86% sold out! Register for VIP status here.
Show Up And Play Preregistration
Lines suck. Waiting in check-in lines for hours is a huge waste of time and we worked hard to fix it. How did we do this? By creating Show Up and Play
Preregistration, a way for you to simply show up at the event, check the sheet that lists all prereg'd players, and show up for the player meeting. No
muss, no fuss! In the event that you do have issues, simply visit the Customer Service station to get it sorted out. With such a streamlined system, there
won't be an hour-long wait to get it fixed.
At the player meeting you'll get your 1-Month Premium Voucher, GP Promo Foil Batterskull, and a voucher for your additional rewards (Brainstorm playmat,
deck box, and 80ct. pack of sleeves). At any time after the player meeting you may visit the Customer Service station to exchange your voucher for your
rewards. This lets you decide when you want to get your stuff, and we'll have plenty of staff ready to hand out product when you do so.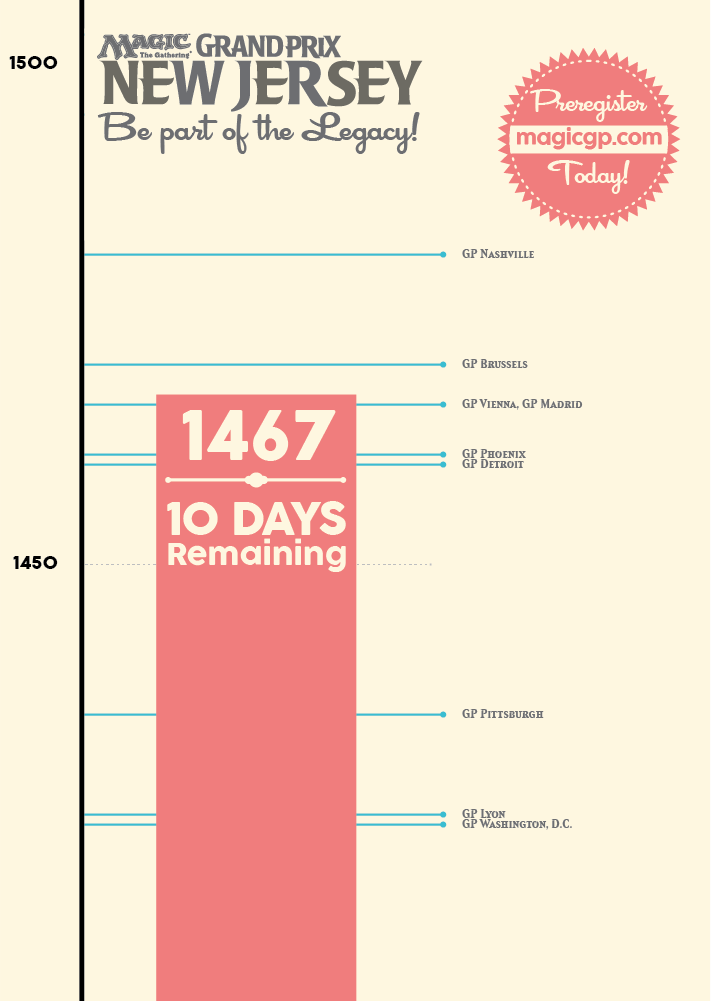 But what if you want your rewards before the player meeting? Easy – just register for the Sleep-In Special or VIP! These players can visit the Customer
Service station at any time during the weekend (including Friday morning and after) to get their registration rewards early!
Be Part of the Legacy!
Who doesn't want to be involved in what is currently trending to be the largest Magic event ever? Who doesn't want that to be part of their own Magic
legacy? "Yeah, I was at Grand Prix New Jersey. It was unreal!" Not only is this one of the few times you get to play an Eternal format at a Grand Prix, it
will likely be a seminal moment in the game itself.
Remember: If you have a Standard deck, you have a Legacy deck. If you have a Modern deck, you have a Legacy deck! With tons of side event options, there is
no reason to not join the main event for the sweet swag and being a part of what will likely be the largest event of all time, while able to battle in
whatever formats you wish all weekend long!
The complete schedule is available here and, of course, you should be preregistering immediately! I'll be at
the event helping the one and only John Avon run his booth, so if you see me, feel free to say hi!
Thanks for reading and we'll talk tomorrow about the wide array of side events at GP New Jersey!
Previous Grand Prix New Jersey Daily Updates: