If you're looking to preregister for the event, look no further!
Hello everyone! We're just eleven days from the doors opening at Grand Prix New Jersey. It's time for us to fire up the Grand Prix blog! Over the next
couple of weeks, I'll be discussing the ins, outs, and in-betweens of Grand Prix New Jersey. Any news, updates, or changes to Grand Prix New Jersey will be
announced via this blog, as well as an in-depth look at everything you need to know about attending the Grand Prix!
The number one question we've been asked about Grand Prix New Jersey? "Are you really expecting 5,000+ players?" And the answer is yes, we are preparing to
have a record-breaking attendance at Grand Prix New Jersey! We've rented the entire New Jersey Convention and Exposition Center. This is over 150,000 square feet of space, so we have plenty of
room for anyone who wants to attend the event.
In fact, we (SCG) are taking some unprecedented additional steps to make sure that this event is well-run, fun, and comfortable! Here are some of the
measures we're taking for Grand Prix New Jersey:
Largest Judge Staff in MTG History: We have 205 (yes, two-hundred and five) judges coming to help run Grand Prix New Jersey. By comparison, the previous
two largest events (GP Las Vegas and GP Richmond earlier this year) had 148 and 135 judges, respectively. We want to make absolutely sure that we are
prepared to have the people-in-stripes available to run the main event and all side events without any lack of floor coverage.
Food Trucks: In addition to the convention center's concession stands, we have recruited additional food trucks for the weekend! So not only will you be
able to get food in the room or nearby at restaurants, but you'll also be able to step outside and grab a bite to eat from some of the best mobile food
vehicles in the tri-state area!
Additional Toilets: Although we believe that the New Jersey Convention Center has enough bathrooms to accommodate all of our players, we are not taking
any chances. We have rented two dozen port-a-potties to supplement the indoor facilities.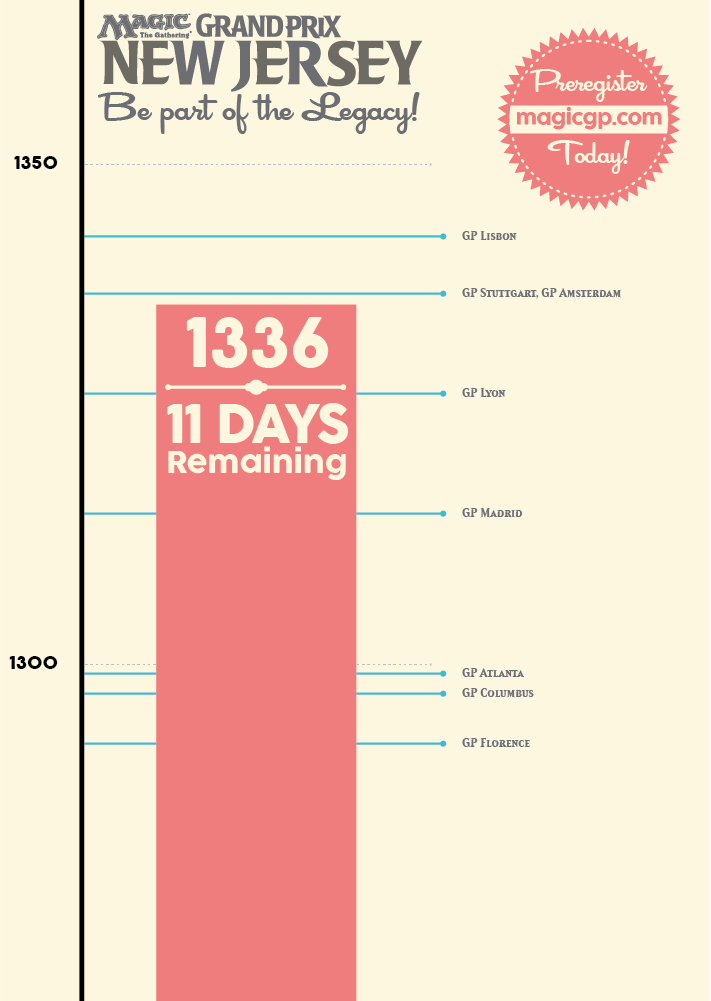 Right now, we have 1336 players preregistered for Grand Prix New Jersey. This might not sound like a lot against our final expected number, but let's
compare this to Grand Prix Richmond.
Grand Prix Richmond had 1141 Players preregistered 12 days out from the main event. 4304 total players attended (26.5% of total attendance preregistered at this
point).
So if preregistration trends hold true, we're looking at around 5,200 players for the main event in New Jersey. I expect this number to be higher! Over the
next few days, I'll expand on everything we're doing to make Grand Prix New Jersey an amazing event!
Coming tomorrow: The Main Event! Registration Rewards, Prize Pools, and more!