Grand Prix New Jersey. It's coming, and it's gonna be awesome. Sitting at 1,709 preregistered, today's blog is here to discuss all of the things you can do
that aren't the main event or side events. So let's get started!
Artists
Our first artist, and Guest of Honor for the event, is John Avon. An artist that hasn't had a public appearance in over 3.5 years(!), we
are definitely excited to have him at the show. However, there is another reason that John is not at many shows, and it relates to Chronic Fatigue Syndrome. John, as brilliant and talented as he is, must live and work
with this condition, and it will affect the amount of time he is able to sign and greet during the show.
Here are John Avon's hours of appearance at Grand Prix New Jersey:
Friday – 1PM – 4PM
Saturday – 10AM – 12PM; 2PM – 4PM
Sunday – 10AM – 12PM; 2PM – 4PM
While we want to accommodate as many players/fans as possible, unfortunately a limited schedule is necessary. We do hope you understand, and suggest you
get in line early! We'll also have a full sales booth just for John Avon's products, including lithographs, prints, playmats, and more.
A few additional notes for John Avon's artist line:
A maximum of five cards per visit
Multiple visits are okay!
No alter requests please
All sales booth transactions are cash only
Again, we're incredibly excited to have John Avon at GP New Jersey, and we hope you feel the same! Come out and get your cards and prints signed!
Our next artist is Zoltan Boros. A defining presence amongst modern Magic artwork, he has more than a hundred illustrations to his name,
including Academy Ruins, Electrolyze, and more!
Jeff Menges
is another visiting artist at Grand Prix New Jersey and is perfect for an Eternal event. An artist with a vast amount of iconic and famous cards to his
name, his hits include Bazaar of Baghdad, Moat, and Swords to Plowshares!
rk post
is an almost constant presence amongst Grand Prix events. The hardest working artist in Magic some say-or, at least the one with the most event
appearances-you can't deny the tenacity of rk. His artwork is visceral and surreal, including the iconic Morphling, the powerful Ichorid, and the unique
Unmask!
But…what about that Black Lotus? Arguably the most iconic art in our entire game, it was illustrated by none other than Christopher Rush!
A man who has given us Black Lotus, Lightning Bolt, Brainstorm, and so much more. Dig out those classic cards and meet the man himself at the event!
Zack Stella
hasn't been illustrating for long, but he has made quite a splash. In 2013, Legacy was redefined once again as one of its most powerful creatures was
printed-True-Name Nemesis. This incredible Legacy staple is quickly becoming an iconic creature of the format. For those who like to sneak in monsters, he
also illustrated the judge promo Show and Tell, so take advantage of his appearance at the show!
Last but not least, Matt Stewart makes an appearance in New Jersey, and his artwork is perfect for the show. With a bevy of judge promos
like Force of Will and Mana Crypt, he also helped define Dredge with Narcomoeba. With over 90 illustrations under his belt, including many in Khans of
Tarkir, we're excited to have him at the event!
So those are your artists. But what about those looking to buy or sell or trade at the show? Let's talk vendors!
Vendors
With an incredible 20(!) vendors at Grand Prix New Jersey, you shouldn't have any problem buying or selling whatever Magic cards you're looking for. Let's
take a look at the list: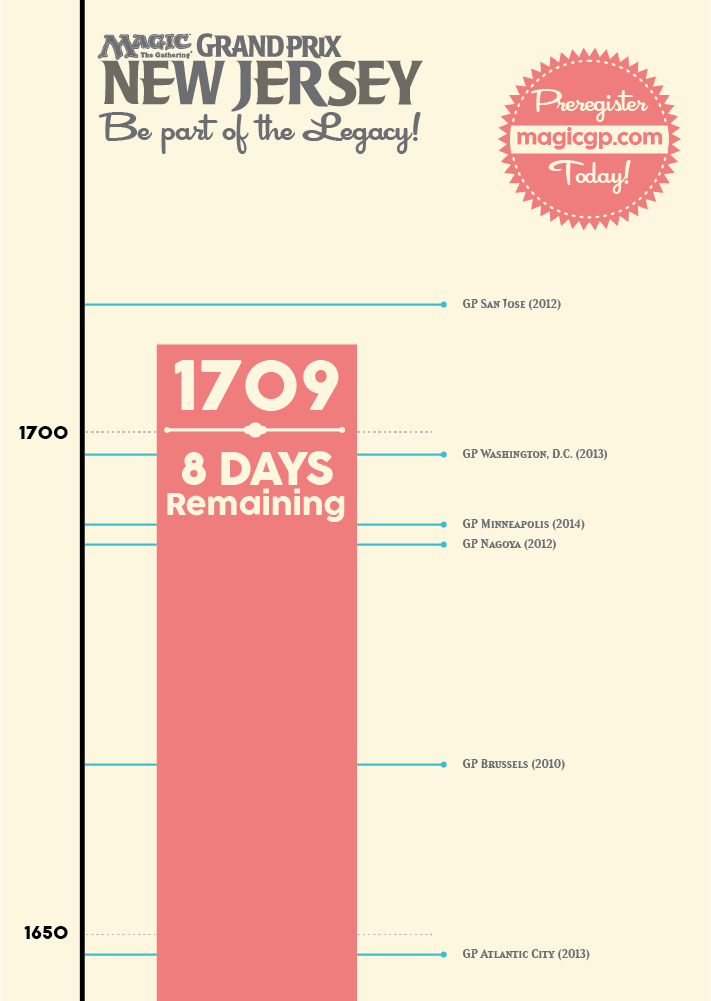 MTG First
Cape Fear Games
StrikeZone Online
Hotsauce Games
Card Advantage
CoolStuffInc
MTGCardMarket
Troll and Toad
Gaming Etc
Card Titan
Comics and Gaming
Aether Games
RIW Hobbies
Pink Bunny Games
Card Master
Magic Stronghold
MTGDeals
Pastimes
TJ Collectibles
Phew! What an incredible list! We are thrilled to bring you so many options for your business at the show and trust you'll have no problem hunting down
even the most hard to find rarities!
VS Live!
Our last stop on what to do at Grand Prix New Jersey includes two of the stars of our VS Series, Chris VanMeter and Brian Braun-Duin! Watch CVM and BBD
battle it out in Legacy action at the event or watch from home on SCGLive! This is your last chance to see Legacy action on camera before the big event, so
join us Friday night, November 14th at 6PM and support #TeamBBD or #TeamCVM!
Phew! Grand Prix New Jersey continues to ramp its way toward record attendance, and we're excited to bring you so many artists, vendors, and a live
spectacle to enjoy on Friday. We hope you'll join us! If you're thinking about going, preregister now!
We'll be back tomorrow to discuss the logistics of running an event as large as Grand Prix New Jersey!
Previous Grand Prix New Jersey Daily Updates:
– 9 Days out: Side Events Lineup
-10 Days Out: Rewards For Playing