2005 was another bumper crop for Vintage. 2004 was arguably the strongest year since the format's inception. 2005 was a suitable postscript to the banner 2004. If there is one thing that can be said about 2005, an over arching theme, it is that it was the year of Stax. Only, we didn't know it when the year began.
Before we take a look, it's worth reminding you why. Although clichéd, it's axiomatic you can't know where you are unless you know where you've been. A year speeds by so quickly that we sometimes get caught up in the details, missing the bigger picture.
January: Control Slaver Reasserts Itself as the Deck to Beat
Every January, a generous prize structure and dazzling reputation draws several hundred people to frigid Waterbury, Connecticut to scrap and skirmish with pricy cardboard. The results of the Waterbury, although skewed and bent to reflect a Northeastern romance with Mana Drain, sets the stage for what's to come by framing a new metagame. This Waterbury was no exception.
Two-hundred players brawled in what was the largest Vintage tournament ever held in North America. Around a dozen of those players were my compatriot Team Meandeckers piloting the freshly unveiled "Meandeck Tendrils":
Meandeck Tendrils

Win Condition:

4 Tendrils of Agony



Land:

4 Land Grant

1 Bayou

1 Tropical Island

1 Polluted Delta
Rituals:

4 Dark Ritual

4 Cabal Ritual
Artifact Acceleration:

1 Mox Sapphire

1 Mox Pearl

1 Mox Ruby

1 Mox Jet

1 Mox Emerald

1 Sol Ring

1 Mana Crypt

1 Mana Vault

1 Black Lotus

1 Lotus Petal

1 Lion's Eye Diamond
Artifact Mana Fixing Cantrips:

4 Chromatic Sphere

4 Darkwater Egg
Tutors:

4 Spoils of the Vault

1 Demonic Tutor

1 Demonic Consultation
Blue Cantrips:

4 Brainstorms

4 Sleight of Hand

1 Ancestral Recall
Misc:

1 Chain of Vapor

1 Hurkyl's Recall

1 Yawgmoth's Will

4 Night's Whisper
Only Justin Walters (check out his hilarious and impressively crafted report on the deck) was able to first turn win his way into the Top 4. The real story of that tournament was the utter dominance of Control Slaver:
The Waterbury – 202 Players Jan, 2005

http://www.themanadrain.com/forums/viewtopic.php?t=21512



1) Goth Control Slaver

2) Goth Control Slaver

3) The Perfect Storm

4) Meandeck Tendrils

5) Control Slaver

6) Control Slaver

7) Rector Trix

8) Workshop – Staff of Domination Combo
There were four Control Slaver lists in the Top 8 and eight in the Top 16. Control Slaver, for those unaware, was the deck that won the previous Vintage Championship. It uses Thirst for Knowledge and Goblin Welder to cheaply and repeatedly recur Mindslaver to obliterate an opponent.
Goth Slaver derived its name from Gothenberg, Germany, where the Intuition and Accumulated Knowledge combination was first observed inhabiting the same abode as its close relative Thirst For Knowledge.
Here is the winning decklist:
Jeffrey Tussi

1st Place

Playing Control Slaver



1 Platinum Angel

1 Pentavus

4 Goblin Welder

4 Mana Drain

4 Force of Will

4 Thirst for Knowledge

4 Brainstorm

4 Accumulated Knowledge

2 Cunning Wish

2 Intuition

1 Lava Dart

1 Ancestral Recall

1 Mindslaver

1 Tinker

1 Time Walk

1 Mystical Tutor

1 Mana Crypt

1 Mox Sapphire

1 Mox Emerald

1 Mox Ruby

1 Mox Pearl

1 Mox Jet

1 Sol Ring

1 Black Lotus

1 Lotus Petal

1 Tolarian Academy

1 Library of Alexandria

4 Flooded Strand

4 Volcanic Island

5 Island



Sideboard :

1 Lava Dart

3 Red Elemental Blast

1 Fact or Fiction

1 Duplicant

1 Platinum Angel

3 Rack and Ruin

2 Blood Moon

3 Arcane Lab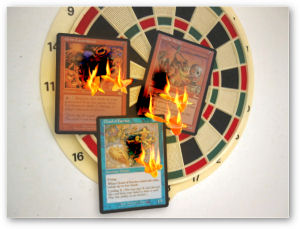 The primary tech coming out of this deck was the recognition of the importance of Lava Dart as a maindeck answer to Gobiln Welder. Since almost every deck in the format, aside form Combo, had Goblin Welder or small 1/1 creatures like Cloud of Faeries and Grim Lavamancer, Lava Dart was remarkable technology. The second place deck used some technology of his own: two maindeck Deep Analysis – an intelligent choice for this Mana Drain metagame.
In Europe, this looked quite different at the time. Phil Stanton's January and February data shows which decks were winning the most during this time period:
January and February Metagame Breakdown:
10 Trinistax (1,1,1,1,3,3,4,7,8,8)

10 TPS (1,1,2,2,2,3,3,5,8,8)

7 Mud / Welder Mud* (1,2,4,4,4,6,7)

7 Control Slaver (2,3,5,5,5,7,7)

7 Landstill (2,2,2,3,4,7,7)

7 Oath of Druids (3,3,5,5,6,6,6)

5 Dragon (2,4,7,7,8)

5 4C Control (3,4,4,7,8)

5 Fish (5,5,7,8,8)
In the United States, The Perfect Storm (TPS), a Blue and Black Dark Ritual Combo deck with a resilient mana base including several basic lands, was hot stuff. Similarly, Trinisphere/Smokestack/Mishra's Workshop Prison decks were performing quite well overseas. The Control Slaver showings were almost entirely from North America, while TPS and Stax were jostling for the top spot in Europe. Apparently, people played TPS because they believed it would beat Stax. The idea behind this presumption being that 4 Fetchlands and five basic lands (usually 5 Blue fetchlands and 3 Island and 2 Swamp) combined with multiple Rebuilds and a deck strategy that could win in the space of a turn was the perfect solution to these Trinisphere wielding monstrosities. They were correct. TPS was holding its own against control decks and the Workshop behemoths.
Karsten Cotter opened January with an overlooked article on Gifts Ungiven. His innovation would not take root until many months later.
February: The Metagame Takes Aim at Control Slaver
The Starcitygames Power Nine season opens with a bang in Syracuse, New York. A 136 players show up to tussle for some Vintage goodies. Impressively, the Canadians are a force to be reckoned with as they rode into town with over forty soldiers. After a grueling swiss, the Top 8 emerged:
2005-02-26 SCG P9 V Syracuse (136 players)

1. Trinistax – Kevin Cron

2. U/W Landstill

3. U/G Threshold

4. 3C Control

5. Control Slaver

6. Sensei Sensei

7. Dragon

8. Trinistax
Everyone in this Top 8 was gunning for Slaver and it showed. The Canadians brought their own solutions and more than a couple made Top 8. Team Meandeck found its solution in the scourge of the South, Kevin Cron:
Kevin Cron – 1st (picked Black Lotus [1st] and Timetwister [last])

Stax

4 Smokestack

4 Sphere of Resistance

3 Trinisphere

3 Crucible of Worlds

3 Chains of Mephistopheles

2 Gorilla Shaman

1 Triskelion

1 Karn, Silver Golem

1 Demonic Consultation

1 Tinker

1 Vampiric Tutor

1 Demonic Tutor

1 Crop Rotation

1 Ancestral Recall

1 Yawgmoth's Will

1 Mind Twist

1 Balance

2 Swords to Plowshares
4 Mishra's Workshop

4 Wasteland

1 Strip Mine

4 City of Brass

4 Gemstone Mine

1 Tolarian Academy

1 Black Lotus

1 Lotus Petal

1 Mox Jet

1 Mox Sapphire

1 Mox Ruby

1 Mox Pearl

1 Mox Emerald

1 Sol Ring

1 Mana Crypt

1 Mana Vault


Sideboard

3 Ground Seal

3 Choke

3 Ray of Revelation

2 Orim's Thunder

2 Viashino Heretic

1 Trinisphere

1 Swords to Plowshares
Kevin's deck was one of the first Stax decks in some time to emphasize Sphere of Resistance over Trinisphere. Sick and tired of losing to Control Slaver, Kevin realized that Control Slaver's strategy revolved around playing under Trinisphere effectively. Sphere of Resistance, by now unusual and not frequently tested against, strained that strategy. Thirst for Knowledge, Cunning Wish, and Tinker were much less effective when they cost four or more mana. Equally important was his focus on shutting down Slaver's draw with Chains of Mephistopheles, an efficient enchantment that can easily be played on turn 1. Kevin's entire deck was aimed to beat Control Slaver, and did so quite effectively.
Here we see the emergence of a new kind of Stax and Stax player – foreshadowing what is to come: Stax carefully crafted and meticulously designed with cutting edge technology to combat the metagame. Instead of just netdecking the last winning Stax deck, Kevin Cron heralds the arrival of the "expert" Stax player. Many others will join his ranks, as we shall see.
Also of note, we see another sign of what is to come in the emergence of yet another Mana Drain combo deck. This trend toward Mana Drain decks with combo finishes is the second major theme of 2005. If you don't know what I'm talking about specifically, I'm referring to the deck titled "Sensei, Sensei." The new combo, emerging out of Team Hadley Massachusetts, uses Helm of Awakening, Sensei's Divining Top, and Future Sight to draw your entire deck for free.
Sensei, Sensei – Divining Top Combo

1 Mana Vault

1 Sol Ring

1 Mox Pearl

1 Mox Emerald

1 Mox Sapphire

1 Mox Ruby

1 Mox Jet

1 Black Lotus

1 Mana Crypt

5 Island

2 Flooded Strand

3 Polluted Delta

2 Underground Sea

1 Tolarian Academy
3 Sensei's Divining Top

3 Helm of Awakening

3 Future Sight

1 Intuition

1 Vampiric Tutor

3 Cunning Wish

4 Force of Will

3 Mana Drain

2 Thirst for Knowledge

1 Mystical Tutor

4 Accumulated Knowledge

1 Ancestral Recall

1 Frantic Search

1 Yawgmoth's Will

1 Demonic Tutor

1 Merchant Scroll

1 Timetwister

3 Deep Analysis

1 Time Walk
Sideboard

3 Chalice of the Void

1 Rebuild

1 Echoing Truth

1 Blue Elemental Blast

1 Brain Freeze

2 Annul

1 Lim-Dul's Vault

1 Flash Counter

1 Coffin Purge

2 Tormod's Crypt

1 Stifle
This deck just wants to draw its deck using Divining Top/Future Sight/Helm of Awakening, play a bunch of spells and then Cunning Wish for Brain Freeze (although the updated lists probably have a Brain Freeze maindeck) and then murder your library.
Helm of Awakening, Future Sight, and Divining Top permit you to instantly draw your deck. How? Helm of Awakening makes Divining Top free. Future Sight permits you to play the top card of your library as if it were in your hand. When you activate the Top, the Top goes to the top of your library. With Future Sight in play, you can just replay the Top that has moved to the top of your library for free. Do this 45 or so times and you will have drawn your whole deck. At that point play Brain Freeze and win the game.
This deck has insane amounts of draw, a very synergistic combo, and, again, a combo that happens in one turn. It has plenty of bounce, multiple draw engines and potentially lots of answers. The deck is surprisingly good at getting Future Sight into play by turn 3, and if that happens and you see a Mox and a Top off the top of the library, all it takes is Helm and then the Top becomes lethal. Also, all the combo components except Helm are very strong by themselves. This deck's speed and ability to just "win now" make it an attractive option for a Drain player who doesn't want to wait two turns to kill the opponent. Plus, it has built it all of the cool Type One cards like Intuition and Thirst for Knowledge. Frantic Search is ridiculously powerful in this deck as well. It might be the coolest play in the deck.
March: Trinisphere Gets It

The DCI had had enough. Although Control Slaver and TPS had no problems handling earlier incarnations of Trinisphere Stax, and even though Kevin Cron's list only had three Trinispheres, Trinisphere was just too unfun. The non-cutting edge Vintage player who got Turn 1 Trinisphered found themselves unable to play a single spell the rest of the game.
Here is what Aaron Forsythe had to say on the matter (for the full text, read this article):
I could repeat many of the paragraphs above with some of the words changed to cover the Vintage changes, but I think I'd rather summarize instead.
Trinisphere is a nasty card, no bones about it. It does ridiculous things in Vintage, especially combined with Mishra's Workshop. As I've said in a previous column, we almost restricted it before it was even released.
Now that it has been floating around for a while, the Vintage crowd understands that the card does good things for the format, and bad things to the format. While it does serve a role of keeping combo decks in check, it also randomly destroys people on turn one, with little recourse other than Force of Will. And those games end up labeled with that heinous word-unfun. Not just "I lost" unfun, but "Why did I even come here to play?" unfun. The power level of the card is no jokes either, which is a big reason why I don't feel bad about its restriction.
Vintage, like the other formats with large card pools, always runs the risk of becoming non-interactive, meaning the games are little more than both players "goldfishing" to see who can win first. Trinisphere adds to that problem by literally preventing the opponent from playing spells. We don't want Magic to be about that, especially not that easily. If combo rears its head, we'll worry about it later. But for now, we want to people to play their cards. Really.
And there it went. Trinisphere got restricted and, ironically, instead of unleashing combo, the effect was to kill combo. I'll trace this trend in a few minutes.
Eric Miller and others like him had made their living in Vintage off of Workshop Aggro. Turn 1 Trinisphere, turn 2 Juggernaut was part and parcel of his mantra. Eric Miller won more than one StarCityGames Power Nine tournament on the back of Trinisphere, and now that it was gone, Workshop Aggro as a concept was destroyed.
Before 2005, Workshop Aggro outperformed Stax by a wide margin. In 2005, the opposite was true. So when Trinisphere's restriction took effect on April 1st, what did it do to Vintage?
April Fools: The Return of Fish and a Gift for the Future

April foreshadows the metagame at the end of 2005. Two decks emerge only to quietly disappear and resurface as the two dominant decks of 2005 in the fall months of the year.
In March, Andy Probasco, a.k.a. the Brassman, unveiled his take on Gifts, borrowing Recoup and Mana Severance technology from the Germans which he piloted at the StarCityGames tournament in Syracuse: http://www.starcitygames.com/php/news/article/9130.html
Ben Kowal wasted no time taking advantage of Gifts and toppled a hundred and fifty players to secure Gifts its first, but hardly last, major tournament win.
Ben Kowal – Gifts Ungiven Belcher, 1st place at SCG Chicago in April, 2005

Maindeck:



Artifacts

1 Black Lotus

1 Goblin Charbelcher

1 Lotus Petal

1 Mana Crypt

1 Mana Vault

1 Mox Emerald

1 Mox Jet

1 Mox Pearl

1 Mox Ruby

1 Mox Sapphire

1 Sol Ring
Artifact Creatures

1 Pentavus
Artifact Lands

1 Darksteel Citadel
Creatures

2 Goblin Welder
Instants

1 Ancestral Recall

4 Brainstorm

1 Chain Of Vapor

1 Fact Or Fiction

4 Force Of Will

2 Gifts Ungiven

4 Mana Drain

1 Mystical Tutor

4 Thirst For Knowledge



Legendary Artifacts

1 Mindslaver
Sorceries

1 Demonic Tutor

2 Duress

1 Mana Severance

1 Recoup

1 Time Walk

1 Tinker

1 Yawgmoth's Will
Basic Lands

1 Island
Lands

2 Flooded Strand

1 Library Of Alexandria

2 Polluted Delta

3 Underground Sea

4 Volcanic Island



Legendary Lands

1 Tolarian Academy
Sideboard:

3 Chalice Of The Void

3 Tormod's Crypt

2 Blue Elemental Blast

2 Rack And Ruin

3 Red Elemental Blast

2 Rushing River
The restriction of Trinisphere and the huge success and proliferation of more Mana Drain combo decks led me to believe that the metagame was fundamentally shifting to a Mana Drain combo format. Oath, Tog, Control Slaver, Gifts, Sensei, and Salvagers were all Mana Drain decks that win in the space of a turn or two. I wrote a pair of articles analyzing this trend and discussing the inner-workings of these decks: http://www.starcitygames.com/php/news/article/9618.html and http://www.starcitygames.com/php/news/article/9664.html
No sooner had Andy and Ben put Gifts on the Vintage map then a debate emerged about the proper way to abuse it. Carl Winter and Matthieu Durand answered with Darksteel Colossus and Burning Wish over Mana Severance. Carl backed up his claim by getting third place at the April Waterbury tournament, the highest placing Gifts list. The question of whether Gifts should only use Burning Wish and Colossus or some other win condition remains salient and unresolved today. Andy and his crew promote Time Vault and Flame Fusillade in addition to Colossus and Wish. Others think additional win conditions are unnecessary. However, people no longer use Goblin Welders in Gifts.
Perhaps as important as the Gifts innovation is the unobtrusive appearance of Robert Vroman's unusual Stax list in the Chicago Top 8.
Robert Vroman – Stax

Maindeck:

Artifacts

1 Black Lotus

1 Candelabra Of Tawnos

3 Chalice Of The Void

1 Citanul Flute

3 Crucible Of Worlds

1 Jester's Cap

1 Mana Crypt

1 Mana Vault

1 Memory Jar

1 Mox Emerald

1 Mox Jet

1 Mox Pearl

1 Mox Ruby

1 Mox Sapphire

3 Smokestack

1 Sol Ring

1 Trinisphere

4 Uba Mask
Artifact Creatures

1 Duplicant

1 Pentavus

1 Triskelion
Creatures

4 Goblin Welder

1 Gorilla Shaman
Instants

1 Ancestral Recall



Legendary Artifacts

1 Mindslaver
Legendary Artifact Creatures

1 Karn, Silver Golem
Sorceries

1 Time Walk

1 Tinker

1 Wheel Of Fortune
Artifact Lands

1 Great Furnace
Lands

4 Bazaar Of Baghdad

4 Mishra's Workshop

1 Riftstone Portal

1 Strip Mine

4 Volcanic Island

2 Wasteland

1 Wooded Foothills
Legendary Lands

1 Tolarian Academy
Sideboard:

1 Chalice Of The Void

1 Ensnaring Bridge

1 Eon Hub

1 Granite Shard

2 Orb Of Dreams

1 Tormod's Crypt

1 Sundering Titan

1 Viashino Heretic

1 Artificer's Intuition

1 Overload

1 Pyroblast

1 Red Elemental Blast

1 Bosh, Iron Golem

1 Maze Of Ith
Like the Gifts decks that performed well in April, this deck is in its alpha development stage. Vroman has either identified or came to fully realize before most others the amazing synergy of Bazaar of Baghdad in Workshop prison. It combos not only with Goblin Welder, but has marvelous synergy and power with Uba Mask. It is worth noting that Kevin Cron got 9th place at the same event.
SCG Chicago in April foreshadowed the future Vintage metagame. The two concepts to emerge that would shape the contours of the Vintage metagame for the remainder of the year were Gifts and Uba Stax. However, these trends would take some time to root and flourish. As expected, April also gave us some red herrings.
After the Waterbury in April, the talk of the tournament was Fish!
Not only did Jason Zheng win the whole thing with U/W Fish, but meandecker Ashok Chitturi released a popular innovation on Fish: Chalice/Aether Vial Fish and made Top 16 in the same tournament. Take a look at their lists if you are curious.
Taking note of this trend, Phil Stanton speculated that Fish was simply a flash in the pan. The new Fish lists seemed to overshadow the developments with Gifts and Stax. Don't let April fool you.
May: Richmond is for Workshop Lovers

At the next stop on the SCG P9 circuit, Mishra's Workshop decks put four decks into the Top 8 (I got ninth with Cron Stax) along with another evolutionary offshoot of Ashok's Vial Fish: Jacob Orlove's U/G Worse than Fish. [WTF is clearly its own deck archetype that was developed well before Ashok's performance. They do share considerable tech these days. – Knut, grumbling]
Creatures (15)
Lands (21) What happened in Richmond?
First of all, Fish had returned. The big win in the Waterbury by U/W Fish meant that Fish would return to the SCG Circuit. A few months earlier, Fish was declared dead in Syracuse, but Trinisphere was restricted and Mana Drain decks did pretty well in Chicago. Gifts Ungiven decks were making waves. In this field, U/W Fish builds and more recent variants using Chalice of the Void and Aether Vial over Null Rod had suddenly begun to perform.
Richmond is also very well known for playing Mishra's Workshop decks. It is the home of Team Short Bus, which has developed many of the Mishra's Workshop decks that have done so well in the last year and a half. David Allen created 5/3, a Workshop aggro deck that took him to the Vintage World Championship finals last year. Eric Miller first broke Workshop Aggro over Fish in the first SCG event last July. Shane Stoots unleashed the dreaded 7/10 Split at Grand Prix D.C. last spring. Jay Coffman has been a consistent performer with his JuggerStax list as well. I wondered whether these players would still be playing Workshop decks now that Trinisphere was restricted. And even if they were, could they make the cut now without Trinisphere?
The answer was an unqualified yes. This tournament confirmed what happened in Chicago: Stax could survive the restriction of Trinisphere. It would simply have to evolve to become a more thoughtfully built archetype.
Finally, Gifts not only won SCG Chicago, but it was the talk of the town, putting several players into the Top 8 at Waterbury. Richmond marked a huge decline in the number of Control Slaver decks as peopled shifted to Gifts. Gifts and Fish were the two decks to beat and it showed. The best Workshop players aimed their gun barrels at these targets and got a direct hit. I only wish I had had better tiebreakers! My teammate Kevin Cron slipped to 11th place at this tournament. The big lesson is that Workshops can not only compete with Gifts and Fish, they can best Gifts and Fish despite the restriction of Trinisphere. Now all the pieces of the puzzle are in place. It's time to shoot some stars.
June: Shooting Stars!

June was a banner moment for Vintage. SCG held a very special Vintage Power 9 in Rochester, NY. The idea behind this is that SCG recruited a series of Magic Stars to play in the tournament including many players that do not normally play Type One. Each of the "Stars" got three T-Shirts with their own custom-designed image courtesy of the incomparable Yawgatog (or the guy who does the kickass Photoshop work for the Premium articles for those who are unfamiliar with the name). One of those T-shirts was for the Star to keep, but the other two were to be given away to whatever players defeat them. Here are some of the pros who showed up:
Zvi Mowshowitz

Chad Ellis

U.S. National Champ Craig Krempels

Rich Hoaen

Former Canadian Nat Champ Josh Rider

Steven Wolfman

Ken Krouner

Ben "The Most Hated Man in Vintage" Bleiweiss (wearing a T-Shirt with a big target on it for the duration of the event)
The result was the biggest SCG Power 9 event yet with a 174 players, exceeding the turnout for most Waterburys! Full coverage of the event is available here:
Chad and Zvi wrote reviews of the event.
Are the Pros really that much better at making Vintage decks than the rest of the world? They put up a good effort! Unfortunately, the Canadians dominated Rochester, surprising everyone. Ugo Rivard took home his first SCG Lotus, but not his last, with Control Slaver, reminding everyone that Control Slaver can compete with Gifts, Fish, and even Mishra's Workshops. Fish proved no fluke putting up four copies of itself in the Top 8!
By now most of the key innovations had already sprouted. The remainder of 2005 is about putting the finishing touches on these archetypes. However, Ravnica and Portal promised to shake things up. Did they? We'll take a look next week as we wrap up the Vintage Year in Review.