The Control Player's Bible, Book I (The Fundamentals of 5-color control)

Table of Contents for Book I (19 articles):
Again, my apologies for all the delays. The last column"The Death of Art" met with unforeseen technical difficulties, since it was loaded with graphics. Hopefully, we'll be back on track from now on.
(Editor's Note: Due to a foulup on my part, the"good" art on Elvish Ranger in last week's article wasn't posted. As an apology, here's an extra-large edition of it so that you can appreciate this card's, um… Assets. – The Ferrett)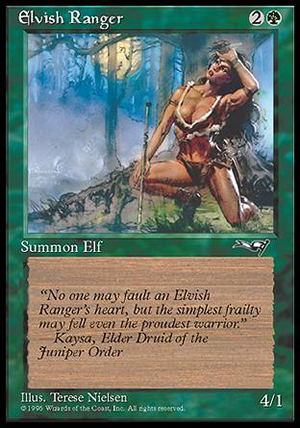 Notes From All Over…

Anyway, while the art was being sorted out, Aaron Forsythe made an interesting announcement on the Wizards boards:
Howdy, folks.



In two weeks, we will be having Banned and Restricted Week on MagicTheGathering.com.



One idea that I thought would be interesting for an article would be to compile letters from serious Type 1 players about what they thought should be changed on the current B&R list. So I'm asking the members of this forum for their input.



If you are a serious Type 1 player with many, many games under your belt, send responsible comments on the B&R list to [email protected], with"Type 1 B&R" as the subject.



I'll only use between 5-10 of the letters I receive, but I'll at least compile the info to show the DCI. You will have a good chance to have your letter used in the article if:



– You can write well

– You do not flame Wizards just for the sake of flaming

– You have good opinions and show an understanding of the format (not"Ban Hym to Tourch my frind always beats me with it i h8 it!")

– You keep the length reasonable. I have no intention of compiling/editing a 10,000 word manifesto



If anyone knows of other active T1 boards, feel free to replicate this message there.



Later,



—Aaron Forsythe

Editor & Content Manager

MagicTheGathering.com

[email protected]
It's a great chance to be heard. I'll probably just air my own views in this column, but feel free to give me a copy of your letters and a note describing where you play.
In other news, something seems to be amiss at The End Games, Invitationalist Mike Long's store.
Or rather, used to be Mike Long's store.
The forum thread begins:
Apparently due to the argument with Pete, Mike has taken EVERYTHING from the store. Now all that we're left with is a big empty box. According to Gibb, Pete's gonna try to reopen somewhere else, but until then we're out of luck.

– Sammy G
The store will apparently reopen as The End Game Center at a new location. Nevertheless, some interesting opinions were aired on that thread. Another Invitational champion weighed in:
Hi, I just stumbled upon this. I'd hate to say I told you so, but I've been warning people for years that Mike Long can't be counted on for anything other than being selfish and using those around him. I'm sorry you all have been given the shaft, but when you deal with the devil you are gonna get burned.



Good Luck,

Chris Pikula
Enchantress arrives (in Extended)

In other news, Motokiyo Azuma won Grand Prix Hiroshima with a very interesting Enchantress deck. Seeing Cloud of Faeries and Frantic Search combo with a non-Tolarian Academy land is a welcome sight, and makes a case for why Frantic Search should be off the restricted list (well, you'd have to ban Academy, of course). Here's what happened in Game 1 of the Finals, as reported by Josh Bennett:
"Azuma won the die roll, putting the odds firmly in his favor. Both players declined a mulligan, and the finals were underway. Azuma answered Fujita's Jackal Pup with Fertile Ground. Fujita hit it with Rancor and dropped Azuma to sixteen. Azuma played out Enchantress's Presence and Wild Growth before giving it back. Fujita dropped him to eleven and then played out River Boa and another Pup. He had ten damage on the table. In all likelihood, this would be Azuma's last turn.
"He started with a second Enchantress's Presence. His mana was a little tight, though. He needed to draw some good spells. Exploration got him two cards. Another got him two more, while allowing him to play more lands. Still no Cloud of Faeries . His last bet was a Wild Growth on his island, and that finally gave him what he wanted. He Living Wished for Serra's Sanctum and then dropped Words of Wind with plenty of mana floating. Fujita shot down the Cloud, but Azuma drew Frantic Search off the Words, so he was clear to go off."
If you found this deck cute, take note that longtime Beyond Dominia regular Dan Rosenheck, a.k.a. CooberP slapped together Type I Enchantress a long time ago. This isn't an Extended adaptation, take note; Dan came up with the first version immediately after Invasion brought Sterling Grove to ease Deck Parfait's tutor problem:
Enchantress, Dan Rosenheck, January 2003 test deck
Draw (10)

1 Ancestral Recall

4 Argothian Enchantress

3 Sylvan Library

1 Pursuit of Knowledge

1 Enchantress's Presence



Anti-Control (5)

3 Duress

1 Words of Waste

1 City of Solitude



Recursion (5)

4 Replenish

1 Holistic Wisdom



Search (4)

3 Sterling Grove

1 Demonic Tutor



Removal (4)

1 The Abyss

1 Balance

1 Pariah

1 Seal of Cleansing



Staying Alive (4)

1 Moat

1 Worship

1 Story Circle

1 "Overgrown Estate



Kill (2)

2 Sacred Mesa
Mana (27)

1 Black Lotus

1 Mox Emerald

1 Mox Pearl

1 Mox Sapphire

1 Mox Jet

1 Sol Ring

1 Strip Mine

2 Wasteland

1 Library of Alexandria

1 Serra's Sanctum

3 City of Brass

4 Windswept Heath

4 Savannah

2 Bayou

1 Scrubland[/author]"][author name="Scrubland"]Scrubland[/author]

1 Tundra

1 Plains



Sideboard (15)

3 Swords to Plowshares

2 Choke

1 City of Solitude

1 Compost

1 Samite Ministration

1 Powder Keg

1 Celestial Dawn

1 Aura Fracture

1 Enchantress's Presence

1 Karmic Justice

1 Circle of Protection: Red

1 Carpet of Flowers
Continuing the Aggro Gauntlet…
Taking off from last week, we again begin with my personal"The Deck" build:
Sun Wukong, Oscar Tan, January 2003
Blue (21)

1 Ancestral Recall

1 Time Walk

1 Mystical Tutor

1 Merchant Scroll

2 Cunning Wish

1 Brainstorm

4 Mana Drain

4 Force of Will

1 Misdirection

1 Fact or Fiction

1 Braingeyser

1 Stroke of Genius

2 Morphling
Black (6)

1 Yawgmoth's Will

1 Mind Twist

1 Vampiric Tutor

1 Demonic Tutor

1 Chainer's Edict

1 The Abyss
White (2)

1 Balance

1 Swords to Plowshares
Red (2)

1 Gorilla Shaman

1 Fire / Ice
Gold (1)

1 Dromar's Charm
Mana (28)

1 Black Lotus

1 Mox Sapphire

1 Mox Jet

1 Mox Pearl

1 Mox Ruby

1 Sol Ring

1 Strip Mine

4 Wasteland

1 Library of Alexandria

1 City of Brass

1 Undiscovered Paradise

2 Polluted Delta

2 Flooded Strand

4 Underground Sea

3 Tundra

3 Volcanic Island
Sideboard (15)

3 Red Elemental Blast

1 Scrying Glass

1 Skeletal Scrying

1 Aura Fracture

2 Swords to Plowshares

1 Blue Elemental Blast

1 Circle of Protection: Red

1 Pyroclasm

1 Powder Keg

1 Shattering Pulse

1 Allay

1 Ebony Charm
Note the added Blue Elemental Blast. It used to be in my sideboard at the start of this series, but was dropped because it overlapped with Swords to Plowshares and Sligh became less popular. Now, I want it again for flexibility against mono red decks in Game 2 (and with Cunning Wish in Game 1), and against all the maindeck Blood Moons out there in the strangest places.
C. Revisiting White Weenie And Derivatives

Mark Rosewater recently discussed what slice of the pie White should get. Maybe this is a good week to talk about White Weenie.
In our last discussion, we noted its rich and pedigreed history, from the 1996 World Championship win against no less than the Necrodeck, to Cataclysm/Empyreal Armor and Waylay White at the 1998 and 1999 US National Championships, respectively.
We also discussed how it stinks in Type I.
Face it: If Rosewater presents Marge Simpson as a color's mascot, we're not expecting much.
(And I quote:"Marge Simpson – One of the fun things we did was trying to figure out where all of the Simpsons went. After some debate, we ended up putting Marge in white. She is the moral center of the family. She and Lisa seem to be the only ones ever guided by conscience. She takes it upon herself to provide structure for her family. And she is protective to the point of being self-sacrificial."
(Bring back the original Serra Angel by Douglas Shuler, please!)
To recap, White Weenie has the best combat-oriented weenies in the game, down to Savannah Lions, the only one-mana 2/1 with no drawback. Unfortunately, combat abilities from first strike to shadow just don't help you deal more damage, and don't help any against all the creatureless Type I decks with nothing for the white weenies to combat.
Further, the best white weenies cost two white mana. A less careful deckbuilder might overload on two-mana plays and screw up the mana curve in the same way some"Suicide Black" (in reality, Limp Nether Void) builds do so by gravitating around Nantuko Shade.
Next, white weenie has the best removal spells in the game such as Swords to Plowshares, Disenchant, and Seal of Cleansing. Unfortunately, it has trouble using them unlike a more flexible control deck with white, because these reactive cards can be dead weight, and an aggro deck simply cannot afford to be slowed down.
White weenie has a slew of other powerful tricks available, but none of them mesh perfectly with an aggressive strategy the way other decks' tricks help reduce the opponent from twenty to zero. The Land Tax/Scroll Rack combo is the most powerful in the arsenal, as made famous by Randy Buehler in the early days of Extended:
Tax/Rack White Weenie, Randy Buehler, North American Extended Champion, 1997
Creatures (14)

4 Savannah Lions

2 Gorilla Shaman

4 Soltari Priest

4 White Knight
Removal (13)

4 Lightning Bolt

4 Swords to Plowshares

2 Firestorm

3 Disenchant
Card Drawing (7)

4 Land Tax

3 Scroll Rack
Mana (26)

4 Mox Diamond

4 Tithe

4 Plateau

1 Savannah

8 Plains

1 Kjeldoran Outpost

4 Wasteland
Sideboard (15)

2 Gaea's Blessing

1 Disenchant

3 Aura of Silence

2 Suleiman's Legacy

2 Honorable Passage

2 Sand Golem

3 Pyroblast
However, Tax/Rack is useless if the opponent can work with less land and stop you from using the Tax – you don't have the luxury of extra Zuran Orb or Claws of Gix slots unlike a slower, creatureless Deck Parfait – or deal with Scroll Rack. Moreover, the combo has become far slower with the restriction of Mox Diamond. This is a step backwards, while every other archetype has become faster.
Moreover, the slots diverted to the combo force a lowered creature count. You can't afford to clog your hand with creatures you won't be able to cast all at once (Tax encourages as few lands on the board as possible, remember?). As you can see, Randy's original deck ran only twelve white weenies – a departure from a more conventional twenty and above. The rest was replaced with burn, down to Firestorm. Thus, when the combo doesn't work or hasn't kicked in yet, you have a lower volume of fire and a slower-than-normal attack.
Again, without Mox Diamonds, the combo does kick in slower.
Wilkinson White Weenie (WWW), Eric Wilkinson, January 2003 Gauntlet Deck
Creatures (26)

4 Savannah Lions

4 Icatian Javelineers

4 Mother of Runes

4 White Knight

4 Soltari Monk

4 Soltari Priest

2 Devout Witness
Others (12)

4 Land Tax

4 Null Rod

4 Swords to Plowshares
Mana (22)

1 Black Lotus

1 Mox Pearl

1 Lotus Petal

1 Strip Mine

4 Wasteland

14 Plains
Sideboard (15)

4 Seal of Cleansing

3 Armageddon

1 Pacifism

3 Conversion

1 Samite Ministration

3 Tormod's Crypt
In 1996, we had Star Spangled Slaughter (SSS), Scott Johns white/red/blue White Weenie. In 2003, we have Wilkinson White Weenie (WWW), Eric Wilkinson's and Matt D'Avanzo's spoiler deck for the Neutral Ground metagame.
But I said White Weenie stinks?
Well, I actually said that White Weenie has a lot of strengths… But none of them are stellar in your normal Type I environment. But it still has strengths.
Looking for something new to play, Eric put the deck together for anti-anti-"The Deck" amusement. The combat abilities and removal can hose decks from mono black Nether Void to German Tools 'n' Tubbies – even Stompy. The maindeck Null Rods and Devout Witness happen to be great against Mask, even.
But the deck is most hilarious against hate decks loaded to the gills against"The Deck." Eric e-mailed,"You know, the ones that maindeck Blood Moon, Price of Progress, Dwarven Miner, Null Rod and Cursed Scroll (I'm not kidding)." In other words, people who scout a twelve-man tournament and try to play hate, but with far less finesse than more established players like Neutral Ground's David Kaplan and his trademark Sligh.
WWW's goals make it seem eccentric – it even cut Balance.
Savannah Lions is the only aggressive one-mana weenie available. There are only four other 1-drops you could consider (Mother of Runes, Icatian Javelineers, Soul Warden, and Ramosian Sergeant) out of all the white weenies, and Eric picked some of them up to avoid the Nantuko mana curve problem. Note that WWW has sixteen one-drops, not counting Swords to Plowshares and artifact mana (it even throws in Lotus Petal to further help Turn 1 Land Tax, which is important in a deck that actually has just 14 Plains).
Mother of Runes doesn't add speed, but it gives the deck combat tricks, wreaks havoc against removal, and cancels out The Abyss. Icatian Javelineers is an ancient, obscure card last seen in my Beyond Dominia Casual White Weenie Primer – but here, it hits opposing 2/1s, Goblin Welders and Gorilla Shamans that might eat Null Rods.
The two-drops are taken from the all-stars listed in that same casual primer. Eight shadows let the deck race midgame. Some of Eric friends tried replacing Witness with Longbow Archer, which stalls Morphling with Mother while Soltaris beat down.
White Knight is a classic workhorse. It's here in place of something like Order of Leitbur because the deck is actually very tight on mana, and is already vulnerable to Fire / Ice and even Mogg Fanatic. (Plus, the original art and flavor text still own.)
Devout Witness is from older Beyond Dominia days, when Paul Miller a.k.a. Exeter and I would laugh about casual Rebel decks that could fish multiple Nightwind Gliders against then-maindecked Moats and The Abyss. It was cute but slow then, but here, with Land Tax, it can hose artifact- and enchantment-based decks with no removal. TnT, for example, has only Masticore and Triskelion – which, incidentally, can't function under Null Rod.
Note that even without maindeck Disenchant effects, WWW has twelve protection from black creatures plus the two Witnesses to dilute the effect of The Abyss.
The first widely-known deck with maindeck Null Rod was Yoshikazu Ishii's Sligh from the 2000 Magic Invitational, and its role hasn't changed since then. The obvious purpose is to slow artifact mana, especially to give you a chance against fast combo kills. The subtle purpose, however, is to hose the most commonly played aggro hosers like Powder Keg and Cursed Scroll. Note that a deck like Suicide Black has no significant maindeck artifacts, but will sideboard Masticore, which is also hosed by Null Rod.
In any case, if you're a control player, White Weenie still stinks for your purposes. Eric best game plan is to catch you with Armageddon if you tap out or have been forced to use counters on Soltari Monks. It sounds counter-intuitive to leave Swords to Plowshares in against"The Deck" but if Null Rod and Armageddon work out, WWW gets a free shot at Morphling. Thus, don't assume he's going to side out all his removal.
The only other thing to side in is Seal of Cleansing. They slow the deck down, so you may not even want to side them in. Because WWW already considers The Abyss, Eric advises going down the list more for other sideboard cards such as Moat and Caltrops. More Seals might come in against other tricks like Oath of Druids, though.
Playing against it, you side in a pretty standard selection. Misdirection works only if he has a Swords to Plowshares and if you have Gorilla Shaman or a vulnerable Morphling. An additional midgame counter and life gain effect isn't really needed, Dromar's Charm bounces off protection from black, and it's not something you want to topdeck if caught by Armageddon.
You can remove the Wishes if you want… But I wouldn't bother. You may as well keep them as placeholders for Shattering Pulse or Allay, or a Stroke of Genius or Skeletal Scrying if you don't need either.
A control player himself, Eric is realistic about WWW's matchup against anything with Morphling."I won't lie to you," he says.
"Ya gotta try to get down some damage, like four at least, and start swinging and hope for the best between Wastes, Rods and the 'Geddons. Getting shadows down to swing in spite of Morphling and winning the damage race is frequently the way you win. Or 'geddoning with Morph on the table (and Land Tax or Plains in yer hand)."
Matt D'Avanzo reacted that four Null Rods is too much because it can be dead, and Land Tax thinning means you'll likely end up with multiples. He also e-mailed,"Pacifism! Blah! That and the lone Samite should be two

Spirit Links! I love Samite, but I don't think one is worth it."
Holy Tommy Gun, Steve O'Connell, January 2003 Gauntlet Deck
Creatures (20)

3 Jackal Pup

2 Gorilla Shaman

4 Savannah Lions

4 Soltari Priest

2 Soltari Monk

4 Order of the White Shield

1 Masticore
Removal (8)

4 Lightning Bolt

2 Swords to Plowshares

2 Seal of Cleansing
Utility (12)

4 Land Tax

2 Scroll Rack

1 Enlightened Tutor

1 Zuran Orb

1 Blood Moon

2 Burning Wish
Mana (21)

1 Black Lotus

1 Mox Ruby

1 Mox Pearl

1 Mox Diamond

1 Dust Bowl

1 Library of Alexandria

1 Mountain

2 Undiscovered Paradise

4 Plateau

8 Plains
Sideboard (15)

1 Wheel of Fortune

1 Fireball

1 Pillage

1 Armageddon

1 Balance

1 Hammer of Bogardan

1 Aura Fracture

4 Red Elemental Blast

2 Blood Moon

1 Masticore

1 Swords to Plowshares
Like I said, White Weenie sucks, but this hasn't stopped fans of the archetype from pushing the envelope.
Wilkinson White Weenie is probably as far as you can go with mono white with a competitive mindset. The other approach is to splash. Blue is the classic White Weenie support color, down to the Sleight of Mind from Tom Chanpheng's 1996 World Champion deck. Trying to make a build that doesn't cross over to aggro-control, Matt D'Avanzo once just quipped to build,"Four Back to Basics and fifty-six other cards."
As far as strictly aggro builds go, red is the best support, as seen way back to Buehler's original Tax/Rack. This is pretty much what TheManaDrain.com owner Steve O'Connell, a.k.a. Zherbus, came up with last year.
Like WWW, Holy Tommy Gun just hopes to steal matches from control and combo, but is respectable against aggro. And, it's a laugh riot as a meta-metagame deck against hate. Steve e-mailed,"But hey! It's White Weenie, and the purpose for making HTG was to try to see just how good WW could be in the Vintage environment. My final answer, as other WW freaks agree, is to splash red for anti-control measures, exploit the strong matchup against aggro, and abusing the Tax/Rack engine better than any other WW deck before it." On the last point, the deck even runs Undiscovered Paradise for use with Land Tax; they can be reshuffled and"cycled" anyway when no longer useful.
Importing red weenies breaks the Nantuko mana curve problem, but doesn't clog the hand because the imports are one-drops. The splash also turns over some slots to burn and let the removal help finish. The rest is conventional enough, except for the surprise Blood Moon with more coming in from the side. Note the lack of Wastelands and reliance on Blood Moons, though Dust Bowl is there for utility and a chance to screw some decks with help from Land Tax.
Holy Tommy Gun makes good use of Enlightened Tutor, fetching Scroll Rack, Zuran Orb, Masticore or Blood Moon. The latest trick brought by the red splash, finally, is Burning Wish, which pulls powerful but conditional cards from the sideboard. Steve's tech even includes Hammer of Bogardan, a venerable spell that once – and still – wears down counter walls and finishes.
Steve recalled,"I have tried three-color variants that use Tithe/Null Rod over Land Tax/Scroll Rack. I had a semi-successful variant that was WW/b/r. Tithes worked well with dual lands, Duress and Abeyance forced many things though, and still it just didn't put the pressure on hard enough."



Before that, he tried the other single-color splashes but concluded,"Red was really the best option in the harsh amount of testing I did – try testing the format's 'worst' archetype in a field of people who scoff at the idea – and ultimately formed the many incarnations of Holy Tommy Gun. Many things have been in and out of the deck from Empyrial Armor to eight burn spells. What I have now is what I believe to be the most successful variant of White Weenie."
The sideboarding is pretty Sligh-esque, siding out anti-creature cards for anti-control cards, and keeping Burning Wish in for the conditional bombs."The Deck" mimics the pattern, except Circle of Protection: Red is far less useful here. You can choose how far down the list to go. For example, you can board Pulse in to hit Scroll Rack or the artifact mana that supports the engine, or keep the last Wish for Pulse, Allay or draw.
To be honest, though, I'm not completely sure about the sideboarding. Neither was Steve, and we had a laugh because we agonized over the sideboarding against his novel deck than over configurations for more familiar opponents. For one, I'm not sure about siding out Mind Twist, given he uses Red Elemental Blast and you may catch a Blood Moon or some other bomb that was being held back. Then again, Land Tax fills up his hand, meaning you need a bit more mana, or luck.
Heck, note that even Time Walk is being sided out in what's supposed to be a good matchup. More flexible cards were added to the main deck, and there just happens to be a lot of cards you can side in.
Steve agrees that Mind Twist is effective against his own deck, but there's nothing else to cut. Force of Will, for example, is a tough choice because you can't afford to let Blood Moon drop. Steve's ended up suggesting Brainstorm over Mind Twist.
Paul Miller a.k.a. Exeter e-mailed,"I would not yank Mind Twist – hell no! Against something that is likely to bring in REBs that doesn't have real counters, Mind Twist is gold." Paul would cut Dromar's Charm instead, his premise being you don't need life gain against slower White Weenie. I note, though, that it kills most of the weenies while adding a hard counter for things like Blood Moon. Also note that you're not facing Wastelands, so Dromar's Charm's cost is less annoying.
Paul also suggests leaving out Blue Elemental Blast unless you use two basic Islands. This is Steve's personal mana tweak for"The Deck," and they report it's effective against Blood Moon not backed by counters. This covers aggro decks like this one and TnT, and a few others such as Deck Parfait with a lone Mountain to Tax out.
(Yes, if Parfait splashes a single card and it's not even Ancestral Recall, something must be up.)
Yet another opinion came from JP"Polluted" Meyer:"Against any deck with Land Tax, you keep in Mind Twist because you can destroy them with it if they are not careful. This is actually my strategy against Parfait. I will let them Tax as much as they want so I can Twist it away and set up a Zuran Orb/Balance for the win when they are left with no land in their deck.
"Therefore, keep in one Wish and the Twist and leave Fracture and Pulse in the sideboard."
This trick isn't new – but that means Tax players are wise to it, too. Besides, I've cut Zuran Orb. Also, not siding in Aura Fracture is a minority opinion, unless you care to hedge solely with Blue Elemental Blast and Cunning Wish for Allay.
Again, I don't want to leave a final answer for the Mind Twist slot in this less common matchup right now, but one of the above four solutions should be the best one. Incidentally, Paul also quipped,"Where is your Peacekeeper, anyway? That card is pure gold, especially against anything that will board out creature removal."
Well, this has gone on longer than expected – I didn't expect to get engrossed in White Weenie again. I have a final exam on Saturday, which also happens to be Chinese New Year, so this has to be cut short. 'Til next week!
(Author's note: That was last week… This week, I've been down with the flu for four days and counting.)
Oscar Tan

rakso on #BDChat on EFNet

University of the Philippines, College of Law

Forum Administrator, Star City Games

Featured Writer, Star City Games

Author of the Control Player's Bible

Maintainer, Beyond Dominia (R.I.P.)

Proud member of the Casual Player's Alliance