Last month, the first item card from Lorcana was revealed. Today, we get another item card, featuring a never-before-seen mechanic keyword – Rush. Check out White Rabbit's Pocket Watch!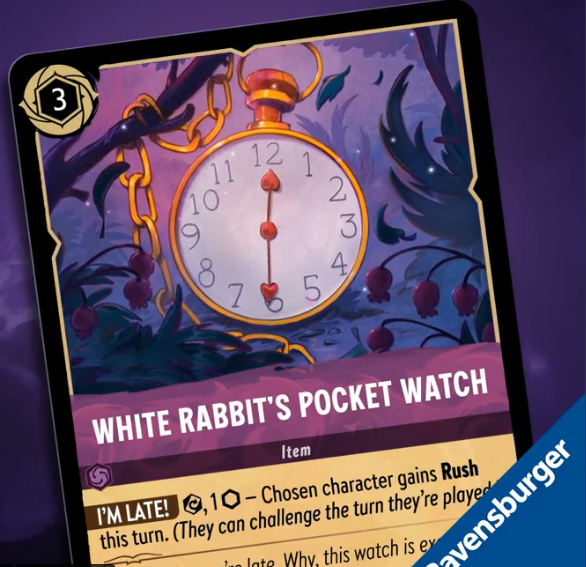 The White Rabbit from Alice In Wonderland is chronically late and always checking his trusty pocket watch. In Lorcana, the White Rabbit's Pocket Watch is a three-cost item card that is aligned with amethyst ink. By tapping it and paying two resources, you'll be able to grant Rush to one of your characters. While we don't know for sure how rush works, it appears to be similar to haste in Magic – letting your character engage in combat (challenge) the same turn you play it. Haste is one of Magic's most powerful keywords, so it wouldn't be surprising to see rush play an equally important role in Lorcana.
So what do you think of White Rabbit's Pocket Watch? Give us your best guesses as to how rush will impact the game in the comments on Facebook and Twitter.
Lorcana's The First Chapter is scheduled to release this August.
If you're just now learning about Lorcana, be sure to read our comprehensive articles below, detailing the game's product lineup, early mechanic information, deckbuilding, and more.