This weekend the StarCityGames.com Open Series returns to one of the hottest beds of Magic talent in the United States: Milwaukee, Wisconsin! Milwaukee goes by many nicknames, but the most befitting for our tournament this weekend is certainly Brew City. With the recent release of Theros, we're expecting to see a lot of brews pop up over the course of the weekend!
The area around Milwaukee, with major polies (to use the parlance of our Magic times) like Madison and Chicago, have birthed some of the most talented deck designers and players the game has ever seen. Players like Owen Turtenwald and Sam Black from Team StarCityGames.com, whom I have the pleasure of covering this week for the Pro Tour, as well as Magic mainstays like Bob Maher, Brian Kowal, and Adrian Sullivan either once called or currently call the Badger State their home. The cream rises to the top in The Cream City, another of Milwaukee's many nicknames, and this weekend we're doing it again!
This weekend, the Open Series will reside in Milwaukee's Wisconsin Center, ballroom AB.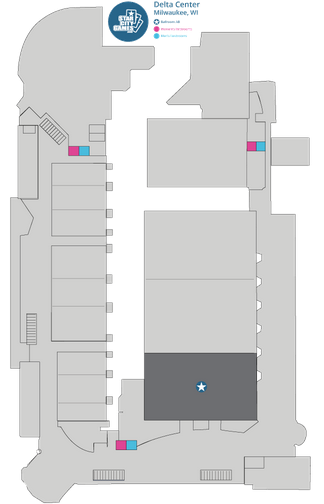 What a fabulous location! Smack dab in the heart of the metro area, food options abound near the tournament site. As you can see in the chart below, even mere feet from the convention center are three quality lunch options!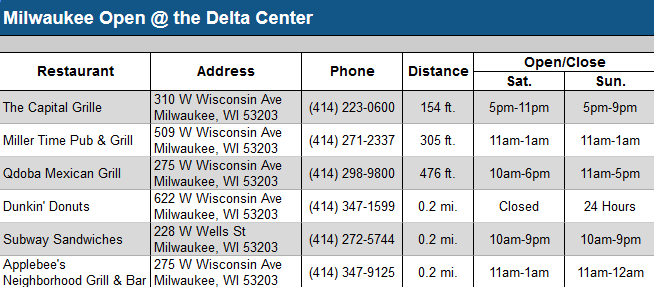 Another of Milwaukee's many nicknames is The City of Festivals, named for the plethora of festivals that take place nearly year-round on the shores of Lake Michigan. And adding to that festive atmosphere this weekend will be our own stock of talented artists!
Magic artist Jeff Miracola is our headlining feature this weekend! Jeff has been a freelance artist since 1993, and his work appears on such notable Magic cards as Firespout, Firestorm, Frantic Search, Manamorphose, Propaganda, Sterling Grove, and Wipe Away. He is also beloved for his famous 'beebles' on cards like Bouncing Beebles, Bubbling Beebles and Donate.
Among our alterists this weekend, Amber Musick will be at this event offering her custom full art playmats and tokens, as well as creating new works of art and customizing your playmat with original art. Pricing and her current offering of playmats can be found on her Deviant Art page: zhycalui.deviantart.com.
Bringing her talents to the StarCityGames.com Open Series, Hannah Montgomery's broad artistic experience ranges from traditional Japanese to contemporary portrait. You can see some of Hannah's creations at www.facebook.com/groups/423479477721938/ and http://mankinds-tourniquet.deviantart.com.
Sometimes altering under the pseudonym "YellowBug I Win," Kerri Metheisen brings her bright and unique art style to the StarCityGames.com Open Series in Milwaukee this weekend. Whether it is digitally-drawn custom playmats or unique tokens, Kerri's work is sure to stand out. View some of her work at wildkerriappears.deviantart.com.
And which tandem has the badgers to deliver the goods, fur and otherwise, from the Open Series in Milltown (yet another flavorful nickname of the city)? Why, that would be none other than Esper Battlemage Shaheen Soorani and Ascendant Lawmage Riki Hayashi! The pair will be ably aided from the Sideboard by Thought Nibbler Glenn Jones delivering the best news, notes, and deck techs from the tournament. The hashtag for this event is #SCGMKE, so be sure to keep up with the event via social media. Follow @SCGLive to see who's coming up on camera and when features are added, and also be sure to follow @SCGPairings to get up-to-date pairings and standings on the event floor or sitting at home.
And before I go, be sure to check out all of the excitement from #TeamSCG on TeamStarCityGames.com where I and Goblin Chieftain Cedric Phillips are keeping tabs on all of the testing and anticipation of our official team, with unprecedented coverage of the team leading up to and during the event in Dublin, Ireland.
Good luck, have fun, and get brewing!
@MoxReuby
Video and Coverage Content Associate and Social Media Miller for StarCityGames.com