The biggest names in the game are descending on New Jersey this weekend for the StarCityGames.com Open Series featuring the Invitational! Stars with recent big wins like Reid Duke, Brad Nelson, and AJ Sacher will look to continue their hot streaks. Invitational Top 8 regulars Todd Anderson, Shaheen Soorani, and Brian-Braun-Duin will try to Reclaim their spots in the knockout rounds. Defending champion Gerry Thompson will look to add another trophy to his mantelpiece (and another token to his repertoire!). And hundreds of other players, some known and some looking to make a name for themselves, will be gunning for the top prize: the title, the trophy, the giant check, their face on a token, and, of course, $10,000, the largest share of the $50,000 total prize pool for the main event.
In addition to the Invitational itself, the weekend will feature a Standard Open, a Legacy Open, a M14 Sealed Classic, an Ascension Immortals Tournament, and a veritable surfeit of side events and festivities! We are proud to welcome David Palumbo, artist of several of Magic's most iconic pieces (including one of Return to Ravnica block's most endearing characters, Fblthp on Totally Lost!), and a pentad of talented Magic alterists to the Garden State!
The StarCityGames.com Open Series in New Jersey featuring the Invitational is going to be even bigger than normal thanks to Mythic Madness! At this, our latest Gold Rush promotion and the first time ever that a Gold Rush will take place at an Invitational, seven copies of every mythic rare ever printed will be randomly given away! That's over 2,000 individual mythic rares* in envelops given to all Standard Open participants, all Legacy Open participants, all Sealed Classic participants, all 4-0 Legacy Challenge finishers, and all eight-player side event winners! And if we have any left, all remaining envelopes will be given out to the top finishers of the Legacy Open. Phew! That's a lot of giveaways!
*While Supplies last. Non-foil versions only.
It all starts with the Invitational itself, where the winner of the grueling three-day, sixteen-round (plus Top 8) dual-format event will receive the Invitational trophy, a giant check, a slightly smaller actual check for $10,000, and all the extras that come with victory like immortal, fame, the envy of your vanquished foes, and your face on a token. Wait, what's that last one again? Yes, the winner of this Invitational will be eternalized on their very own SCG token! How cool is that? Gerry Thompson, the winner of the last Invitational in Atlanta, chose to become a 20/20 flying indestructible spaghetti monster! What would you choose to be on your championship-winning token? You better think about it just in case . . .
The action starts on Friday at noon for those invited, so be sure to come on down for one of the biggest Magic events of the year! Let's break it down a bit. As always, we will have side event eight-player Drafts, eight-player Win-a-Boxes, and four-player Commander Chaos firing all weekend long, but we also have some much bigger and more prestigious tournaments available. On Friday, we have Two-Headed Giant Sealed and the Standard Challenge alongside Day 1 of the Invitational. On Saturday, we have another Two-Headed Giant Sealed event and the Legacy Challenge along with Day 2 of the Invitational and the Standard Open. Then on Sunday, we really get things poppin': the Invitational Top 8, Legacy Open, M14 Sealed Classic, M14 Draft Challenge, and Two-Headed Giant Sealed! And that's not even including the second Ascension Immortals Tournament!
Oh, you'd like to learn more about the Ascension Immortals Tournament played with the most recent format (Rise of the Vigil)? The event will start at noon on Sunday and continue our Ascension tournament series held in conjunction with the StarCityGames.com Invitational! Why is it called "Immortals?" Because the winner will be immortalized on a future card! That's right, the winner of the tournament, in addition to a $250 Amazon Gift Card and an exclusive playmat, will receive their likeness on an Ascension card in the near future! The last winner, Jacob McCarthy, even got his son Miles in on the action with his Immortals card "Miles, Child Prodigy!" How cool is that?
All of this is going to take place at the Garden State Exhibit Center in Somerset, New Jersey: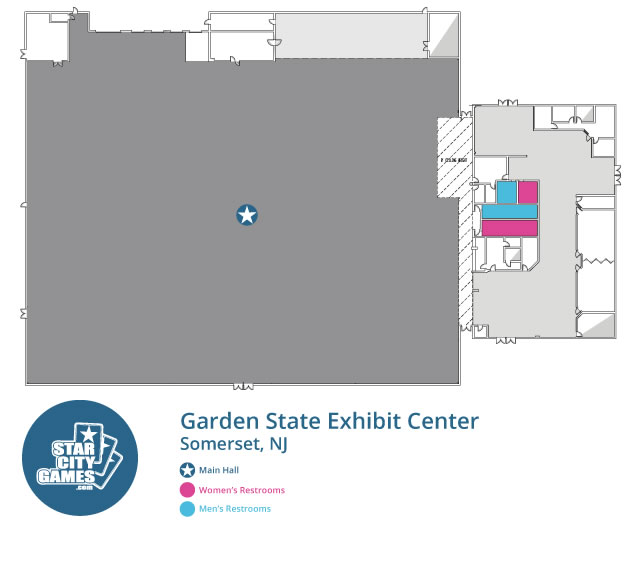 Located ideally next to the Raritan River and conveniently close to Patrick Sullivan old Stomping Ground, the Garden State Exhibit Center is a great location for an event of this size and stature. The ability to Nourish yourself, however, is less than stellar. For long events like this, a bag with some snacks and beverages packed in with your decks and binders is suggested. Also, it's expected to be very hot this weekend (it is July, after all) so bring water and stay hydrated!

As mentioned earlier, we have a special guest in the house for the Invitational on the artistic side of things this weekend! As a freelance illustrator, David Palumbo has provided genre-themed artwork for everything from book covers and collectible card games to advertisements and concept design. His work has been awarded two Spectrum medals and has shown in galleries and museums from New York to Paris. His work appears on Stomping Ground (GTC), Totally Lost, Sundering Growth, Black Cat, Sanctuary Cat, and Celestial Purge (M12). Find out more on his website.
We will also have a fivesome of wonderful Magic alterists in attendance in New Jersey!
Jaclyn Foglia will be painting and selling her custom card alterations at this event! She specializes in border extensions and enjoys doing season alters, especially winter. Check out her Facebook page. You can also find a collection of her work on her website.
Lindsay Burley will be selling and creating her unique brand of 3-D cards and tokens, painted alters, and custom playmats! Visit her website and then stop by and check out these awesome cards!
Based out of Baltimore, Maryland, Ashley Jordan, the artist behind Alternate Dimensions Card Alters and Designs, features handpainted Magic: The Gathering partial- and full-art card alters. Check out her website and Facebook page.
A recent Fine Arts graduate from William Paterson University, Jennifer Romanek enjoys all genres of art but is a painter at heart. Magic: The Gathering cards piqued her interest, especially the challenge of creating different worlds on a single playing card. For the past three years, Jen has been creating custom pieces, and now she brings her talent to the StarCityGames.com Open Series. For examples of her work and to contact her for commissions, visit her website.
Last but certainly not least, Blake Meade will be selling and taking orders for altered cards and custom playmats at this event! Check out some of his work on his blog and like his Facebook page.
Our coverage team this weekend features StarCityGames.com Online Content Coordinator Cedric Phillips alongside Matthias Hunt and Adrian Sullivan bringing you all of the action live! If you can't make it out to the big show, be sure to catch us on @SCGLive and use the hashtag #SCGINVI to join in on the discussion, plus you can get pairings for the event using @SCGPairings.
For more information about SCG Open Series: New Jersey featuring the Invitational, visit our fact sheet.
We'll see you this weekend in New Jersey!
Good luck, have fun, and feel invited!
Video and Coverage Content Associate and Social Media High Point for StarCityGames.com
Listen to the @InContention podcast! It's the official podcast of the StarCityGames.com Open Series with @kstube, @affinityforblue, and myself. Our most recent episode, Start Brewin', guest starring bigheadjoe, can be found here.