Okay, so last time I left off right before PT: Philly when I had decided which deck I wanted to play. Now even though I had made my choice, Jeff Cunningham tried to convince me otherwise. Here is a log of our aim chat where Jeff states his case. ffej = Jeff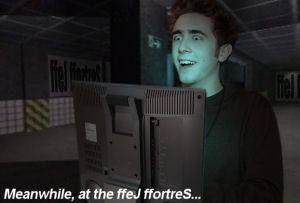 ffej: ffejersplice

Marmalarma: is it suited hineys

ffej: yea

ffej: I've never missed cash at a block pt

ffej: and havent missed cash in the last 4 extendeds

ffej: im the nuts at cons

Marmalarma: and that is

ffej: and that

ffej: is

ffej: the

Marmalarma: did u post ur list

ffej: nah

ffej: top secret

Marmalarma: ship it

ffej: like im gonna give it to kk

ffej: yknow?
Marmalarma: lol

Marmalarma: ok so ship

Marmalarma: brah

ffej:

9 Forest

1 Island

8 Plains

1 Eiganjo Castle

3 Final Judgment

2 Genju of the Cedars

1 Hokori, Dust Drinker

2 Kodama of the North Tree

4 Kodama's Reach

2 Meloku the Clouded Mirror

1 Myojin of Cleansing Fire

1 Okina, Temple to the Grandfathers

3 Orochi Sustainer

1 Patron of the Kitsune

4 Sakura-Tribe Elder

4 Sensei's Divining Top

2 Tendo Ice Bridge

3 Time of Need

4 Umezawa's Jitte

4 Yosei, the Morning Star
Sideboard

4 defiance

1 thoughtbind

1 dosan

1 shizuko

4 empty shrine

2 splinter

2 haze
Marmalarma: seems like a gigantic pitstain

ffej: it's actually a tank full of premium diesel

Marmalarma: lol yea im sure

Marmalarma: sure id like to play vs you round one with that deck
Now that is a bold claim by Jeff, as he has always put up good finishes at Constructed events and it made me doubt my deck choice a bit. However I had literally no experience with a deck like that so I choose the splice deck, here is the list I played for those of you who didn't read my last report.
Creatures (7)
Lands (24)
Spells (29)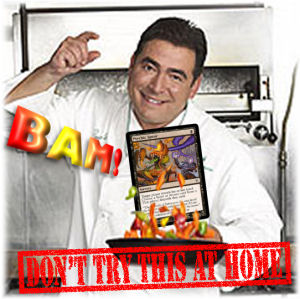 So I show up to the tournament site Thursday night at around 11 pm after a 10-hour drive involving a few wrong turns. I get the above decklist from Gwalls and scurry about trying to put together the cards so I can play it tomorrow. Gabe has a Meloku over the Kokusho main deck, but after talking with Sam Gomersall we both agreed that having another Black card for Sickening Shoal would make the deck more consistent, so I switched to the Kokusho, a switch that won me at least one match throughout the day by letting me Sickening Shoal by pitching the Kokusho. I also had a 14-card sideboard, so I decided to include the one random Psychic Spear to spice things up. I am a big fan of including one random card in the maindeck or sideboard that could be good situationally. It may not be right to do so, in fact I'm pretty sure it isn't, but it makes it so much more fun when you draw said card and it is insane for you. This is how my deck got the name Spice.dec, because I spiced things up by including the random Psychic Spear.
Now, on to the tournament.
Friday I show up early to the tournament trying to mise some free breakfast in the players lounge. After a stale bagel, some grapefruit juice, and vomiting from eating the former two I sleeve my deck and get ready for round one.
Round One
| | | |
| --- | --- | --- |
| Herberholz, Mark D [USA] | vs. | Najafpoor, Omid [USA] |
He is playing a B/G Snakes deck. Game one he starts off with an Orochi Leafcaller and Sakura Tribe-Elder and stalls out. As soon as he plays Seshiro, I Final Judgment and take over the game. His draw seems suboptimal and he can't recover.
Game two much of the same happens. I haven't done much testing with this exact deck so I don't really know who wins this matchup, but it seems to be in my favor. I was never really in danger of losing either of the games. I would tell you how I sideboarded here but I was still bumbling around with the deck and didn't sideboard correctly for this matchup.
Sideboarding should go like this:

+1 Meloku, the Clouded Mirror

+1 Yosei, the Morning Star

+1 Horobi's Whisper

+1 Keiga, the Tide Star

+1 Kodama of the North Tree

-1 Hideous Laughter

-1 Cranial Extraction

-2 Wear Away

-1 Sickening Shoal
The reasoning for these choices is this: first of all, you want to diversify your win conditions so their Cranial Extractions are weaker. Also casting a Gifts Ungiven for 4 fatties vs. them is good as they have trouble handling your creatures. You want to bring out one of your Hideous Laughters because they are really only good against Sosuke's Summons. Cranial Extraction is also not really good in this matchup as you really just want to Final Judgment their board then drop a fattie. Wear Away isn't needed because their Jittes aren't that detrimental to your game plan, they are annoying but only that. Usually you will gain tempo by using an instant speed removal or Ethereal Haze. The Sickening Shoal comes out because it doesn't kill enough of their guys for a cheap enough price and your fatties are more important now, so you want to pitch them less and less.
I talked to Gabe Walls after this match and asked him how to sideboard and he told me to bring in Nezumi Graverobbers to stop their Sosuke's Summons, but I don't think this is a good strategy as the Graverobbers don't have enough of an effect on the game to really warrant a slot. Hideous Laughter is a better answer to the Summons than the Graverobber anyway.
Round Two
| | | | | | |
| --- | --- | --- | --- | --- | --- |
| 6 | Bui, Lucien [FRA] | 3 | vs. | Herberholz, Mark D [USA] | 3 |
Lucien is playing the Sway the Stars deck, which I think is basically the same build that Olivier Ruel played. Game 1 he has Yosei, the Morning Star in play and drops a Heartbeat of Spring. This is when I realize that he is playing Sway the Stars. I call a judge to get an oracle reading on Sway the Stars to make sure that's the card the deck plays and so I don't Cranial Extraction him for Sway of Illusion or something stupid like that and throw the game away. The judge shows me that is indeed the card, so I Cranial Extract him for that and he is left with no outs. I just Final Judgment away his men and play mine and he has no answers.
I sideboard as follows:
+3 Nezumi Shortfang

+1 Cranial Extraction

+1 Psychic Spear

+2 Kodama of the North Tree

+1 Yosei the Morning Star

-2 Wear Away

-2 Hideous Laughter

-3 Sickening Shoal

-1 Horobi's Whisper
*as a side note I also think I sideboarded wrong here, I will go over the right way when I talk about my Top 8 match vs. Olivier.
Game two I get a turn 2 Nezumi Shortfang out and start making him discard. He eventually gets a Kodama of the North Tree in play but I just play my own to kill them and he can't come back. At one point in time he casts Kodama's Reach for a Swamp and Island and puts the Swamp in play and his hand is the one card he's been holding forever and an Island. I untap and Cranial Extraction him for Cranial Extraction and it is indeed his last card. I Shortfang him and win a few turns later.
Round Three
| | | | | | |
| --- | --- | --- | --- | --- | --- |
| 19 | Herberholz, Mark D [USA] | 6 | vs. | Novekoff, Jeff [USA] | 6 |
Jeff is with B/G snakes, he Top 8'd if you want to look at his list. Game 1 I need to find a Final Judgment, but can't and he quickly rolls me.
Game two I try siding in Nezumi Shortfangs and Graverobbers as I think they will be good since he has no way to answer them really and Gabe told me the Robbers were good. He is wrong – this deck plays fatties too fast for the Shortfangs to really be good and Sosuke's Summons isn't nearly as big of a problem as we thought it was. At one point he attacks with a Kodama of the North Tree and I block with a Kokusho, the Evening Star. We stack damage and I place my Kokusho in the graveyard and tell him he loses 5 life. He marks the loss of life hesitates for a bit and realizes he forgot to announce that he trampled over for one and tells me I only gain 4, I tell him its too late for this he has to specify that when we stack damage, and we've already resolved Kokusho's ability. We call a judge and the judge sides with him because he says he said I take 5 and you gain 4 in one sentence. I say that shouldn't matter since Kokusho's ability happens after combat damage is resolved and he never specified how he was dealing trample damage. I appeal to the head judge Mike Guptil and he sides with Jeff, then he proceeds to tell me that it is a little cheesy. However, if you look at the feature match coverage from three years back I think at U.S. Nationals of Paul Rietzl vs. Jordan Berkowitz, you will see that the exact same thing happened and it was ruled that Jordan wouldn't take trample damage because Paul hadn't specified it when damage was stacked.
Now some of you may think I was being cheesy, but did I do anything wrong here? No – my opponent made the mistake, why should I feel bad? Yes I was being a "rules lawyer" but this is the Pro Tour folks… if you come here you have to expect to play following all of the rules to a T. There are thousands of dollars at stake here. It's your responsibility to know and play by the rules, that's why they are there. I myself have been the victim of a rules lawyer before and I wasn't mad at him, because I was the one who made the mistake not him. I deserved to lose because of that mistake.
I ended up losing that game because he attacked me for exactly lethal the turn before I would Final Judgment him. However I shook his hand and said good game. I held no ill will towards him and I hope he feels the same of me. We played a game of Magic and he won, that's all it is.
Round Four
| | | | | | |
| --- | --- | --- | --- | --- | --- |
| 32 | Kenney, Bryn [USA] | 6 | vs. | Herberholz, Mark D [USA] | 6 |
Bryn is playing Hondens. Game one I miss on a Cranial Extraction for Kodama of the North Tree when he just cast Kodama's Reach for an Island and Plains leaving him with 3 Forests, a Plains, and an Island in play. It doesn't matter though, as I just start splicing Wear Away and later Cranial him for his Cranial Extractions.
I sideboard as follows:
+3 Nezumi Shortfang

+2 Kodama of the North Tree

+1 Meloku, the Clouded Mirror

-3 Sickening Shoal

-1 Hideous Laughter

-1 Horobi's Whisper

-1 Ethereal Haze
I figure his only answer to the Shortfang is a Red Honden, and even then I'll still probably be able to make him discard a card first, and if he doesn't have the Honden, the Shortfang should own him.
Game two I get Nezumi Shortfang on turn 2 and he doesn't have the Red Honden. The Shortfang goes all the way.
Round Five
| | | | | | |
| --- | --- | --- | --- | --- | --- |
| 30 | Herberholz, Mark D [USA] | 9 | vs. | Aten, Timothy [USA] | 9 |
I play vs. Tim Aten, a good friend even though he left the testing group. If you read my last article, I said that I thought that was inappropriate and I wouldn't test with him again, but I still like him and think he's a good guy. He had his reasons for leaving I suppose and I guess I have to respect that.
He is playing G/B/U splice, I think his list was the same as Gadiel's. Game one I get off the first Cranial Extraction and that is all this matchup is about. Well, game 1 at least.
I sideboard as follows:
+3 Nezumi Shortfang

+1 Psychic Spear

+1 Meloku, the Clouded Mirror

+2 Kodama of the North Tree

+1 Yosei, the Morning Star

-2 Hideous Laughter

-1 Ethereal Haze

-1 Horobi's Whisper

-2 Wear Away

-1 Cranial Extraction

-1 Gifts Ungiven
I think siding the Gifts out is still pretty questionable. I'm still unsure if it is too slow for this matchup or not… it probably is too good to take out, but who knows. After sideboarding, Cranial Extraction gets much worse as they just have too many threats. You might even want to take all of them out. Nezumi Shortfang is a house in this matchup, and it's the sole reason you keep in your Sickening Shoals. Final Judgment is also too good to take out, as it is your only answer to their fatties aside from playing your own.
Game Two I get an early Nezumi Shortfang and get him to pitch a card or two before he Sickening Shoals it. He gets a poor draw of too many mana accelerators and I draw another Shortfang and he doesn't find an answer to it.
Round Six
| | | | | | |
| --- | --- | --- | --- | --- | --- |
| 13 | Herberholz, Mark D [USA] | 12 | vs. | Purn, Michael [USA] | 12 |
He is playing White Weenie. Game one I get him into a situation where if he draws his fourth land for Hokori, he will probably win as I have just tapped out to cast Final Judgment. He doesn't and I take over the game and easily set up the Ethereal Haze lock after Cranial Extracting his Hokoris and Samurais of the Pale Curtain.
I sideboard as follows:
+1 Hideous Laughter

+1 Meloku, the Clouded Mirror

+1 Horobi's Whisper

-1 Kokusho, the Evening Star

-1 Ink-Eyes, Servant of Oni

-1 Gifts Ungiven
In this matchup you only need one win condition and Meloku is the best option. It's ok to take the Black cards out as you are siding in Black cards, so your Sickening Shoals don't get that much weaker. Gifts Ungiven is a bit too slow for this matchup I think. Here you just want to Cranial Extraction them for Hokori, Dust Drinker – then your mass removal should be too much for them. You don't really need to side into the third Cranial, as your removal should slow them down enough to search one out and you don't really want to draw multiples.
Game two he has to mulligan and I get a removal-heavy draw. I tap out a few times for Final Judgment or Hideous Laughter spliced onto another arcane spell, but I have Sickening Shoal in case he has Hokori. He doesn't and I win. Michael was however a pleasure to play against and took defeat very graciously even though he got rather poor draws. All in all, he is the ideal opponent, polite and nice.
So I ended Day One at 5-1, good enough for ninth place in standings. Next I will tell you about my Day Two matchups, how I choked in the top 8, and how FFej ended up doing.
Thanks

Mark Herberholz….a.k.a. herberheezy