I am writing this in one of the biggest heat-waves the Netherlands has ever had, and, as you might not know, we here in Dutchie-land do not have air conditioning to speak of. This means that life right now is going a lot slower than it usually does, and I am cursing myself for choosing this week to decide to take up running. Last week's article upset a bunch of people for a lot of reasons, and that kinda sucked. I never meant to upset the French, as my comments were definitely not aimed at their national team, but more at the World Championships that are going on right now… I can't help the questions I am getting, or what my honest answers will be…
As for the Magic side of things, I have been playing a lot of Magic Online lately, and especially the Block Constructed queues. It seems people are not pushing this format to where it could and should go. As this is a format not seeing any play in actual tournaments, it means the decks appear to be sub-par most of the time. This means that if you are looking for easy packs to win, as well as a good time, these are the queues you should be joining.
Last week I also mentioned Magic League as a good alternative for kids that want to get better but don't have the resources to play MTGO… and I stand by this. Sure, people can cheat against you when you use Apprentice or similar programs, but the fact that everyone in this league has the common goal of getting better at the game means that if you are cheating when you can win nothing, there is something seriously wrong with you. I know for a fact that Julien Nuijten started playing competitively here, and new PT superstar Paulo Vitor Damo da Rosa still plays there regularly, and still uses it as a Pro Tour practice ground.
Once again, it seems like the questions I am receiving each day are dwindling. This means that I am running short on questions for the next article. Please keep 'em coming – send 'em to [email protected]. Remember, these articles are only as good as your questions. I'll be going on a little vacation in two weeks, so if you want to have your questions answered before that, send them in now!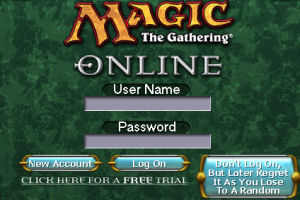 This week's first question came to me by way of email, from Greg Peloquin:
1- In the last two years, I have improved my Limited game a great deal. As someone who hasn't had much success in tournaments until recently, finding my rating above 1900 is daunting. I feel like I am rated too high, and the pressure to perform is too great. Do you remember when you experienced this? Where you started doing really well? Did you feel the same pressures and if so, how did you cope with them?
2- Not as serious, but do you view MTGO as essential for improving your game? I am one of the few PTQ level players in my area that doesn't use it. Do you think others have an edge over me, and I am "behind the times?"
1- I remember this very well, as playing in the Netherlands was completely different from me than playing at the Pro Tour and doing well. As soon as I started playing those, my rating started to soar, I played better opponents, and of course this meant I felt I had to play better. After winning my first PTQ I played a Pro Tour in LA – the last one on the boat, actually – and I did very well, up until the last draft. I went 3-1, 2-1, 3-1, and a 3-0 would have meant making Top 8!
Of course, I choked.
Despite drafting the best deck of my entire Pro Tour, I went 0-3, finishing Top 64 – not even qualifying for the next PT. After that I played some more qualifiers, because I knew I could do it, and after qualifying for the Pro Tour again through Nationals, I stayed on the train and racked up a couple of Top 16 finishes. During this period my rating soared, and I loved it.
The truth is that I figured out that ratings aren't all that important, unless they can qualify you for an event. They don't really say anything. Don't feel pressured by it, but look more at your results, as they say more about the player you are. If you rack up wins playing FNM you will know that you aren't that much of a better player than you were, but your rating will keep climbing. Playing people at a higher level – and beating them – does mean you are getting better. This is what I feel you should focus on. Don't feel pressured by your rating, it doesn't really mean anything… just know that you want to do well, and that you can play the game well.
2- Don't get me wrong, I often say that MTGO is the best tool to become the best you can be, but that is not the only way. Heck, most of the big-time Pros were good at this game long before MTGO came along. The most important part of getting better is playing against good competition, and for many people, this means playing online. If you have great competition around you in real life, you don't need MTGO at all – you can play equally well against the same level opponents. If you don't have great playtest partners, and not many do, then MTGO is your way to get them.
The next question is by Neil Cryptogrammaton (who, if it is real, has a very interesting last name):
I'd like to ask you two questions about tournaments.
First, do you think the bye system is fair?
Second, what is your opinion on the moral status of "conceding" your opponent into the Top 8?
To my mind, the popularly held (at least in the tournament reports I read) notion that this is a generous act is short sighted, as letting somebody in this way denies the place to another, who perhaps had to fight for his wins and thus would seem more deserving.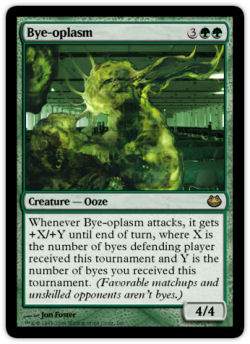 I assume when you mention the bye system you mean the system used at Grand Prixes giving people byes based on their ratings and previous accomplishments. The reason the system is in place is because Wizards wants to offer an incentive to players across the globe in order to have them attend these events. Players would be far more hard pressed to travel to far away tournaments if it meant they had to win six rounds out of eight to even have a shot at making some of their money back, whereas going 3-2 is a much more likely result. While it might seem like this isn't very fair towards most players, the bye system does make sure that more people travel to these events, meaning that these events can keep on going. Without byes, GP's would only draw half the players they already do, meaning that they would cost too much, and stop being held. Fair? Maybe not… Necessary? Yes, for sure.
As for conceding to get your opponent into the Top 8, you bring up a solid point. In the abstract, it sure doesn't matter to you if your opponent or someone else makes a Top 8, and you should not concede. There is this thing called PT politics though, which means that it is often the correct play.
In one of the last rounds of PT Hawaii, Mark Herberholz was playing Craig Jones, and Craig was already a lock for Top 8. He didn't really want Mark in the Top 8, since the matchup for him wasn't great (he ended up losing the finals to Mark) and decided that he wanted to play. After drawing the first game, thanks to Char, he decided to concede anyways, because he didn't want to leave Mark or his friends with bad feelings. He basically had to concede, because if he hadn't, it would have meant that if the situation was ever reversed in a future tournament, and he were to play Mark or a friend/teammate of Mark, he would have not gotten the concession. The fact that you play the same people every tournament means that creating goodwill is a very big part of your decision-making, and that it is often smart to do what is right for other people.
Of course, there are also people that don't like to play these silly little political games (Bram Snepvangers, who once kicked Gabe Walls out of Day 2 despite not being able to make it himself, is a very good example) and they aren't really hurt by it that much, but who knows? One of these days, the situation may be reversed, and they will regret their decision.
Next up, a follow up to last week by Daniel Gardner:
Thanks for the reply. I am going to sign up a Magic Online account now, because everyone I ask offers the same advice. I joined magic-league.com about 5 months ago, and it's hard to get a good game and test solidly with good players. Could you give me some advice on how to use MTGO?
There's no right or wrong way to use MTGO. It mainly depends on what you are planning on testing the most. If you want to mainly test the Draft format, the best thing you can do is simply buy a draft set and start playing. As long as you draft enough rares, and play in 4-3-2-2s, it means that you will not even have to do that well to finance your next draft. A couple of wins means you will even build up your account, and will allow you to move on to 8-4s, where the risks are a little higher and you have to win more, but the rewards for making the finals are much greater. Often, you will be able to do two "free" drafts afterwards.
If you are just looking to play as much as you can, joining a league is your primary option. All you need is a Sealed Deck set to play as many games as you want in the next 4 weeks. Then there are the Premier Events, which are like PTQs, and once you win one of those you'll be set for a while – they can pay huge prizes.
If you are looking to playtest constructed, you will need to invest more, but the general prizes you can win are better. It takes less investment to join a tourney (besides the deck), and you won't need to depend on Lady Luck as much regarding your deck. This very site itself has some great articles geared towards Magic Online and what is hot and what is not, by Blisterguy. Check em out!
Next up, Hanno Terbuyken:
After Mark Herberholz recent PT Charleston report, I and others on the forum wondered: What do Pro Tour winners do with their money? Do you know?
P.S.: I disagree on "this World Cup being a mockery". It's neither worse nor better than past ones — remember Maradona's Hand of God, or the Wembley Goal, or countless other incidents? It's sad, but it happens. Thankfully, Germany is still playing a brilliant tournament, and I'm confident they will beat Argentina on Friday!" [Ouch. Bad timing there, German fans… – Craig (Portugal Hater).]
In general, a large chunk of the money we make goes to travelling to next tournament. A PT in Japan has a high travel cost, and we need to stay there as well. Then there is the fact that almost none of us have a job, and we all like to spend money, so add the general cost of living. Then there are people like Mark, who loves the college party life, that simply spend all their winnings on booze within a couple of months. Him and Sam Gomersall have gone through the entire spectrum of PT life, from being dirt poor, eating at taco bell each day and spending every dime you have on surviving, to being filthy rich and spending as much as you can on alcohol and things that make life fun. It often seems like they feel they are only happy when they don't have money, so they keep trying to get back into that situation.
Seriously though, there are a lot of expenses that come from playing Magic and doing nothing else, as you need to travel, live, buy cards, and have fun with the money you make from playing. This means that Pro Tour players often aren't as rich as their lifetime winnings would have you believe…
As for this World Cup, never before have there been so few goals scored, so many cards handed out, or such a horrible level of play. I am not talking about certain controversial events, like the Hand of God, or even a certain referee in this World Cup screwing up time and again… no, I am talking about the general level of play, which is simply awful. Goals seem to only be scored out of set pieces, and the fun just isn't there. I am sure you disagree, since y'all are winning it all, but hey… [Not any more… – Craig.]
That's it for this week. Keep those questions coming, kids! I'll be waiting at [email protected].
Jeroen