Welcome back to the Grand Prix Orlando countdown blog! Yesterday, I showed you your travel options and places to stay this weekend at Grand Prix Orlando. Whether you're flying into Orlando International Airport or packing five deep into your friend's Honda Civic, you're one step closer to getting to the Orange County Convention Center for all of the festivities at Grand Prix Orlando!
When I'm at any Magic tournament, one of my favorite things to do is round up some of my closest friends and break bread. Yes, in theory, you could eat convention center delicacies all day, but why do that when Orlando has such an amazing food scene? So today, I'll be going over a few awesome restaurant options that I plan on going to while I'm in The City Beautiful.
Shake Shack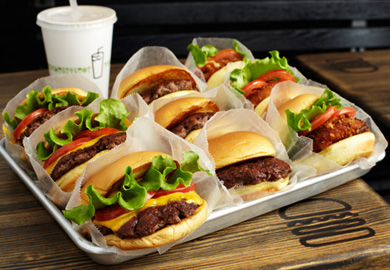 Say hello to my favorite burger joint in the country. As Shake Shack continues to grow in popularity, I continue to grow in size because I simply don't have the ability to say no to a Double SmokeShack, Cheese Fries, and their Shack-made Lemonade. As much fun as I've had losing weight over the past three years, I'm still a fat kid at heart, ya know?
Shake Shack sprouted from a hot dog cart in Madison Square Park in Manhattan to support the Madison Square Park Conservancy's first art installation. The cart was quite the success, with Shack fans lined up daily for three summers.

In 2004, a permanent kiosk opened in the park: Shake Shack was born. This modern day "roadside" burger stand serves up the most delicious burgers, hot dogs, frozen custard, shakes, beer, wine and more. An instant neighborhood fixture, Shake Shack welcomed people from all over the city, country and world who gathered together to enjoy fresh, simple, high-quality versions of the classics in a majestic setting. The rest, as they say, is burger history.
If you've never been to Shake Shack before, please go. You'll be glad you did. Trust me.
View Shake Shack's menu here.
Texas de Brazil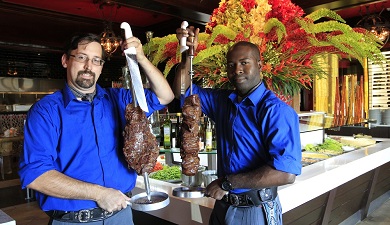 So chances are that after a full day of playing Magic, that you're going to be fairly hungry. And given the audience that I'm writing to, I know that everyone here is on the hunt for one thing – value! Well, my friends, here's all the value you can handle. It's infinite meat on a stick until you can't "meat" any more!
Our story begins in Porto Alegre, Brazil. Living the cattle rancher's life and feasting in the traditional rodizio style native to this region, one of the partners had visions of bringing this culture north to the United States. The unique concept offers diners a parade of meats and an extravagant seasonal salad area. After years of hoping and dreaming, this rodizio vision became a reality. The destination of choice was no other than the cattleman's land … Texas.

Settling in Texas, it was apt that this unique style brought from Brazil be combined with the hospitality that is indige-nous to the Lone Star State. Combining the culture and feast of Brazil with the service and class of the States, Texas de Brazil Brazilian Steakhouse emerged. Texas de Brazil is family owned and operated and continues to expand both domestically and internationally to bring the Brazilian Steakhouse dining experience to new and exciting geographical locations.
Most have heard the legendary tales of eating at Fogo de Chao, but I much prefer Texas de Brazil for my meat destruction needs. The atmosphere is similar, but I find that Texas de Brazil has better variety and better meat overall. At the end of the day, the trick here is to round up a group of people, get your value, and try not to pass out from the meat sweats on your Uber ride back to your hotel. I wish you all the best of luck in doing that!
View Texas de Brazil's food menu here.
RusTeak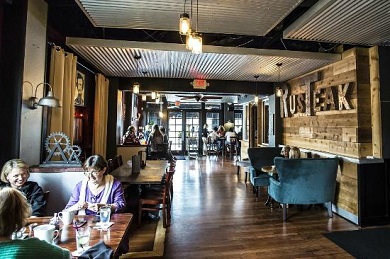 Well-known Florida native and unabashed New England Patriots fan Zach Efland introduced me to RusTeak during one of my trips to Orlando for SCG Tour coverage and I couldn't be happier that he did. Not only was it Restaurant Week when we went, which made things rather cheap, but the three-course menus they had us choose from were full of all their hits. And, as it turns out, RusTeak has plenty of other hits on their menu.
RusTeak Restaurant and Wine is owned and operated by two graduates of The Culinary Institute of America. RusTeak has firmly established itself as a new American restaurant with a polished casual atmosphere.

Our menu boasts hand crafted sandwiches, burgers, flatbreads, steaks, seafood & pasta. RusTeak also features over 150 wines from around the world, 22 wines offered by the glass, 45 different craft beers, and 12 handcrafted signature cocktails that change seasonally. RusTeak has won the Wine Spectator Award of Excellence 2014, 2015 & 2016.
As far as my recommendations are concerned, the Tomato Jam Jar appetizer, Route 528 entrée, and the Cronut dessert are divine and I cannot recommend all three highly enough. Especially the Cronut. Seriously, get the Cronut.
View Rusteak's food menu here.
What Tomorrow Brings
Now that you know more about how to make your belly happy, you're all set for Grand Prix Orlando! Tomorrow's final entry in the Grand Prix Orlando countdown blog will have a few miscellaneous news items and notes to help prepare you for one heck of a weekend. See ya then!
Previous Grand Prix Orlando Blogs