Welcome back to the Grand Prix Louisville countdown blog! Yesterday, I showed you your travel options and places to stay this weekend at Grand Prix Louisville. Whether you're flying into Louisville International Airport or packing five deep into your friend's Honda Civic, you're one step closer to getting to the Kentucky Exposition Center for all of the festivities at Grand Prix Louisville!
When I'm at any Magic tournament, one of my favorite things to do is try out the local cuisine. Yes, in theory, you could eat convention center delicacies all day, but why do that when Louisville has such an amazing food scene? So today, I'll be going over a few awesome restaurant options while you're in Derby City.
Wild Eggs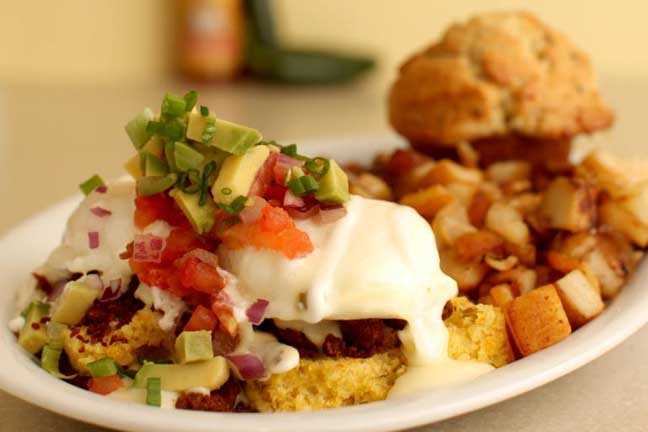 Breakfast is always a great way to get the day started, and though Louisville has quite a few options for places to kick your day off right, Wild Eggs stood out to me the most. The folks at Wild Eggs do simple things well, and as someone who appreciates simplicity and a sound restaurant philosophy, Wild Eggs is where I'll be getting my day started during my two byes of the main event.
At Wild Eggs, our goal is to offer the same level of preparation, presentation and service that guests can expect from an upscale dining experience. Our well-trained staff consistently delivers innovative dishes that offer a fresh, contemporary approach to traditional breakfast, brunch and lunch. From our bacon and eggs and fresh squeezed orange juice, to our signature Everything muffin and Sweet Home Apple Bourbon Crepes, each detail of your meal is crafted with care by our experienced chefs at prices ranging from $5 – $12.99.
The Bananas Foster French Toast is the first item that grabbed my attention, but I may dabble in the Mr. Potato Head Casserole or the Kelsey "KY" Brown. Their menu is extensive, so be sure to take a look before heading their way.
View the Wild Eggs food menu here.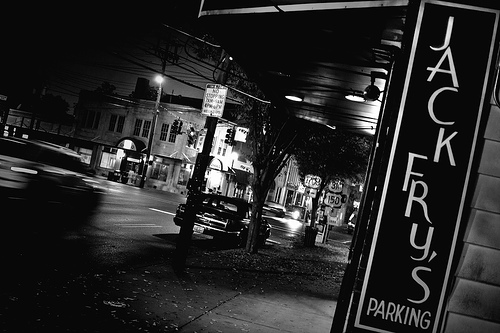 Dubbed "the best night in town," Jack Fry's is the place for you if you're looking for something a little fancier during your stay in Louisville. Short Rib Dumplings immediately called my name, but there are other things to choose from like Chicken Liver Pate, Veal Roulade, and Polenta Terrine. Named one of the Top 50 Best Restaurants in the USA for 2016 by ListMart, Jack Fry's has been doing Southern comfort food well for a very long time.
Jack Fry's opened in 1933 as a haven for bootleggers and bookies, and has remained a popular dining spot, with its classic Old South atmosphere and original décor. A collection of '30s era photographs — including shots of the 1937 flood that devastated downtown and prompted development in the eastern, now more affluent, sections of town — adorns the walls, and a discreet jazz trio performs in the corner. These days the restaurant focuses on subtle reinventions of Southern staples. Try the shrimp and grits with red-eye gravy and country ham followed by lamb chops in a rosemary natural jus with shiitakes and thyme.
Jack Fry's is open until 11:00pm on Friday and Saturday night and they welcome reservations, so if McClain Brown's well-prepared menu has caught your eye, be sure to call ahead.
View the Jack Fry's menu here.
Game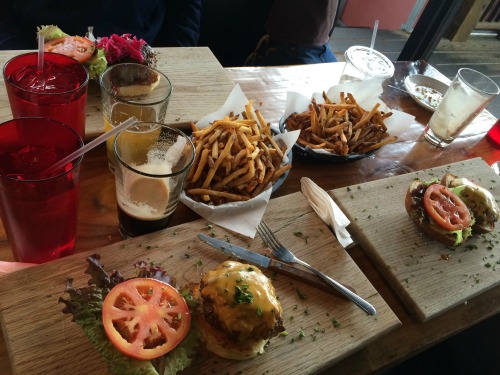 I've been attending Magic tournaments in Louisville since my college days at Purdue. Back in my 20s, I didn't really care to experiment with the things I ate. I was willing to branch out a little bit, but if you told me I'd be looking forward to a kangaroo burger this weekend, 20-year-old Cedric would scream obscenities at you. But 30-year-old Cedric? 30-year-old Cedric is ready to give a tremendous beatdown at Game during his stay in Kentucky.
Located in Louisville's historic "Irish Hill" district, Game is a rustic eatery that provides its own unique flare to the city's already eccentric culinary scene. This aptly named establishment specializes in exotic wild game that is sourced from local farmers who pride themselves on supplying only the highest quality meats.

With offerings such as kangaroo, bison & alpaca, Game has certainly found the perfect method to create a true carnivore's paradise. For those who may prefer lighter fare, a trio of vegetarian options are also touted as some of the finest in the city.

So whether it's the perfectly cooked meal, or the friendly server who delivers it to your hand made Red Oak table, Game has always and will always make it their ultimate goal to give you a dining experience you will never forget.
Game is a small restaurant and getting a reservation is tough, so I implore you to plan accordingly. I promise you'll be glad you did!
View the Game food menu here.
Sweet Surrender Dessert Café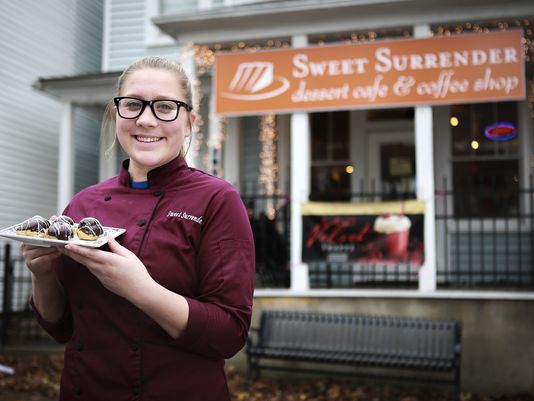 For those of you with a sweet tooth, I have found just the place to cure what ails you. Sweet Surrender is an award-winning dessert café renowned for its decadent desserts. It's the perfect spot for those seeking a unique dessert experience. Open late, Sweet Surrender's café provides a warm and inviting atmosphere for anyone desiring dessert after dinner. With cakes, pies, tarts, cookies, and cupcakes, Sweet Surrender has something for everyone. Best of all? They make everything from scratch!
All of the desserts at Sweet Surrender are made from scratch on the premises, using only the finest of ingredients; the tasty results of which have been honored with nine Best of Louisville Awards and six LEO Readers Choice Awards.

In the Cafe, you can purchase a large selection of our cakes by the slice, and enjoy them with an expertly crafted espresso drink or cup of coffee. Other treats such as cookies, truffles, and cupcakes are also available. Our free wi-fi and bottomless cups of coffee make Sweet Surrender a perfect spot for working, studying, or having an informal meeting.

Our cake selection changes daily, but we always have a selection of gluten free and vegan options available. If you are craving a specific cake, feel free to call us and see if it is available, or place a request
View the Sweet Surrender food menu here.
Recbar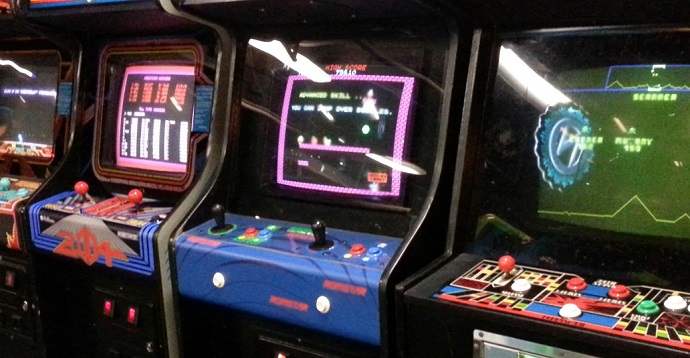 This isn't a restaurant per se, but when you write words for a living, it's important to know your audience. And since I know Todd Anderson is going to read this, here's your local barcade, my friend. As some of you may know, Todd, Tom Ross, Michael Majors, and I have a friendly NBA Jam rivalry, so what better place to pick it back up then over a few slices of pizza and a frothy beverage or two? If NBA Jam isn't your thing, perhaps Crazy Taxi, Tekken Tag, or X-Men: Children of the Atom is.
Recbar is the ultimate homegrown bar experience. Two lifelong Louisvillians set out to create a concept that delivers top-notch service in a relaxed atmosphere. Recbar is the perfect choice for catching the game, a relaxing dinner for two or simply a game night with friends. Put it on your calendar. Call the babysitter. Rally the troops. Come early, stay late. You won't need to go anywhere else!
Didn't do well in Day 1 of the main event? Recbar is open until 3:00am on Friday and Saturday, they have an awesome late night food menu, and they have a whopping sixteen beers rotating on tap. So grab some friends, grab some quarters, and go have a blast at Louisville's newest barcade.
View the Recbar food menu here and drink menu here.
What Tomorrow Brings
Now that you know more about how to make your belly happy, you're all set for Grand Prix Louisville! Tomorrow's final entry in the Grand Prix Louisville countdown blog will have a few miscellaneous news items and notes to help prepare you for one heck of a weekend. See ya then!
Previous Grand Prix Louisville Blogs