Welcome back to the Grand Prix Louisville countdown blog! Yesterday, I went over everything related to the side events at Grand Prix Louisville. From the schedule for Friday, Saturday, and Sunday to the unique events like Foiled Again! and the Two-Headed Giant Sealed Spectaculars, everyone should now have a better idea of what side events are available from January 6-8.
When one comes to a Grand Prix, most of the time it's to play in the main event and test your skills against some of the best players in the world. For others, it's to play in as many side events as possible because you just love the value that the Infinite Challenge option represents. And with the addition of the Command Zone, even Commander players have their own area to do their thing.
But something that everyone has in common at Grand Prix? Their love of special guests! And at Grand Prix Louisville, there are going to be quite a few. And the headliner? The critically acclaimed Rob Alexander.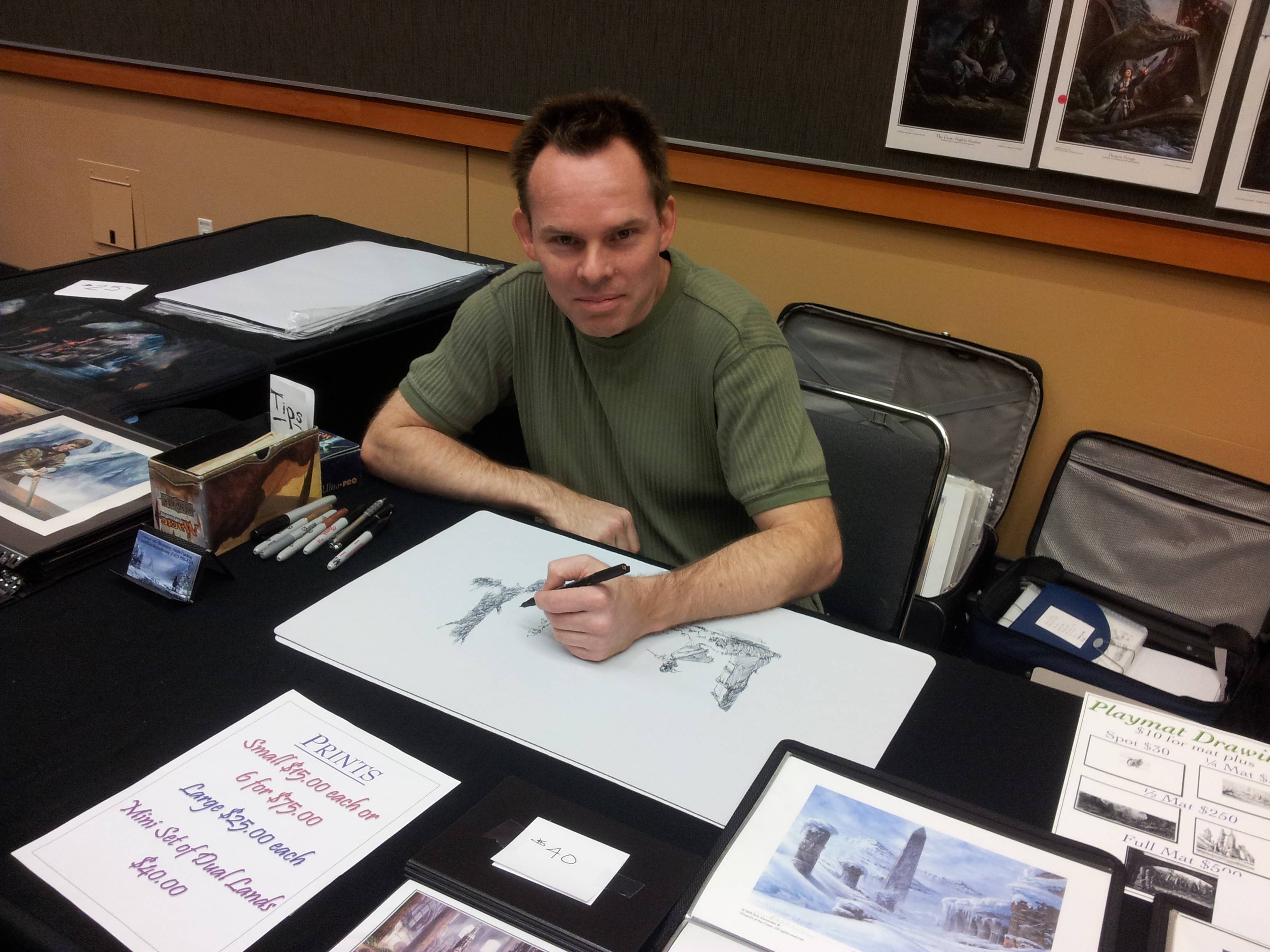 The Who
As it so eloquently states on his website:
Where were you born, and where did you grow up?
I was born in southern Ontario, Canada, and moved to Alberta, Canada at age 12, where I stayed until I moved to the US. Currently I live in the Pacific Northwest. The mountains which feature so prominently in many of my paintings are definitely inspired by the Canadian Rockies, which were a huge influence on me personally and artistically.
How and when did your first start painting?
I was always drawing and painting as a child, and I just never seem to have stopped. Not that I was particularly gifted or talented as a child, I just enjoyed playing with paints and colours too much to stop. School assignments were often an excuse to draw something, and I was constantly filling sketch books and notebooks with doodles, drawings and such. As I was leaving high school, I realized that there was nothing else I enjoyed as much as artwork, so I canceled all my engineering classes at university, switched my major to Art, and haven't looked back since.
What are your artistic influences?
Not surprisingly, landscapes play a major role. It was landscape art that got me started drawing and painting as a child, and it remains my first love to paint. I was also heavily influenced by Tolkien's works. I had most of the Lord of the Rings read to me in the 2nd grade, and it has remained a huge influence and favored reading ever since.
I have also always had a love for old, beautiful art. The really good pieces that you see in museums and art history books. Everyone from Vermeer and Rembrandt to Rubens, Leonardo and Halls. From old Venetian painting to the Academic and pre-Raphaelite artists. Church and Bierstadt, Sargent and Alma-Tadema, the list goes on and on. Not all landscape painters, by any means, but all of them good painters, and all of them fascinated with the play of light across their subject.
Of all the cards you've painted for Magic, what's your favorite?
Tough call. I loved the early pieces, as they were so wide open and creative, but my recent works were also very satisfying to paint. I would have to say Underground Sea and Spectral Cloak from the early days, and Exalted Angel, Temple Garden, and Overgrown Tomb from the recent sets, but as I said, it's a tough call.
I love to draw. What advice do you have on becoming an artist?
Three main pieces of advice. First off, paint from real life. Any form of representational painting is all about making something look real, whether it be the bowl of fruit on your table, or an alien world. That requires a good understanding of the natural world, how it works, how it looks, and why. You cannot paint what you do not know. Nature is the best teacher you will ever have, and the best source of inspiration there is.
Secondly, paint what you love. When you get down to it, it's not that hard to learn to paint something and have it look realistic. Not to say it's easy, but it's something which can definitely be learned. Therefore, the thing which will separate your work from anyone else's is not how well you can render, but how much of yourself comes through in your work. The one unique aspect to any artist work is the inherent personality of the artist upon which the work is built.
Lastly, practice, practice, practice. This is one vocation which you will never master, and which will constantly challenge you. Learn to embrace the challenge, fall in love with the process, and try to make every painting better than your last one.
The What
Rob has drawn numerous amazing pieces of Magic artwork, but for Grand Prix Louisville he'll be bringing along some amazing playmats that will be available this weekend!
And for the first time ever, Rob will also be bringing along unique, one-of-a-kind painted Underground Sea playmats (available in limited qualities at $200 each).
Hand-Painted Underground Sea!
See all the cards illustrated by Rob Alexander here!
The When
So when can you meet Rob and have cards signed by him? All those details are below:
Friday, January 6

Saturday, January 7

Sunday, January 8

10am – 7pm

9am – 7pm

10am – 7pm

Signatures: $1 each. Limit: 20 per visit.
What Monday Brings
Now that you know more about our Guest of Honor, it's time for me to start introducing you to our other special guests at Grand Prix Louisville. On Monday, I will be going over everyone who will be in Artist Alley, along with the artwork they're famous for and the times that they will be signing those cards. See ya then!
Previous Grand Prix Louisville Blogs