The serialized 001/001 The One Ring from The Lord of the Rings: Tales of Middle-earth has changed hands, and the buyer is the most famous Magic: The Gathering player in the world — Post Malone!
Brook Trafton, the original opener of The One Ring, posted videos to X, formerly known as Twitter, and TikTok showing him and Post Malone with Malone looking over the Mint 9-graded card and saying, "Yeah, I'll take it."
The special one-of-one The One Ring is the first time Wizards of the Coast (WotC) printed a unique Magic: The Gathering card that could only be opened in a booster pack. This version of The One Ring is a traditional foil card printed in the Black Speech of Sauron using Tengwar letterforms.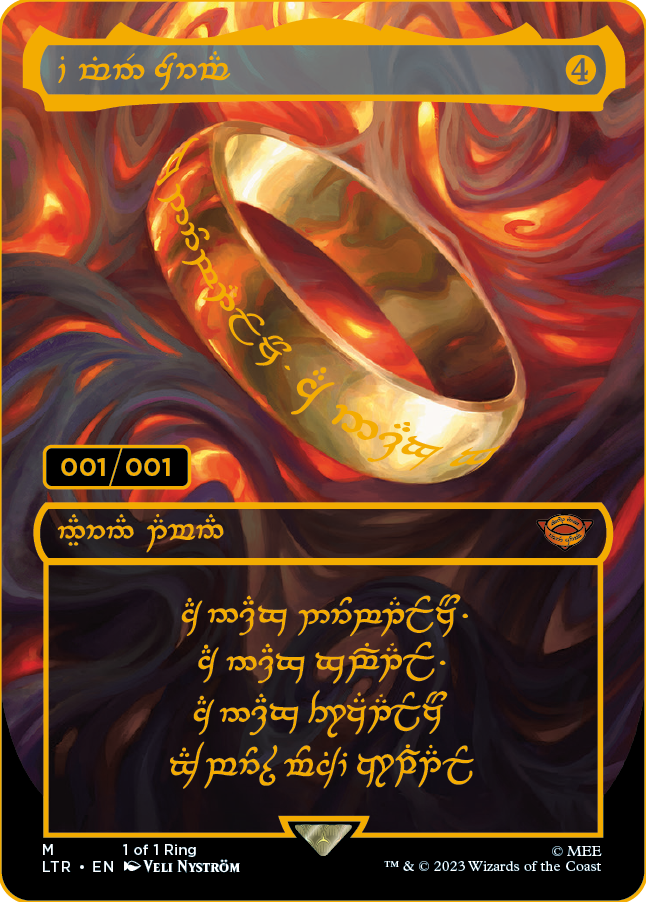 Trafton also posted a video showing The One Ring in a clear sleeve when he opened it before it was slabbed by PSA. His hands are visibly shaking from excitement as he flips the card over to show off the precious one-of-a-kind card.
The selling price for The One Ring was $2 million, according to The Notable Group, the marketing agency that is representing Trafton. While the $2 million price tag doesn't put The One Ring up with the highest sports cards ever sold like the 1952 Topps Mickey Mantle card that sold for $12.6 million at auction, it is far and away the most expensive MTG card ever sold. It also rivals a reportedly sold Yu-Gi-Oh! Black Luster Soldier also at $2 million, but trails the Pokémon Illustrator CoroCoro Comics Promo (Pikachu Illustrator Card) that Logan Paul purchased for $5,250,000.
There were multiple million-dollar bounties for the card before it was opened. Dave & Adam's Card World made the first seven-figure bounty on June 7, while Gremio de Dregones, a game store in Spain, posted a bounty of more than €2 million on June 12. These bounties both overshadowed the early bids of $150,000 then $500,000 from former NFL player Casssius Marsh.
The One Ring joins Post Malone's growing collection of extremely rare MTG collectibles, including a Chris Rush signed artist proof Black Lotus Malone bought for more than $800,000. On top of being known for his lavish Magic: The Gathering collection, the Grammy-nominated rapper has been featured on Game Knights, two Secret Lair drops, and a promotional WhatNot contest that awarded a player $100,000.
Hear from Trafton in an exclusive interview he did with Star City Games after news broke of him opening The One Ring in early July.