News broke in the Magic: The Gathering and collectibles world last Friday that the serialized 00/001 The One Ring from The Lord of the Rings: Tales of Middle-earth was not only found, but already graded and confirmed authentic.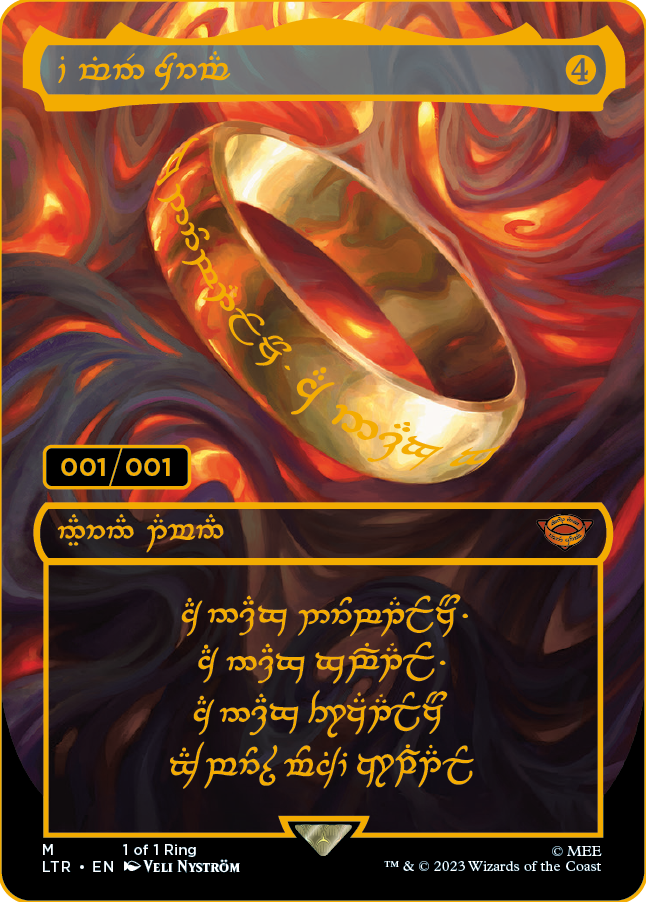 The special one-of-one The One Ring is the first time Wizards of the Coast (WotC) printed a unique Magic: The Gathering card that could only be opened in a booster pack. Fans of Magic and The Lord of the Rings have opened countless English Collector Boosters in hopes of hitting the card with an outstanding bounty of €2 million ($2,152,690.32 USD). This version of The One Ring is a traditional foil card printed in the Black Speech of Sauron using Tengwar letterforms.
The lucky owner, who is remaining anonymous, is a retail worker from Toronto, Canada who bought the box that contained The One Ring from Face to Face Games in Toronto. After opening the potentially multi-million dollar card, the owner had it graded by PSA, with it landing a Mint 9 grade.
Star City Games was able to interview the owner of The One Ring, who is being represented by The Notable Group, a marketing agency based in Toronto. Read how many packs it took the owner to crack the precious, how they reacted, and what their plans do with it are.
Q: Congratulations! Are you a big Lord of the Rings fan? Did the serialized 001/001 The One Ring promo excite you when it was announced? Have you enjoyed playing with the cards from the set?
A: I'm a fan of Lord of the Rings and even bigger fan of Magic. I was excited when I heard about the one-of-one ring, but never did I think that I would pull it. I've played a few sealed games of this set on MTG Arena and I've been loving it so far.
Q: How many Collector Boosters did you buy and/or open?
A: I had a preorder of a box of Collector Boosters that I was set to pick up on June 17, but for some reason, I woke up early on June 16 and decided to head to the store when it opened. I was the first one in, asked if they had any Collector Booster boxes for sale, and they said they had a few left so I bought two. I opened the extra boxes at home, and there it was, in the sixth pack of the second box.
Q: Basically everyone on the internet dreamed of opening The One Ring and talked about their plans if they did. What did you think about before getting your packs? Did you have plans? If so, have they changed or are you going through with what you dreamed about?
A: At first, I thought I'd buy a few boxes of Collector Boosters and sell them when they go up in price. Then the spoilers came out. The set had such beautiful cards, like reprints of Balin's Tomb [Ancient Tomb], so I opened the boxes to see if I could get some cool stuff for my decks. But I never in a million years thought I would pull The One Ring, so I never really thought about what I would do with it until it was a reality.
Q: What was your reaction when you opened The One Ring? Shock? Excitement? What did you do after opening it? Who was the first person you told about it?
A: I was in complete disbelief. My hands were shaking and my heart was racing. I knew it was a life-changing moment. I called two friends and a family member to try to confirm its validity.
Q: How did the process of getting it graded go?
A: The process was nerve-racking. We had to hire a company to transport it safely, so it was out of my possession for a few days. I didn't sleep the entire time.
Q: Did you record yourself opening the pack?
A: I didn't record it being opened, but I have a lot of pictures and videos.
Q: Are you looking to sell The One Ring or are you just feeling out options as of now?
A: I am selling it. Right now, we're carefully reviewing offers. It's a once-in-a-lifetime opportunity.
Q: You've said you don't plan on quitting your day job. Would that change if you sold The One Ring for millions?
A: I've worked at the same company for the past 10 years. I will stay at my job and invest to set up my future.
Q: Now that you have had some time for it to sink in, what do you think about opening The One Ring? Still disbelief? Relief? Excitement?
A: Now, it's a lot more real for me. Seeing it and hearing about it on the radio solidifies everything. This has been such an amazing and magical journey. Not only for me, but the entire MTG community.
Q: How long have you played Magic? Do you have a favorite format or deck?
A: I started playing when I was a kid in the late 90s. My priorities shifted when I went to university, then I got back into it a few years ago, and I'm so glad I did! My favorite format is draft and sealed. I do have constructed decks and my favorite is my EDH Krenko, Mob Boss deck.