I used to think that buying lands was like buying socks. No one wants socks, but you need them. They are a necessity. If you don't wear socks, you'll get blisters. If you don't run lands you'll have a hard time playing Magic. After basics, there are a ton of high-quality lands for your decks. Pathways, shocklands, dual lands, fetchlands, you name it. But those are expensive, and even worse…they tap for colors.
Colorless lands are all the rage right now (so says I, I'm starting a trend). What I truly love about them is that they can go into any deck you desire. They aren't as limited as most popular utility lands. With that being said, I thought it would be fun to share with y'all some fun colorless utility lands under $5!
Rogue's Passage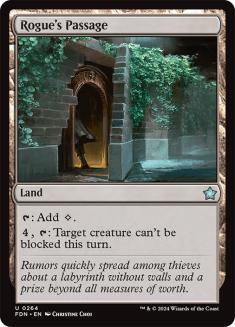 I will run Rogue's Passage in almost 99% of my commander decks. In fact, I've been mulling over a way for me to write an article just about this one land (though I doubt SCG wants an ode to one colorless land). [Copy Editor's Note: Are you kidding me? Ship it.] I absolutely adore Rogue's Passage because it (in my opinion) is a Commander win condition. While Rogue's Passage is technically a land that can tap for colorless mana, I prefer to use its four-mana ability, which makes target creature unblockable. Instant death by commander damage for four mana seems like a good deal to me. Heck, it doesn't even have to be commander damage. You can make a creature with infect unblockable, or a Master of Cruelties.
Access Tunnel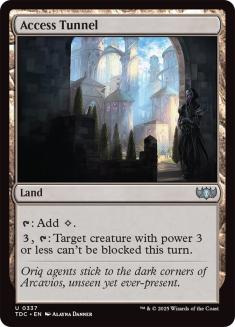 Next, we have diet Rogue's Passage: Access Tunnel! Just because it's the diet version doesn't mean it's bad. Rogue's Passage can allow you to choose any creature to make unblockable. Access Tunnel cares about creatures with power three or less. Yes, this is a bit of a limitation, but this card is perfect for the smaller commanders or a Glistener Elf. I can appreciate both of these cards for what they are. They are sneaky and slippery. People often forget about them. Run just one of them, or run both together for the ultimate unblockable package. I just think they're neat.
War Room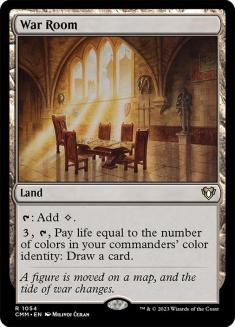 Two words: card draw. War Room is a fun way to bake card draw into your manabase. It works best in decks with fewer colors but can slot into any deck your heart desires. Like all lands on this list, it taps for colorless, but the real fun is the activated ability. Paying life equal to the number of colors in your commander's color identity will allow you to draw a card. Personally, I only run this card in monocolored decks, but it doesn't hurt to slot it into multicolored lists as well. This card sits around $4 and for good reason. If you're not running it, I highly recommend it.
Demolition Field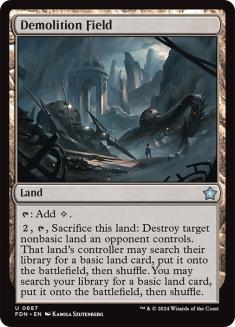 Move over, Wasteland and Strip Mine, we have a new piece of land destruction to run! It's Demolition Field. I honestly prefer Demolition Field over the other two lands because, while, yes, it does make your opponent tutor for a basic land, it lets you tutor for a basic land as well. It's a weird way to implement ramp in your deck, but I find that creates a nice balance. Blowing up an Urborg but getting a basic seems like a great deal for me. I consider this to be a great budget alternative to your more expensive land destruction pieces.
Emergence Zone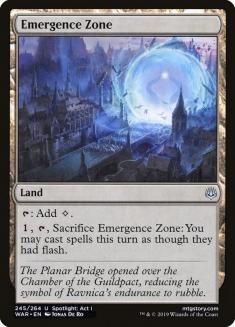 Have you ever held a card in your hand and thought, 'I wish I could cast this at instant speed'? I definitely have. Vedalken Orrery is a little cheaper but still a bit pricey, and not everyone can be in Alchemist's Refuge colors. Emergence Zone is the answer! Yes, it has to be sacrificed, but it can lead to some explosive turns. Flashy sorceries, flashy commanders, flashy artifacts! The possibilities are endless with an Emergence Zone in your manabase.
Karn's Bastion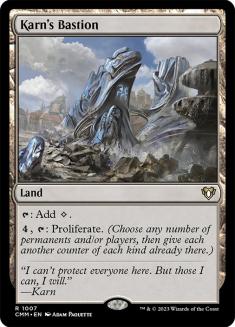 One of my favorite colorless nonbasics is Karn's Bastion. After all, I'm a Superfriends player! Counters are a big theme in commander and come in many forms: loyalty, indestructible, +1/+1 counters, -1/-1 counters, you name it! Karn's Bastion allows you to proliferate any and all of these counters that you desire. I run it in my Superfriends deck as well as my Vorinclex +1/+1 counter deck. Whether you're politicking or building up your own army, this card is a powerhouse and only $2.
Mirrex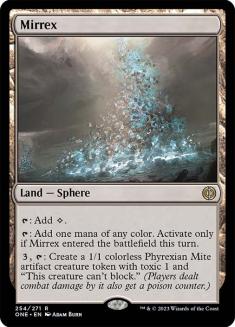 I wasn't really sold on Mirrex until I saw a friend play it on my Commander gameplay stream. Mirrex is a bit of an interesting colorless-producing land that can temporarily let you tap for one mana of any color if it entered the battlefield this turn. Occasionally, I've found myself pining for one specific color and just not having access to it, and Mirrex kind of solves that problem. Not only that, it can create a little Mite token as well. Making more bodies for swinging is definitely not a bad thing. This land is utility to a T and is criminally low in cost. Slam it into a deck and see what happens!
Roadside Reliquary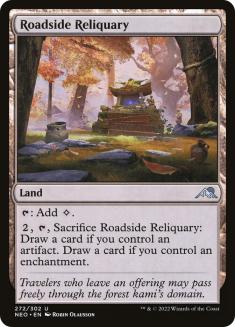 Roadside Reliquary is another card that was sold to me by the amazing Matt Morgan of EDHREC fame. This is another fun little piece that gives you a teeny bit of card draw. I like to view this land as a "break in case of emergency" card. Sacrifice it, draw a card if you control an artifact, then draw a card if you control an enchantment. Commander decks are usually flooded with these two permanents, meaning you pay two mana and trade to draw two cards. This seems good in a pinch and is also dirt cheap. You love to see it.
Untaidake, the Cloud Keeper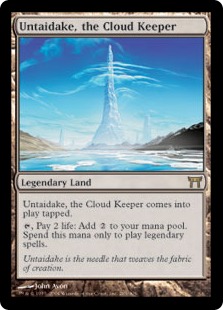 I recently discovered Untaidake, the Cloud Keeper when brewing my Cadric Superfriends deck and have quickly fallen in love with the card. It's like Ancient Tomb, but for legendary spells only! Literally, it's amazing and it's only $3! I find Untaidake amazing in decks that care about legendary spells like Sisay, Weatherlight Captain or Shanid, Sleeper's Scourge. Heck, it's even a good land to run just to dedicate to paying commander tax. While this land has only ever had one printing, it still remains relatively affordable. Whether you have a legends deck or not, I recommend snatching this one up.
Scavenger Grounds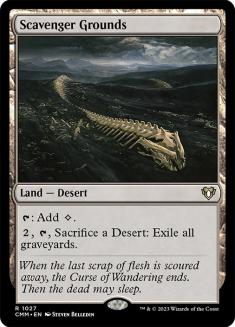 Lastly, we have Scavenger Grounds. This is the ultimate graveyard hate utility land. In fact, it has the Chase stamp of approval. Simply sacrifice a Desert, and you're able to exile all cards from all graveyards, and wouldn't you know it, Scavenger Grounds is a Desert. I'm surprised this card is so affordable. The fact that it exiles every graveyard is such a house, considering how many graveyard synergies are popular in commander. This is one of the few utility lands that can genuinely go into any deck. I love it.
The Spend
Lands are an unfortunate expense when it comes to Commander; however, you can still find quality pieces at budget prices. I think a lot of these pieces are under $5 mostly because players prefer to run utility lands that tap for colors of mana. I think colorless-producing lands have gotten the short end of the stick, a Temple of the False God treatment if you will. However, it is my hope that I can show you the beauty of the budget land. Colorless lands should go into decks in moderation, but the right cocktail can provide you powerful plays. Happy deckbuilding, brewers.