It's been one week since Worlds Week started, when sixteen distinguished pros and several dozen national teams gathered in Amsterdam to see who would be crowned World Champions. Along the way the new class for the Pro Tour Hall of Fame was announced, and before I get on with the inevitable surprises of Worlds Week, I'd like to make a Pikula pit stop.
Chris Pikula, the Pro Tour Hall of Fame, and Next Year
I've never been a member of the Pro Tour Hall of Fame Selection Committee, but I've made up my share of mock ballots in my time. Filling them out only gets harder over time as players stake their claims, and much like the "logjams" that show up in, for example, the Pro Football Hall of Fame voting, there are many players with similar credentials as well as those who have more unusual claims. (Shouta Yasooka, for example, has only one Pro Tour Top 8, but it's a team win at Charleston. When the fifteen Grand Prix Top 8 results and last year's Players Championship finals appearance are added in, he has a case.)
Due to the change in Magic Pro Tour Hall of Fame eligibility that requires candidates to have at least 150 lifetime Pro Points, Chris Pikula was set up to fall off the ballot after this year's voting. There was a concerted effort to get him into the Hall of Fame, but it fell just short of success, leaving Mr. Pikula 1.6% shy of induction. While rumor has it that Mr. Pikula will receive an invitation to Pro Tour Theros and thus have a chance to reach 150 points, it would take a herculean effort* for him to achieve the threshold.
*I award myself one out of five Rich Hagon for that pun.
There's been quite a bit of frustration from certain quarters regarding the Players Committee, the 33% contributors to the Selection Committee's 67%. Elaine Chase, Senior Director for Magic, said:
Very disappointed @meddlingmage missed. Has the PC ever voted someone in the SC hasn't or does PC only block? Is this good or bad? #mtghof

— Elaine Chase (@ElaineChase) August 1, 2013
Paul Jordan, Selection Committee member and Hall of Fame stathead, weighed in via his blog HusbandFatherMage. Among his findings: if a player gets to 40% on the Selection Committee's ballot but falls short via Players Committee non-voting, eventually that player gets enshrined. The trouble with Mr. Pikula's candidacy is that he doesn't have 150 Pro Points lifetime, which is a new requirement for the 2014 Hall of Fame ballot. Though Wizards understandably wanted to consolidate the ballot somewhat, in this case the Meddling Mage is getting tossed out with the bathwater.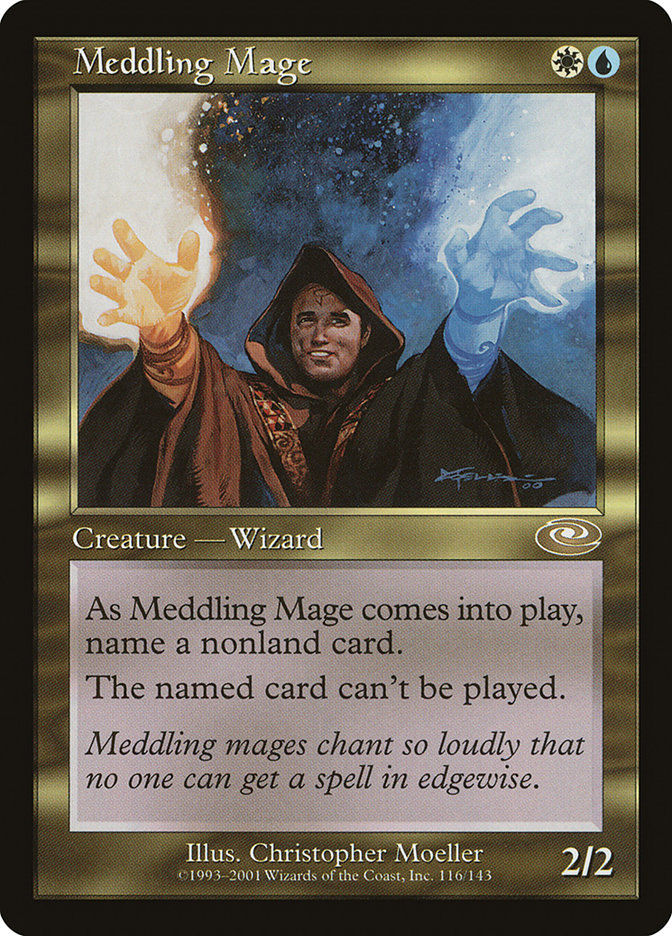 So what's the Hall of Fame to do in this case?
For one thing, not overreact. Mr. Pikula has strong backing, to be sure, but doing something like changing the Pro Points threshold to 133 instead would just be silly and transparent.
The best result would be if Mr. Pikula won Pro Tour Theros, thereby making himself into a drop-the-mic candidate for the Hall of Fame. If that doesn't happen, though, there's a quandary—and that's where an idea of mine kicks in.
The Pro Tour Hall of Fame began in 2005, marking the ten-year anniversary of the Pro Tour itself. For the twentieth anniversary, I'm thinking of a special committee, on the order of the Veterans Committee for the National Baseball Hall of Fame or the Seniors Committee for the National Pro Football Hall of Fame, that would examine the cases of those who were at their greatest prior to 2005.
What about Antonino de Rosa, who was a near miss on his ballot debut in 2009? What about Scott Johns, the last uninducted member of the Pro Tour-winning Potato Nation team? What about Carlos Romao, who put a continent's Magic into the spotlight?
It's all too easy for a player to get lost because of a relative lack of Pro Tour Top 8 finishes, or in the case of Mr. Johns despite them. I'm not saying that all of them deserve to be in the Hall of Fame, but I do believe that there are voters out there who keep voting and promoting trying to right what they see as wrongs. I don't see any harm in giving them the floor for a moment and letting them make their case to a subset of the Selection Committee that a certain player deserves the Hall of Fame honor. A committee like this meeting every year would be overkill, but once every five years sounds about right—a chance to reevaluate candidates or former candidates without forcing them to joust with the statistics of the modern game.
Worlds Week in Amsterdam
In the World Magic Cup, France took the title after a Top 8 with seven European teams and the Kiwis from New Zealand. In the World Championship, all four finalists had U.S. ties, but Shahar Shenhar, repping Israel, took the title and became the first World Champion younger than Magic itself. (Magic has turned twenty, while Mr. Shenhar, as of this writing, is still nineteen.)
On the way, there were surprises—some of them inevitable. Let me explain.
In the two years the World Magic Cup has been running, surprise teams have crashed out (no Japan team has made it to pool play yet despite the nation's well-established pedigree) while other surprises, usually small island locales nobody saw coming, have come close to the title or won it all (the Chinese Taipei vs. Puerto Rico faceoff in last year's finals, Iceland barreling up to the semifinals this year).
In an actuarial sense, it's not news that a small country had an amazing tournament. (Iceland, despite its land size, is remarkably small in population; with under a third of a million souls, it has fewer people than any U.S. state and well over 50 individual U.S. cities.) Upsets happen, especially in an environment where winning 80% of matches long term is unheard of.
Think of the U.S. men's college Division I basketball's championship tournament and how upsets happen every year. Tiny Valparaiso beats the buzzer and Ole Miss in basketball, while Florida Gulf Coast University alley-oops Georgetown. In American football, one blocked field goal and tiny Appalachian State, specifically chosen as an easy or "cupcake" opponent for famed school Michigan, knocks off their high-paying hosts. Even academic contests aren't immune; readers of a certain age or a quiz bowl persuasion might think of Agnes Scott College triumphing over Princeton in the GE College Bowl.
For two years running there have been spectacular upsets in the World Magic Cup, and if the contest were to run for two centuries, the odds would still be against the consensus Top 32 teams going on to the Top 32 in any of those years. I started Worlds Week expecting surprises, and I found them. I just didn't know identities. Would Peru top its high-wire act from last year (and that rifle-toting Hello Kitty shirt)? Perhaps Guatemala or Macedonia? In the end, Iceland and New Zealand were the big surprises, though neither won through to the finals, and I for one am thrilled that there'll be a lot more Icelandic than usual spoken in the hallways at Pro Tour Theros.
France took down the title after consecutive topdecks from Timothee Simonot, first a Kessig Wolf Run and then a Rakdos's Return, the latter inspiring a dramatic two-handed all-the-mana tap reminiscent of the Bonfire of the Damned that knocked Brian Kibler and company out of last year's World Magic Cup. (And somewhere in Wizards R&D, the next X spell for dramatic World Magic Cup moments is being prepared.)
As for the individual World Championship, Shahar Shenhar one-upped the triple Galvanic Blast moment from Pro Tour Dark Ascension with a quadruple Lightning Bolt extravaganza. (And somewhere in Wizards R&D, a Shock variant with "a deck can have any number of cards named Shock Variant" is being prepared to steal Mr. Shenhar's thunder.) It continued with the upset theme, though I was sad to see Reid Duke lose a match so many thought would be impossible for Mr. Shenhar to win; at the same time, that's why they play out the games.
Looking Ahead to 2014
I've written about the World Magic Cup and its qualifiers once or twice before. After two years of watching it, I will say that as a celebration of the global game it has exceeded my expectations. While I still don't consider the implementation perfect (World Magic Cup Qualifiers have not and will not create a U.S. team as strong as it could be unless a pro caravan is arranged to hit up all three next year), it's brought more Magic and more incentive to play to more countries—a win for the game.
What's in store for Worlds Week in 2014? I don't know, but it's fun to speculate! Will a country where cards aren't sold regularly get a World Magic Cup team? (India isn't a market for Magic: The Gathering, but there are diaspora citizens who play worldwide.) Will the National Champion of the World Magic Cup winners get a spot in the World Championship? Will an international team of small nation champions allow countries like Malta to debut in the World Magic Cup? Will any new full teams make the jump? Let me know what you think and what you'd like to see from Wizards in the comments.
As always, thanks for reading.
— JDB
@jdbeety on Twitter