I realized last night that while I was tallying the star totals for each color, I forgot to paste the design awards into the final version of the Gold, Artifacts, and Lands article. Now seems like as good a time as any to remedy that oversight:
Skullclamp Award for Card I Probably Should Have Said More About, But Didn't: Ophidian Eye
Pat Chapin Memorial Award for Best Design: Stuffy Doll (Honorable Mention to Knight of the Holy Nimbus)
Brian Schneider (R.I.P.) Award for Most Needed Ability: Sudden Shock
Aaron Forsythe Award for Card That Just Changes Magic: Teferi, Mage of Zhalfir
Mike Flores Award for Most Overhyped Card: Ancestral Visions
Mark Rosewater Award for the Biggest Potentially Disastrous Idea: Reiterate
Coolest Card That Will Never See Play: Chronosavant
Most Embarrassing Card For Someone To Find In Your Deck: Moonlace
With the new cards fully reviewed, ranked, awarded, and finally freaking behind us, it is time to move on to the real excitement in Time Spiral — the purple cards. Whether it's an idea meant to defray an otherwise potentially boring set, or some stroke of genius meant to boost sales even beyond already monumental Ravnica numbers, we'll never know (it's likely both and something more, in my opinion). What we do know is that Time Spiral prereleases set attendance records and the internet exploded with buzz about the new set weeks ago — largely as a result of cards with purple expansion symbols – and hasn't quieted down yet. The ranks of the purple cards are swelled with reprints that make you say "I cannot believe they chose to bring that back" in every color. In short, it's a great marketing idea that deckbuilders will get the pleasure of abusing for the next two years. For the next three days, we'll walk through the purps. On Friday I'll deliver a usefulness breakdown for categories of cards that should be all new. Here's my opinion about how the old cards stack up.
White
Akroma, Angel of Wrath
The greatest reanimation target of all time is back, and you get the feeling that she will be better than ever, at least in part because Resurrection is in the format. Yeah sure, maybe once in a while you'll actually pay eight mana in order to put everyone's favorite angel into play, but like Eva Longoria's character on Desperate Housewives, she's best when she's cheating. Normal Black and Red removal can't touch her, which means they are either running Void (for eight — good luck getting better than one-for-one there) or you are running some White and using Condemn/Temporal Isolation/Wrath of God/Magus of the Disk to keep her down. Expect to die to this more in new Standard than at any previous point in Akroma's existence.
Rating: ****
Auratog
By itself, Auratog is a craptastic 1/2 for two. If you can find some sort of weird enchantment combo deck that has automagically recurring enchantments to make your Auratog arbitrarily large, you win the prize, but otherwise you aren't going to play it.
Rating: **
Celestial Dawn
I put my head together with Ben Bleiweiss to form some sort of giant Magic megabrain, and neither one of us could think of a Celestial Dawn deck that ever worked well enough to matter. I see nothing on the horizon that indicates this might change.
Rating: *
Consecrate Land
I played with Consecrate Land the first time around (I have no idea why — we all played bad decks back then), so it hit me like a brick to the face when I looked at the new version of this card and saw that it made the land it enchants indestructible. That is sooo much cooler than what it used to do, let me tell you. At first I thought, "Man, this would have been cool with Genju of the Realm," but then I remembered what it really does to other enchantments and realized that was stupid. Then I tried to think of what you would actually want to play this on and failed. At this time, there aren't really man-land-y type cards good enough to want to make them indestructible, no matter how cool that play might be. I reserve the right to change this rating later, pending new entries to the format.
Rating: *
Defiant Vanguard
In the days of Ramosian Sergeant, Defiant Vanguard was most excellent. Easily searchable and able to continue the Rebel chain into larger casting costs, the Vanguard's most important job was trading with Fires of Yavimaya fatties like Blastoderm. He's back and ready to serve in the same capacity (blocking fatties), but I can't get over the fact that his search is currently useless, though Amrou Scout can at least easily search him out. He's still really good in a dedicated Rebels deck — the question is whether or not a dedicated Rebels deck will be good enough to matter.
Rating: ***
Disenchant
You all know how good this card is and has been throughout its career. One gets the feeling that with both this and Naturalize running around, R&D has freed up some space for themselves to put some juicy enchantments in the environment.
Rating: ***
Enduring Renewal
Speaking of which…
You know, Enduring Renewal is really just a Timmy card. Its entire job is to recycle creatures. Everyone loves creatures, right? Everyone except evil combo decks. I asked Enduring Renewal for a few comments about its life in Magic thus far. "Look, I've been portrayed all wrong – I only mess with creatures. Everybody loves creatures! I just make sure they never die, at least not for good. I'm the Disney movie of Magic cards. Don't hate me sweetie, I'm just drawn bad."
Or so Enduring Renewal would have you believe… In a shocking new expose to be revealed by the crack investigative reporter team of Michael J. Flores and Jonathan Becker, Enduring Renewal's real life is revealed. The part about loving creatures and children? It's true… in the same way that dope dealers and cigarette companies love children — they are future customers! In fact, Enduring Renewal went so far as to petition R&D for more cartoony, kid-friendly card art for its latest go 'round, but Wizards of the Coast legal vetoed the idea because they didn't like the lawsuit potential. In the real world, Enduring Renewal is nothing more than gutterslime combo goods and no amount of public relations work can change that fact. Watch out for your Wild Cantors, they're simply going to be used, abused, and then kicked to the curb in favor of some horrific combo. Ask that crack ho Ornithopter about what's in store… it knows.
Rating: ***
Essence Sliver
Essence Sliver was a house in Limited the first time around, at least partly due to the fact that there were a lot of trampy mistforms running around, willing to dress up like slivers on the cheap just to get a touch of that spirit link action. It's still going to be excellent in Limited, but you'll need to read someone else's review for further details. In Constructed, unless you are racing, you want to spend mana on slivers that make your slivers meaner or that help your slivers live longer. Essence Sliver does neither, and Standard is not the format of races between midrange aggro decks.
Rating: **
Honorable Passage
I love a Red card, but I also love Honorable Passage. I don't know why this is the case, whether the goofy Jeff Miracola art sucks me in, or whether I simply take glee from playing a better, more specific Shining Shoal, but whatever the case, Honorable Passage gets high marks from me. This isn't the short of card you want to run in your maindeck, but every White deck I can think of will likely play it in the sideboard and they will not want for action. The only lament on this bad boy is that it doesn't do a damn thing to redirect a Psionic Blast, though at least it will prevent the damage.
Rating: ***
Icatian Javelineers
One of the guys who works for InQuest was complaining to me that I didn't rate Children of Korlis high in me White review because "White needs good one-drops." Well the Children are a mediocre one-drop, and I knew that Suntail Hawk and Savannah Lions exist and that the Javelineers are in the format as well. These guys aren't a replacement for Isamaru (nothing is) but they are versatile in that they do damage to both creatures and players, and they can do so outside of combat, letting you kill off any number of problematic one-toughness creatures before the get a chance to annoy you. I use this practice with StarWarsKid frequently, slapping him upside the head in lieu of shaking hands to remind him of previous lessons. You'd be surprised at how well this (and the Javelineers) works.
Rating: ***
Moorish Cavalry
White decks have generally gone away from using Glorious Anthem-type effects with their weenies. Without them, the Cavalry is unplayable because a 3/3 trampler for four mana is nothing to write home about. With them, the Cavalry at least merits some consideration, but considering that you can get Soltari Priest, Serra Avenger, Leonin Skyhunter and Knight of the Holy Nimbus for half the price, that consideration will be short-lived.
Rating: *
Resurrection
This card shouldn't be here. White doesn't do this in spell form any more. Akroma is in this set, and Adarkar Valkyrie is in the last one. What the hell were they thinking?
Sometimes I ramble about cards when I first see them, and this one set ye olde brain flapper running. Did you know this was actually banned in Extended in 1999? True facts (alright fine… technically the format rotated, but the old Crystal Keep rulings summary says "banned" so I'm sticking too it.). Just be glad its here and prepare to abuse it at every chance you get. This frees up a whole host of reanimation subthemes for decks where it would normally seem entirely out of color.
Rating: ***
Sacred Mesa
Creature generators are once again in abundance. At some point in Magic's history, this one was quite good. I don't think it quite qualifies as that any longer, but it's certainly not bad. It just needs a home to nurture it, so it can once again blossom into an annoyance.
Rating: **
Soltari Priest
A 2002 FNM promo you might wish to get ahold of, Soltari Priest will see as much play as White Weenie, and perhaps more than that if decks decide that evasive two-power beaters that are difficult for most decks to remove are worth the price of admission. With Priest and Knight of the Holy Nimbus in the format, White players will not want for adequate two-drops for at least another two years.
Rating: ****
Squire
I swear to God, if I open a foil one, I'm drafting and keeping it so that I can wrap it around my fist when I punch Forsythe.
Rating: [This space left blank]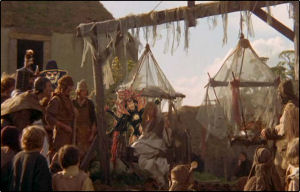 Witch Hunter
Witch Hunter is some decidedly old school action. Some of you may never have met Witch Hunter before, so are you in for a treat. The backstory on our man here is he's an old-tymey Protestant bouncer. For witches… I'm not sure if that's code to tell you he's not well loved in the Lesbian community or if he's just had a lot of ex-wives. How does he tell they are witches? Well, they float just like very small rocks and ducks, so obviously he weighs them on scales with such things to figure it out. There's no burning of witches with this guy though, no sir — he's just there to bounce them. He's got standards.
This might be the worst art on any Magic card in Standard (which explains the exes). I hated it then, and I actually loathe it now. Admittedly, this is not a Michael J. La Rue column (ooh, it's Timeshifted week!), so enough about the art — is the card itself any good in this day and age? Well it's just about as out of color as you could imagine. Witch Hunter bounces your opponent's creatures. Seriously, White bounce. If that isn't enough for you, it also pings opponents (but not their creatures because, you know, he's a Protestant bouncer). He's also a four-mana 1/1 with a marginal ability, so don't expect him to get much use.
Rating: *
Valor
The art on Valor is just that cool. Unfortunately the ability is useless in Constructed.
Rating: *
Zhalfirin Commander
Zhalfirin Commander is perfectly fine for what he does. A Gray Ogre with flanking is okay for three mana, and the pump ability, though expensive, is now format relevant. He'd be aces if he were a rebel, but since he's merely a Human Knight (he gave up his subversive ways to work for da man), he's pretty meh. White Weenie might want him in block, but he gets blown out by other goodies in current Standard.
Rating: **
White did quite well in the purps, which is good because it needed a boost just to keep up with the other new cards. Akroma coming back is incentive to pursue either White control or a reanimation strategy. Resurrection bolsters the latter, Enduring Renewal pushes White into the realm of dirty combo, while Icatian Javelineers and Soltari Priest do the normal White thing and boost weenie strategies. Disenchant and Honorable Passage deliver extra tools to keep down traditional White enemies, both of which will be welcomed with open arms by Plains-running players.
Blue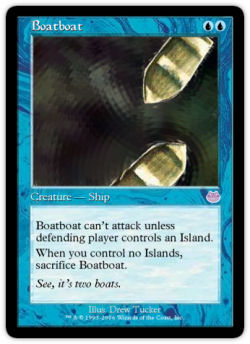 Dandan
Nice power to mana cost ratio. Nice Islandhome… making it likely a nice sideboard card.
Rating: **
Flying Men
This sort of creature seems to get play in White Weenie decks these days under the name of "Suntail Hawk." The original "Lava Axe" (dubbed such because it usually hits for five before your opponent gets rid of it or it becomes irrelevant) should also fill a similar role in Blue aggro decks, which have captivated more than a couple high profile deckbuilders in the last week.
Rating: ***
Ghost Ship
Reading a recent Mike Flores article on MTG.com, I learned Ghost Ship was actually a focal creature on an old Mono-Blue Control deck designed by Mike Donais. This surprised me, because while I've always thought Ghost Ship was playable, I didn't figure it to be good enough to earn notice at the GP/PT level. It's still a playable and quite excellent in draft, but are there any formats that are primed for a comeback by a 2/4 Flying Regenerating Blue creature? I don't think there are, but I'm asking…
Rating: **
Giant Oyster
You aren't playing this in Constructed. Seriously, your opponents will laugh you out of the store. I'm just trying to protect your reputation here.
Rating: *
Leviathan
I'm not entirely certain this isn't worse than Squire.
Rating: *
Lord of Atlantis
One of the most common long-term questions sent to Ask Wizards during the time I was culling the giant mailbox was "What happened to Merfolk? When are Merfolk coming back?" For whatever reason, people loves them some Merfolk, and R&D are finally rewarding the affair with the return of the fish master and his people.
It's odd that certain lords were already too cost effective to get the actual lord treatment where they can affect themselves with their abilities. What's nice is that with the creature type update, these play well with other Lords of Atlantis, and he's awfully good. In fact, Lord of Atlantis is a reason to try and get busy with actual fish instead of pseudo-fish, as we have so often dubbed Blue beatdown that lacks actual Merfolk. Control decks running Islands almost universally hate to see this guy on the other side of the board, which is good because we're likely entering a format where Islands will be nearly ubiquitous. As long as there are some other good Merfolk to work with, you can expect this to get a lot of play and harvest a lot of scalps from control players. At the moment, there are only 3 merfolk total, but I expect that to change before the block is out.
Rating: ***
Merfolk Assassin
Get on the boat!
I don't want to get on the boat!
Get on the boat! *Crack of a whip*
*snivel* Fine! *walks on the War Barge*
Oh the fun we used to have playing with cards from The Dark. That little skit always ended with Merfolk Assassin slitting some poor creature's throat. Anyway, Merfolk Assassin is pretty bad on his own, but if Lord of Atlantis and his flunkies get rowdy, the Assassin is a reasonable foil. There need to be a few more Merfolk floating around before the Assassin's talents are required.
Rating: **
Mistform Ultimus
The art is awesome and even crisper than it was back in Legions. The card itself will see play in Constructed, provided you follow the Standard Tribal format on Magic Online.
Rating: *
Ovinomancer
Before we were using Pro Tour players for tokens, my favorite token was a good luck sheep token given to me by Bennie Smith many moons ago. The only nice thing I can say about Ovinomancer in Constructed is that I hope it means we get more sheep tokens as player rewards.
Rating: *
Pirate Ship
Pirate Ship has always been a goofy card — most of us didn't really know what to make of it back in the day. "Let's see… it's like a Prodigal Sorcerer, except it's a 4/3 for five mana. Seems like a good deal. But wait, it has islandhome? Motherflklkdjkafargg?" And off it went to the crap rare section where you hoped some new guy who really liked pirates would trade you for it. It's just an odd collection of abilities to have on a creature, and it turns a reasonable creature into one that never finds a home. Add islandwalk to that islandhome and it's a different story.
Rating: *
Prodigal Sorcerer
The second third of the old Blue direct damage suite. I love Tim and Tim effects quite a bit (I was recently pining for Stinging Barrier), but Tim can't cut the mustard in today's world of bigger, better creatures.
Rating: *
Psionic Blast
Another card whose rating is bumped up slightly because Blue isn't supposed to have this effect. Some sort of direct damage was present in Blue at the very start of Magic (Psionic Blast, Pirate Ship, Prodigal Sorcerer), but it was never particularly efficient and adjustments to the color wheel made that disappear; not exactly a bad thing for a color that already had basically everything a player could want. In spite of the counterspell-heavy environment we are entering, Blue once again ends up with direct damage in its bag of tricks, and quite a good spell at that. Psionic Blast by itself further enhances the aggro potential of mono-Blue aggro to the point of being almost playable and does bad things for the already ugly Red/Green/Blue trio. I also don't know about you, but my brain says White/Blue control is just not supposed to have burn. Psionic Blast does downright dirty things to Magic, and to me is the real flagship Timeshifted card that says, "We're willing to break almost all the rules with this set. Perhaps you should join us."
Rating: ****
Sindbad
Drop your ass and run — it's your mother's arm!
This card used to be the cheatiest because it didn't say anything about revealing the card you draw, so you could just pretend you always drew lands. Pretty lucky. Now that he's been fixed, the only real use for him is as cheap card advantage when you know what the top card of your deck happens to be. Good thing Sensei's Divining Top just rotated out of Standard… Even with the Top, I don't think Sindy here brings quite enough value to the table to see play.
Rating: *
Stormscape Familiar
The only Familiar to see widespread play was Nightscape Familiar, which made cards like Fact or Fiction, Upheaval, and Psychatog cheaper. It also regenerated, allowing control mages to stave off the beats while keeping their living (okay fine, undead) medallion on the table. Stormscape works with two solid colors, and gets a boost from a heavy gold environment, but it's far too fragile and won't be living through any blocking. If you need it, it's around, but it's not a card you want to play if necessity doesn't force your hand.
Rating: **
Unstable Mutation
I have been pining for this card for years. One of my earliest successes in Magic was with a deck running Fish, Kird Apes, Unstable Mutation, Blood Lust, and Berserk plus some countermagic and burn. Yes, of course I know it doesn't fit into the color pie anymore. And yes, of course I know it's not very CP, but there's my nostalgia for you. Anyway, Unstable Mutation produces six extra damage distributed across three turns, which is solid value when it only costs you a solitary Blue mana. It has just as much potential for producing silly amounts of damage as it did in the olden days. It also takes traditional "Zoo" colors and turns them sideways because they now want to work in Blue evasion plus the extra four Blasts.
Rating: ***
Voidmage Prodigy
Like Jonny Magic, Kai's Invitational card never saw much play. This was in addition to the insult of pregnant Kai and constipated Kai in the two different pieces of art. In Kai's case, the lack of play was at least partly due to nerfing his fellow tribemates because of Patron Wizard synergy. You think I'm kidding, but I sh** you not.
These days, there are a lot of wizards in the environment, and more than a few are quite good (all of the guildmages, Teferi, Niv-Mizzet, etc). I think this surplus of friendly bodies to chuck at opposing spells will push Kai into the realm of playables, both now and when Ravnica rotates out. His only problem is that he has major Desert issues, and Desert is looking more and more like a force in new Standard.
Rating: ***
Whispers of the Muse
Yet another card in Blue that I figured we'd never get to play with again. Whispers is great to cycle in the early game, and the long-game card advantage is nothing short of awesome against any deck type that isn't showing 2UUU at the end of turn. Just one more part of the best card drawing Blue has seen in many years.
Rating: ****
Willbender
Willbender was probably my favorite card in OLS draft, but his effect never quite mattered enough for him to see much Constructed play. It's a new environment with new effects, and with all the burn running around, I think he may have a better chance than in years past. He's still not awesome in the sixty-card decks, but he's an excellent niche filler if you need such things filled.
Rating: **
There's a lot of weird ass cards in Blue's timeshifted stable. I think R&D wanted to send us a reminder that Blue had actual everything at one point in time, and it's only through their grace and benevolence that modern Blue is even tolerable. Tossing out the weird unplayables, you get Whispers, Psionic Blast, and Lord of Atlantis at the top of the heap. Unstable Mutation is another very welcome return that Blue never thought to see again, while Lord of Atlantis and Flying Men revisit Blue design space that has been left alone recently in pursuit of other potent strategies. The Merfolk aren't quite ready for primetime, but Flying Men and Unstable Mutation are some good, especially with Simic Guildmage ready to move around the bonus to maximize potential beatings.
Tomorrow: Black and Red.
Teddy Card Game
[email protected]