URUMQI, CHINA – Chinese authorities remain confident that missing StarCityGames.com Featured Writer Oscar Tan will be located within the week.
Tan's camel caravan recently disappeared in the country's westernmost Gansu province, near the Great Wall's Jiayuguan Pass and the Crescent Lake. His last e-mail to Star City editor Ted Knutson showed him carrying only sunglasses and a copy of Frank Herbert's Dune.
Tan, a University of the Philippines law student, made a name for himself by writing a set of Magic: the Gathering theory articles based on Economics, Accounting, and Operations Research principles that commands a strong following among Star City readers with PhDs. Tan also wrote the Type I Control Player's Bible, a series that has long since left Zvi Mowshowitz My Fires series in the dust, with no signs of stopping anytime this decade.
Star City president Pete Hoefling expressed hopes that Tan's four-year career would not be cut short by an inability to find a bottled water vendor amidst all that sand.
Team Paragon veteran Darren Di Battista said,"A little heat isn't going to get Oscar. I mean, he's from Manila and it's like an oven there before the typhoon season." MeanDecker and former Paragon JP Meyer added,"He can't be lost! He still hasn't sent all those pirated DVDs I asked him to pick up!" Team Short Bus stated readiness to take up the search"whenever Mean Deck wants to give up and step aside for the real men."
The Philippine government refused to comment on rumors that Tan is being held hostage by a radical MTGNews fringe group in exchange for the restriction of Mana Drain and the reprinting of Ancestral Recall. Unconfirmed reports have identified Incredibly Crappy Troll (ICT) creator Roy"Random-Miser" Spires, disgruntled Brainburst writer Steve Jarvis, and Inquest Gamer editor Steve Frohnhoefer as possible ringleaders.
Tan's StarCityGames.com colleague Geordie Tait, however, denied any participation."Oscar was like a brother to me," his statement read, and referred to past professional disagreements as"dingleberries that have long since been plucked." Philippine president Gloria Macapagal-Arroyo denied the country was pulling out its delegation to the next Worlds as the ransom for Tan's Moxen.
Any information regarding Tan's whereabouts may be sent to Mail us at https://sales.starcitygames.com/contactus/contactform.php?emailid=2. TheManaDrain.com and Misetings.com may put up a reward of foil Noble Panthers for useful leads.
Meanwhile, Beyond Dominia veteran Mark Acheson a.k.a. Nevyn and 5-Color spokesman Abe Sargent have been tapped to continue Tan's weekly column."I'll just throw in random stories about law school and name drop a lot, and you won't know the difference," Sargent assured. Acheson denied plans to have"Tan" spill his romantic guts over a Chinese Magic chick known only as"Sihaya."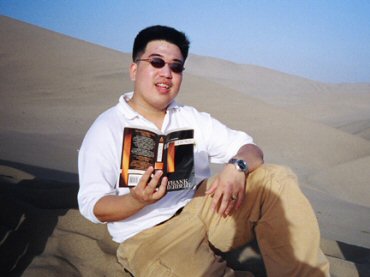 The Last Known Picture of Oscar Tan