This weekend StarCityGames.com Invitational hopefuls will get two bites at the surfboard as we drift lazily into two high-quality beachfront properties: the Open Series comes to Providence, Rhode Island and the Classic Series returns for an event in Virginia Beach, Virginia!
Let's begin by dipping our toes into the Open circuit, shall we?
Last weekend Grand Prix Washington DC crowned Owen Turtenwald, who William Jensen called "the best anti Sneak and Show player in the world," its 2013 champion when he defeated his Sneak and Show opponent in the finals. His weapon of choice for the tournament was U/W/R Delver, a deck brought to prominence earlier this year when Erik Smith and Gerard Fabiano used it to help win the New Jersey Invitational and Legacy Open respectively. The addition of True-Name Nemesis certainly aided in Owen's win, and now the Peach Garden Oath has been upheld and all three members of Team HueyTurtleDuke have won GPs in the last six months. Impressive.
But eight different archetypes made the Top 8 in DC, and the Standard metagame is no less diverse. How will things shift going into the Ocean State? You better tune in to find out!
Our humble abode in the smallest state for the weekend is the Rhode Island Convention Center: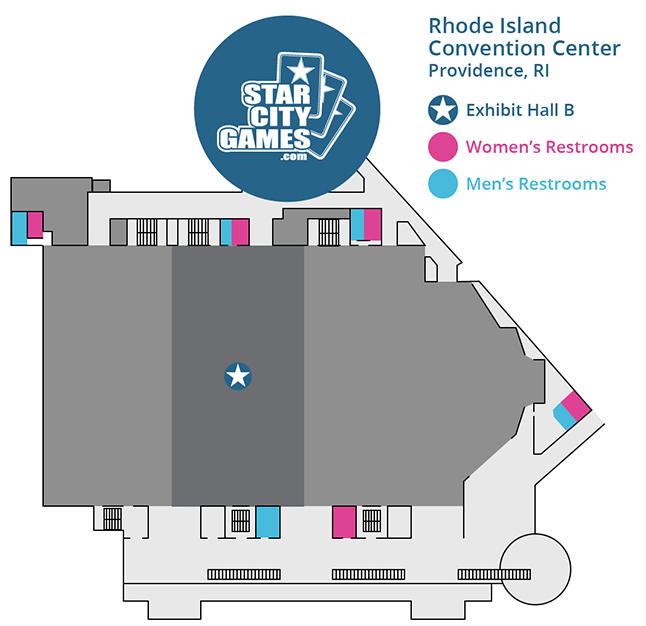 No travel alert this week, folks. It's smooth sailing in this port city for the most part, as our location is right around the corner from downtown. I love this location actually, and you'll love it too. You should have no issues finding food either, as there's a Starbucks right down the block and lots of Mom-and-Pop places within walking distance from the tournament site.

Joining us on site will be Magic artist (and Reddit sensation) Noah Bradley as well as a pair of fabulous alterists!
Magic artist Noah Bradley will be attending our event in Providence for one day only! Noah's work appears on such notable Standard-legal cards as Anger of the Gods, Mizzium Mortars, Temple of Mystery, Strionic Resonator, and Transguild Promenade. You can see more of his work on noahbradley.com. Make sure you stop by his booth on Saturday!
Up and coming artist Jaclyn Foglia will be painting and selling her custom card alterations at this event as well! You can find her collection of work at alterationsandart.com and visit her Facebook page for more information.
Lindsay Burley will be selling and creating her unique brand of 3-D cards and tokens, painted alters, and custom playmats! Check out her work at hurleyburleyalters.com, and then stop by and check out these awesome cards!
Now let's say you'd like to watch the event; would that interest you at all?
Of course it would!
@SCGLive is the premier name in Magic broadcasting, streaming live on Twitch.tv from each and every Open Series event. We dip into our talented stable of commentators this weekend to present the previously mentioned Gerard Fabiano as well as the equally talented Matthias Hunt, with Glenn Jones assisting and running operations from the Sideboard. The hashtag for the goings on in Providence is #SCGPROV, and by using it you can tap into a wealth of knowledge about the event not only from SCGLive but from those playing in and watching the event from 'round the world! You can also use @SCGPairings to find up-to-the-round pairings for the event.
Down the coastline a bit, we come upon another quiet beachfront community ready for the giant shark that is the Classic Series in Virginia Beach, Virginia!
Our home whilst in Neptune City will be a sandcastle.
Sadly, that last sentence was a lie; our home will be at another fine venue, the Virginia Beach Convention & Visitor's Bureau: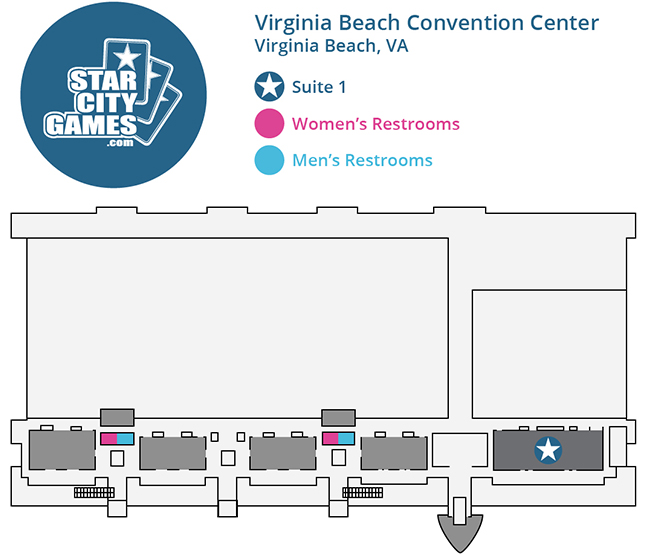 The food situation isn't as ideal here, but it's manageable. Being the vacation offseason, don't be surprised if some places are closed. But on the plus side, better parking!

Good luck, have fun, and surf's up!
Video and Coverage Content Associate and Social Media Lifeguard for StarCityGames.com