Philadelphia is one of the most Magic-rich cities in the country. The City of Brotherly Love gets plenty of tournament Magic love as well; it has hosted Pro Tours, Grand Prix, occasional Hurricane Prix, and as recently as this past June a StarCityGames.com Open Series. Well, this weekend at #SCGPHL, we are adding to that legacy with Standard and Legacy Opens on September 7-8!
As per usual, the Open Series will call Philly's Pennsylvania Convention Center home: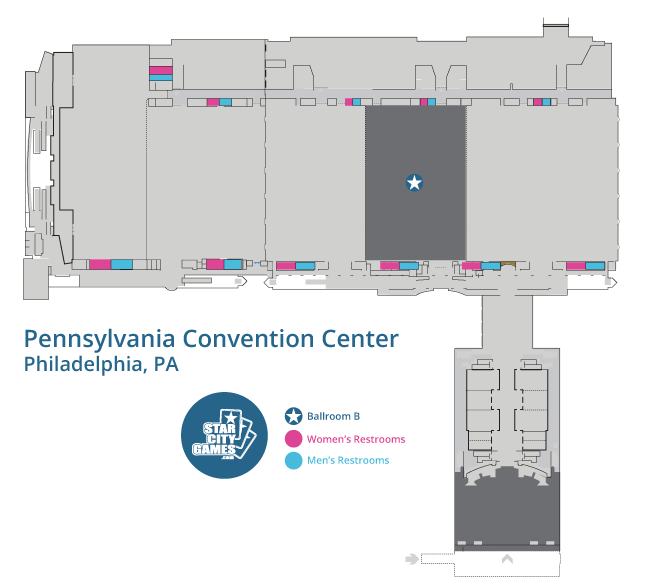 As I've mentioned in this series before, downtown Philadelphia is a hotbed of culture. A few blocks away are Independence Hall and the Liberty Bell, home of the birth of the United States of America. Decidedly less historic but decidedly more delicious, World-Famous Cheese Steak restaurants Pat's and Geno's are also nearby. But most Magic and Philly veterans would tell you to look no further than the enormous Reading Market for cuisine.

Philadelphia is the home of the National Football League's Eagles, and this weekend is the home opener for half of the teams. Luckily for us, the Eagles are hosting the Washington Redskins on Monday Night Football—but the city will still be packed with football fans from the I-95 corridor. Take this into consideration when creating travel plans this weekend.
One Magic: The Gathering artist and two alterists will be in Philadelphia with us at the Open Series!
Magic artist Clint Cearley, trained in traditional media, now works as a freelance digital artist with such companies as Wizards of the Coast for their game Magic: The Gathering. You can find his art featured on popular cards like Curse of Death's Hold, Geist-Honored Monk, Grapeshot (MMA), Intangible Virtue, Notion Thief, Putrefy (Izzet vs. Golgari), Sever the Bloodline, Syncopate (RTR), and Vampire Outcasts. You can find out more about his work on his website.
Jennifer Romanek is a recent Fine Arts graduate from William Paterson University who enjoys all genres of art but is a painter at heart. Magic: The Gathering cards piqued her interest, especially the challenge of creating different worlds on a single playing card. For examples of her work and to contact her for commissions, check out her website.
Xela Shultis, aka "Xela the Geek," recently joined the StarCityGames.com Open Series, bringing her full art and 3D alterations with her. You can check out her work for yourself on her Facebook page.
Starting with the Open Series in Baltimore a couple weeks ago, each StarCityGames.com Open Series stop now features a number of World of Warcraft TCG events! This includes side events all weekend long and the exclusive World of Warcraft TCG Core Circuit tournament on Sunday. The World of Warcraft TCG Core Circuit tournament is unique to the StarCityGames.com Open Series and offers $400 in cash prizes, exclusive playmats, and World of Warcraft TCG Loot Cards redeemable for special items in the World of Warcraft MMORPG. So come be a part of the fun!
Which commentary coupling can combine to critique the competition, clarify the cardboard, and carry the cast? Why, that would be the team of Cedric Phillips and Osyp Lebedowicz, together again for the first time since Reid Duke won Grand Prix Miami with Olivia Voldaren and friends! Joining them is host of StarCityGames.com wildly popular strategy program Above The Curve and my coverage coordination partner Glenn Jones and the rest of the SCGLive.com team. With all of that talent in front of and behind the camera, you're going to want to be sure to tune in and turn on with @SCGLive and use hashtag #SCGPHL on all manner of social media to keep tabs on the tournaments. Follow @SCGPairings as well to see pairings and standings.
Good luck, have fun, smile on your brother, and everybody get together!
Video and Coverage Content Associate and Social Media Eagle for StarCityGames.com
Event Coverage Coordinator for SCGLive.com