Sin City is well known for its stock of Magic: The Gathering talent. Residents like StarCityGames.com writers William Jensen and AJ Sacher only scratch the surface of the roster of Magic players who make Vegas their home, and I imagine that those locals will be making their voices heard in their hometown.
Las Vegas is perhaps best known in Magic circles for playing host to Grand Prix Las Vegas 2013, the largest trading card game tournament of all time. A staggering 4,500 players entered the only Modern Masters Sealed event ever, and it was nothing short of a cultural phenomenon. I've heard it referred to as Magic's Woodstock on multiple occasions, and that description seems more than apt.
And speaking of Modern Masters, it would seem prudent to start right there with Gold Rush: Modern Madness! Six copies of every foil that appears in Modern Masters will be given away. That's over 1,300 foils randomly distributed to all Standard Open, Legacy Open, and Sealed Classic participants along with side event winners*. That means you have the chance to hit the jackpot on foil Tarmogoyfs; foil Dark Confidants; foil Vendilion Cliques; foil Elspeth, Knight-Errants; and more!**
*Includes 4-0 Challenge finishers; excludes Commander side events.
**While supplies last.
Alright everybody, let's start the show!
The Invitational is the flagship event for the StarCityGames.com Open Series, and it takes place four times a year across this great nation of ours. This multi-format, sixteen-round (plus Top 8) event tests the mettle of even Magic's finest. After a grueling weekend, the winner will receive the coveted Invitational trophy, a giant check with his or her name on it, and the $10,000 first prize! Did I also mention that the winner will be immortalized in fabulous StarCityGames.com token art? Yes, the winner of this Invitational will be turned into their very own SCG token, illustrated and designed by our talented token and playmat artist Kristen Plescow. The main event action all starts Friday at noon for those who earned an invitation to the event, so be sure to come on down for one of the biggest Magic events of the year!
For those unable to procure an invitation to the aptly named Invitational, the weekend will feature many events where you can not only earn Gold Rush: Modern Madness envelopes but also fabulous cash prizes, valuable Open Points for future Invitationals, and more. Two aptly named Opens, both of which are open to the public, are large-scale tournaments where players will spin the wheel of destiny and try to win some of the $10,000 prizes in the Standard and Legacy formats. A Sealed Classic, which is a member of StarCityGames.com register of events, offers a $5,000 prize pool as well as qualifications to future Invitationals for the Top 8 players.
And then there's StarCityGames.com Ascension Immortals Tournament! The Ascension Immortals Tournament, played with the Rise of the Vigil Block expansion, will start at noon on Sunday! Every Invitational weekend hosts the Immortals event on the Sunday of that Open Series, and we're continuing that tradition once more. But why, I hear you ask, is it called "Immortals?" Well, that's because the winner will be immortalized on a future promo card! That's right, the winner of the tournament, in addition to a $250 Amazon Gift Card and an exclusive playmat, will receive their likeness on an Ascension card in the near future! This event's promo is David, Prophetic Guide in honor of our most recent winner. The Top 16 receive fabulous prizes for this event, and all entrants will receive the exclusive Ascension promo card just for entering!
In addition, side events will be firing all weekend long! As always, we will have side event eight-player Drafts, eight-player Win-a-Boxes, and four-player Commander Chaos events firing all weekend long, but we also have some much bigger tournaments to compete in. On Friday, we have Two-Headed Giant Sealed and the Standard Challenge alongside day 1 of the Invitational. On Saturday, we have another Two-Headed Giant Sealed event and the Legacy Challenge to go along side day 2 of the Invitational and the Standard Open. Then, on Sunday, all hell breaks loose: Invitational Top 8, Legacy Open, Gatecrash Sealed Classic, Draft Challenge, and Two-Headed Giant Sealed!
And if you're planning on being up all night to get lucky at the Las Vegas Invitational, you'll be doing so in Hall B of the Cashman Center, the same location that GP Vegas was held at earlier this summer: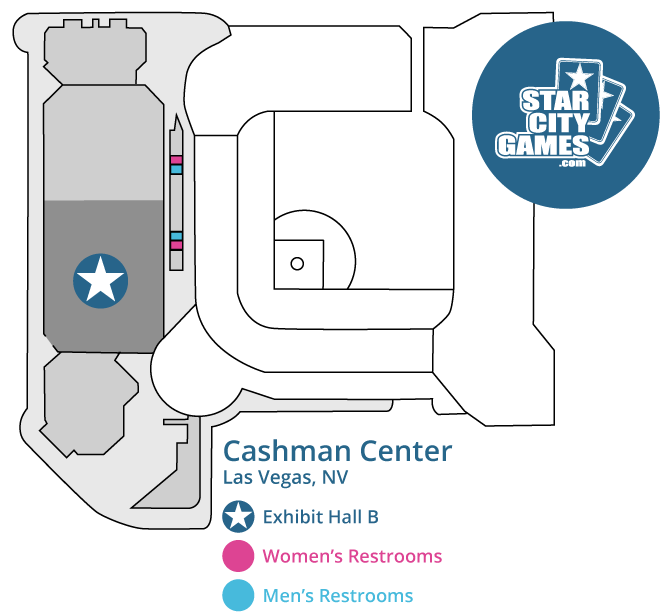 The Cashman Center is not located on the strip and is also a bit of a ways from downtown or Fremont Street. It's conventiently located right off of both I-15 and I-515 so it's not tough to get to, but it isn't within walking distance from glitzy hotels (unless you get a really good head start).
Below is a short list of food places located very close to the event site. I've also taken the liberty in the epilogue of this article to garner the opinions of some Vegas natives and regulars as to what restarants, sights, and other accutrements are worth seeing while in the city.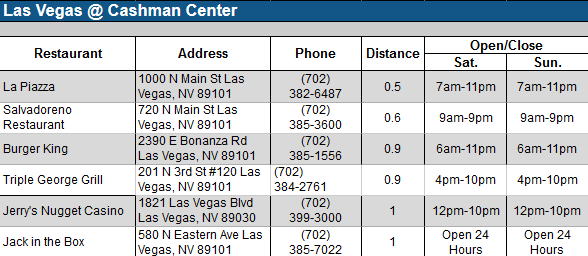 We also have three fantastic alterists in town with us this weekend!
Blake Meade will be selling and taking orders for altered cards and custom playmats at this event! Check out some of his work on his blog and like his Facebook page as well.
Working hard to bring you the highest-quality and most tournament-legal alters available as well as amazing third party MTG accessories, Daniel Smith of Elite Alters aims to be your one stop shop for all your alteration needs. For more information about what altered cards are and their tournament legality, see cards currently available, or to inquire about commissions, please visit Elite Alters' Facebook page.
From San Diego, Lennea Fish brings a very wide range of styles to her alterations. Specializing in extended art, she also does full-card alters and accepts playmat commissions. Some of her alterations and playmats can be viewed alongside her traditional artwork on her deviantART page.
Cedric Phillips, Osyp Lebedowicz, Matthias Hunt, Glenn Jones, and I will be the @SCGLive team charged with providing the top-notch live streaming content you know and love all weekend long on SCGLive's Twitch channel. The hashtag for this weekend's events is #SCGINVI, and by using that hashtag on social media, you'll unlock a world of imagination and lively discussion on the event. @SCGPairings is less fanciful but no less important, as it allows competitors to locate up-to-date pairings without having to elbow your way to the pairings boards.
Good luck, have fun, and welcome to the show!
Video and Coverage Content Associate and Social Media King for StarCityGames.com
"UNLV has a great gym that the public can get a day pass for. I think Strip Burger is a great quick meal, which is located right across from the Wynn at the fashion show mall. Also, the Mob Museum by Fremont is one of the better museums I have heard of." –Timothy Landale
"Best restaurants off the strip are Lotus of Siam for Thai, Rollin Smoke for BBQ, Musashi for Japanese teppanyaki, Yonaka Modern Japanese restaurant for a new place that is cheap and amazing for Japanese that few people know about so far, and Raku might be the best restaurant in Vegas and is a 'robata' grill (kinda like Asian tapas). Also, keep Capriotti's in mind; they deliver subs, which is going to be good for people at the event site. One of the top-rated Thai restaurants in Vegas that I've always wanted to try but is far away from me is Le Thai . . . of course, it happens to be super close to the Cashman Center." –Eric Froehlich
"Lotus of Siam is the best Thai ever, and it's just north of the strip. Bacchannal is the best buffet, and it's at Caesar's. I'm partial to China Poblano in the Cosmo for Chinese/Mexican, and Holsteins right next to it is a great place for burgers and shakes (including alcoholic ice cream shakes). Noodle Asia at The Venetian is a nice dim sum/noodle bar, and TAO has great Asian fusion in the same casino—the sea bass is insane, but the place is quite expensive. My favorite bar just for drinks in Vegas is RHUMBAR at The Mirage. They have a ton of awesome specialty cocktails." –Brian Kibler
"Assuming not all the Magic players attending are trust-fund babies, poker stars, or food hipsters, a few budget options are Naked City Pizza inside Moon Doggies Bar (best pizza in town). Lotus of Siam is amazing, but Komol is better in my opinion and has one of the largest vegetarian menus in the city. Secret Pizza is really fun place and cheap food option, especially after 2 AM when all the stuff start closing. It's at The Cosmopolitan. I also recommend Ronald's Donuts in Chinatown." –Heather Dawn
 "Get a car and go to Bachi Burger if possible. Capriotti's has phenomenal sandwiches, and they're really cheap.  I have no idea how they even stay open with how little they charge.  Late-night options are plentiful, but I have an obsession with Tofu Hut.  It's the best Korean BBQ I've ever had and can't wait to go again during this trip." –Cedric Phillips
"On the strip wise I really like P.U.B by Todd English. They have a Seven-Second Challenge where if you chug your pint in seven seconds it's free. It is also the only place I've ever seen Ace pear cider, which is just great, especially with a shot of Jameson in it. Pretty cool atmosphere. Also, I like BurGR, a Gordon Ramsey place in Planet Hollywood. Right off the strip there is this area called Town Square, and it has a very nice Japanese restaurant called Kabuki with the best sushi I've ever had in Vegas. Also in the same square about a block away is a hookah lounge called Blue Martini that is really chill has good drinks and good hookah." –Mary Louke
"McMullan's Irish Pub on Tropicana has killer nachos and good drinks, and Hash House A Go Go inside of The Quad Casino (formerly Imperial Palace) has great chicken and waffles." –John Ware
"I highly suggest visiting the National Atomic Testing Museum just down Flamingo from, well, The Flamingo. They used to do all of the country's nuclear testing out in the desert, and apparently mushroom clouds used to be able to be seen on clear days! Well worth a half day if you have time. Insert Coin(s) is a great bar on Fremont (in classy 'Old Vegas') that has tons of old arcade-style video games and a good beer selection. Lastly, if you aren't 21 yet, I suggest Circus Circus, which has stuff like laser tag and amusement park rides. There are also thrill rides at Stratosphere and a roller coaster at NYNY Casino. There's a rare book store inside the Venetian Shops that I could browse all day, and a Andy Warhol exhibit is on display at the Bellagio Art Gallery. Also, I'm in town until the nineteenth and am doing a lot of stand-up comedy, so stay tuned to my Twitter feed for dates and locations!" –Reuben Bresler