As All Hallow' Eve approaches, all manner of ghosts, spirits, and monsters will descend on Indianapolis this weekend for the StarCityGames.com Open Series featuring the Invitational!
"The StarCityGames.com Open Series in Indianapolis." It just sounds right, doesn't it? If I were to pick one city that the Open Series calls its home, Indianapolis would be it. So it only makes sense that the StarCityGames.com Open Series featuring the Invitational is in Indianapolis this weekend, and as usual this event is going to be great in both the wonderful sense and the enormous sense of the word. It's going to be a graveyard smash!
Speaking of graveyards, let's not bury the lead: The Gold Rush! That's right, guys and ghouls, the StarCityGames.com Gold Rush will be reanimated for the Invitational in Indianapolis. And just like in New Jersey earlier this year, it's going to be Mythic Madness! Seven copies of every mythic rare ever printed will be randomly given away this weekend, which adds up to over 2,000 mythic rares! One envelope with a random mythic will be given to all Standard Open participants, all Legacy Open participants, all Sealed Classic participants, and all side event winners!* All remaining envelopes will be given away to the top finishers in Sunday's Legacy Open!**
*Includes 4-0 Challenge finishers; excludes Commander side events.
**While supplies last. Non-foil versions only.
We start off the scheduled events with the big show: the Invitational. The dual-format, sixteen-round plus Top 8 event tests the mettle of even the best Magic players. After a grueling three days, the winner will receive the coveted Invitational trophy, a giant check with his or her name on it, and a corresponding smaller cashable check for $10,000. Oh, and the winner will also be turned into art. Yes, the winner of this Invitational will be eternalized on their very own SCG token illustrated and designed by our talented token and playmat artist Kristen Plescow. The action starts on Friday at noon for those who earned an invitation to the event, so be sure to come on down for one of the biggest Magic events of the year!
For those unable to procure an invitation to the aptly named Invitational, the weekend will feature two aptly named Opens, both of which are open to the public. The public events available include a Standard Open, a Legacy Open, a Theros Sealed Classic, and the StarCityGames.com Ascension Immortals Tournament!
In addition, side events will be firing all weekend long! Let's break those down a bit, shall we? As always, we will have eight-player Drafts, eight-player Win-a-Boxes, and four-player Commander Chaos side events firing all weekend long, but we also have some much bigger tournaments to compete in. On Friday, we have Two-Headed Giant Sealed and the Standard Challenge alongside day 1 of the Invitational. On Saturday, we have another Two-Headed Giant Sealed event and Legacy Challenge to go alongside day 2 of the Invitational and the Standard Open. Then, on Sunday, all hell breaks loose: the Invitational Top 8, Legacy Open, Theros Sealed Classic, Draft Challenge, and Two-Headed Giant Sealed! And that's not even to mention the third Ascension Immortals Tournament!
The Ascension Immortals Tournament, played with the Rise of the Vigil Block expansion, will start at noon on Sunday! Every Invitational weekend hosts the Immortals event on Sunday, and we're continuing that tradition once more! But why, you ask, is it called "Immortals?" Well, that's because the winner will be immortalized on a future promo card! That's right, the winner of the tournament, in addition to a $250 Amazon Gift Card and an exclusive playmat, will receive their likeness on an Ascension card in the near future! The Top 16 will receive fabulous prizes for this event, and all entrants will receive an exclusive Ascension promo card just for entering!
We are also happy to have Jeff Miracola, artist of several of Magic's most iconic pieces, with us in Indy! Jeff has illustrated Bouncing Beebles, Bubbling Beebles, Donate, and even some non-Beeble-themed cards from his portfolio like Sterling Grove, Firespout, Frantic Search, and Wipe Away. A veritable who's who of Magic's alterist scene will also be in attendance: Amber Musick, Blade Meade, Ashley Jordan, Chris King, Lindsay Burley, Ron Faris, Eric Claar, Hannah Montgomery, Kerri Mathiesen, and Rei Hiroki will all be on site peddling their wares and taking commissions!
And this will all be taking place in a building that feels less like a haunted house and more like home for us here on the Open Series: the Indiana Convention Center.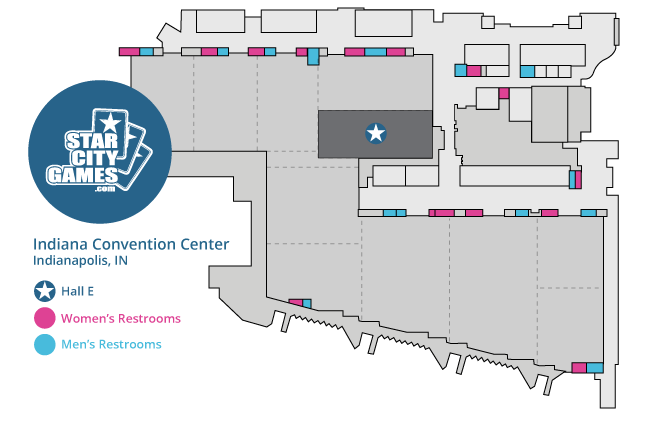 One of the best things about hosting an event at this location is the location's location in the city—it's smackdab in the middle of downtown! That means plenty of parking, hotels, entertainment, and of course restaurants to choose from. Not even mentioning the mall food court, which is conveniently linked by skywalk so you don't even have to leave the building if you don't want to, there's fancypants fare like St. Elmo's and casual bar food at The RAM all the way down to Indianapolis Magic tournament traditional post-tournament grubfest Steak 'n Shake. Trick-or-treat, on the other hand, might be difficult to pull off.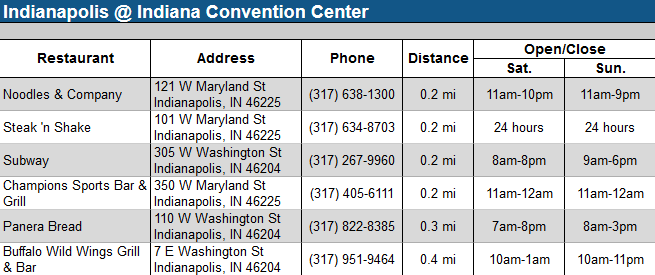 It wouldn't be an Invitational without a trio of Magic's best commentators, and SCGLive has just that for this weekend. Joey Pasco, Adrian Sullivan, and Riki Hayashi are three staunch analysts with years of experience and expertise in the business and are ready to deliver the top-notch commentary you've come to expect from StarCityGames.com Open Series coverage. Aiding them from behind the scenes will be the entire SCGLive staff, with the help of Glenn Jones and Reuben Bresler in the Sideboard. Be sure to tune in for Sunday morning's Newsening!
Follow @SCGLive for updates on the live stream, use the hashtag #SCGINVI to tag along (see what I did?) on social media, and use @SCGPairings to get the pairings, standings, and round-by-round results from the Opens, Classic, and Invitational this weekend.
Good luck, have fun, and have a frightfully good time!
Video and Coverage Content Associate and Social Media Jack-'o-Lantern for StarCityGames.com