Third sets are hit or miss. Some third sets will give you literally Chimeric Idol and Mageta the Lion, arguably Rebel Informer in total for Standard-quality cards, and other times you'll get Masticore, Powder Keg, Temporal Adept, Thieving Magpie, and Treachery just for the one deck… in the same set as Academy Rector, Phyrexian Negator, Plow Under, and Yawgmoth's Bargain. Most recently the third set gave us a handful of good cards for existing deck improvements, from Eternal Witness to Steelshaper's Gift, but the only card that really warranted its own all new deck was Vedalken Shackles (and maybe Krark-Clan Ironworks). Having already made a deck I really like this season, and in the process of working on various decks based on generating inevitable board positions using the same developmental models, I was most worried, to start, about Thoughts of Ruin.
Call me a reactionary but I remember the bygone days when R/W Control was a great deck… except for the fact that it was a poor control deck indeed that could not counter a particular game-breaking sorcery and had precious few ways to stop an Autumn Willow, especially with no land. Now I am the person who made the R/W Auriok Salvagers deck (sorry, Bob), and therefore Thoughts of Ruin really got me worried. Thoughts of Ruin has 11 words in its rules text (not counting the flavor), but all I saw when looking at it was one word: Armageddon.
This initial run was therefore put together not to find the best version of the best Saviors of Kamigawa deck, but merely to assess the power of Thoughts of Ruin. Is Thoughts of Ruin Armageddon reborn? Is it time to retake ownership of the archetype I reintroduced during 2004 Championship Deck Challege, a deck that can actually answer four-mana sorceries? There was only one way to find out, and that was to make a Thoughts of Ruin deck and see how far it went in invalidating the format's existing options.
The goal therefore was merely to figure out a deck where Thoughts of Ruin would make sense, in a context that would be easy for any old deck designer to assemble.
The inspiration:
Bertrand Lestree – PTNY1

2 Fellwar Stone

2 Icy Manipulator

1 Ivory Tower

1 Zuran Orb
3 Armageddon

1 Balance

4 Disenchant

2 Land Tax

2 Order of Leitbur

1 Serra Angel

4 Swords to Plowshares

2 Wrath of God
1 Autumn Willow

4 Ernham Djinn

2 Fyndhorn Elves

2 Llanowar Elves

2 Spectral Bears

2 Sylvan Library
4 Brushland

1 Havenwood BAttleground

6 Forest

6 Plains

1 Ruins of Trokair

4 Strip Mine



Sideboard

1 Black Vise

2 Abbey Gargoyles

2 Divine Offering

2 Circle of Protection: Green

2 Circle of Protection: Red

2 Karma

1 Order of Leitbur

1 Wrath of God

2 Whirling Dervish
Preston Poulter – PTNY1

2 Aeolipile

2 Fellwar Stone

2 Icy Manipulator

1 Nevinyrral's Disk

1 Zuran Orb
2 Autumn Willow

3 Elvish Archers

4 Erhnam Djinn

2 Hurricane

1 Spectral Bears

1 Sylvan Library
2 Armageddon

1 Balance

3 Disenchant

3 Land Tax

4 Swords to Plowshares

1 Wrath of God
4 Brushland

4 Forest

2 Havenwood Battleground

4 Mishra's Factory

8 Plains

1 Ruins of Trokair

2 Strip Mine
Sideboard:

1 Fellwar Stone

1 Ivory Tower

1 Serrated Arrows

1 Armageddon

1 Disenchant

2 Divine Offering

2 Karma

1 Land Tax

2 Reverse Damage

1 Autumn Willow

2 Essence Filter
Yes friends, these decks not only made it to the Top 8 of a Standard Pro Tour once upon a dream, but were highly influential in deck construction for at least another year or two afterward. I was actually shocked at the number of offensive creatures that these two early masters of the craft played. Preston got by on four 4/5s, a 4/4 for six with an unremarkable ability and three Elvish Archers? One assumes that his Minotaur Explorer worked overtime.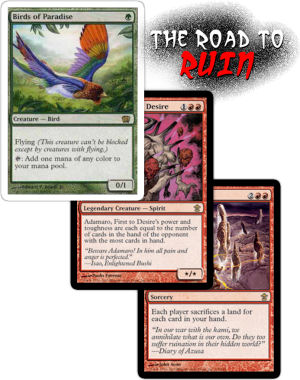 The Alpha Build

Despite their agreeing on certain elements with direct descendents or even reprints (two Fellwar Stones, two Icy Manipulator), I decided to go with a straight Birds of Paradise (and no Icy) setup for the Alpha build. It seemed to me that the most broken possible opening would be Birds of Paradise into Adamaro straight into Armageddon, and built my deck to be able to do that. Now there are some very serious structural problems with this deck that I'll get into later, but, regardless, this was the first draft:
4 Sensei's Divining Top

4 Sword of Fire and Ice
4 Birds of Paradise

2 Iwamori the Open Fist

4 Kodama's Reach

4 Sakura-Tribe Elder
4 Adamaro, First to Desire

2 Fireball

4 Magma Jet

4 Thoughts of Ruin
10 Forest

8 Mountain

1 Okina, Temple to the Grandfathers

1 Shinka, the Bloodsoaked Keep

4 Tendo Ice Bridge
The mana is pretty spot on. This is a base-Green deck, but it needs double Red as early as turn two and wants to hit Thoughts of Ruin immediately afterward, so there has to play an almost peer count of Mountains to Forests. I incorporate Tendo Ice Bridge in all my two-color decks now for early game consistency's sake, and the presence of Armageddon means that the card has essentially no downside.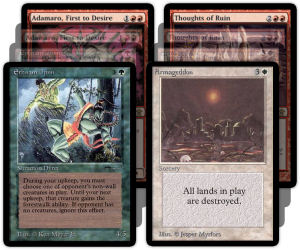 The threat translations are pretty direct, Adamaro subs for Erhnam Djinn, and is bigger – and faster – the bulk of the time. Adamaro is actually one of the best cards I've ever played for mashing manascrewed opponents because it is so busty while the opponent is incapable of managing his resources; that said, I was still pretty dissatisfied with the threat count of this deck. If you look back at Preston and Bertrand's decks from PTNY1, you'll see that they, too, were a little shy on offensive power. Lestree's curve runs all of four two-drops going into his Djinn count, followed by one five and one six. This deck, limp-rodded as it may be, has that about covered. I think that in recent years, as we've played essentially with our pants down on the Disenchant front, and haven't had the opportunity to build multicolor decks with Armageddon, we've almost forgotten how divided decks that try to do more than one or two things can look, how shy on threats they often end up being.
Anyway, that is the deck I started on.
Playtest Tooth and Nail

10 Forest

4 Urza's Mine

4 Urza's Power Plant

4 Urza's Tower
2 Duplicant

4 Eternal Witness

1 Kiki-Jiki, Mirror Breaker

4 Sakura-Tribe Elder

2 Sundering Titan
4 Kodama's Reach

3 Mindslaver

3 Oblivion Stone

1 Plow Under

3 Reap and Sow

4 Sensei's Divining Top

4 Sylvan Scrying

3 Tooth and Nail
First up was Terry Soh deck from the Invitational. Terry's deck is much better than any of the other Tooth and Nail decks that I've tested over the past couple of months. The reason is simple: four copies of Kodama's Reach. If you remember the article I did on the splash-Red Deck Tooth and Nail I ran from a couple of weeks back (more on that next week or so), you may recall that the robustness of that build hinged in large part on the ability to lean on two copies of the Arcane Reach (over the generally accepted zero copies)… and Terry's deck can resist land destruction with twice the defense.
I started against Soh's deck because if there is any deck in the format that Thoughts of Ruin might really invalidate, it is this one. An early Thoughts of Ruin – say turn 3 or 4 – is highly likely to snag two Urza's pieces. In testing, losing one Urza's land to a Molten Rain or some such is often game over; losing more than one? I posited that maybe people would stop trying to win tournaments in droves with a nine-mana sorcery.
The Alpha G/R deck started 4-0 on Soh's deck and I figured I had a winner. Adamaro was fantastic because Soh's deck has no early defense and misses crucial development if he doesn't hit his Snake Shaman. I'm not sure if Thoughts of Ruin was every bit as good as I assumed, but it seemed to be winning games.
Up 4-0, I realized that I didn't have any Eternal Witnesses in my G/R deck.
Sigh. How embarassing.
I finished the run, and for some reason, after the Witness realization, G/R slid a ton and the matchup finished 5-5. After wasting 2-3 hours, I elected to rework the deck, because there is no reason for Tooth and Nail to quake in fear of a deck or a card that splits with it, and if the most vulnerable deck isn't peeing its pants, there is no reason for anyone else to care. The Beta:
4 Sensei's Divining Top

3 Sword of Fire and Ice
4 Birds of Paradise

4 Eternal Witness

4 Kodama's Reach

4 Sakura-Tribe Elder
4 Adamaro, First to Desire

1 Fireball

4 Magma Jet

4 Thoughts of Ruin
10 Forest

8 Mountain

1 Okina, Temple to the Grandfathers

1 Shinka, the Bloodsoaked Keep

4 Tendo Ice Bridge
I was less happy with this deck than the first one, but the addition of four 2/1s seemed like a decent tradeoff for my 5/5s. Iwamori actually never came down in any game against Soh's deck, so I just pretended that three Swords were going to protect me from Red Decks and shuffled up for the Tooth and Nail rematch. Final tally was 7-3 in favor of G/R.
1. A single Thoughts of Ruin was rarely game. Either it had to be on the heels of an Adamaro, or it had to come in multiples to keep Tooth and Nail from recovering in time. G/R actually lost a game where it opened on turn 2 'Maro, turn 3 'Geddon, and had to play as many as three Thoughts of Ruin in a game to keep Tooth and Nail down.
2. From Tooth and Nail's side, Mindslaver was the card with the highest correlation to victory. The ability for Tooth and Nail to play Mindslaver obviously tells us a little bit about the quality of the G/R draw, but it is important to note that the G/R deck has no way to punish Tooth for dropping a 'Slaver with its pants down… no Oxidizes, Tel-Jilad Justices, or Wear Aways here!
3. G/R escaped at least 1-2 successfully entwined Tooth and Nails with burn cards. On the heels of some early beatdown, it was able to put together enough Magma Jets to finish Soh's deck, which has no Leonin Abunas combo and no Darksteel Colossus quick kill.
Next up was Star Wars Kid deck from the LCQ. I really liked Benjamin Claudel's deck from Limousin Auverg Regionals, which is kind of a granddaddy to Star Wars Kid deck. I actually think I like Claudel's deck more because it has Vulshok Sorcerer, but it's hard to argue with little innovations like the fourth Arc-Slogger. I mean honestly.
Playtest French Red

4 Blinkmoth Nexus

18 Mountain



4 Slith Firewalker

4 Hearth Kami

4 Arc-Slogger

1 Kumano, Master Yamabushi
4 Magma Jet

4 Seething Song

4 Molten Rain

3 Genju of the Spires

3 Stone Rain

2 Volcanic Hammer

1 Forge[/author]"]Pulse of the [author name="Forge"]Forge[/author]

4 Chrome Mox
I wasn't sure what to expect going into this matchup, and my baseline motivation for litmus testing the G/R was really to see how the introduction of Thoughts of Ruin would impact the decks that I care about more than anything else. SWK's deck is like a less consistent version of my Kuroda deck from a resource allocation standpoint, so I was secretly cheering for the little Red Deck… but the deck didn't really need the encouragement as it mopped the floor with my new archetype attempt.
The Red Deck Won, and big. Swicky's LCQ monster posted 5-0 before I decided to scrap the matchup and move on. Ultimately, it was the Red Deck's telltale lack of resource consistency that made it so good. You can talk to Osyp, Eugene, Vs. standout Anande Khare, Rabbit, or any of the good American players who've run the Red Deck mirror matches and they will tell you that the Kuroda deck has a cakewalk matchup against the faster decks. The long games are identical, the fast deck has the better short term, but ultimately, the early game resource consistency ends up being a problem because the Kuroda deck keeps getting resource advantage and the fast deck is scrambling on Chrome Moxes as it falls behind with x/1s. In the G/R matchup, the fact that SWK has Seething Song, Chrome Mox, all this garbage, makes the G/R deck bad. The G/R deck wants to kill with 'Maro. Against SWK's deck, 'Maro is first to desire the graveyard. The Red Deck just did stupid things like fail to imprint the Mox and repeatedly activate Blinkmoth Nexus with Seething Song and Adamaro dropped to Magma Jet range. Even with Sword of Fire and Ice and Eternal Witness, there was no real recoup from the G/R side because Arc-Slogger is trump (just like in every other matchup).
Anyway, SWK's was a matchup where the losses of Fireball and Iwamori were particularly telling. More on that at the bottom.
Playtest Blue Control

2 Blinkmoth Nexus

15 Island

4 Stalking Stones
2 Meloku the Clouded Mirror

4 Thieving Magpie
4 Boomerang

3 Bribery

4 Chrome Mox

4 Hinder

4 Mana Leak

2 Rewind

4 Thirst for Knowledge

4 Vedalken Shackles

4 Wayfarer's Bauble
When I first reintroduced Blue control for Champs, G/R – admittedly then Freshmaker style – was one of the main decks I tested in development. Gabriel Nassif Invitational update is better in the sense that it's not bogged down with Relic Barriers and this G/R deck is a lot less consistent than the G/R deck I tested Champs era. Back then, Blue was winning the majority of games, and Ninja Nassif has Bribery this time around.
An unexciting series went 7-3 in favor of the Blue deck. Basically G/R only won games with quick Adamaro. Even if it was eventually answered, early beats for 5-6 damage each softened Blue up enough for double Fireball or triple Magma Jet thanks to Witness and Top. Anything else was pretty irrelevant, and the Moxes and Baubles in Nassif's deck made Thoughts of Ruin pretty meaningless.
More than any other matchup, I regretted not having some sort of Tel-Jilad Justice in the G/R deck, because, surprise surprise, people play Vedalken Shackles. I blame it on testing a deck concept that tries to do too much stuff and biases the wrong cards (again, scroll to the bottom for potential solutions).
The Blue deck had numerous paths to victory. Vedalken Shackles bought a lot of time, but the main way to win was just Bribery for Eternal Witness every turn until the G/R deck didn't have any more win conditions. If it got Adamaro out, Blue would just Bribery for Adamaro for the two man 187 slam. Sword of Fire and Ice was pretty irrelevant due to Boomerang, and the matchup played out as I thought: speed or no?
Recently Magical Hack Sean McKeown decided Brett Blackman's deck was the best deck in Standard. According to Sean's own criteria, the Kuroda deck is actually the best deck, but Brett beat Anande Khare for the Top 8 slot, so he gets to twiddle his twigs at the top of the metagame… for now.
Playtest Beacon

21 Forest

1 Swamp

1 Island
4 Birds of Paradise

4 Sakura-Tribe Elder

4 Eternal Witness

2 Meloku, the Clouded Mirror

2 Viridian Zealot

1 Iwamori of the Open Fist

4 Wood Elves

4 Plow Under

3 Sword of Fire and Ice

2 Umezawa's Jitte

4 Beacon of Creation

3 Sensei's Divining Top
I quite like Brett and thought he was a great story when I met him back in Philly. Playing his deck is also a blast. If you haven't tested it, it develops very smoothly and basically does exactly what it wants to in short order. I'm not sure why it's better than ghweiss's Green deck or Rabbit's G5C Beacon deck, but regardless, it flowed very well and seemed to develop better than decks with Troll Ascetic do. Especially after taking an early lead of 3-0 or so, I figured that Blackman's deck would just maul the G/R deck. After all, it's kind of like a mirror match where Blackman.dec breaks all the symmetries. The cards line up pretty similarly, but Brett has Plow Under where I have Thoughts of Ruin; one is a full-two turn advantage and the other is even steven. Brett has Beacon and more equipment, and my deck just has these Red Deck cards.
Interestingly enough, the Red Deck cards are better straight up. The matchup closed 5-5, and after playing more and more games, I came to understand that, yes, this is an even binary. Brett's deck wins big when it wins and has a wide margin for error. It looks good and develops smoothly. That said, Fireball and Magma Jet are just miles better than Brett's breakers in the matchup because they defeat his equipment advantage and knock over his tempo engine. For example, when Brett's deck goes all in on a Birds of Paradise-into-Sword of Fire and Ice plan turns 1-3, Magma Jet essentially steals the third turn and strands the Blackman deck without an attack for two more turns. Another common tactic was to let Umezawa's Jitte equip, but burn during combat prior to damage so that it would never get any counters. The G/R deck could then make a good trade with Sakura-Tribe Elder or Eternal Witness to set up a big turn taking only a little damage and leaving a now ineffectual breaker doing nothing. Plays like this would gobble up mana and generate subtle resource advantages in ostensibly 1-1 trades that allowed the G/R deck to stay even when it didn't have the initiative. Adamaro is only slightly worse than Iwamori, but his inherent speed sneaks in auto-wins in games where G/R goes first; at the same time, "free Adamaro" off of Iwamori allows for quick equips with Sword of Fire and Ice that led to huge life swings or bad trades in the early turns.
All things even, the G/R deck's wins are uglier. They are in fact difficult to scrape together instead of automatic like they are from the other side of the table. They usually involve Fireball scrambling for the last few points or chump blocking while taking a million Birds of Paradise hits to the face at eight damage a pop. But these battle scarred victories show up about as frequently as Brett's gorgeous Birds-Wood Elves–Plow Under chains that lead into midgame shuffles and thousands of Insects. You just have to know what you're doing and not buy into Pro Bowl mentality while getting creamed.
At the end of the day, this Armageddon exercise was about the kinds of decks that I am working on right now, whether they can survive at all post-Saviors, decks like the Salvagers deck (sorry again, Bob) and the Kuroda-style Red Deck. These decks are all about invalidating the opponent's strategy through superior development and resource biasing. They have very good early game positional plays, but as faux control decks, are incapable of performing in the face of the End of the World. How would the deck that I have gone on record as calling the best in the format fare?
Playtest Kuroda-style Red

4 Blinkmoth Nexus

20 Mountain
4 Arc-Slogger

4 Solemn Simulacrum
3 Beacon of Destruction

4 Magma Jet

4 Molten Rain

4 Forge[/author]"]Pulse of the [author name="Forge"]Forge[/author]

4 Sensei's Divining Top

4 Shrapnel Blast

1 Sowing Salt

4 Wayfarer's Bauble
After the Swicky matchup, I thought that my deck would do even better (if you can do better than a 5-0 quits). The reason is that the main breakers in the G/R deck are Adamaro and 'Geddon, and the Kuroda-style deck has better land development… But significantly worse Adamaro defense.
Some games were frustrating, with Solemn Simulacrum chumps set up like clockwork against even a Sword of Fire and Ice… but falling short to repeated Magma Jets. Some games, all the land went away. The important question, though, is answered with a "no." Thoughts of Ruin, at least in this kind of a deck, does not invalidate board development strategies as we've seen them come together since the removal of the artifact lands and Affinity-lacking Affinity bombs. The Kuroda-style v. G/R 'Geddon matchup ended 7-3 in favor of the Red Deck, which was less impressive, especially to start, than SWK's version. The main difference was that the Kuroda-style deck plays with five cards in its hand the whole game and can't randomly dump bad cards just to slow down Adamaro. As such, an early Legend bashes the hell out of it. The main Sword of Fire and Ice defense fails against Magma Jet, and so does the average Nexus chump. If Arc-Slogger comes down, though, the game typically ends. G/R won only a single game against the Best Creature in Standard<sup>tm</sup> (more on that next week), and that was when it had Adamaro equipped and a Magma Jet on top. Otherwise, Arc-Slogger out-classed Adamaro in size and would eventually bury G/R via repeated burn.
Additionally, G/R got sweeping Thoughts of Ruin off several times. Other times it would draw the 'Geddon but playing it would be unprofitable. I thought it would be interesting to track just how many lands the Red Deck had in play at the end of the game, win or lose (t indicates Thoughts of Ruin… at least one where I remembered to mark it):
9

0-t

7

9

7

8-t

5-t

9
For some reason I only have notes for eight games. I don't remember if I started on game three or just forgot to take notes twice. Despite Thoughts coming down, you'll notice that Kuroda-style Red had significant lands in play in two of the last three games, and if memory serves, won both of those.
So at the end of this laborious process, the conclusion is that Thoughts of Ruin does not completely invalidate the Decks to Beat pre-Saviors, at least not the way I chose to set it up. It is probably a very good card that will make waves in Block, but its incentives are torn enough in a format with reasonable development that it completely destroys only the one deck you would expect it to. That said, I don't think that Thoughts of Ruin will be popular enough to generate any sort of disincentive to Tooth and Nail no matter how good it is in that matchup… though I would have thought that playing a deck based on a nine-mana sorcery in a format with cheap counters and Sowing Salt would be disincentive enough.
Now I know that I said that the goal was never to develop the nuts Thoughts of Ruin deck at this stage, but I learned a great deal over the 60+ or so games I tested for this article, and I think I know where I went wrong. If you want to try to salvage ErhnamGeddon, I suggest you start with this:
4 Birds of Paradise

4 Eternal Witness

2 Iwamori the Open Fist

4 Orochi Sustainer

4 Sakura-Tribe Elder



4 Adamaro, First to Desire

2 Fireball

4 Magma Jet

4 Thoughts of Ruin
10 Forest

8 Mountain

1 Okina, Temple to the Grandfathers

1 Shinka, the Bloodsoaked Keep

4 Tendo Ice Bridge
I really wanted better offensive creatures and the problem was that I held a Top engine when moving from Alpha and Beta builds, which grandfathered a lot of issues. Sensei's Divining Top isn't even good in this deck, and having it meant I had Kodama's Reach, another card that under-performed matchup after matchup, even with the Top. The deck didn't have enough threat density, so you could have Top going and nothing worth getting with it, a structural design error of PT Junk proportions.
Fireball was fantastic every time I drew it. It is a solid answer to an opposing accelerator and one of the best cards against Arc-Slogger in the late game.
All of that said, this strategy more than this deck in particular has some serious holes. Like you are a Red Deck that can't reasonably play the best creature because of how your curve is built… And you are a G/R deck without room for main deck artifact hate; Viridian Zealot would be superb against Blue Control but the mana just won't support it with the heavy Red commitments early. Another thing I don't like is that Sword of Fire and Ice wins a lot of games, but has a giant target on it because there is just nothing else to hit.
Alternately, you could build like this, which changes a lot of the deck's incentives:
4 Birds of Paradise

4 Eternal Witness

2 Iwamori the Open Fist

4 Sakura-Tribe Elder

2 Tel-Jilad Justice

4 Vine Trellis
4 Adamaro, First to Desire

4 Fireball

4 Magma Jet

4 Thoughts of Ruin
10 Forest

8 Mountain

1 Okina, Temple to the Grandfathers

1 Shinka, the Bloodsoaked Keep

4 Tendo Ice Bridge
Without Swords, you don't need combat eligible Sustainers and can therefore play Vine Trellis, which is just a better card, and four Fireballs. The only thing is that you are now out-classed by the Blackman-style decks, even if you can increase your combo regularity with the Tel-Jilad Justices.
At the end of the day, even if this style of deck has potential and significant raw power (I mean is there anything sexier in Type Two than turn 2 'Maro, turn 3 'Geddon?), I believe that there are too many incentive systems tugging away at the same resources and deck slots to build a consistent or even coherent Tier One deck that can compete in, let alone invalidate, the existing metagame. Maybe next year.
Up next: Just How Good is Sensei's Divining Top? | The Pro Bowl Mentality (or something else, if I think of it)
LOVE

MIKE