Now that the NBA Finals is out of the way, we can direct our attention to a much more important game: Magic!
No, not the Orlando Magic…
We're taking our talents to South Beach! StarCityGames.com is proud to present Grand Prix Miami this weekend, with the festivities getting underway on Friday, June 28 and continuing through Sunday, June 30. This includes the main event, Grand Prix Miami, featuring Standard on Saturday and Sunday—one of the most wide open and exciting Constructed formats in recent memory! And that's just for starters, folks, as we've spared no expense to make this weekend the can't-miss Magic event of the year!
We will be in the gorgeous Miami Beach Convention Center in Miami, Florida.
Located just a couple of blocks from the beautiful sands of Miami Beach, the event site has a plethora of housing options nearby for easy travel to the site. And most importantly, there are a ton of excellent food options nearby thanks to the hustle and bustle of the Miami social scene in the area.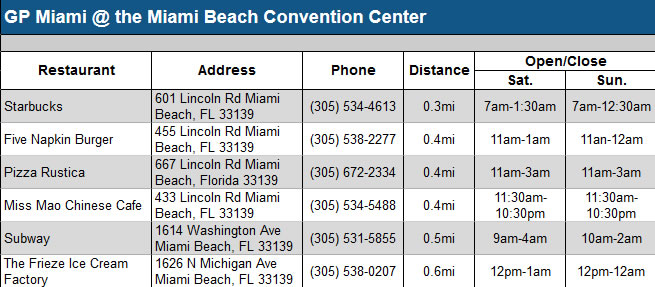 Now, on to the show! We have some spectacular events planned this weekend, and it starts with our Artist Alley, where three gifted and talented Magic artists will be at the Grand Prix signing cards and selling their creations!
Our Guest of Honor this weekend is Greg Staples! History will be made as legendary Magic: The Gathering artist and Guest of Honor Greg Staples joins us from the U.K. and makes Grand Prix Miami his first U.S. Magic: The Gathering event appearance ever. Greg has a line of lithographs available on StarCityGames.com as well, so you don't want to miss out on getting your Angel Series lithographs signed at the event!
Also appearing in Artist Alley will be Zoltan Boros and Eric Deschamps! StarCityGames.com is proud to welcome Zoltan Boros, illustrator of all ten Return to Ravnica/Gatecrash Charms and countless more of your favorite Magic: The Gathering cards, to Grand Prix Miami. And rounding out an all-star roster is the artist behind many of Magic: The Gathering's most popular planeswalkers—please join us in welcoming Eric Deschamps to Grand Prix Miami as well. With so much talent in attendance, this is sure to be a great show!
You can meet a cadre of Magic celebrities at the event as well at our All-Star Meet and Greet Friday night! Friday night from 6-8 PM, you can drop by and meet Sam Black, Reid Duke, Cedric Phillips, Tom Martell, and Todd Anderson. Have them sign your GP Miami commemorative player tokens (available to all who enter the Grand Prix) or cards they are known for. Lingering Souls tokens abound for sure!
Also occurring Friday will be a pair of Judge Conferences from 10-3 PM and from 5-10 PM. If you're a certified judge, we'd love to have you join us! However, if you can't make it, be sure to tune in and watch the entire Grand Prix Miami Judge Conference streamed live on SCGLive!
Keep in mind that Grand Prix Trials start on Friday as well; all winners will receive a free sleep-in special in addition to the three byes! Plus, all of our fabulous side events like Foiled Again, Standard Win-a-Boxes, $10 Booster Drafts, and more will also get underway as soon as we open our doors to the public at noon on the 28th.
And that's only what's happening on Friday before the actual Grand Prix gets underway!
Saturday starts off the main event. Your $40 entry fee ($60 with sleep-in special) gets you a set of commemorative SCG player tokens with the unique GP Miami backing, one month of StarCityGames.com Premium, a Grand Prix foil promo All Is Dust, and a Liz Nugent-designed StarCityGames.com playmat just for entering!
The exclusive Grand Prix Miami playmat by StarCityGames.com talented artist behind the Creature Collection is a sight to behold. With so much action and a fun beach theme, you need make sure you get ahold of one of these while you're in attendance!
This weekend is a huge Magic event with a ton of events and activities, so you'll want to show up ready. Whether you're preordering cards like Boros Charm, Garruk Relentless, or Far // Away to be signed in Artist Alley or are trying to make sure you have hot cards like Boros Reckoner; Garruk, Primal Hunter; or Farseek for Constructed, you'll want to be prepared. Happily, we're here to help! If you place an order by Thursday, June 27 at noon and select "Grand Prix Miami" as your shipping option, you'll be able to receive free shipping on your order!
This weekend I will be in the home of the NBA champions as well (sorry, Spurs fans) working alongside StarCityGames.com big three! Online Content Coordinator and Magic commentary guru Cedric Phillips will be joined by the old-school prowess of Osyp Lebedowicz and Patrick Sullivan in the booth, with Glenn Jones and myself in the Sideboard rounding out the starting five. The hashtag for this event is #GPMiami, so be sure to follow along on social media and tune in all day Saturday and Sunday on @SCGLive!
Check out our Grand Prix Miami site for more information.
Good luck, have fun, and catch some rays!
Video and Coverage Content Associate and Social Media Point Person for StarCityGames.com
Listen to the @InContention podcast! It's the official podcast of the StarCityGames.com Open Series with @kstube, @affinityforblue, and myself. Our most recent episode, Moxen For Mana Drains, can be found here.