In yesterday's article, I asked you to pass along any questions, comments or concerns you might have about Grand Prix Orlando. After a successful AMA on
Reddit and additional posts on the SCG website, I have quite a few questions that I believe multiple people will want to see the answer to!
Q: What's the player count look like?
A: As of yesterday at this time, it was 1117 players. 24 hours later, and we're at 1235 players. This puts us into the next bracket for prize money for the
event! We are already the largest Florida Grand Prix of all time!
| | | | |
| --- | --- | --- | --- |
| Place | Up to 1,199 Players | 1,200-2,399 Players | 2,400+ Players |
| 1st | $4,000 | $4,000 | $4,000 |
| 2nd | $2,700 | $2,700 | $2,700 |
| 3rd-4th | $1,500 | $1,500 | $1,500 |
| 5th-8th | $1,000 | $1,000 | $1,000 |
| 9th-12th | $600 | $600 | $600 |
| 13th-16th | $550 | $550 | $550 |
| 17th-23rd | $500 | $500 | $500 |
| 24th-32nd | $400 | $400 | $400 |
| 33rd-64th | $300 | $300 | $300 |
| 65th-100th | — | $250 | $250 |
| 101st-150th | — | — | $200 |
| Total | $35,000 | $44,000 | $54,000 |
We're over the halfway mark to the next increase at 2400+ players! Given that we predict 2500-3000 players, we should be able to get there. Preregister
now, so we can reach that goal long before the doors open on Friday!
Q: Can I sign up for VIP on site? If I bought the sleep-in special, can I upgrade it to VIP?
A: Unfortunately, we've sold out of VIP packages for Orlando. Due to the advance production time on pins (and the size of the VIP lounge), we could not
offer an unlimited number of VIP packages for this show. I also believe that over time, you're going to see more and more VIP packages sell out long before
the Grand Prix starts, both for ourselves and for other organizers – so register early!

Q: I have a VIP pass and my girlfriend is coming with me. Will she be able to enter the VIP area along with me? She isn't participating in the
tournament. Or can I give her my pass while I am playing so she can wait where it is less crowded? From personal experience the main floor and tables
are always claustrophobic.

A: Significant others and children or parents will be allowed into the VIP area with an escorting VIP.
Q: The Lorwyn and Coldsnap side events; are those filled up yet? They were given a rather low cap for such high demand!
A: There are still slots for both the Lorwyn Sealed and Ice Age/Coldsnap Sealed events!

Registration is here for Lorwyn/Morningtide!

And here for Ice Age/Coldsnap!
Both will likely fill up before the doors open on Friday, so just like with VIP packages (which were available in limited quantities), I suggest you
preregister now rather than waiting!
Q: And on another note: Any tips for someone going to their first GP?
A: Xenphire on MTGSalvation.com wrote a great primer on

attending your first Grand Prix

. Some of the information is not relevant to our event (for instance, we have 'Show Up and Play!' rather than checking in on Friday), but the majority of
the information there will help you out tremendously!
Q: Do I have to be registered to enter and/or play in the side events?
A: No! There is no cost to enter the Grand Prix hall. If you want to show up and spectate, trade, play casually, deal with vendors, there is no cost. There
is also no restriction for playing in side events; feel free to sign up for any events you'd like to throughout the weekend regardless of whether you're
playing in the Grand Prix main event itself!
Q: If you have a VIP pass, do you receive a preregistered Sealed pool?
A: The following people receive preregistered Sealed pools:
1) VIPs
2) People who purchased the Sleep-in Special (1+ byes)
3) People who purchased the Sealed Pool Registration Service
So yes, as a VIP, you will receive a preregistered pool for the Grand Prix Orlando main event.
Q: On a scale of 1 to 10, how many times should I throw money at Noah Bradley's table?
A: Oh Noah Bradley, the community does love you! You still owe me a hug from Grand Prix Richmond, but I won't hold that against you. It's always awesome to
tip the artists, people!
Q: What side events can the free side event coupons be used on?
A: The coupons are good for the on-demand 8-person events all weekend long. This includes 8-person win-a-box Constructed tournaments, and 8-person Booster
Draft events.
Q: Can you talk about the food options that will be available on-site?
A: There will be several food carts in the hall itself. Attached to the convention center are multiple food courts, and there's a shopping center right
outside the convention center that has another food court. Long story short – there are a LOT of food options within short (5 minutes or less) walking distance from the Grand Prix hall.
Q: Can we pay for side events with credit cards?
A: Unfortunately, all events must be paid in cash. There are several ATMs located throughout the convention center, and we've asked the convention center
to make sure they are well stocked all weekend long.
Q: Are the vendors cash only as well?
A: I'm happy to say that the majority of vendors accept credit card for payment! This varies from vendor to vendor, so don't be afraid to ask if any one
particular vendor can take plastic. As a note – the SCG dealer booth DOES accept credit cards as payment!
Q: What chairs are going to be in use at the Grand Prix?
A: The chairs are metal stacking, with padded seats.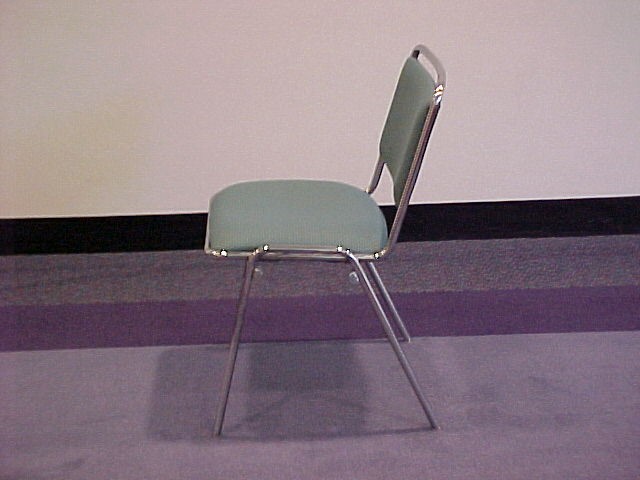 Q: Do I need to preregister to play in side events?
A: The only side events that have preregistration are the Classic Sealed Deck tournaments (Lorwyn/Morningtide and Ice Age/Coldsnap). All other events are
not capped. The only restriction is that we cut off registration ten minutes before the event is set to begin. This is to ensure that all events get an
on-time start, which is much appreciated by any player who has ever had to wait 30 minutes for an event to start due to late registrations.
Q: Are there any festivities
on Thursday
?

A: Grand Prix Orlando doesn't begin until 10am on Friday, but you're in Orlando! There are a ton of tourist attractions in town, including Disney World,
Universal Studios, and Sea World. This is one of the best locations to have something to do outside of the event – so if you're in town on Thursday, get
out there and hit up the parks!
Thank you all for the great questions! Tomorrow, I'm going to hand over the reigns of the daily blog to Evan Erwin. He will bring you an exclusive inside
look into the Dominaria Resort playmat and pins!