Hello everyone! My name is Ben Bleiweiss, and I'm the General Manager of StarCityGames.com. I wrote a daily blog counting down to Grand Prix
Richmond back in February/March of this year, and we found that I was able to answer a ton of questions about the Grand Prix using this format! Over the
next nine weekdays, I'll be discussing the Grand Prix to get you all the information you need to make Grand Prix Orlando the best experience it can be for
all attendees!
Last year, we ran Grand Prix Miami. This ended up being the largest Grand Prix ever held in Florida, at 1257 players. Grand Prix Orlando is going to
obliterate this number! We are 11 days out from the start of the event, and almost 700 people have already preregistered. Based on the current rate of
preregistration, we're expecting between 2,500 and 3,000 attendees at Grand Prix Orlando.
If you want to preregister for Grand Prix Orlando, do so now! We may be sold out of VIP
packages by the time this article goes up (less than 10 left at noon EST today!), but there are ample regular registration slots available! Online and
on-site registration for Grand Prix Orlando ends at 10pm on Friday, October 3rd.
At Grand Prix Richmond, the largest Constructed Magic event of all time, we introduced Guaranteed Registration Rewards. We guarantee that everyone who
enters the main event will receive the following:
The Grand Prix Orlando Dominaria Resort Theme Park Playmat
The Timetwister collectible pin
The Grand Prix Foil Batterskull Promo card
A voucher for one month of StarcityGames.com Premium time
A StarCityGames.com deck box
A Free 8-player side event voucher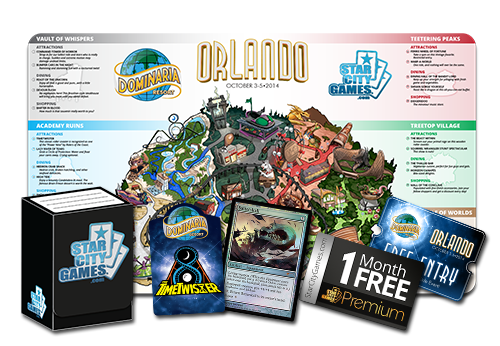 In addition, we are also offering a Sealed Pool registration service for $20. If you purchase this service, we will register your sealed pool so you don't
have to be present for the deck registration portion of the event! We also offer the standard sleep-in special for those with byes. It also costs $20 and
includes the Sealed Pool registration service.
There was a lot of feedback coming out of Grand Prix Richmond – most of it good, but some of it critical. The two most common issues that were brought up:
The Check-In/Registration line was too long/took too long to get through.
The VIP package was lackluster compared to the cost of the VIP package.
I'm happy to say that we've directly addressed both of these issues! We've been piloting and refining our "Show Up & Play" preregistration system at
the StarCityGames.com Open Series, and we're ready for a wide roll-out at Grand Prix Orlando!
What is Show Up & Play Preregistration?
We hate long lines, you hate long lines, we all hate long lines – so we've done away with the lines for the main event check-in! If you've preregistered
for the event, all you need to do is, well, show up and play! More specifically, let me break down how this works for each registration method.
Standard Registration Service (either preregistered online, or registered on-site on Friday
)
Show up at 9am Saturday for the start of the Grand Prix! During deck registration, you will receive:
A StarCityGames.com Deck Box
A voucher for a free 8-man side event
A voucher for a free month of StarCityGames.com Premium
A Grand Prix Promo Foil Batterskull
A voucher to claim your GP Orlando Playmat and Timetwister Pin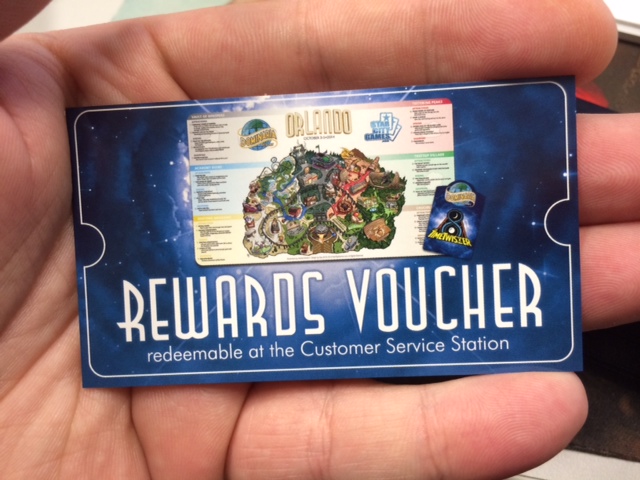 At your convenience, you can turn in this voucher at our Redemption Booth to claim your playmat and pin! For the initial rush (between registration and the
start of round 1), we will be opening up extra redemption stations at our side event area! We plan on staffing this booth with a large number of people, so
we don't anticipate any long wait times to claim these two rewards. Moreover, you can claim them at any point until the event ends on Sunday, so you can
just wait until there's no line, hand over your voucher, and walk away in under five seconds!
Sleep-In Registration/Registration Service
Players who have purchased the Sleep-In Special or the Registration Service may claim their rewards at any time over the course of the weekend! As soon as
the doors open on Friday, you check-in and claim your registration rewards at Customer Service. This is a special new station located at the Side Events
stage! You will be handed all of the rewards except for the Deck Box (your preregistered pool will be in this deck box once the event starts!).
VIP Package
Those who have the VIP package may pick up their registration rewards (sans deck box, which will come with their sealed pool) at any time during the
weekend. These can be claimed from the VIP concierge in the VIP lounge!
How Did We Improve the VIP Experience?
You spoke and we listened! Many felt the VIP experience in Richmond was lacking, so here are the improvements we've made for the Orlando VIP experience!
Due to the size of Grand Prix Richmond, we had to split the main event into two rooms. The people in the second room were pretty far away from the
VIP area. We've made sure that the entire event will be held in one room, so that the VIP lounge is equally accessible to all VIPs!
In addition to the basic Registration Rewards, VIPs get the following additional rewards:
A full set of all six Grand Prix Orlando collectible pins, including the VIP-Exclusive Chaos Orbiter!
A VIP Dominaria Resort Badge and Lanyard
A StarCityGames Water Bottle, plus access to a private VIP water station with unlimited access to water refills
Access to free phone and electronics charging stations (and we've greatly increased the number of these that will be available compared to
Richmond!) These stations are maintained and monitored by the VIP concierge.
Access to our VIP concierge to answer any questions you might have
Private Pairings boards so you can avoid the mad rush to find your seating for each round
An exclusive VIP side event registration area for scheduled side events to avoid the lines at the public side events stage!
An Express VIP lane for On Demand side events
We've also made the VIP area more private, so that VIP members can truly get a break from the hustle and bustle of the main Grand Prix floor.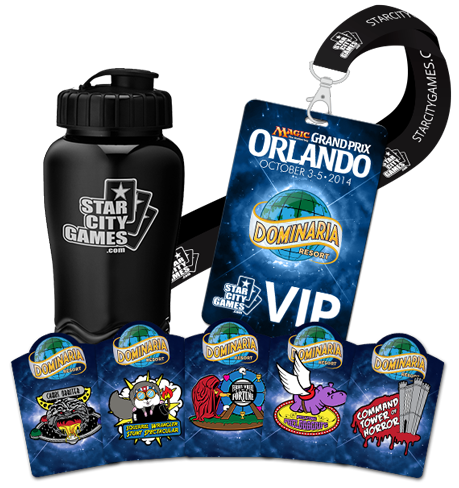 We're very excited for the changes made to make Grand Prix Orlando the best tournament possible! We believe that a good Grand Prix experience goes from
start to finish and not just from playing in the main event/side events. We want to do anything we can to make sure your Grand Prix experience is
stress-free and easy-to-navigate!
I'll be posting up this blog on both the StarCityGames.com website and on Reddit.com/r/magictcg at around 2pm EST from now until Thursday, October 2nd. If
you have any questions, comments, feedback – anything – please leave a comment in one of those places or message me directly ( [email protected]). If you have a question, chances are that a lot of other players might have the same
question so we'd be happy to answer them!
Coming tomorrow: I'll go over the main event (the first large Khans of Tarkir tournament in the world!) and the cool side events we're running!