Courtesy of Wizards of the Coast (WotC) and MTG Arena, take a look at this new, mythic rare Human Werewolf from Innistrad: Crimson Vow — Volatile Arsonist!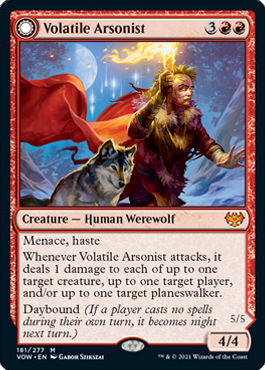 A five-mana 4/4 by day, Volatile Arsonist makes quick work of smaller, opposing threats – dealing 1 damage to a single creature, player, and/or planeswalker. By night, Volatile Arsonist heats up the battlefield even more!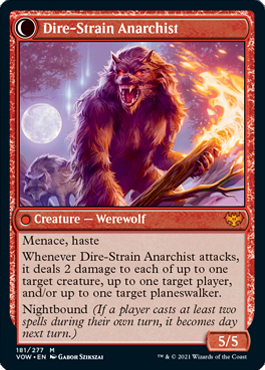 The ability doesn't change from day to night, instead it just gets stronger! Decks that look to deploy lots of smaller threats will have nightmares of trying to deal with this mythic rare fire starter.
So what do you think of Volatile Arsonist? Will it be able to compete with Goldspan Dragon in Innistrad: Crimson Vow Standard? Let us know what you think in the comments.
Innistrad: Crimson Vow is currently scheduled for release on November 19. View our official preview gallery.