In a move that makes complete sense from a flavor standpoint, there are only two new preconstructed decks to come out of The Brothers' War Commander: one from Urza (Urza's Iron Alliance) and one from Mishra (Mishra's Burnished Banner). While that gives us fewer new cards than a four-deck release, it also gives us the opportunity to dissect each one of them in more detail. Between the two decks and the eight Commander cards in Set and Collector Boosters, there are 28 new cards. Let's look at every one of them, listed alphabetically (you can find the full lists here at the mothership), except that we'll look first at the two commanders.
Mishra, Eminent One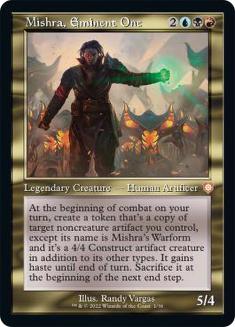 Evoking Mishra's ability to turn artifacts into engines of war, this Mishra has a beginning of combat trigger which allows us to turn a noncreature artifact into a 4/4 Construct. Don't worry if the artifact was cast this turn, because Mishra also gives it haste. If we'd like to beat down with some Powerstones or Scrap tokens, we can (although Powerstones enter the battlefield tapped, so we can't battle with any new ones). What's more likely is that we take advantage of artifacts that give us some benefit when they get put into the graveyard, like Helvault, Ugin's Nexus, or Spine of Ish Sah. I'm particularly fond of the Helvault idea, especially if we're getting back a slew of our own creatures.
Urza, Chief Artificer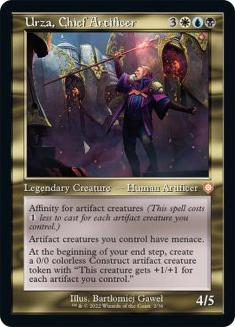 Arguably the stronger card of the two due to its affinity for artifact creatures helping pay its mana cost—and, importantly, commander tax—Urza creates instead of transforms. In addition to giving menace to our artifact creatures, he has an end step trigger which creates a Construct token that gets +1/+1 for each artifact we control. If that Construct is our only artifact, it'll be a 1/1, but given the nature of the deck we'll want to build around Urza, it will be much larger. With Urza in Esper colors, it was open to a card like Sharuum the Hegemon being part of the 99 (and possibly secret commander?).
The Archimandrite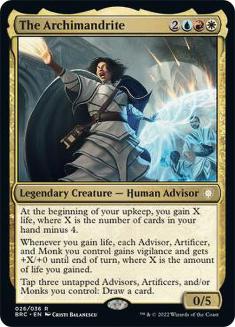 We start off with a little bit of passive lifegain if we keep our hand at five or more cards. Then, whenever we gain life, each Advisor, Artificer, and Monk (with 244 choices in Jeskai colors) gets +X/+0 until end of turn, with X being the amount of life we've gained. Multiple triggers mean multiple bumps and could add up to quite a bit. I'm thinking we give the creatures lifelink and generate a few extra combats to really send their power into the stratosphere.
Ashnod the Uncaring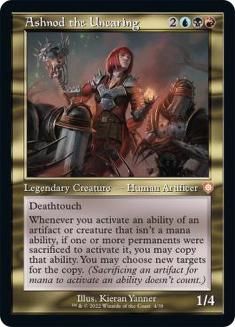 Mishra's honey badger apprentice/ally/lover, Ashnod is all about amplifying what you're already doing. When we sacrifice one or more permanents to activate a non-mana ability of an artifact or a creature, she lets us copy it and choose new targets for the copy. Since Ashnod follows in Mishra's Grixis footsteps, the first commander that comes to mind is Thraximundar, who loves a good sacrifice. Sadly for me, most of the sacrifices in my Altar of Thraximundar deck are either triggered abilities or activated abilities of enchantments, which don't qualify. Fortunately, there are other cards in other decks which apply.
We unfortunately can't use the eponymous Ashnod's Altar, since it's a mana ability.  Altar of Dementia, however, gets there.  There are a few less well-known cards, like Relic Vial, Rakdos Riteknife, and Carnage Altar that I suggest exploring.  Tymaret, the Murder King will do extra murdering, and so on.  While fewer cards than you might think can take advantage of Ashnod's ability, nearly all of them are well worth doubling up on.
Blast-Furnace Hellkite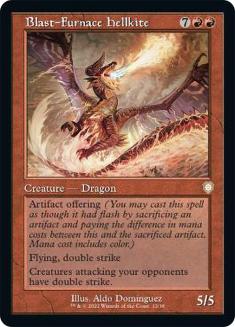 Somewhat pricey at the 7RR mana cost, Blast-Furnace Hellkite fortunately lets you pay some in advance in the form of one of your artifacts. A new take on the offering mechanic, artifact offering, lets us sacrifice an artifact as you cast the spell. We then only have to pay the difference between the sacrificed artifact's cost and that of Blast-Furnace Hellkite. The big upside is that we also get to cast the Hellkite as if it has flash. At that rate, its abilities become relevant. It's a 5/5 with flying and double strike that also gives double strike to creatures attacking our opponents. There are plenty of artifacts that we won't mind sacrificing, from Mycosynth Wellspring at the low end to Wurmcoil Engine quite a bit higher.
Disciple of Caelus Nin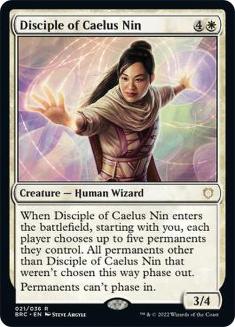 One of the later cards revealed, Disciple of Caelus Nin evoked all kinds of commentary. Its triggered ability has everyone pick five permanents that they control (including lands) and phase out the rest. The second ability, unique in form, is that permanents can't phase in. In Magic, when can and can't disagree, can't always wins. Our stuff is just stuck there until Disciple of Caelus Nin goes away; then they come back at the beginning of the next turn. I'm surprised by the fact that it can hit lands, but here we are. The card will make us see Teferi's Protection in a new light.
Farid, Enterprising Salvager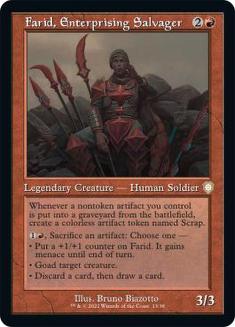 Farid offers us the triggered ability of creating Scrap tokens when one of our nontoken artifacts is put into the graveyard, then gives us three different modes of sacrificing an artifact. One of the relevant parts of the ability is that activating it doesn't tap Farid, so we can use it as many times as we have 1R to pay. We can choose to put a +1/+1 counter on Farid and give it menace until end of turn, goad a target creature, or rummage (discard a card, then draw a card). This is excellent flexibility across some of the things that red likes to do. Outside its uses in the preconstructed deck, I'll be likely to put Farid into a deck with black in it which can take advantage of reanimating the artifact creature we sacrifice to pay for the ability or the other creature card we've discarded.
Glint Raker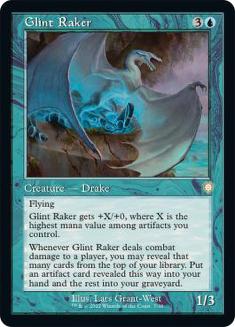 Glint Raker is a 1/3 flyer that gets a power boost equal to the highest mana value of artifacts we control. If I'm going to play it, I'd likely put it into a deck which has a high-cost artifact like Eldrazi Monument or Akroma's Memorial. That way, when it deals combat damage, it will let us look at more cards from the top of the library. The more cards we look at, the better selection we get to put into our hand. We can then make the downside of putting the rest into the graveyard into an upside by later reanimating them. My concern is that Glint Raker might find itself outclassed in the four-mana slot—but I'm definitely willing to give it a try.
Hexavus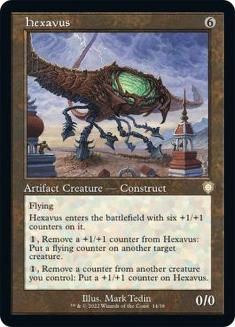 Filling the six-gap between Pentavus and, um, I guess Clockwork Beast, Hexavus is a flyer that can remove counters to put flying counters on other creatures. It refills itself by removing a counter from another creature we control. If someone has put -1/-1 or stun counters on our creatures, we can get rid of them. We can also remove age counters from creatures with cumulative upkeep. Often cast for free or nearly so in an Animar, Soul of Elements deck, Hexavus excels at bringing evasion to creatures that don't natively have it. It becomes another card to infinitely combo with Devoted Druid. It also gets there with creatures that have persist and a sacrifice outlet, like Phyrexian Altar.
Kayla's Music Box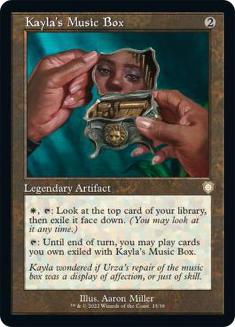 Inexpensive to cast, Kayla's Music Box takes two turns for an operational cycle without having something to untap it, like Voltaic Key or Seedborn Muse. If we can get it into the right situation, it becomes effective card draw, letting us cast with the second ability cards we've exiled with the first. It's a bit risky, since we lose any cards exiled with it if it gets blown up; the relatively inexpensive costs to activate make it worth taking the chance.
Machine God's Effigy
A neat artifact that can Clone, Machine God's Effigy runs up its value by being able to also tap for a blue mana. I'm not sure how often we'll want to spend four on a mana rock, but when we do, it'll be to Clone a utility creature with a decent static or triggered ability or something with vigilance so that we can also get mana out of it. Having a second Suture Priest or Blood Artist that can also tap for mana never hurts.
March of Progress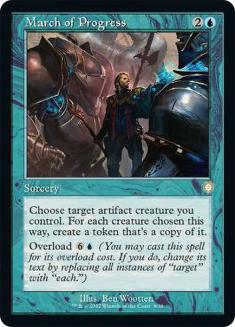 Overload is back in a splashy way with March of Progress. Three mana to get a copy of one of our creatures is a decent rate. Seven mana to copy them all leaves me wondering how many other artifact creatures we need to jam into the deck in order for March of Progress to be relevant. I suppose if we're also playing March of the Machines, it turns into a slightly cheaper and narrower Clone Legion. I think that I want this card to be better than it is.
Rootpath Purifier
A card that had the attendees of M30 buzzing when it was previewed, Rootpath Purifier is already one of the most talked-about (and meme-worthy) cards of The Brothers' War Commander. Gavin Verhey spent a considerable amount of time talking about it on an episode of Good Morning Magic. The short version is that Evolving Wilds or Rampant Growth can get any land out of our deck when Rootpath Purifier is on the battlefield. The bigger impact is that it turns off things that target nonbasic lands, like Wasteland or Back to Basics. The deck that I'll put Rootpath Purifier in likely also has Primal Order in it for maximum pain for them/not even a twitch for us.
Sardian Avenger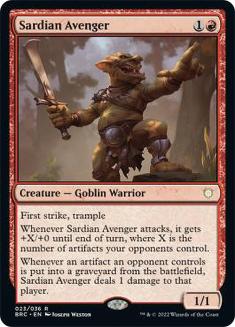 Sardian Avenger will absolutely become one of the chase rares in the set, as it takes other players having artifacts to a new level. When it attacks, it gets +X to its power for each artifact our opponents control (yes, that can be a scary number). That's not the only thing that'll make them hurt. While it's not quite in Disciple of the Vault territory, since it only triggers on artifacts going to an opponent's graveyard and we can't target where the pain goes, we'll make that player hurt every time they sacrifice a Treasure, Clue, or Food token, or any other artifact hits their graveyard. I don't expect that this one additional artifact hate card is going to lessen the value of using Treasure-creating or artifact-heavy strategies, but it's a start.
Sanwell, Avenger Ace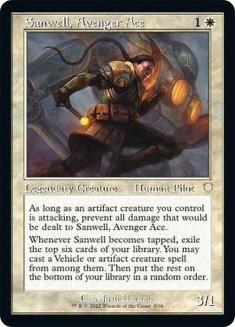 Sanwell is all about finding a Vehicle or artifact creature in the top six cards of the library. He triggers on becoming tapped, which means either being declared as an attacker or used to activate an ability like Opposition. He'll also trigger when our opponents tap down the team with Cryptic Command, although whatever creature enters the battlefield will also get tapped. When attacking alongside an artifact creature, all damage that would be dealt to Sanwell will be prevented. The wording "when attacking" means that the ability doesn't work outside of combat. As with a few other cards in The Brothers' War Commander, I'm not convinced out of the gate that the card will be all that good, but I'm willing to give it a try and be proven wrong.
Scavenged Brawler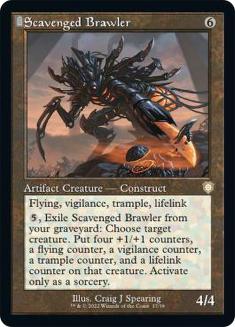 Scavenged Brawler is Kathril, Apex Warper's new BFF. I'm more likely to keep Scavenged Brawler around than use its exile ability unless I have a repeatable way of bringing it out of exile. I suppose putting all those counters on an indestructible creature, especially a commander, might have some merit. Otherwise, I'd have to get over my own aversion to exiling my own stuff.
Scholar of New Horizons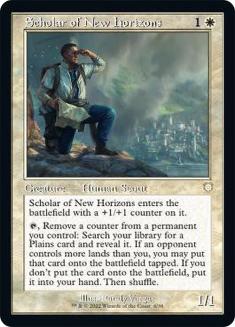 Some more in the school of white as the catch-up color, Scholar of New Horizons is another card that can remove undesirable counters from permanents we control. Because we can activate the ability as an instant, we have enough control to get the Plains card onto the battlefield more often than not. Scholar of New Horizons is a card that I think we'll find is a little better at eking out value than we expected it to be.
Smelting Vat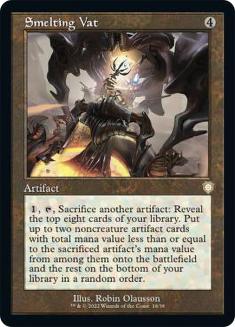 I'm not sure if I like Smelting Vat because it will take so much work to make useful or I dislike it for the same reason. It seems like it requires a whole build-around, with enough very low-cost cards for there to be a payoff for activating it or a few high-cost things which we'll want to sacrifice. The individual card that I'm most likely to play this alongside is Spine of Ish Sah, which is expensive enough to get a decent thing or two with the activation and also has a reason to sacrifice.
Staff of Titania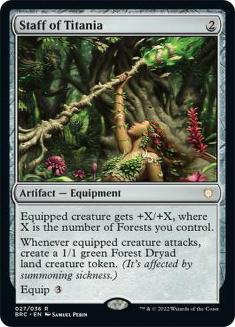 It's a little weird seeing an artifact delivered in a woods/forest motif, but then we have the staff made of wood and vines, so I suppose we're okay flavor-wise. With the low casting cost of two and only three to activate, we're going to see lots of the Staff because it makes extra lands off an attack trigger. We get a land regardless of the resulting combat. So the short version is that green gets another new way to ramp. Great.
Tawnos, Solemn Survivor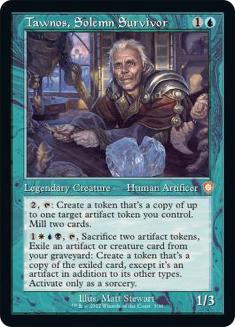 A compelling card to want to work with, Tawnos only cards about artifact tokens. Once again, I'm not a fan of exiling things in Commander, preferring to reuse them instead. That said, playing Tawnos for just the first ability is reasonable. The mana cost is low, and we can get a great deal of mileage out of artifact creature tokens created by Mimic Vat (which we won't need to sacrifice later), ramping up the number of Sculptures we get from Doomed Artisan, or copying something we copied with March of Progress.
Terisiare's Devastation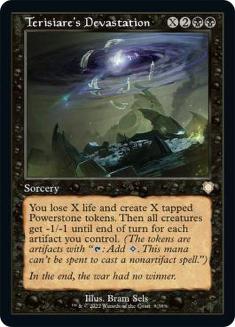 I'm a fan of the design space opened up with X-spells with which we don't necessarily need to pump a great deal of mana into. We'll be playing Terisiare's Devastation in a deck with lots of artifacts, so it's a battlefield sweeper for just 2BB which will make regeneration irrelevant and also hit indestructible creatures. If we do want to pump something into X, then we'll get to wipe out even more. Seems like a win and, in the right deck, an upgrade from Black Sun's Zenith.
The Brothers' War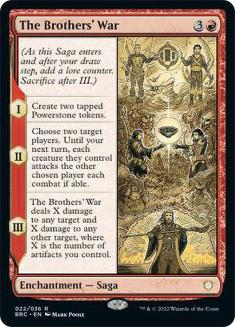 This card is straight sauce. First, it's just amazing flavor-wise, telling the whole story of this set in three easy-to-read steps/pieces of art. Then, it really does some work for its low cost. First, Chapter I pays back half of what we invested in it. Next, Chapter II drops it right into either goad or You Did This to Yourself-style decks. Last, Chapter III deals out more damage than we'd get for any other four-mana payment. It's easily my favorite card from The Brothers' War Commander.
Thopter Shop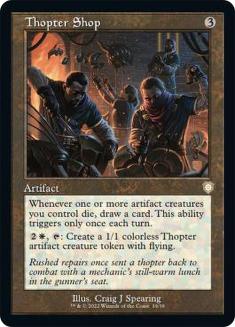 It's simple enough—draw a card when an artifact creature dies, gated by triggering only once each turn. Even with the limitation, it's strong on value. That it can create an artifact creature bumps it up quite a bit in my view. We'd pay three mana to draw a card. With Thopter Shop, we get even more value than that. I think I'd like it most in a deck that plays Ephara, God of the Polis for even more card draw.
Titania, Nature's Force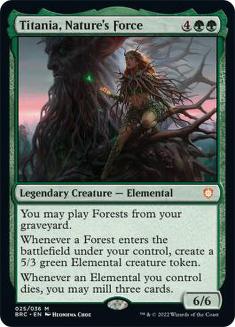 Landfall for a 3/3 green Elephant gets us close to Rampaging Baloths territory. Playing Forests from the graveyard means we can go into dredge strategies. The third trigger, optional milling when an Elemental we control dies, helps fuel dredge or other graveyard ideas. This is a solid all-around card that will support multiple deck types.
Urza's Workshop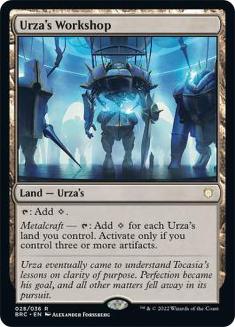 Adding a fourth to the Mine, Power Plant, and Tower threesome (or a sixth including the Factory and Saga), Urza's Workshop can really help explode a mana curve. The limitation of only being able to activate it if we control three artifacts is only a limitation in Vandalblast-heavy environments. Otherwise, it'll be part of an artifact strategy that will have us casting Darksteel Colossus in no time.
Wire Surgeons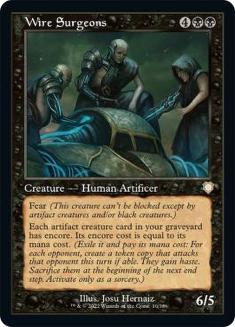 When I first saw the card name, I wondered if they were surgeons made of wire or surgeons that fix wires. A 6/5 with fear for six mana isn't anything to get too excited about, so I tried to work myself up over the encore ability. I tried to get over my own prejudice against exiling stuff from my own graveyard and still struggled. If we're going to have something dumb like Triplicate Golem in the graveyard, I'd like it to keep doing work. I think what I really need to do here is get over it and give the whole delve/encore/exile stuff from the graveyard line a run. Maybe it'll be one of those things that's not so bad once we've experienced it.
Wondrous Crucible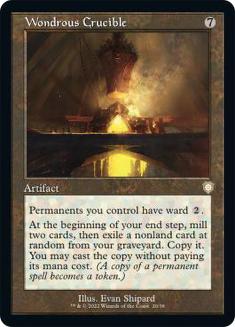 Maybe Wondrous Crucible is the card to help me along that path. It's pricey at seven mana, although that Urza's quartet might really help us get there. We pay for that great ability with a bit of a downside—but one that has enough upside potential to mitigate the risk. Over the course of a game, Wondrous Crucible is only likely to exile five or six cards. I'll look at it from the perspective of that being a small percentage of the deck. We can copy spells instead of permanents, keeping the latter for the reanimation and Regrowth options. Maybe there's a path through this maze after all.
Wreck Hunter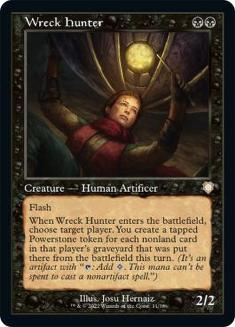 Wreck Hunter immediately caused me to think of things which help us recover from battlefield sweepers, like Rise of the Dread Marn. We can target ourselves or whoever had the biggest pile go into the graveyard and get a truckload of Powerstones. We're only going to play Wreck Hunter in an artifact-heavy deck, so they won't be wasted. Let's just hope we don't get blown out by some instant-speed graveyard hate. Then it would be Wrecked Hunter.
Overall
Once again, Studio X has provided us with some cards well worth exploring. There might be a few that are somewhat pushed, but I'm happy with most of what we see here. For the most part, the cards hit the sweet spot in power to go along with generating enough ideas to will keep deck brewers happy for months to come.
Always remember we have a channel on the Commander RC Discord server dedicated to discussing my articles. I'd love to hear about features that you'd like to see, material you want more coverage on, or even things that you think just aren't working. I'm all ears. Join nearly 8,000 friends for discussion of not just this piece, but on a wide variety of topics—both Commander-related and not. Hope to see you there!
Visit my Decklist Database to see my Signature Decks, the Chromatic Project, and more!