Wizards of the Coast (WotC) has released their MTG Arena State of the Game for November, detailing the changes coming with the release of The Brothers' War, various updates to the game's user interface, and more.
The Brothers' War Launch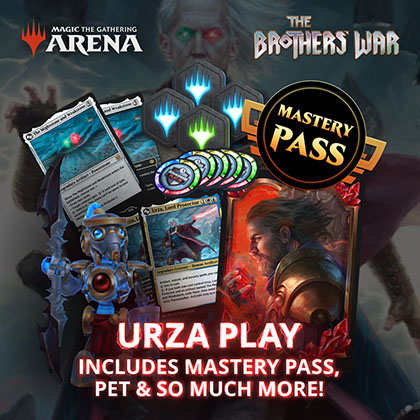 Until the launch of the set, players can preorder the Urza and Mishra bundles.
Release Schedule
Thursday, November 10: Tune in for Early Access on the Magic Twitch channel.
Friday, November 11: Tabletop Prerelease
Tuesday, November 15: The Brothers' War released on MTG Arena.
New Collection Options
Golden Packs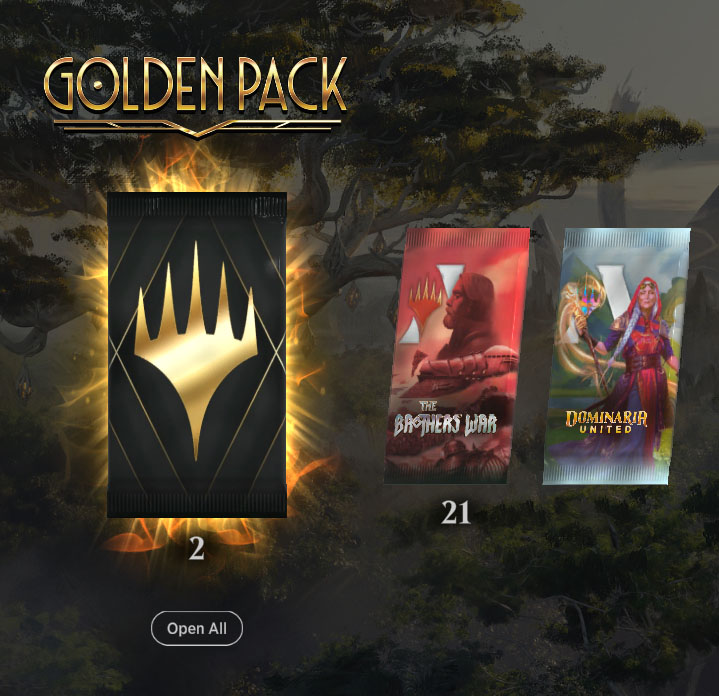 Beginning with the release of The Brothers' War, players can earn a new pack – the Golden Pack. For every regular or mythic pack purchased up to 10, you'll earn progress toward unlocking a Golden pack. These packs will contain six "duplicate protected, Standard-legal rares or mythic rares."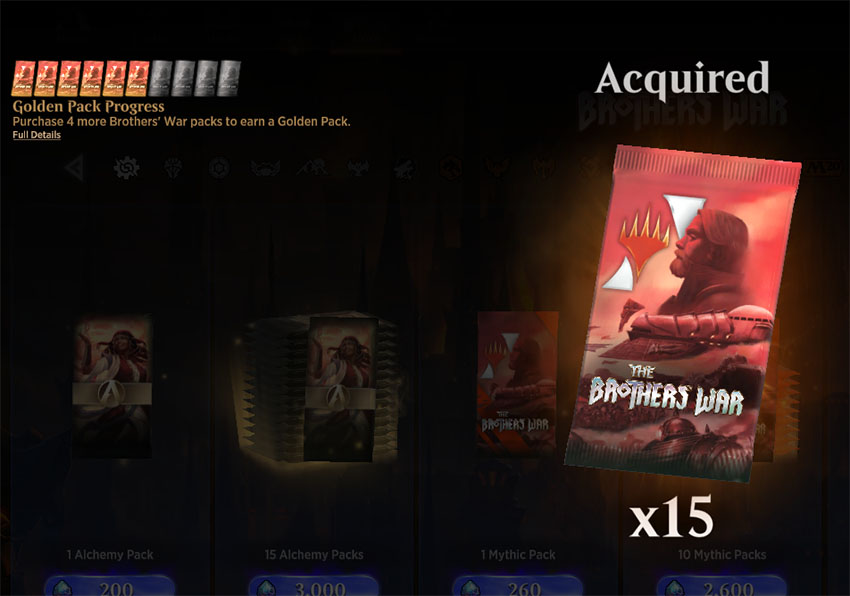 Wildcard Bundles
For those looking to round out a new deck without having to buy a ton of pack, wildcard bundles can be purchased for $9.99 for four rares or $19.99 for four mythic rares. These bundles can be purchased "up to ten times each between the release of The Brothers' War and January 31, 2023."
Arena Open Changes
Day 2, Draft One: "Play four guaranteed matches (similar to Traditional Draft).

Records of 3–1 and 4–0 will earn you a spot in Draft Two, but with a key difference: undefeated players will now "carry forward" an unused loss pip to the Draft Two, making it a double elimination!"

Day 2, Draft Two: "Play until you earn four wins or reach your second loss of the day. If you were undefeated in Draft One, you will have an additional loss pip, making your Draft Two a double elimination instead, and undefeated Draft One players will have an additional loss pip. Two notes:

All Draft Two players will draft and matchmake together.
The top prize is changing from $2,500 to $2,000, but rest assured we're paying out the same amount of cash; we're just dividing it among more players."
Historic Card Balances
With the release of The Brothers' War's, the retro artifacts will be Historic legal, however to keep an appropriate balance, Mishra's Bauble will be banned. Phyrexian Revoker will also be banned in Historic Brawl.
Event Schedule
Best-of-Three Qualifier Play-In & Qualifier Weekend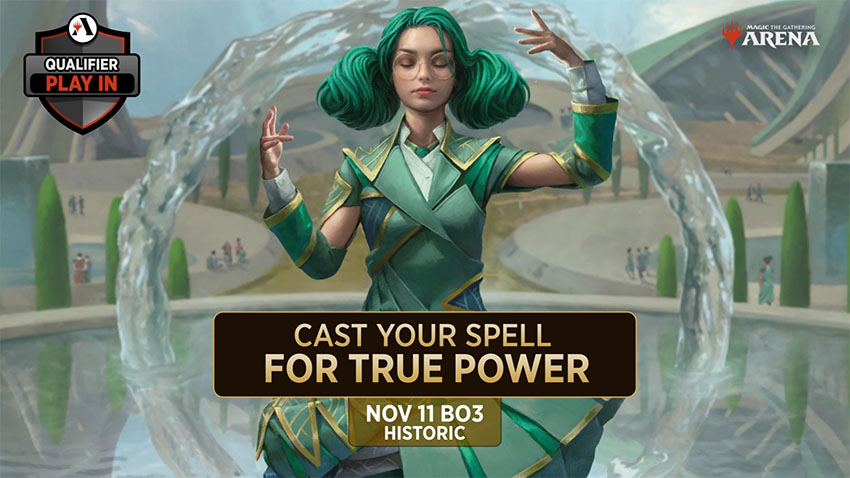 On November 11, players can join the Historic Best-of-Three Play-In queue. November 12-13, those who are qualified will compete to earn their spot in the next Arena Championship.
Events open at 8 a.m. PT (UTC -7) and close at 8 a.m. PT (UTC-7) on the dates shown unless otherwise noted.
Midweek Magic
November 8-10: Phantom Chromatic Cube Bot Draft
November 15-18: The Brothers' War Phantom Sealed
November 22–24: Standard
November 29–December 1: Jump In!
December 6–8: Explorer All Access
Quick Drafts
October 28–November 11: Innistrad: Crimson Vow
November 11–15: Kamigawa: Neon Dynasty
November 25–December 9: The Brothers' War
December 9–23: Streets of New Capenna Planeshifted Quick Draft
Other
November 6–15: Chromatic Cube

Best-of-One and Best-of-Three

November 15­–December 10: The Brothers' War Sealed (Best-of-Three)
November 18–21: Standard Metagame Challenge
November 24–28: Gladiator All Access
December 2–9: The Brothers' Brawl
Qualifier Weekend Events
November
Qualifier Weekend

November 12, 6 AM PT–November 14, 4 PM PT
Format: Historic (Best-of-Three)
Arena Open

Day 1, November 26: The Brothers' War Sealed Best-of-One and Best-of-Three

All participants will receive The Brothers' War card sleeve.

Day 2, November 27: The Brothers' War Player Draft

Two Player Draft events on Day 2.
December
Best-of-One Qualifier Play-In

December 3, 6 AM PT (14:00 UTC)–December 4, 6 AM PT (14:00 UTC)

Format: The Brothers' War Sealed

Best-of-Three Qualifier Play-In

December 9, 6 AM PT (14:00 UTC)–December 10, 3 AM PT (11:00 UTC)

Format: The Brothers' War Sealed