It's burn time and D&D: Adventures in the Forgotten Realms spared us no damage. After feeling like an afterthought in Strixhaven (Lorehold and Prismari being the absolute worst colleges), we're back with a focused, aggressive plan in multiple archetypes. I'm not sure if red mages believe in rejoicing, but if they did, now's the time.
In case you missed it, catch my previous editions (that's a D&D thing, right?) of white, blue, and black, respectively, which will help this make more sense as I reference cards that I've previously evaluated.
Red Overview
If venturing makes the format feel on the slower side, red is your counter. When paired with white, you start games off with the best suite of two-drop creatures in Adventures in the Forgotten Realms. They only get better when you start slapping Equipment on them. Teaming up with black nets you synergistic early plays that can also ramp you into larger threats your opponent must answer ahead of schedule. Green gives you the muscle to subvert defensive plays.
Izzet, however, feels like a bust. I could be dead wrong about this, but grinding value out of a d20 here and there feels like it'll be worse than venturing and making your own destiny. I'll cover this more in depth, but I think this archetype really wants to go fast or go home.
Again: the grading rubric, where your absolute bombs are rated 5.0 and the unplayable, Constructed-only cards are a sad 0.0. A 2.5 is a card you're almost always playing, a card with two grades reflects that it's great when it's in the correct deck, and Sideboard indicates that a card is worthy of consideration in Best-of-Three matches.
Armory Veteran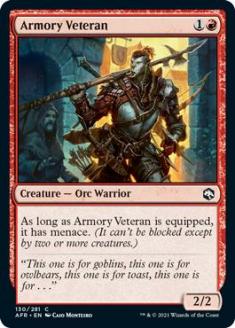 Your standard-issue two-drop for Equipment decks is our first arrival to the party. Take all of the +X/+0 Equipment you want and claim your two-for-ones. With black getting a few serviceable pieces of weaponry, this grade reflects that Armory Veteran isn't limited to Boros.
Grade: 2.5
Barbarian Class
Now, these are some passive abilities! Your opponent basically cannot rest once you're at Level 3, as drawing a Swarming Goblins means you're likely attacking with eight total power that turn. The costs are even reasonable! Finally, a Class I'm excited for, even if it comes at the cost of having to care about rolling. When it comes to the big picture, I think this is where rolling decks want to be: all-out aggressive and not focused on micro-synergies.
Grade: 3.5
Battle Cry Goblin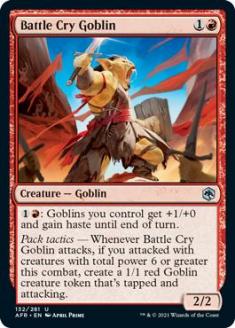 At first, I thought this was a Kirkland brand Goblin Rabblemaster. Turns out I'm a massive fan of the multiple pumps in a turn, easily giving your Goblins +3/+0 in short order. With several ways to generate them in Adventures in the Forgotten Realms, you can even send them to glorious deaths while Battle Cry Goblin sits back. Not a bad deal for 1R.
Grade: 3.5
Boots of Speed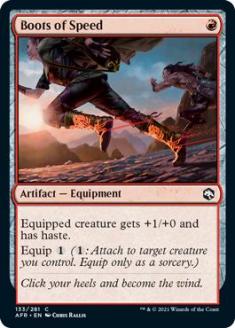 These boots, as it turns out, were made for walking away from this card. Haste only gets you so far when you're essentially adding one generic mana to every creature spell you want to give it to. I'm guessing more decks will want Dueling Rapier over Boots of Speed and you only have so many Equipment slots in a deck.
Grade: 2.0
Brazen Dwarf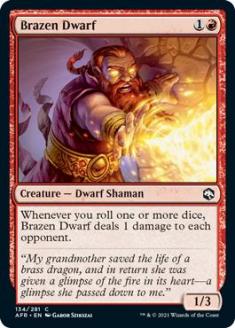 You have to roll an unlikely number of dice to make Brazen Dwarf add up to a card. If this were on a generic 2/2 or a Goblin, I'd say have at it, but we're not living in a Dwarves world, and it's coming up short.
Grade: 1.5
Burning Hands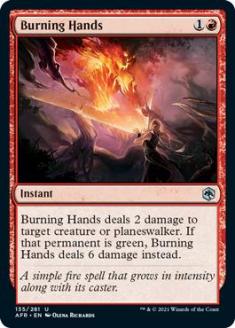 An expensive Shock with upside is still just a costly Shock. However, two damage does seem meaningful in Adventures in the Forgotten Realms, so you'll play Burning Hands more often than not. You'll also get the chance to answer the occasional Owlbear (or better) for a significant mana advantage that your opponent won't see coming Game 1.
Grade: 2.5
Chaos Channeler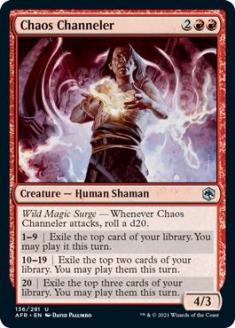 Generating a two-for-one more often than not, there's a lot to love when you can roll unchecked. However, the challenge is utilizing your exile(s), so it may be worth taking a turn to play an extra land and equip before heading into combat. When Chaos Channeler hits instant-speed removal or a combat trick, you're going to feel like a genius, especially when you're setting it up with all the scrying that's out there.
Grade: 3.5
Critical Hit
No shortage of bruisers could use a Critical Hit to see another combat (see: Channeler, Chaos), but also opportunities to sneak a win with an obscene amount of damage. Adventures in the Forgotten Realms feels heavy on trample, so you get to battle rage the old-fashioned way.
Grade: 3.0
Delina, Wild Mage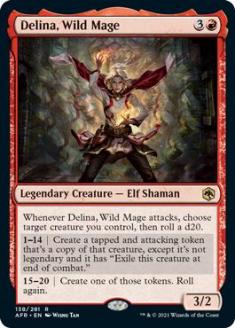 While there are some who want to live the Pixie Guide dream (it's Splinter Twin 2.0!) I'm more interested in finding ways to get Delina, Wild Mage through combat alive. Generating tokens over multiple turns (and getting their enters-the-battlefield effects) feels busted. In Boros, you get cute ways like Arborea Pegasus to sneak her in, while Thieves' Tools do nicely when you're Rakdos.
Grade: 3.5
Dragon's Fire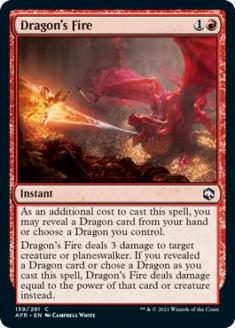 Hands down the best red common. You crave instant-speed removal that can deal three in Adventures in the Forgotten Realms. When getting a Dragon involved, Dragon's Fire becomes absurd, hitting in the four-to-seven range, even if they're already on the battlefield. There isn't much to say other than play this in every deck, play multiples, and have fun winning.
Grade: 3.5
Dueling Rapier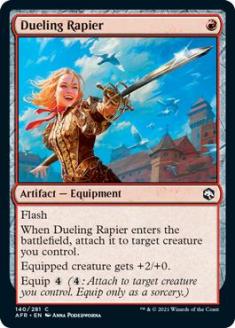 Serving more like a trick that you get to reuse later, Dueling Rapier will be annoying as hell in aggressive decks. Other times, you won't want the flash component at all, preferring to enable Pack tactics before declaring attackers. The slower the format, the more interested I am in the Dueling Rapier.
Grade: 2.5
Earth-Cult Elemental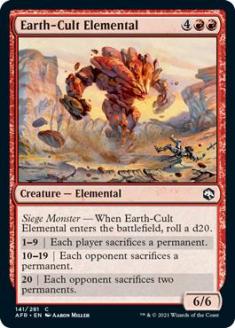 *David Attenborough voice* Here we have a 6/6 with Yawning Fissure as the likely upside. Earth-Cult Elemental doesn't fit into any archetype. It belongs to a cult for some reason. Moving on.
Grade: 1.5
Farideh's Fireball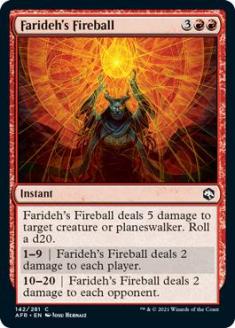 Farideh's Fireball is an acceptable cost-to-damage ratio and wipes out most threats at instant speed while offering some bonus damage to boot. I wouldn't be surprised if this plays a little stronger than it usually would, as there aren't a lot of solid answers to the big-bootied blockers your opponents will attempt to stabilize with.
Grade: 3.0
Flameskull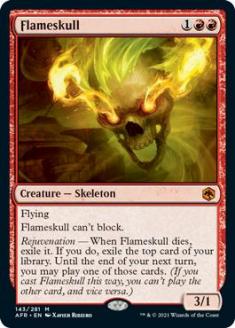 You're free to not bring back Flameskull. It's your decision. One you get to make as many times as you'd like. Not a bad deal for an aggressive flying Skeleton. Where this will be particularly devastating is in Rakdos builds that want the occasional sacrifice but can also hurt for evasion. I can imagine it running away with many games in this format, mainly because that means imagining little legs dangling in the air beneath its massive head.
Grade: 4.5
Goblin Javelineer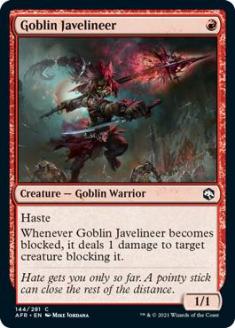 If you're genuinely chock-full of Equipment, this can be your last playable as you try to be the most aggressive deck in the draft. As I mentioned previously, it plays well with Manticore or Reaper's Talisman, making this only a consideration in Rakdos. Otherwise, take Turn 1 off. Take a little "me-time."
Grade: 2.0
Goblin Morningstar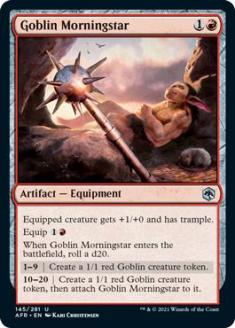 I'm almost always down to play Equipment that creates a token. The stats aren't bonkers, but I'm eager to pick up ways to trample here, and Boros will take any bodies it can get. Don't worry about augmenting your rolls, either. This is a fine Goblin Morningstar, right out of the box.
Grade: 3.0
Hoarding Ogre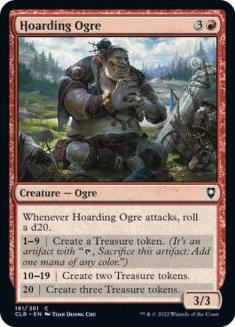 Turn 5 Treasure-making better not turn out to be a thing because that's not a format I want to live in. Hoarding Ogre doesn't even benefit from an enters-the-battlefield effect, so you need to run your Hill Giant into combat to get the trigger. When it's working, it'll feel like your battlefield became marginally better. As the child of a hoarder, this will not end well.
Grade: 2.0
Hobgoblin Bandit Lord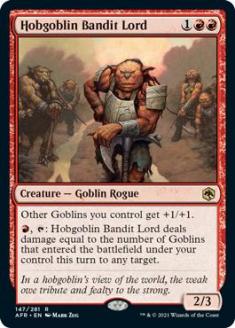 The ping ability really stings here. Lords are always welcome, but you may have a hard time generating Goblins around this realm. Of the options at common, only two (Hobgoblin Captain and Swarming Goblins) really jump out at me, so you're dependent on the packs falling your way at uncommon. A great way to start any draft or a nice late pick in Pack 2 or 3, as the Hobgoblin Bandit Lord doesn't slot into other decks easily.
Grade: 3.5
Hobgoblin Captain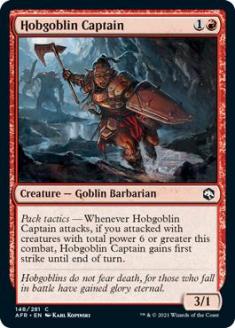 It doesn't take much work to make Hobgoblin Captain a 3/1 first striker for 1R, which feels like a great deal if you're not constantly losing your Pack tactics buddy. Four toughness feels hard to come by, so don't be surprised if the Captain overperforms once it hits critical mass.
Grade: 3.0
Hulking Bugbear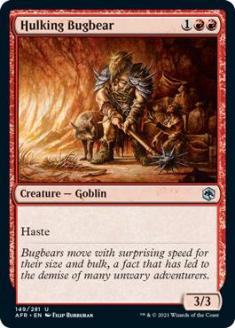 I've been consistently let down by the 3/3 for three mana in recent sets. In a slow format, however, I have high hopes for a 3/3 with haste. Only time will tell, but this is a relevant creature type that goes to work right away, and then untaps with the ability to equip.
Grade: 3.0
Improvised Weaponry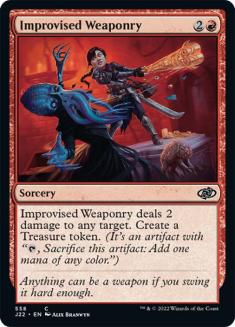 Perhaps my intuition is off, but I can't see a Treasure being worth two generic mana tacked onto a sorcery-speed Shock. You either have the payoffs or not, so don't consider Improvised Weaponry an auto-include as removal alone. For decks that are trying to find ways to splash, I like it as a mediocre fixing option while taking out a two-drop that threatens to spiral out of control once they have Pack tactics going. I'll also note that there are quite a few rares you want to answer early that have two toughness or less — Yuan-Ti Malison; Forsworn Paladin; and Volo, Guide to Monsters to name a few — that it doesn't hurt to have answers for.
Grade: 2.5
Inferno of the Star Mounts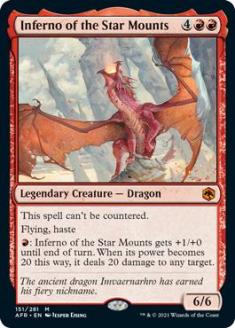 I'm pretty keen on ending the game in two turns. How about you? Any red deck worth its salt should have no problem letting Inferno of the Star Mounts end things and fast. This makes me think of how busted we thought Shivan Dragon was when I was a kid. I hope they found a lovely farm for Shiv to retire to. Lots of free space to roam around, goats to eat, etc.
Grade: 5.0
Jaded Sell-Sword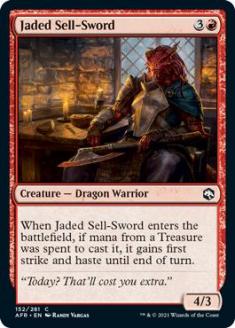 Find me a way to even occasionally cast Jaded Sell-Sword on Turn 3 and I'm throwing this mopey mercenary a freaking parade. Your goal is to cast Kalain, Reclusive Painter on Turn 2 and then bash with a 5/4 hasty, first striking Jaded Sell-Sword the next turn. More often than not, you're looking at a flightless Dragon that trades down too often.
Grade: 2.0
Kick in the Door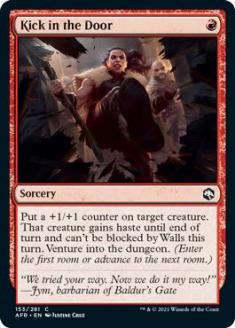 Big Guided Voice energy here, only venturing pales in comparison to learning (which feels like something your worst professor would tell you). Instant-speed answers feel light in Adventures in the Forgotten Realms, so the risk of blowout seems more minimal than usual, and I'm less concerned about the haste portion as I am getting a counter to stick and venturing. I expect Kick in the Door to overperform, even if red isn't dungeoning quite as hard as some other colors.
Grade: 2.5
Magic Missile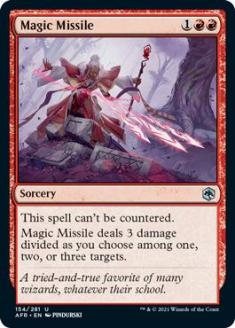 Again with the sorcery-speed damage! Here, I can see you reliably picking something off post-combat when your opponent seems confused about an attack or going to the face. There are some decent X/1s out there and you'll likely see a random Goblin token generated by a mine, or I'd give Magic Missle a firm 3. Be prepared for minor disappointment.
Grade: 3.5
Meteor Swarm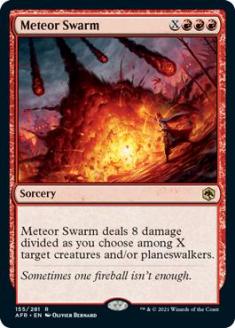 I think the sweet spot for Meteor Swarm is six mana, picking off one large and two minor targets, as you have some diminishing returns with only eight damage to spread around. This almost always nets you a full card of advantage, if not more, while giving you the choice of exactly what stays and goes. RRR can be difficult to hit, but ideally you're casting this later. The only downside is when you've been trading creatures and there's only a target on the battlefield to hit. Regardless, I fully endorse any swarm that isn't made of insects.
Grade: 4
Minion of the Mighty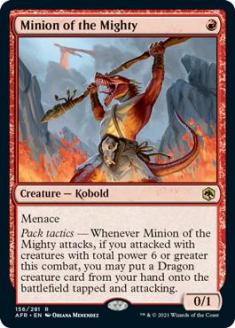 This one is goofy. At best, I think you're sneaking a Dragon out a couple of turns early at the expense of a card that isn't doing much other than dying to a stiff breeze. Dragon tribal feels like a red herring, and Minion of the Mighty is holding the fishing pole.
Grade: 1.0
Orb of Dragonkind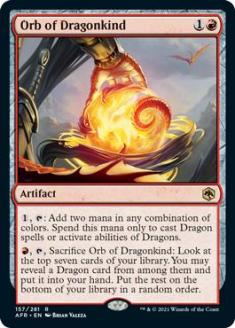 If Minion of the Mighty is the pole, meet your bait. With a busted enough Dragon, I'm all for popping the Orb of Dragonkind and going fishing, as they can be game-ending. Full stop. Ideally, you're in Gruul and have three or more targets before you engage in this chicanery, though.
Grade: 1.5/3
Plundering Barbarian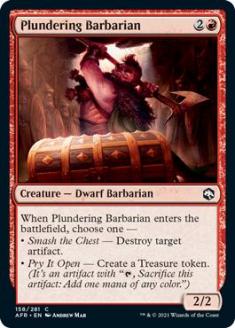 I'm actually higher on these modes than I thought I would be. Smash the Chest should have abundant targets, but sometimes the Barbarian will just be after a Treasure token. Those are great options to toss on a stick. Either way, I will be referring to this one as Reclamation (Nicholas) Cage.
Grade: 2.5
Price of Loyalty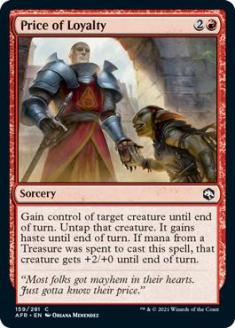 As much as I extoll the virtues of Treason-ish tactics in Limited, it finally feels like this is a supported archetype that isn't dependent on Quick Draft bots not drafting it. Price of Loyalty is particularly well-suited this round, as your Rakdos decks will have piles of Treasures to give a decent offensive bonus to your new friend. Free or cheap sacrifice outlets seem abundant, so make sure you're not upside down on those (one to three) and playing a bevy of Price of Loyalty that you wheel.
Grade: 1.0/3.0
Red Dragon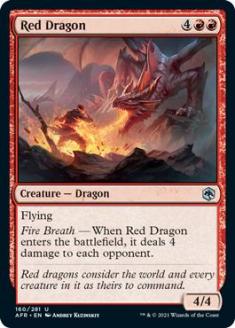 Red Dragon feels "core set-core" if that makes any sense. Like someone pucked it from Core Set 2022 without thought or harm. Four damage on entering the battlefield essentially equals an attack, so you put your opponent on the defensive immediately as they have to consider their clock and whether you win outright if you untap. It's living its best life in a dedicated Dragons deck, a deck that I again want to clarify seems shaky in most pods.
Grade: 2.0
Rust Monster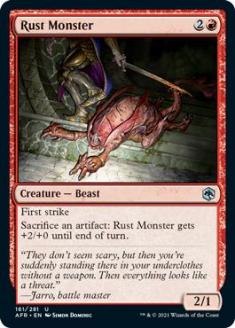 Rust Monster is not how I'd like to spend my Treasures, but Rusty Monsterford creates quite a conundrum for your opponents. Namely, "How many Treasures or Equipment is my creature worth?" Be concerned when they attack in with open mana and a potential way to blow him out, but it's all your choice, which makes this incredibly versatile.
Grade: 3.0
Swarming Goblins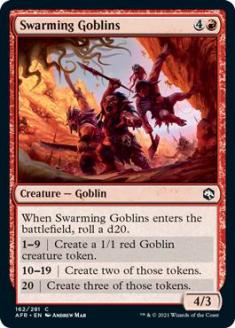 Here's a card where I'm actively hoping for that second roll, as 6/5 worth of stats for 4R is a screaming deal. Add that you're spreading them over three bodies when you're hoping to go wide or equip, and I'm happy to top my curve off with a couple of Swarming Goblins. Bonus points if you care about Goblins, sacrificing things, or rolling a die. That seems like almost every red deck.
Grade: 3.0
Tiger-Tribe Hunter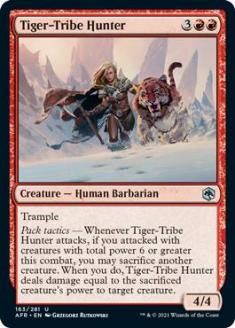 Price of Loyalty combo! This feels like a format where your opponent will often have something you desperately want to pick off but are short on removal, so Tiger-Tribe Hunter's repeatable Fling effect paired with a bit of Equipment should beat the first impressions. Downgrade here if you're in dice or Gruul, as you rarely have spare monsters in either.
Grade: 3.5
Unexpected Windfall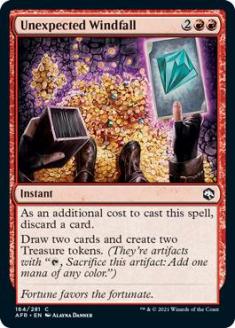 I feel like Unexpected Windfall is at least a discount on your Treasure tokens. Getting them to start your Turn 5 isn't appealing, but some people love deals. This plays best as a one-time ramp option for decks that want to power out a Tiamat or other hulking threat.
Grade: 2.0
Valor Singer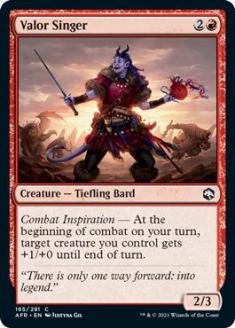 Being able to pump your two-drop the turn you cast Valor Singer gives me hope for this honorable vocalist. Sure, it's more early-voted-off The Masked Singer contestant than American Idol, but this gets the job done in every deck but dice, where it's only a moderately strong play. I particularly love this in any deck that's looking for Pack tactics as a core theme.
Grade: 2.5
Wish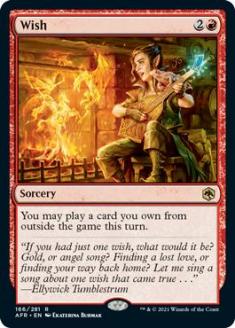 Save Wish for Constructed and play all your good cards in the maindeck.
Grade: 0.0
Xorn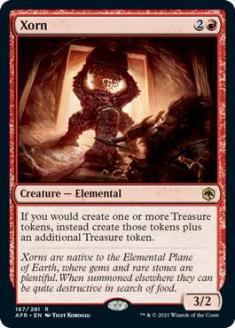 I'm pretty disappointed to learn from the flavor text that Xorn isn't a first name. "Look, right there on my birth certificate. Xorn. With an X." Anyway. Xorn is a reasonable body that will help you get more of those Treasures everyone is so keen on. What I hate is that too often, you'll be forced to take damage because you need to wait for opportunities to generate said Treasure. Against a Soulknife Spy or Yuan-Ti Fang-Blade, that feels worse than getting second place in a sunburn contest.
Grade: 3.0
You Come to the Gnoll Camp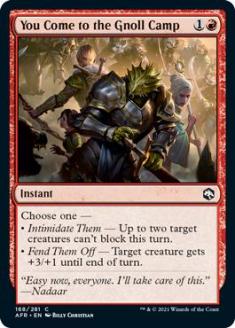 When will we stop rating these cards too low? Right now, I guess? I will always want one You Come to the Gnoll Camp in my aggressive decks, as it punishes an opponent who is confident they've stabilized. On the flip side, you can choose to win a single combat with the pump ability. I predict a lot of 7/5 Owlbears trigger sad reacts on Arena.
Grade: 2.5
You Find Some Prisoners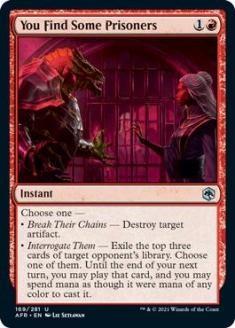 You Find Some Prisoners is priced right, even if Interrogate Them will be my preferred mode most of the time. With blue doing so much scrying, I love this as a cheeky follow-up, snagging whatever they value and casting it yourself. Sometimes, you'll let it go to waste and grab a land to ensure you hit your drops, as this is a "play" spell.
Grade: 3.0
You See a Pair of Goblins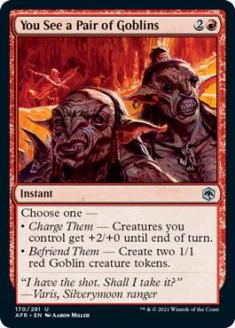 Where's entwine when you need it? Creating tokens at instant speed can lead to cranky opponents, but sometimes you need the Trumpet Blast. Usually, I'm down on having too many of the latter, but with You See a Pair of Goblins you can always opt for the bodies until you need to Charge Them. Note that the pump effect doesn't include an "attacking creatures" clause, so you can use this defensively when needed. I hope you don't need to, though.
Grade: 2.5
Zalto, Fire Giant Duke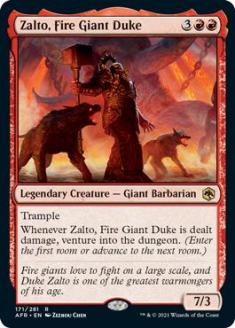 My love exists in a Venn Diagram between Zalto, Fire Giant Duke and Critical Hit. You can also sub Rally Maneuver in there as the only way to give first strike at instant speed, but we all know we want the Crit Hit. Otherwise, I'm not thrilled about trading for their three-drop, even if it nets me one of those precious ventures and some trample damage.
Grade: 2.5
Zariel, Archduke of Avernus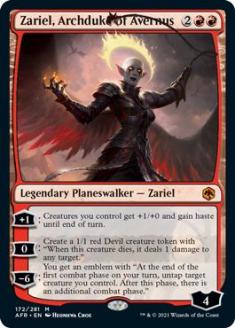 Most of this grade revolves around being able to make Devil tokens which always perform well in Limited. With the right start, you're ticking up and forcing your opponent to take massive amounts of damage they'll be hard-pressed to recover from. Otherwise, Zariel looks like the Archduke of Opening for the Insane Clown Posse.
Grade: 4.0
Top Commons
Dragon's Fire
Hobgoblin Captain
Farideh's Fireball
Plundering Barbarian
Improvised Weaponry
Attack, reap the rewards. That's pretty much what you're looking to do here, whether it's bashing with combat tricks and large bodies in Gruul, going wide with Equipment in Boros, or engaging in synergistic shenanigans in Rakdos. Even when dice are involved, I think you're looking to swarm an opponent rather than sit back and squeeze value out of cards like Arcane Investigator.
Tomorrow, we cover green, with one of the best commons in the set, several Bard-related cards that confuse and delight me, and the beef we deserve.