Combining things we love is a dangerous game. Alien was a classic I'll never forget. Predator was fine for what it was. Alien vs. Predator was a tire fire someone tried to smother with used diapers, and when that didn't work, they released Requiem as the tornado that dumped that fire onto an orphanage. Then again, NASCAR had a series of steamy romance novels in the mid-2000s that absolutely worked for me (especially Speed Dating by Nancy Warren), so not all crossovers are doomed.
As someone who never tried a previous Commander Legends set as a Limited product, I was skeptical at best. Draft has been my jam forever—it was the reason I started here at Star City Games—and Commander was my fun place to try out weird combos. I'm not talking about Combos Sweet & Salty Vanilla Frosting Pretzels, either.
Last week, we were preparing for a preview stream, and I was tasked with creating a 60-card deck from six random packs. What followed was two days of the most intense deckbuilding, card evaluation, and curve tinkering I've ever done in Sealed Deck. Needless to say, I think you're going to enjoy this if you're a Limited junky who is looking for something multiplayer beyond Two-Headed Giant.
Today, I want to give a primer for those who are going in blind, have read the previews but are looking for something cohesive to dig into on the way to a Commander Legends: Battle for Baldur's Gate (CLB) Prerelease, or draft a 10/10. I'll also look at five different archetypes and rank the common creatures that are particularly spicy for your decks.
The Basics
CLB packs contain a whopping twenty cards each, including two guaranteed legends, making it incredibly difficult to whiff on a commander. (Side note: if you had to catch a whiff of any legend, I'd vote for Astarion, the Decadent. For the time period, the man loves a bath.) In Sealed Deck, you'll take six of these packs and make a 60-card deck with 25-ish lands. For Draft, you'll take two cards at a time to keep things moving and again make a 60 from it. Singleton rules are out, but you do need a color identity. Fortunately, we have a brand-new mechanic that can help us stretch a bit.
Talking on Background
Background is like partner, but with enchantments! Here, we see a cycle of both the Backgrounds and legendary creatures that support them at rare, which is generally the rarity you'll want when making the decision to start the game with the pair. Having access to a full card more to start is a massive advantage, but you can only get so excited about a card like Flaming Fist's very narrow ability or Halsin, Emerald Archdruid's promise of a token Bear army.
The exceptions tend to be powerful static effects at uncommon like Inspiring Leader. Many Background bonuses apply to your commander only, like Guild Artisan or Hardy Outlander, which means you can't bank on incidental bonuses. There must be real, genuine synergy and not just a desire to make it to another Rose Ceremony. Inspiring Leader doesn't require anything other than your commander being on the battlefield for you to reap massive rewards from myriad, for example. I'll highlight more in a moment, but remember that your Backgrounds do nothing without someone at the helm.
On the flip side, I'm immediately upgrading any potential Commander that allows me to choose a background. Outside of, again, free cards, we also get some agency in deciding where we want to go with our color identity. Skanos Dragonheart can play equally well in Simic or Gruul, so if I'm getting a lot of great cards in red, I can snag a Dragon Cultist and move in that direction.
Because you can slap a Background in the main of any deck and cast it on the regular (without the ability to get it back, but taxed), I definitely recommend playing more enchantment removal than normal. Dawnbringer Cleric and Myconid Spore Tender are not to be trifled with.
Taking Initiative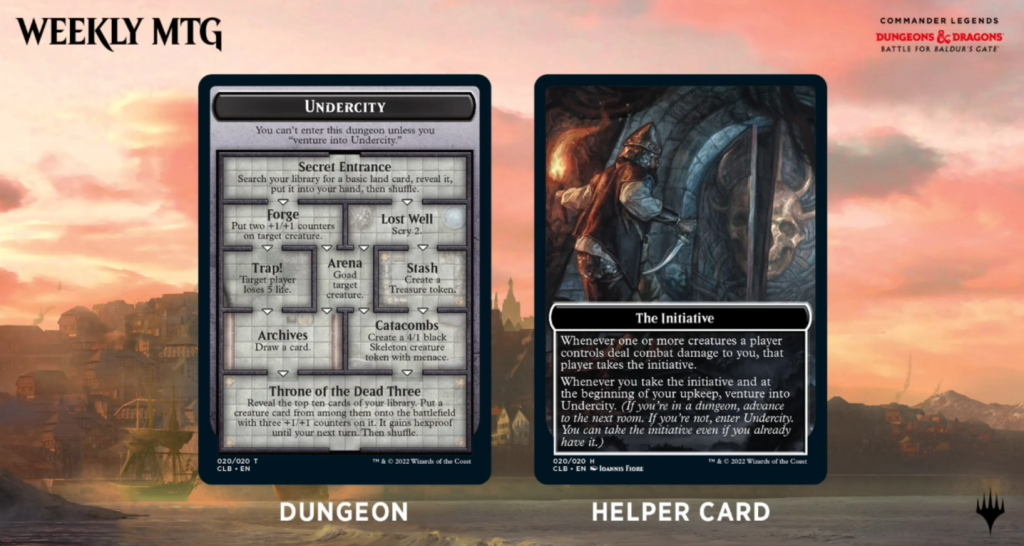 Adding "search your library for a basic land card and put it in your hand" to any creature is an effect you pay a serious premium for in Limited. Here, you get that for free on your first taking of the initiative. In early testing, initiative seemed like the largest driver of combat and will absolutely warp games once it has been claimed. I mean, who doesn't want land, counters, cards, and so on? Creatures like Aarakocra Sneak and Vicious Battlerager play better than they look on their faces, and I would encourage you to take payoffs, like Undercellar Sweep or Loot Dispute, highly.
The Archetypes
Azorius Flicker
Archetype Creature Rankings
Blink is back with a fairly standard bag of tricks for CLB, but there's no need to reinvent any wheels here. Get sweet triggers when things enter the battlefield, bounce or blink them, and repeat until you've created enough card advantage or utility that there's a win in your future. I like Sword Coast Serpent as a sleeper, in that the deck can lack interaction but can always bounce one of your creatures to get an additional trigger while saving something from certain death.
Dimir Dungeons
Archetype Creature Rankings
Dimir is playing the initiative game, trying to be the first one to snag it, and then using a variety of hard-to-block creatures to regain it as the game progresses. Unlike the abundance of options in Dungeons & Dragons: Adventures in the Forgotten Realms, there's a singular Undercity with powerful options all the way to Throne of the Dead Three, which is an absolute blast to hit. I cannot stress how much I'd love to start any draft in Dimir.
Rakdos Sacrifice
Archetype Creature Rankings
Make Treasures, sacrifice things willy-nilly, and hope your payoffs can do the rest of the work is the name of the game for Rakdos here. The much-maligned faux Lotus Petals are doing more work than usual in the color pair, where a minor artifacts theme will be just annoying enough to put a target on your back. I'm not even that big a fan of Fang Dragon, but at some point, you have to spend your mana on something. Prioritize finding a game-ender early in your packs if you wind up in Rakdos, as Hezrou isn't going to do it for you.
Orzhov Aristocrats
Archetype Creature Rankings
Much like me in my middle school Goth phase, Orzhov thinks death rules. This Aristocrats-style deck encourages things to die early and often, including various tokens you'll accrue, either hoping you get value when they enter the battlefield or as they leave it. In games that go long, you'll sometimes win out of nowhere by sacrificing a whole army to a Mold Folk and laugh all the way to the grave. Unfortunately for drafters, I suspect you'll be fighting for a lot of commons other decks are going to be looking for, too. If you sense your colors are contested, don't be afraid to switch lanes.
Golgari Self-Mill
Archetype Creature Rankings
Good stuff is going to good stuff, and here we're staring at a classic value pile that I'd be nervous to run if we were playing 40-card decks. Self-mill feels oddly viable, given how few options our opponents have to interact with our graveyards in CLB and the fact that no one else really wants a Gray Slaad in their deck. I'm probably too low on Colossal Badger, but sorcery-speed options to buff our creatures never feels good, especially if the target is killed and our Colossal Badger is fizzled before ever getting to go on his Disney-esque adventure.
Folks, we're halfway there and haven't even touched our dessert: Dragons! I'll be back soon to talk about our remaining archetypes (Simic, Gruul, Izzet, Selesnya, and Boros), as well as some three-color options that are available and some tips/tricks for how to get the most out of your pool.
CommandFest Richmond
On the weekend of June 3-5, thousands of Magic: The Gathering fans will converge upon the Greater Richmond Convention Center to celebrate their favorite 100-card format at CommandFest Richmond! Experience Commander Legends: Battle for Baldur's Gate for the first time and meet dozens of fan-favorite Commander personalities and special guests. Register now for the can't-miss Magic: The Gathering event of the year!