With the Wilds of Eldraine Commander preconstructed deck lists fully revealed, it's time to talk Faeries. Faerie is my absolute favorite creature type in all of Magic. I've been enamored with them for years (especially the bug-like Faeries of Lorwyn). In fact, I even have a small collection of foil Faeries over the course of Magic's history (yes, even the bad ones). As a Faerie connoisseur, I wanted to share with y'all some Faer-ly good pieces to upgrade your Fae Dominion precon!
Bitterblossom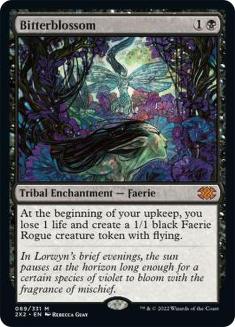 Let's start with one of the type's most iconic cards ever printed: Bitterblossom. Once a powerhouse in the competitive scene, Bitterblossom takes your life and makes it a resource, generating Faerie Rogue tokens at the beginning of your upkeep (and all for the low, low cost of one life). Bitterblossom is also getting a reprint in Wilds of Eldraine on their Enchanting Tales sheet. Personally, I am feral for the confetti foil of this Bitterblossom printing, but you don't need a fancy one to throw into your deck. Regardless of the printing, this card will definitely take your deck up a couple of notches.
Faerie Harbinger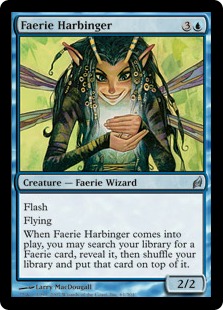 I'm quite surprised Faerie Harbinger didn't see a reprinting in the main set or the precon. Faerie Harbinger allows you to tutor for a Faerie card and put it on top of your library; for the other cards in this Lorwyn cycle, you can also snag Elves, Giants, Merfolk, and Goblins. Personally, each of these cards brings me an insane amount of joy (especially the Goblin Harbinger art). What makes the Faerie one stand out the most for me is having flash. A lot of old (and new) Faerie cards focus on casting spells on other people's turns. Flashing this card in can not only goad stuff with the new Alela, but also set up your draw on your next turn. I love this card and I think you will love it too.
Faerie Trickery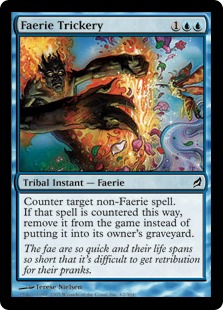 Faerie Trickery is yet another card I was surprised to not see pop up in Wilds. Full disclosure: I hate counterspells. I know they're good to run, but they make me sad to play and experience, so I never really run them…except Faerie Trickery. There's just something about this spell that ignites joy within me. Almost every card in Magic is a non-Faerie spell, meaning the threshold to have it successfully target is incredibly low. However, what makes me love this counterspell even more is that if the spell is successfully countered, it is exiled instead. Now that's what I call removal. Exiling a large threat or a key piece to an opponent's win condition is definitely a showstopping play people will remember.
Mistbind Clique
Okay, full disclosure, I'm not a huge fan of the champion mechanic. It always felt as though it were one degree away from greatness but just out of reach. Don't get me wrong, it's not horrible, but sometimes the payoff was a bit lacking. With Mistbind Clique, I feel as though the payoff is definitely worth it.
Once again, this little blue Faerie has flash, meaning you can really mess with your opponents if it's cast at the right time. I know people find mass land destruction to be rather irksome…so why not tap them instead? Sure, it's still annoying, but they still get to keep them! They just need to be patient! At its worst, this is a four-mana 4/4 with flash and flying, and flashing in a body to protect your life total doesn't seem like a bad second choice either.
Silvergill Douser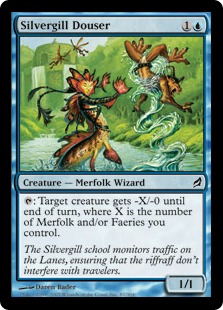 Yeah, I know, this creature isn't a Faerie, but I do think it should remain up for consideration. Silvergill Douser is a Merfolk that reduces the power of a creature based on the amount of Faeries you control. When you have powerhouse token makers on your side, it isn't farfetched to think that this number will be incredibly high. I know it's a bit more cutesy than the other cards on this list, but I still find it to be a fun addition. It's incredibly unexpected and will be sure to garner quite a few "Wait, what does that say?" reactions from your opponents.
Spellstutter Sprite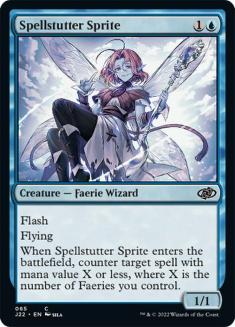 I 10000% expected to see this card make an appearance in the Faerie precon, but alas, it was a no-show. Spellstutter Sprite is second to Bitterblossom in terms of iconography. This card is a counterspell on a body and scales up the more Faeries you have. I'm sure the very mention of this card sends shudders up the spines of many a Modern player. It was a menace back in the day. While I'm sad it didn't make an appearance in this set, I have my fingers crossed for the 2024 return-to-Lorwyn set.
Faerie Tauntings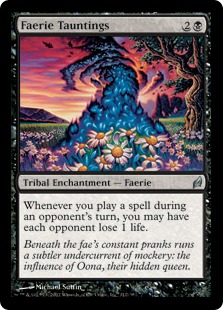 Remember when I said that a lot of Faeries do flashy things? Well, Faerie Tauntings is like the pillar of that strategy. This enchantment from the days of yore makes each opponent lose a life whenever you cast a spell during an opponent's turn. This is the perfect pairing for the brand-new Alela, Cunning Conqueror, who cares about casting spells on other people's turns. It's our turn, comrade! While this is definitely niche (and doesn't pair too well with Tegwyll, Duke of Splendor, the deck's face commander), it does bode well for the flash subtheme that many Faeries in the game have.
Raise the Palisade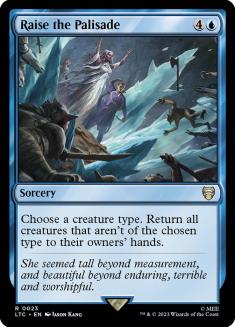 This is one of the newer cards on the list, coming from the incredibly recent The Lord of the Rings: Tales of Middle-earth set. At first glance, I didn't think much of Raise the Palisade, but I have quickly grown to love it. I like to view it as a sort of typal Cyclonic Rift. Sure, it's not instant-speed, but it definitely does the job of clearing the battlefield for you (at least temporarily). This window of clear battlefields will allow you to swing with your tiny pingers indiscriminately. It's new, it's exciting, I love it, and you should play it.
Notorious Throng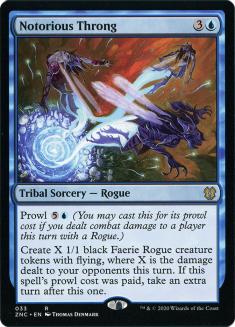 Notorious Throng has become a point of contention in my own Faerie brews. It's a token generating machine. All you have to do is deal a lot of damage and reap the rewards. But wait, there's more! This spell also has a prowl cost. Prowl spells care about Rogues, and it just so happens that a fair number of Faeries just so happen to be Rogues. In order to pay this cost, you need one Rogue to deal combat damage to a player. If you succeed, not only do you get tokens galore, you get an extra turn as well! The payoff is definitely worth the hoop you have to jump through, and I find this to be a fun spell that also creates a mini-game for you in your Faerie brew.
Titan of Littjara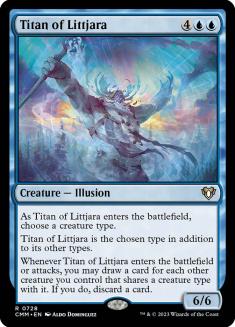 Lastly, we have the brand-spanking-new Titan of Littjara. I won't lie: I feel uncomfortable running non-Faeries in a Faerie typal deck. Merfolk, Changelings, Illusions, I'm not a huge fan of running them, but I can make an exception when the right card comes along. Titan of Littjara is just that card.
This Illusion came out in the Commander Masters precon and allows you to choose a creature type and subsequently draw a card for each other creature you control which shares that type. In a deck known for making and casting a bunch of tiny pingers, this Titan will most assuredly draw you dozens of cards. It may not be a Faerie, but I am Faer-ly certain this card will give you the advantage you need to win your game.
Now, Spread Your Wings
When it comes to Faerie typal decks, I know a thing or two, and I hope my suggestions can help take your precon into the next level. Wilds of Eldraine has plenty of exciting, new Faeries that are sure to make the cut as well, but I can't help but look at the Faeries of the past to help those of the future. I am also ludicrously excited to see what Faerie goodies we get in our return to Lorwyn next year. Let me know what you think of my suggestions and if you would recommend any you think I missed. Faith, trust, and pixie dust, deckbuilders.