This past weekend we had a pair of local PTQs that I attended in order to try to qualify for the upcoming Pro Tour in Valencia. The first of the pair was in Albany, New York, and I was lucky enough to get a good Sealed deck, maybe an 8.5 out of 10, and make the Top 8 of the tournament. However, during round 5 (playing to be 5-0) I sideboarded into a different deck, and for the rest of the day while I was in sideboarding I constantly wondered if I had built my deck correctly in the first place. Eventually I made Top 8 of the tournament, which was great, but it was also the first time in a very long time I can remember thinking I had misbuilt a Sealed deck so significantly that I had also been successful with.
I know for a lot of people, myself often included, it can be hard to learn from your mistakes if you don't get punished. That is to say if you play every turn of the game wrong but still win you may not bother to look back and see what you could have done differently. This of course is hogwash and should be actively avoided, but obviously this is also easier said than done. Often if I fail to Top 8 a Sealed tournament (most tournaments are not entirely Sealed, so the goal of the Sealed portion is usually just to put yourself into a position to win), I will come away from the tournament feeling either like my knowledge of the format was inadequate or my pool was honestly quite poor. This time however I was lucky enough to realize that I had in all likelihood drastically misbuilt my deck and won despite myself.
Since there are just a handful of chances left to qualify for Valencia and I felt it important to get my thoughts in order for myself, I thought that sharing them would be quite useful for those aspiring professional Magicians among us.
It is important to recognize that the Sealed deck process does not end once you have your cards in your hand and that being gifted a great deck (as I had been lucky enough to receive) is only the beginning. Building your deck correctly and (especially in this format) sideboarding correctly are the missing ingredients to the Sealed deck recipe. Every format is different, and it's important to know that success is attainable in each format given the luck and skill to succeed. At the same time it's important to recognize the difference between say Lorwyn block Sealed where the thought of mixing your Merfolk and Elementals was enough to give you nightmares and Theros Sealed where some creatures are heroic ones that require their own enablers (for example).
With this in mind, we can finally look at my Sealed deck. Here is the card pool I opened: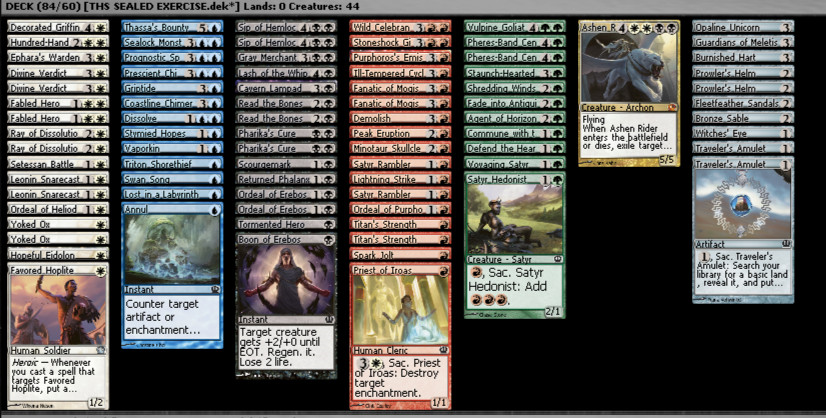 The first thing you have to do these days is check to make sure the person who opened your cards didn't mess anything up. Often there will be another failsafe—another person—but I still recommend checking; having a judge interrupt your pre-game ritual for anything can often be very disruptive and nerve-wracking, and there is no reason to experience that if you can avoid it. Take the two minutes to both familiarize yourself with the pool and make sure all the cards in your hands are the cards on the sheet.
When I opened this pool, I did exactly that, and I noticed "2 Fabled Hero;" I thought surely this was a mistake, and I readied myself to call the judge and get it sorted out. Luckily for me there were in fact two Fabled Heroes in the pool. The rest of the pool was also quite nice, and I spent a lot of time going back and forth between black and red to pair with my white, which was in my opinion a must-play color given the two Fabled Heroes and the Hundred-Handed One (not a bomb but certainly very strong).
In the end, I paired red and white together, figuring this gave me two Titan's Strengths to use with the Fabled Heroes (quite a potent combo and often lethal as it turns out) along with a pair of Ordeals and enough creatures that I felt like I could often get an aggressive start, which is really where I wanted to be with these cards. It's important to note that even within W/R there were quite a few choices to make for the last few cards, and this process—deciding—also helped me to see what cards I might be sideboarding in during the tournament, which was actually quite helpful.
I elected to play one Ray of Dissolution in my maindeck which enabled me to win at least one tight game late in the tournament where my opponent's seemingly lethal attack (including an Observant Alseid) suddenly turned survivable given a three-life-plus-two-damage buffer. The momentum swing was huge, and I narrowly escaped.
Among the people I spoke to regarding this pool, they often chose to maindeck Spark Jolt and elected not to play any Ray of Dissolution, but my own philosophy regarding the format has been that if you have an instant-speed Disenchant effect, you are well advised to start it. There are a whole host of creatures that you can kill with them and innumerable combat steps that will suddenly turn quite favorable for you, not to mention the few noncreature bombs like Bow of Nylea and Spear of Heliod in this set.
Given the way I built my maindeck, I knew I'd be sideboarding these cards throughout the day:

Each card here is somewhat self-explanatory other than the Ephara's Warden, which overperformed for me constantly. It isn't an aggressive creature or a heroic enabler so it is hard to include it in every deck, but throughout the day I boarded the Warden in against blue and even green decks to great effect. Tapping a creature with power three or less matches up quite well against the commons and even some of the uncommons in those colors, and when the Warden is good, it merits a removal spell or may win you the game outright.
Once I recovered from the weekend's driving, I started to inquire among people whose opinion I respect as to how they might have built it. The results were quite interesting; no two answers were alike, and while some people agreed with me on playing red and white together, the last few cards were more varied than I would have expected. Perhaps that is my own failure as I misjudged the value of Yoked Ox when paired with Ordeals or late-game bombs like Ashen Rider.
The first person I got a response from was none other than Reid Duke. Reid started off by saying that the pool is very good since you have bombs and removal, and in light of that he wanted to have a slow consistent deck with two Read the Bones and lots of removal. He went on to mention that he felt Read the Bones was basically a perfect Sealed card and one that he'd ideally like to have at the GP. This is the list he gave me:
Favored Hoplite
Tormented Hero
Hopeful Eidolon
Yoked Ox
Setessan Battle Priest
2 Fabled Hero
Burnished Hart
Hundred-Handed One
Cavern Lampad
Gray Merchant of Asphodel
Ashen Rider
Divine Verdict
Lash of the Whip
2 Pharika's Cure
2 Read the Bones
Boon of Erebos
Scourgemark
Ordeal of Heliod
2 Ordeal of Erebos
9 Plains
8 Swamp
I think this build is very interesting. Just reading the responses these guys sent me has been very educational, and I consider myself lucky to have access to this kind of knowledge. I asked Reid why he was hedging with just one Ox in his deck, and he said he only played it to keep the creature count high enough to play the Ordeals and the Scourgemark; he also went on to say that he loves removal in Sealed but since the "Ordeal package" costs so many cards he didn't have room for everything he liked. He also wasn't able to fit in any of the Ray of Dissolutions.
Next I asked my longtime friend and former Limited specialist Tim Aten, who immediately noted that blue is a trap even with the fixing and said B/W is a little too schizophrenic for his tastes. A lot of people I spoke to said they had a distinctly bad taste in their mouths about a deck containing both Favored Hoplite and Ashen Rider, and indeed he noted that if he were going to play B/W, he'd play the upgraded Angel of Despair.
His build was as follows:
Favored Hoplite
Hopeful Eidolon
2 Leonin Snarecaster
2 Satyr Rambler
2 Fabled Hero
Minotaur Skullcleaver
2 Fanatic of Mogis
Hundred-Handed One
Ill-Tempered Cyclops
Purphoros's Emissary
Stoneshock Giant
2 Titan's Strength
Spark Jolt
Ordeal of Purphoros
Ordeal of Heliod
Lightning Strike
2 Divine Verdict
He disagreed with me about the Ray versus Jolt and perhaps missed the Bronze Sable. He also ran a full seventeen lands, while I opted to play just sixteen. His build takes better advantage of the Stoneshock Giant, while in my deck it was more of an Earth Elemental; to be honest, I really was only attracted to it for its devotion to red. I think there's a chance it didn't belong in the deck, and I often boarded it out when facing a fast deck or if I was on the draw.
Tom Martell gave me this list, which is just twenty cards:
Favored Hoplite
Hopeful Eidolon
Ordeal of Heliod
2 Leonin Snarecaster
2 Fabled Hero
Hundred-Handed One
Spark Jolt
2 Titan's Strength
Ordeal of Purphoros
Lightning Strike
Minotaur Skullcleaver
Ill-Tempered Cyclops
Purphoros's Emissary
2 Satyr Rambler
2 Divine Verdict
Tom's a far busier man than I am these days so I didn't press him for a final build, but he noted he wasn't sure about the final cards, offering that some mix of Fanatic of Mogis, Stoneshock Giant, Yoked Ox, Priest of Iroas, and maybe Bronze Sable would all be acceptable. He was adamant about the Spark Jolt though, noting that "turning on" Fabled Hero was a high priority and one that this deck couldn't do reliably enough at instant speed. I personally have always felt most comfortable with a 15 creature/8 spell mix in Sealed, but that might not be a viable building strategy in this format given the constraints heroic can put on your deck. I think it was somewhat fortunate that my own final build fit the mix almost perfectly (16/8) and often your pool will dictate a different mix all together.
When I asked them about a potential B/W build, both Tim and Tom had qualms about the aforementioned mix of Ashen Rider, Favored Hoplite, Burnished Hart, and Ordeals. "That doesn't make much sense to me" was the consensus, and I tend to agree. However, building your Sealed deck is much more than simply putting the best cards in the deck. Topping off a curve that begins with two Yoked Oxen and a Favored Hoplite with an Ashen Rider is odd surely, but those Yoked Oxen can actually buy you time for the Ashen Rider to arrive in a convenient twist.
It's important to maximize all of your cards; the potential B/W build has a whopping three Ordeals, which need one-drops to thrive. If you win with an Ordealed creature early on and are holding the Ashen Rider, it doesn't really matter anyway, but if you are hanging on by a thread and trying to survive for Ashen Rider to appear, you can do a lot worse than a 0/4 for W in the midgame most of the time.
I asked Luis Scott-Vargas how he'd build, and he ended up with the following list:
1 Lash of the Whip
2 Read the Bones
1 Hundred-Handed One
1 Favored Hoplite
2 Divine Verdict
1 Ashen Rider
1 Burnished Hart
1 Hopeful Eidolon
1 Gray Merchant of Asphodel
2 Pharika's Cure
2 Ordeal of Erebos
1 Cavern Lampad
2 Fabled Hero
1 Ordeal of Heliod
1 Sip of Hemlock
1 Tormented Hero
2 Leonin Snarecaster
Obviously these B/W decks will need to draw their mana, but Read the Bones is an excellent way to ensure that. And with nine Swamps and eight Plains, I'm sure this deck would draw reasonably well most of the time.
After noting that the pair of broken Fabled Heroes drew Luis to the white, he finally ended up on B/W because it still has the free wins (Ordeals and heroic creatures for those keeping track at home) but also has a real late game, whereas the W/R decks basically have a mediocre Stoneshock Giant and one Purphoros's Emissary to win with past turn 7.
Luis also noted that he is in favor of having good removal, which ironically enough is not a position everyone shares regarding this format, but I suppose it is definitely better in Sealed than in Draft. I asked him why he only included one Sip of Hemlock, and he said it was between a Ray of Dissolution and a Sip of Hemlock for the last slot and admitted he might even be wrong but went with the Sip given that it was Sealed and in general removal is just good.
I then had a chat with Max Brown, who won a PTQ in the upstate New York area in late October. I'm familiar with Max and thought that after winning the PTQ he'd have some insight to share with me; I had originally wanted to just discuss the format with him since he'd tweeted some interesting things about Opaline Unicorn, but that never came together. I'm glad I was able to bend his ear about this Sealed deck though! Here's his list:
2 Yoked Ox
1 Favored Hoplite
1 Hopeful Eidolon
1 Tormented Hero
2 Leonin Snarecaster
1 Setessan Battle Priest
2 Fabled Hero
1 Cavern Lampad
1 Hundred-Handed One
1 Gray Merchant of Asphodel
1 Boon of Erebos
2 Ordeal of Erebos
1 Ordeal of Heliod
1 Scourgemark
2 Pharika's Cure
2 Read the Bones
1 Ray of Dissolution
1 Lash of the Whip
8 Plains
8 Swamp
This list for me was the most hardcore or "all in" of all the lists. I found Max's approach to Sealed to be interesting, so I asked him a little more about it (and I'm glad I did). Max said specifically that he felt greedy B/G decks that splash for more powerful spells are the best and that if you are doing something different you really have to be all in on it. This shines through his build with the second copy of Yoked Ox; he was the only person to include the card despite its synergies not only with the Ordeals and Scourgemark but also potentially with the Ashen Rider.
Max said that he'd mulligan very aggressively with the above deck (in the hopes of assembling an early Ordeal no doubt) and that if you couldn't build the greedy three-color deck that he desired you'd want to "go big" (a deck that is assured of victory in the late game with a high card quality and lots of bombs) or go "broken linear" (heroic victories in this case). I tend to agree, though I am drawn to being "all in" in Limited perhaps more than I should be. I respect all of these opinions, but I am not quite sure how I feel about all these Yoked Oxen.
Max had more interesting thoughts about the format, saying he felt that this is a great format for sideboarding, which we've already touched upon, and that the Prowler's Helms that I had in this pool merited a look but ultimately are better suited to a U/W Heroic deck.
Finally, I asked Gabe Carleton-Barnes to take a look. Gabe has won a number of PTQs in his life and knows how the Sealed deck grind goes. He also isn't afraid to drastically sideboard or build a four-color deck when it's warranted. Initially he seemed to love this card pool, and then he grew to hate it. I asked him where he was, and he mentioned he had some interest in a U/B deck, so I asked him to elaborate on that even though he did finally agree that W/R was probably where he wanted to be.
7 Island
1 Plains
9 Swamp
Tormented Hero
Traveler's Amulet
Boon of Erebos
Vaporkin
Returned Phalanx
Bronze Sable
2 Pharika's Cure
Stymied Hopes
Burnished Hart
Opaline Unicorn
2 Read the Bones
Dissolve
Coastline Chimera
Hopeful Eidolon
Griptide
Prescient Chimera
Prognostic Sphinx
Gray Merchant of Asphodel
Sealock Monster
2 Sip of Hemlock
This is not a deck that would ever occur to me to build, so I was more interested in it than any of the other builds for that reason. I would describe this deck as "crazy," but it does get to play Prognostic Sphinx, which is a creature bomb (something that I sort of hate) that can protect itself (something that I love). None of the other offerings can do that. It also has the full complement of removal but will be hard pressed to deal with an artifact or enchantment game 1. I'll let him explain a bit:
"The most explosive and powerful builds with this pool all certainly involve the Fabled Heroes, but I don't really like the way those decks look when laid out. Green is no help, blue isn't much better, Black is deep but has few aggressive creatures and makes the mana awkward, and red gives you a deck with about fifteen great spells and a lot of filler—if you draw poorly, that deck is terrible.
However, the black is extremely deep in removal and card advantage, and blue has some excellent finishers. U/B actually has a huge number of cards to choose from, and you end up with a full-featured control deck. You have early defense, including a key pair of Pharika's Cures; you have card advantage from two Read the Bones and a ton of scry; you have finishers at affordable prices; you have one of the biggest bombs in the format; and you have plenty of life gain. You also have creatures that can block to buy you time with Coastline Chimera, Returned Phalanx, Tormented Hero, and Sealock Monster."
Gabe was quite pleased with the sideboard options for this deck (counting among them two Ray of Dissolutions and two Divine Verdict) and the consistency this deck brings to the table with having a great curve and a good game plan at all the stages as well as just having fliers! I remember thinking it quite odd when I was thinking about my deck at the end of the PTQ—my deck had no fliers, and it just didn't matter. Honestly, I had the surreal feeling of not actually playing Magic that day, and I think Fabled Hero had a lot to do with that. But I'm not going to look a gift horse in the mouth here so to speak. Ordinarily though you'd love to have some evasive threats, and you'd worry about a lack of evasive defenses in a Sealed format.
So now with the input of six talented Magicians and the benefit of hindsight, what do I think? I think the correct build for this Sealed pool is one that can take advantage of the free wins that the Fabled Heroes and the Ordeals offer you but also can play a mid-to-late game reasonably well. The bonus of having excellent removal in those colors pushes it over the top for me, and I'd build the deck B/W if I could do it again. I am still trying to figure out how many Yoked Oxen to play though, and I am leaning towards zero.
Mulliganing hurts in this format, and while you'll win a fair number of games with one-drop into Ordeal, you'll lose the ones where they have the answer (Last Breath, Voyage's End, Divine Verdict) when you mulliganed. Like I said, it's important to maximize your cards, but it's also important to build a deck that can carry you through the tournament. In this case, there are a lot of landmines to dodge in said tournament. Why add another? I think building a deck with aggressive mulliganing in mind in Limited is somewhat suicidal and relying on the Ordeals more than you need to is perhaps foolish.
I'm heading to bed to play in Grand Prix Toronto tomorrow, so hopefully my lessons will not go to waste.