Since Pro Tour: Columbus, my favorite Extended deck has been Red Deck Wins. I've always respected Red Deck Wins and its predecessors, Deadguy Red, Pooh Burn, "Sligh," and the rest for their ability to lucksack into wins against even the most prepared opponents… but have never made it a practice during my long yet little decorated career to play the Red Deck myself. When Shuhei Nakamura beat Gadiel Szleifer in a matchup that every other commentator had going the young American's way, then easily dispatched Nick West as he stormed into the finals, I decided that I was going to adopt my friend Dave Price's favorite archetype for the PT Philadelphia GP and PTQ tournaments.
I've won lots of slots to premiere events at the amateur level – I'd almost have had to given the fact that I've been playing seriously for nine years now – and many of the constructed wins have been in formats where beatdown is the underdog going up against more powerful combo decks. In the past, my companions have been Flesh Reaver, Blood Pet, and Skittering Horror… but also Carnophage, Wasteland, Cursed Scroll, and Rishadan Port. While the sacred Swamps have lost some of their luster with the lamentable ban of Dark Ritual – something that most of you probably don't even think about any more, considering that it happened close to half a decade ago – the Red Deck started to feel kind of like the Suicide deck to me. It had Jackal Pup in place of Sarcomancy, and Wasteland and Rishadan Port in place of Duress and Hymn to Tourach. More than that, the deck had a level of flexibility that I never got playing Black "back in the day." With the considerable burn suite, I had a new route to victory that in the past was represented only by late game Cursed Scroll reach.
Now the first task was to template the Japanese Red Deck Wins deck. Here is the deck that Shuhei Nakamura played to the finals of PT Columbus:
4 Blistering Firecat

4 Firebolt

4 Grim Lavamancer

4 Jackal Pup

4 Magma Jet

4 Mogg Fanatic

4 Pillage

4 Seal of Fire



4 Bloodstained Mire

8 Mountain

4 Rishadan Port

4 Wasteland

4 Wooded Foothills
Sideboard

4 Ensnaring Bridge

4 Blood Oath

3 Flametongue Kavu

3 Fledgling Dragon

1 Gamble
I decided that Red Deck Wins would be one of the top Decks to Beat in the upcoming PTQs, if not the Deck to Beat in terms of population. That meant that, if I assumed that the deck had solid matchups across the board, winning the mirror without giving up relevant matchups was the most important task.
The first change I made was a simple one that many players had at the same time:
4 Blistering Firecat

4 Firebolt

4 Grim Lavamancer

4 Jackal Pup

4 Lava Dart

4 Magma Jet

4 Mogg Fanatic

4 Seal of Fire
4 Bloodstained Mire

8 Mountain

4 Rishadan Port

4 Wasteland

4 Wooded Foothills
One of the things that I learned in testing, in the many Red Deck Wins articles that I did prior to the start of the season proper, in both mirror testing and in testing against other Decks to Beat was that Blistering Firecat was the weakest card in the deck (something that [author name="Dan Paskins"]Dan Paskins[/author] later echoed here).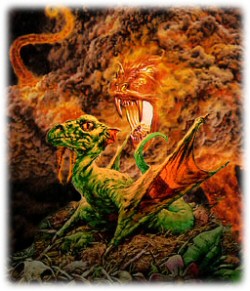 Reading up on forum responses by my friend Pat Sullivan and an old article by Antonino DeRosa gave me a really interesting idea… What if I just replaced the Blistering Firecats main with Fledgling Dragons?
4 Firebolt

4 Fledgling Dragon

4 Grim Lavamancer

4 Jackal Pup

4 Lava Dart

4 Magma Jet

4 Mogg Fanatic

4 Seal of Fire
4 Bloodstained Mire

8 Mountain

4 Rishadan Port

4 Wasteland

4 Wooded Foothills
I played countless games with this deck before even the first North American Grand Prix Trial. I can say without reservation that it is a fundamentally stronger deck on the theoretical level than any other version of I've seen (except see below)… given particular conditions. It doesn't make the deck better against a really tough matchup like Mind's Desire (Blistering Firecat is much better against Mind's Desire, but the Firecat decks don't beat Desire anyway… it's just the difference between losing at a steeper percentage), and it certainly doesn't beat Ben Dempsey's deck. What this version does well is to make every winnable matchup much better.
Specifically, this version is a house in the mirror. I would put game one between 7-3 and 8-2 against Pat Sullivan's Goblin Cadets deck and between 8-2 and 9-1 against Shuhei Nakamura deck. The differences are small, but telling on the numbers. Against Pat's deck, there is a significant liability between Blistering Firecat (essentially useless) and this version's higher burn count. Leading with Lava Dart can mean that you never get hit by Firecat, and going long, Pat's deck has no answer to multiple Fledgling Dragons (especially if he spends early game Volcanic Hammers on Jackal Pups, which RDW mirror players are wont to do). Against the Japanese deck, Pillage v. Lava Dart is extremely relevant. One costs three and one costs one. One is a one-for-one and one is a potential two-for-one. Pillage on a land can make for really murky turns if my deck has a Lava Dart in hand (Dart that, resolve; Flashback Dart on that). Again, Blistering Firecat never hits. Pillage on Cursed Scroll didn't seem very good because the games always went long (neither player does much damage until the midgame), and my deck would just draw another Scroll. Nakamura's deck, with no Volcanic Hammers, has no chance against a deck with multiple Fledgling Dragons main. As long as you play conservatively and the lands flow, you don't lose the mirror against stock versions.
Dragons made other winnable matchups much better as well. Take for example The Rock. You play a Fledgling Dragon, they die. That's about it. Most versions of The Rock have Smother or nothing for game one dedicated creature kill, and Smother doesn't hit Fledgling Dragon. Fledgling Dragon lets you fight Ravenous Baloth without breaking a sweat where Blistering Firecat would be a joke.
Life, Red Deck Wins's worst matchup, becomes 10-20% easier game one if you have the Dragon. The reason is that the Life player often has the first two parts of his combo (say a Daru Spiritualist and a Shaman en-Kor) but no way to actually sacrifice for infinite life. When you have maybe a two-turn window before they topdeck the win, Fledgling Dragon can end the game where Blistering Firecat is contained by an enormous Spiritualist or Task Force. It doesn't make the matchup fun necessarily, but it gives you a fighting chance. After boards, the matchup is actually almost even.
Going into the first Grand Prix Trial, I didn't have the cards for RDW but gave my list to Josh Ravitz. On site, we made the change of Volcanic Hammer over Magma Jet. I was relying on Magma Jet to cover up my small mistakes in testing, but Josh, as has been said by numerous writers, is an extremely tight burn player. He fairly effortlessly won the Grand Prix Trial with this version:
4 Firebolt

4 Fledgling Dragon

4 Grim Lavamancer

4 Jackal Pup

4 Lava Dart

4 Mogg Fanatic

4 Seal of Fire

4 Volcanic Hammer
4 Bloodstained Mire

8 Mountain

4 Rishadan Port

4 Wasteland

4 Wooded Foothills
Sideboard

4 Ensnaring Bridge

4 Electrostatic Bolt

4 Meltdown

3 Sulfuric Vortex
The sideboard probably requires a little explanation. We tested a lot of different cards for the mirror, from Fire / Ice to Flametongue Kavu, but I didn't like any of them. When you play a lot of Red Deck on Red Deck, you come to understand certain things about the mirror, and one of them is that Flametongue Kavu is garbage. The creatures don't stick around very long, and sometimes they're Mogg Fanatic. You want a fast burn card that is better than Jackal Pup, that can take out Jackal Pup against someone who doesn't know what he's doing, is synergistic with Cursed Scroll, AND THAT'S IT. Fire/Ice would be fine, but it costs two. Why pay two mana when you can pay one?
Electrostatic Bolt was the right answer because it also helped to solve the Affinity matchup. I know that a lot of commentators say that game one is in Red Deck Wins's hands, but I found it difficult to beat the Affinity deck consistently Game One. While I called Red Deck Wins correctly, I also incorrectly thought that Affinity would be the other Deck to Beat, and felt it important to really bury that deck in a three game match. Between three Pulverizes and four Electrostatic Bolts, it is extremely difficult to lose to Affinity in sideboarded games (unless, as Dan Paskins says, they play turn 2 Absolute Law)… Unfortunately we didn't have any Pulverizes on hand and Josh had to go with Meltdown instead.
After Josh won the Grand Prix Trial, we tested a lot of mirror and came to the realization that as good as Fledgling Dragon is, he wasn't that hard to kill in the mirror and four was too many. Our A Game was to establish Cursed Scroll dominance across the board, and Fledgling Dragon was sometimes clogging the grip. Josh decided we go with two Magma Jets and two Fledgling Dragons and that made a lot of sense. Magma Jet helped our Reanimator matchup by allowing us to hide Ensnaring Bridge. The Affinity matchup went from highly favorable in three to favorable in even game one. The mirror actually got better, too, because we got more Cursed Scroll velocity and were still digging to the first Fledgling Dragon (which was usually game anyway). Moreover, Magma Jet helped out in mirrors where the opponent could potentially Pillage the first Scroll. Here was our final version:
4 Firebolt

2 Fledgling Dragon

4 Grim Lavamancer

4 Jackal Pup

4 Lava Dart

2 Magma Jet

4 Mogg Fanatic

4 Seal of Fire

4 Volcanic Hammer
4 Bloodstained Mire

8 Mountain

4 Rishadan Port

4 Wasteland

4 Wooded Foothills
Sideboard

4 Ensnaring Bridge

4 Electrostatic Bolt

3 Pulverize

4 Sulfuric Vortex
In Boston, three players ran this deck. I started 5-0 (one bye) before I inexplicably let Aluren combo me out with access to active Cursed Scroll, a Seal of Fire, a Grim Lavamancer, and two Lava Darts in my graveyard. The truth is that Aluren was not at that point on my Decks to Beat list and I wasn't familiar at all with the actual mechanics of the late game; It's a dumb excuse but I simply didn't test it and that cost me Day 2 from an undefeated record. The wheels fell off at that point and I lost to Ben Dempsey and then a very lucky Reanimator player to finish x-3, missing the cut. Josh and Dan Bridy both made Day Two with my version. Dan missed money only because he played against White Weenie with Silver Knight, Worship, Auriok Champion, and Sword of Fire and Ice in the last round. Josh made Top 16. He would have been Top 8 if not for the extremely lucky (albeit admittedly favored) Mr. Dempsey; Josh had to miss with a three card Cursed Scroll three consecutive turns to lose his Top 8 spot to Ben, who had naturally drawn all three of his Engineered Explosives in the first three turns that game. To my recollection, none of us lost to a Red Deck (RDW or Goblins) and Josh took down Shuhei Nakamura himself, showcasing the deck's percentages in the mirror against even the world's best Red Deck players.
On that subject, much has been made of the Goblins matchup… by Goblins players. I tested this matchup with Greg Weiss, Dan Bridy, assorted others, and especially Mike Clair. I can say without a doubt that the matchup isn't bad at all. Game one I think that RDW is favored (but it's close so a Goblins player might say the same), but sideboard games are a blowout. If the Goblins player doesn't have Powder Keg, he can't actually win, and his best card (Goblin Ringleader) is a liability. The secret is that he needs to answer eight artifacts, any one of which can win the game, and in most cases he only has something like three Naturalizes or four Overloads to do so. Clair found the Ringleaders just put Overload on the bottom of his deck in a matchup where he needed to draw more than one to escape Cursed Scroll and Ensnaring Bridge.
It is kind of counter-intuitive, but Red Deck Wins, which probably won game one on the back of Fledgling Dragon, sides -4 Jackal Pup, -2 Fledgling Dragon for +4 Ensnaring Bridge, +2 Electrostatic Bolt. I also side in the last two Electrostatic Bolts for Firebolts, but Josh disagrees because Red Deck Wins's goal is to burn the opponent out while sitting behind Bridge; my theory is that you want to make sure you can stop a Warchief turn every time.
Before the Grand Prix in Eindhoven, I showed my deck to Star City's own Dan Paskins. He adopted it whole cloth over his version, immediately understanding the Dragons and Electrostatic Bolts. However, at the actual Grand Prix, Dan made some changes, being -2 Magma Jet, +2 Goblin Cadets and a slightly different sideboard.
Dan's plan in the Goblin matchup is to stay beatdown with Pups, removing the opponent's blockers with your infinite burn. I can see his point because Dan is an aggressive Red mage to the core (and hates hiding behind Ensnaring Bridge), whereas I would rather play a game that I know my opponent can't win rather than waging a fair fight. Those Gobbos still have their Fanatics and Incinerators, you know.
If you insist on playing Red Deck Wins in the qualifiers, I suggest this version:
4 Firebolt

2 Fledgling Dragon

4 Grim Lavamancer

4 Jackal Pup

4 Lava Dart

2 Magma Jet

4 Mogg Fanatic

4 Seal of Fire

4 Volcanic Hammer
4 Bloodstained Mire

8 Mountain

4 Rishadan Port

4 Wasteland

4 Wooded Foothills
Sideboard

4 Ensnaring Bridge

4 Tangle Wire

4 Electrostatic Bolt

3 Sulfuric Vortex
One of the things you have to understand when templating decks, rather than just copying the exact version of the Decks to Beat from the Internet, is to pay attention to what you can and can't do well. Personally, I hate cards like Pillage and Tangle Wire main because they give the deck an air of versatility that it can't consistently embrace. At the end of the day, these cards don't do any damage.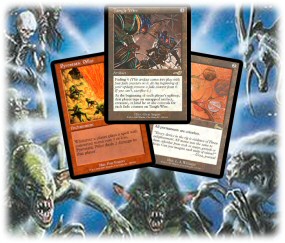 The only difference is that I cut the Pulverizes in the sideboard. They are game against Affinity but I've only played against Affinity once in the last four tournaments, and in the one match I had, I smeared it with Electrostatic Bolt anyway while my Pulverize sat in my hand and my Dragon beat down. I know I just got finished with a paragraph saying how much I dislike Tangle Wire, but I think that at this point it's important to have SOME sort of resistance to a combo deck, even if it's not the matchup you are looking for. These cards can be Pyrostatic Pillars or even Thran Lenses. I like Tangle Wire more than the other options because it doesn't make any specific assumptions (that is, you can side it in effectively against many more random decks). Pyrostatic Pillar can backfire against Sphere of Law where Thran Lens can turn off Sphere of Law… but doesn't do much if there isn't one in play (unless the opponent is Aluren). If you go with Pyrostatic Pillare or Thran Lens, I'd play three and revert the other slots to the previous full compliments but play four Tangle Wirwes if that is the resistance card you choose.
As he perceives the metagame to have shifted away from Red Decks, Dan suggests this main:
3 Firebolt

3 Fledgling Dragon

2 Goblin Cadets

4 Grim Lavamancer

4 Jackal Pup

4 Lava Dart

4 Mogg Fanatic

4 Seal of Fire

4 Volcanic Hammer
4 Bloodstained Mire

8 Mountain

4 Rishadan Port

4 Wasteland

4 Wooded Foothills
May you draw Jackal Pup and Wasteland in your opening grip,
LOVE
MIKE