Hey everyone—it sure has been a while.
Do you ever get burnt out on Magic? I know it sounds crazy, but after my disappointing finish at Worlds in July that capped off a summer of flying somewhere to play an event seemingly every weekend, I just wanted to sit at home for a while. I ended up skipping most of the fall Grand Prix, and the only tournament I played in was Pro Tour Theros. As I watched my place in the Top 25 decay downwards, I started feeling recharged and excited to get back to tournaments.
Unfortunately, I wasn't able to make it to GP Washington DC to play my favorite format. With my work schedule and all of the other upcoming GPs, flying six hours each way just to play Magic for two days was too much. Watching my teammates Sam Black and Owen Turtenwald crush the tournament from home made me want to get out there even more.
Two weekends ago I played Paul Rietzl Mono-Black Devotion list in Albuquerque. I felt great after an 8-1 start on day 1, but unfortunately I lost my first two rounds on day 2 to Mono-Blue Devotion and ended up in fourteenth place at 12-3. I was going to write a report on the deck, but Huey captured my thoughts almost exactly in his article last week.
This past weekend I made the trek to Toronto to try my hand at Theros Limited. It was my first time with it, and while it isn't the best Sealed format, it wasn't as bad as I expected and gave me some ideas to share with you.
First, a quick conceptual aside. You probably consume Magic content at least in part to get better at Magic. I think articles are an inefficient way to get better at playing games. In-game decision making requires you to immerse yourself in the situation and look at it through the eyes of the players. Luckily, Magic videos and streams are a great way to do this. If you want to get better at in game tactics, you should find the time to watch the excellent video content being produced. On the other hand, articles are great for explaining frameworks and thought processes you can use before, between, and after your matches. So for the most part, I'm going to leave in-game decisions to those better mediums and focus on the interesting challenges I faced outside of my matches in Toronto.
The first step to any Limited GP is getting through the Sealed rounds. While I hadn't actually built any Theros Sealed decks before showing up at the site, I did spend some time looking at the coverage from the other Theros Limited GPs. I also received a great email from Paul Rietzl to our team list analyzing the cards most commonly appearing in the undefeated Sealed lists. All but one of them was either blue or black, with the most frequent being Sip of Hemlock. Looking at the decks themselves, even seemingly average U/B decks were going undefeated.
This suggested that the format is ideal for slower control decks focused on card advantage and removal and that all things being equal I should play a deck like this. It also meant that towards the end of the first day I would likely be playing against a lot of other decks that look like this so I should bias my deck build to favor these matchups.
The pool I received was pretty interesting. Looking back at my process, I don't think I did a great job with my build. First, the pool:
Artifacts
Burnished Hart
Bronze Sable
Guardians of Meletis
2 Opaline Unicorn
Blue
Aqueous Form
Benthic Giant
Breaching Hippocamp
Crackling Triton
2 Griptide
Master of Waves
Omenspeaker
Prescient Chimera
Sea God's Revenge
Thassa, God of the Sea
Triton Tactics
Black
Baleful Eidolon
Erebos's Emissary
Felhide Minotaur
Fleshmad Steed
Gray Merchant of Asphodel
Keepsake Gorgon
Loathsome Catoblepas
March of the Returned
Mogis's Marauders
Ordeal of Erebos
Returned Centaur
Returned Phalanx
Scourgemark
Sip of Hemlock
Tormented Hero
Green
Bow of Nylea
Centaur Battlemaster
2 Commune with the Gods
Fade Into Antiquity
Hunt the Hunter
2 Leafcrown Dryad
Nemesis of Mortals
Nessian Courser
Shredding Winds
Satyr Hedonist
3 Staunch-Hearted Warrior
Time to Feed
Voyaging Satyr
Red
Arena Athlete
2 Borderland Minotaur
Dragon Mantle
Fanatic of Mogis
Ill-Tempered Cyclops
Portent of Betrayal
Priest of Iroas
Satyr Rambler
Spearpoint Oread
Titan's Strength
Titan of Eternal Fire
White
Battlewise Valor
Decorated Griffin
Ephara's Warden
Evangel of Heliod
Gods Willing
Heliod, God of the Sun
Lagonna-Band Elder
Last Breath
Phalanx Leader
Ray of Dissolution
Scholar of Athreos
Setessan Battle Priest
Traveling Philosopher
Yoked Ox
Gold
Horizon Chimera
Pharika's Mender
Polis Crusher
There are lots of ways to skin a Sealed pool. Typically, I go through it and first cut the unplayable cards. I did this above to simplify things. I would also pull out the "unlikely to play" stuff like Yoked Ox and Priest of Iroas that require very specific circumstances to run them. I then identify the depth of each color, the great cards in the pool, and the good removal spells.
Great Cards/Good Removal
2 Griptide
Master of Waves
Sea God's Revenge
Thassa, God of the Sea
Triton Tactics
Erebos's Emissary
Gray Merchant of Asphodel
Keepsake Gorgon
Sip of Hemlock
Bow of Nylea
Nemesis of Mortals
Time to Feed
Heliod, God of the Sun
Phalanx Leader
Pharika's Mender
Polis Crusher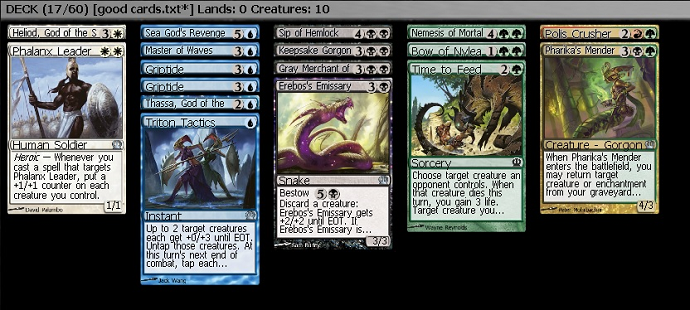 It is pretty obvious that white and red are a cut below the other colors, which is pretty standard for this Sealed format. The colors just don't have enough cards and are generally pretty weak.
I also like to do a quick pass through the pool to look for especially powerful synergies. In Theros this usually means doing a heroic check.
Heroic Cards
Tormented Hero
Centaur Battlemaster
3 Staunch-Hearted Warrior
Arena Athlete
Phalanx Leader
Aqueous Form
Triton Tactics
Baleful Eidolon
Ordeal of Erebos
Scourgemark
Hunt the Hunter
2 Leafcrown Dryad
Time to Feed
Dragon Mantle
Titan's Strength
Battlewise Valor
Gods Willing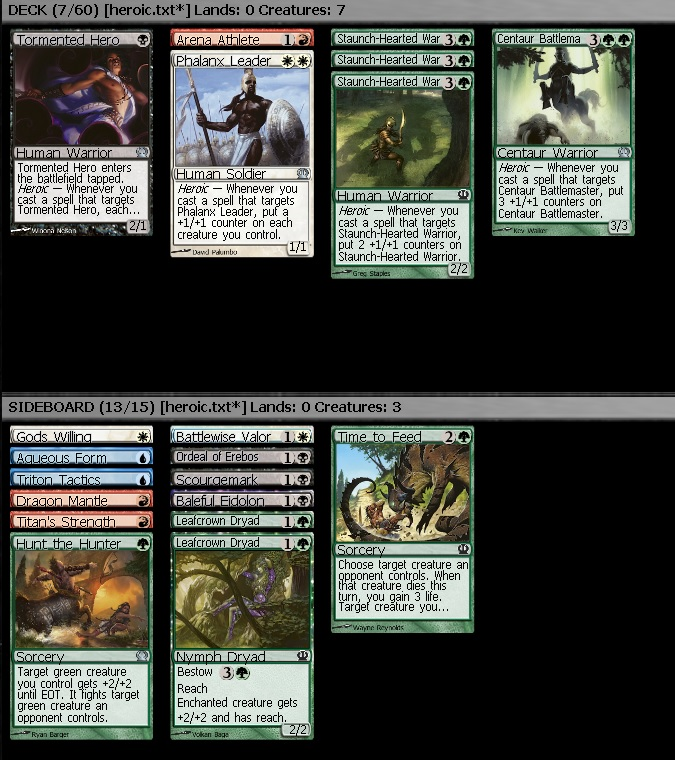 We certainly don't have a white-based aggressive heroic deck, but the presence of the four green heroic creatures means we should at least consider including a heroic subtheme in a green aggressive or midrange shell.
We have one other synergy worth noting based around our graveyard: two Commune with the Gods, Nemesis of Mortals, and Pharika's Mender. We also have Bow of Nylea that we can dig for with our Communes, so this could be a good option to explore in green.
Finally, the last "setup" step to get a good picture of what is possible is to check out our mana fixing. Especially in a pool with good single-color spells (two Griptides, Sea God's Revenge) and gold cards (Pharika's Mender, Polis Crusher), it is good to know if splashing is something you need to look at or if you can just focus on two-color decks.
Mana Fixing
Burnished Hart
2 Opaline Unicorn
We have some fixing, and it can go into every deck but requires us to play some number of Unicorns, which are fundamentally unexciting Magic cards. There will be a cost to our card quality in doing so that may offset the power we gain from the splashed cards. We'll keep this in mind as we start looking at builds.
So to recap, what do we know? We have good cards spread out through green, blue, and black. We have artifact mana fixing, but it isn't high quality. We have a number of good splashable cards. The format seems to favor U/B Control decks.
It took me about five minutes in real time to process this information and get ready to start trying builds. I decided to start with the format natural, U/B.
Baleful Eidolon
Omenspeaker
Returned Phalanx
Felhide Minotaur
Mogis's Marauder
Erebos's Emissary
Master of Waves
Gray Merchant of Asphodel
Keepsake Gorgon
Prescient Chimera
Triton Tactics
Thassa, God of the Sea
2 Griptide
Sea God's Revenge
Sip of Hemlock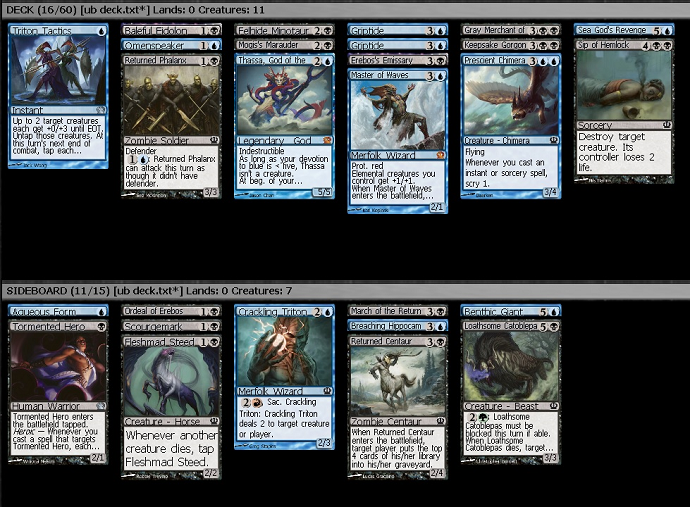 That gives us sixteen cards with some filler available in each color to get us to 22 or 23. Our curve isn't especially high, and we don't have powerful late drops to accelerate to, so I don't really want to play Unicorns or the Burnished Hart here. I'm also not excited about splashing Pharika's Mender or Horizon Chimera in this deck. Finally, our two blue "bombs" (Thassa and Master) are pretty underwhelming. We have very few blue permanents, and the blue filler cards don't advance our game plan. Thassa as an enchantment isn't something this deck wants since making our guys unblockable isn't great. I decided U/B was a dead end.
I tried U/G next.
2 Leafcrown Dryad
Omenspeaker
Voyaging Satyr
Nessian Courser
Master of Waves
Horizon Chimera
Prescient Chimera
Nemesis of Mortals
Triton Tactics
Bow of Nylea
Time to Feed
Thassa, God of the Sea
Fade Into Antiquity
2 Griptide
Sea God's Revenge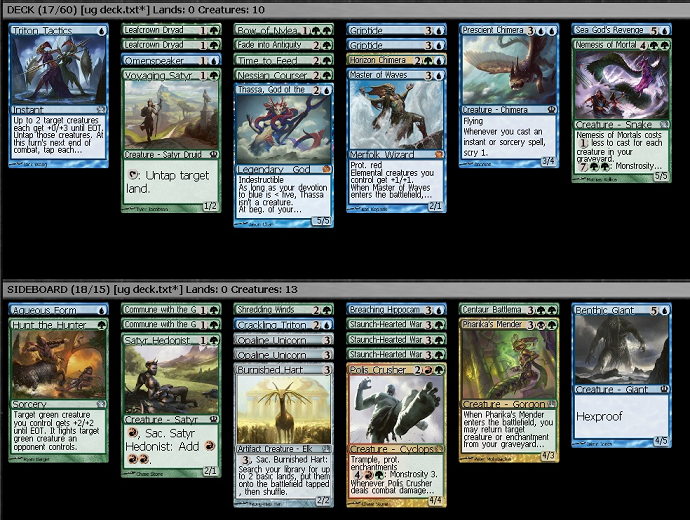 This gives us a seventeen-card starting point and a lot of options to fill out the deck. I first tried pushing the heroic mechanic.
3 Staunch-Hearted Warrior
Centaur Battlemaster
Aqueous Form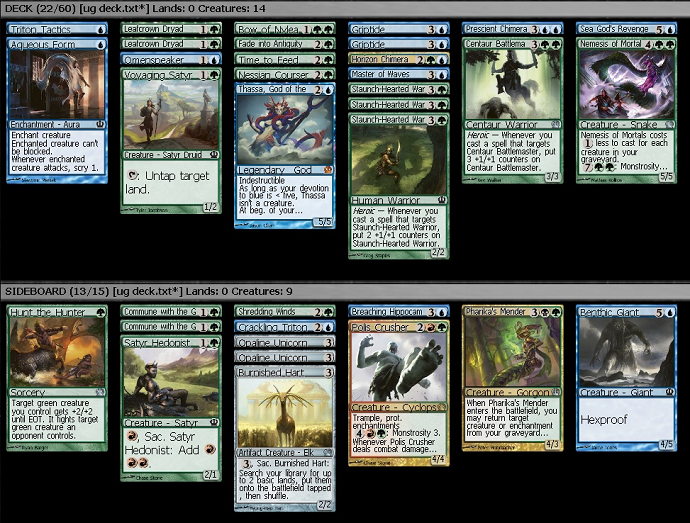 This deck has five good ways to trigger heroic, which I didn't think was quite enough to justify playing so many copies of a 2/2 for four. However, against other green decks, we get to add Hunt the Hunter, which is awesome with Staunch-Hearted Warrior. I also like how Thassa's unblockable ability really shines with our Voltron plan as a way to punch through a big heroic guy. I filed this build away as a good option in green mirrors.
Next I decided to push the blue devotion theme.
Aqueous Form
Crackling Triton
Breaching Hippocamp
Benthic Giant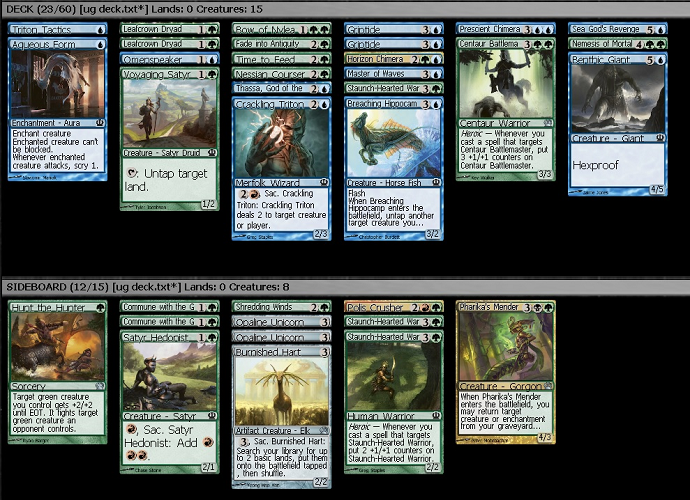 This gives us ten blue mana symbols, which isn't ideal for Thassa but isn't bad. I also kind of like Benthic Giant in this deck since we have Aqueous Form and Thassa to get him through and several bestow creatures to make him scary.
Since I wanted to play Aqueous Form here anyway, I filled out the deck with one Staunch-Hearted Warrior and the Centaur Battlemaster. I liked the look of the deck because it played many of my most powerful cards and had a clear game plan that I understood.
Before moving away from U/G, I took a quick look at how splashing would work with both of these builds. I could either splash red for Polis Crusher or black for Mender. In both cases I decided the cost was too high. Playing three colors is never free, and it would require me to play two creatures (either two Unicorns or one Unicorn and one Hart) that didn't otherwise really fit into my deck. I don't have a lot of mana sinks in this deck, so flooding would be a problem. While Crusher in particular is a great creature that I would love to play, playing two mediocre three-drops and an off-color land was too high a price and would weaken both of these builds.
Next up was B/G.
Baleful Eidolon
2 Leafcrown Dryad
Voyaging Satyr
Nessian Courser
Erebos's Emissary
Keepsake Gorgon
Gray Merchant of Asphodel
Pharika's Mender
Nemesis of Mortals
Ordeal of Erebos
Bow of Nylea
Fade Into Antiquity
Time to Feed
Sip of Hemlock
Here we have a fifteen-card shell. I include Ordeal as part of the shell since I think you have to play it with so many two-drops. It is also good to flag that this baseline doesn't have a lot of black mana symbols, meaning this not the world's most exciting Gray Merchant.
We can go in a number of directions here, choosing to emphasize aggression, heroic creatures or splashing. If we were to go more heroic, we would probably add:
Tormented Hero
Mogis's Marauder
3 Staunch-Hearted Warrior
Centaur Battlemaster
Scourgemark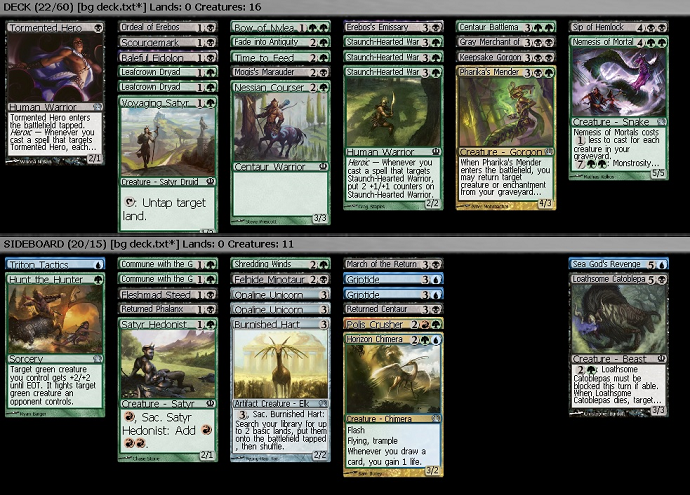 This is one of the best heroic decks we can build because we get access to the black enablers. My concern with playing the three Warriors is that most of our best cards cost five and six mana so on turn 5 we'd have to choose between putting an enchantment on our Warrior and casting our great cards. Warrior is pretty terrible if we can't pump him quickly, and we are setting ourselves up to fail at that. I thought this deck was fine, but I wasn't blown away by it.
Next I looked at splashing blue in our shell. Unlike the splash of just Polis Crusher before where we had to play several suboptimal cards to justify it, here we get to add multiple great spells to our deck.
Returned Phalanx
Burnished Hart
Opaline Unicorn
Felhide Minotaur
2 Griptide
Sea God's Revenge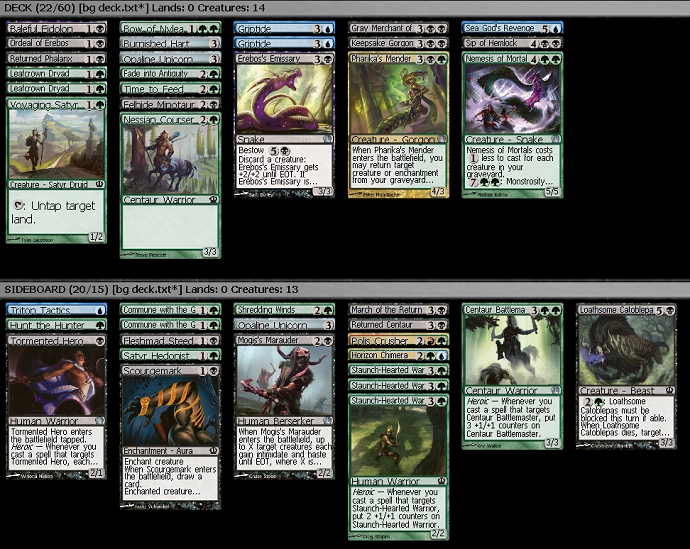 Since we are destabilizing our mana base, we are playing for a longer game. I added Returned Phalanx and Felhide Minotaur to support this plan. The last few cards are a tossup—I could see playing some number of Staunch-Hearted Warriors, a Commune with the Gods or two, and potentially cutting the Ordeal of Erebos. I liked how these decks looked, but I really wasn't sure how to build it correctly or if the deck was going to be too clunky.
At this point I was down to my last few minutes and had no idea how to decide between the various flavors of B/G decks and the U/G deck I'd laid out. In the end, I decided to go with the U/G deck since I was more confident that I'd built it correctly and it let me play what I thought were my three best cards in Master of Waves, Thassa, and Bow of Nylea.
In retrospect, I think this was a mistake. I correctly identified that playing Polis Crusher was a mistake since I had to play too many suboptimal cards to support it, but I didn't apply that same logic to my blue devotion creatures. The blue creatures are pretty mediocre, and I am not getting enough of a return from Thassa and Master of Waves to justify playing them. The real draws to blue are the spells, but they are all easily splashable in a more powerful B/G shell.
I think there are a few lessons to draw from this. First, don't get distracted by the shiny things. Sure, Master of Waves and Thassa are mythic rares and powerful cards, but you are still building a deck. Don't overemphasize playing your mythics when you can get a more consistently powerful deck somewhere else. I sacrificed too much to play them. Second, you need to have a good benchmark for each archetype so you can recognize if your deck is good or not. I hadn't seen a lot of U/G or B/G Sealed builds that were successful, so I didn't know if my versions of those archetypes would be well positioned. I had to flip a coin about which deck was better.
There is also a positive takeaway. I decided to register the U/G deck because I thought it was a safer choice—I didn't know how to properly build the B/G deck, and I didn't want to stick myself with a bad deck. As soon as registration finished, I had other players take a look at the two builds and help me identify which was better and how to build it. Ideally you will always know the correct build, but when you don't I like taking a conservative approach.
Just because I'd registered my deck didn't mean my work was over. I used my byes to think through what kinds of decks I might face and how I would want to sideboard against them. My pool had a lot of flexibility to it, and I didn't want to have to come up with a plan from scratch during my first three-minute sideboarding period. You can do a lot of planning when you have time to lay things out and look at your options.
For me, this meant working out how I best wanted to take advantage of Hunt the Hunted against green decks. The card pairs so well with Staunch-Hearted Warrior that I knew I wanted to bias my deck towards my heroic theme as long as my opponent wasn't specifically U/G. I don't like moving in on the slower heroic guys against a deck with a bunch of bounce spells. I came up with both a two-color B/G list and a three-color list splashing some blue cards that I could audible between in these matchups.
I ended up sleeving up about 75 cards so I could quickly adjust my deck during my rounds. I was finally ready for the actual playing to begin.
As I said in my introduction, I don't want to focus on specific game situations, but I'll mention a few highlights that stand out. My MVP for the day was Hunt the Hunted. Almost all of my opponents were green, so my Staunch-Hearted Warriors spent a lot of time hunting. I was able to take down a Polukranos, a Nemesis of the Mortals, and a 6/6 Centaur Battlemaster throughout the day.
My most memorable play was one I didn't get to make. My opponent had out a tapped 8/8 Centaur Battlemaster enchanted with a Nimbus Naiad that was going to kill me next turn. I had a Bow of Nylea, an Omenspeaker, and a Nessian Courser. I drew Time to Feed and got very excited. I could attack with my guys, giving them deathtouch, and then have my Omenspeaker fight his Battlemaster to trade. My Bow would then pick off his Naiad, and I would be way ahead. Thankfully, before I took this line I reread my Bow and noticed it says "attacking creatures have deathtouch." This meant my Omenspeaker would lose the ability as soon as combat ended and it stopped attacking so it would not trade with the Battlemaster. It was unfortunate wording for me since instead of getting to make a sweet play I died to his huge flier.
I started out an inauspicious 1-2 and had my back against the wall starting in round 7. Luckily, I was able to scrape together three straight wins from there to limp into the second day at 7-2 in 89th place.
But that is a story for next time.