Twenty years.
That's a long time. Twenty years ago, Jurassic Park and The Nightmare Before Christmas were on top at the box office. "It Was a Good Day" by Ice Cube and "Loser" by Beck were brand new on the radio. Bill Clinton became president. And, of course, twenty years ago, in 1993, Magic: The Gathering's Alpha set premiered at the Origins Game Fair in Columbus, Ohio.
Oh, and by the way, the current Magic World Champion, Shahar Shenhar, wasn't born yet when 1993 started.
Time flies.
One of Shahar's major victories was his Grand Prix Salt Lake City win in 2012. Another notable factoid about #GPSLC is that StarCityGames.com premiered the Gold Rush there, a promotion so popular it helped shatter attendance records in Charlotte and New Jersey recently. This is StarCityGames' first return to The Crossroads of the West since the Grand Prix, and we're excited to come back!
Our location in the Basic Mountain State (shout out to Patrick Sullivan) will be the Salt Palace Convention Center: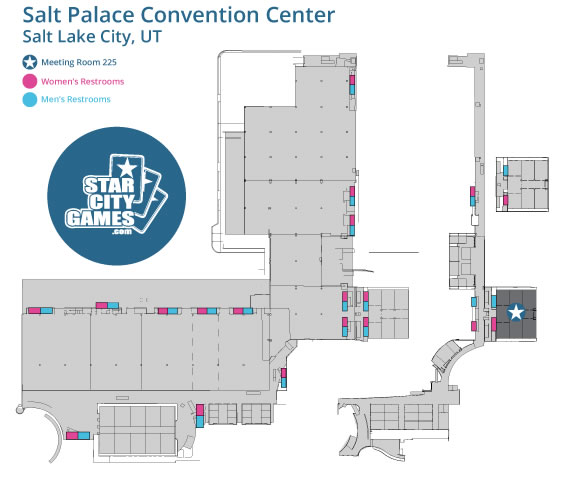 The venue is enormous, so it's possible you'll want to print off a copy of this map to avoid getting lost!
Oh, and there are a bajillion food and drink options nearby in a wide array of styles, from early morning coffee to afternoon snack to late night dinner. You're covered.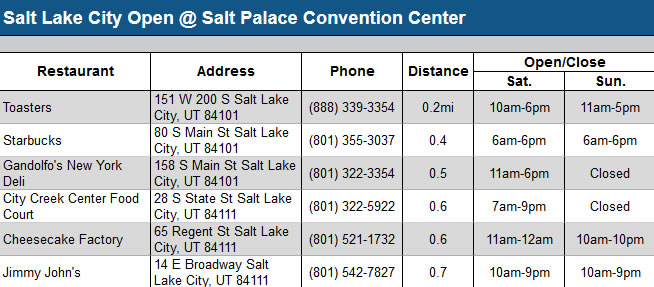 Utah's capital city is regarded as one of the most naturally beautiful places in the United States, but we're bringing a little of our own artistic beauty to the area in the form of a talented artist and alterists!
When he's not wasting time with fruitless endeavors like life, liberty, and the pursuit of caffeine, Magic artist Steve Argyle is available for illustration work, 3D CGI, concept design, real-time models, or whatever. You can find Steve on the web here and see his work on such notable cards as Deathrite Shaman, Killing Wave, Somberwald Sage, Bonds of Faith, Liliana of the Veil, Glistener Elf, Everflowing Chalice, Hive Mind, Child of Alara, and Ponder (textless promo).
Alterist Eric Claar brings his unique style of alters to the StarCityGames.com Open Series in Salt Lake City this weekend! Known for his minimalist "blueprint" style as well as full art pieces, you can check out his work on Facebook and deviantART.
Combining the two things she loves most, art and Magic, Cardcandy's Jenn Tende aims to bring players beautiful altered cards that they can use in sanctioned events. Whether it's for Legacy, EDH, or just your personal collection, Cardcandy's seamless enhancement and extended art cards are fit for any format. To view examples of her work, go here.
For those of you unable to make the trip to the Beehive State, be sure to tune in to SCGLive and watch Next Level Deckbuilding author and Magic Hall of Famer Patrick Chapin alongside 2011 Magic Rookie of the Year Matthias Hunt commentating all of the action from Salt Lake. Follow along on Twitter with @SCGLive and use the hashtag #SCGSLC to join in on the discussion. Players in attendance and out in the multiverse can also follow @SCGPairings for up-to-the-round pairings and standings from the Open.
Meanwhile, in the Empire State (of mind) . . .
The StarCityGames.com Classic Series is taking a trip to Albany, New York! The venue for the Classic is the (fittingly named) Empire State Plaza Convention Center: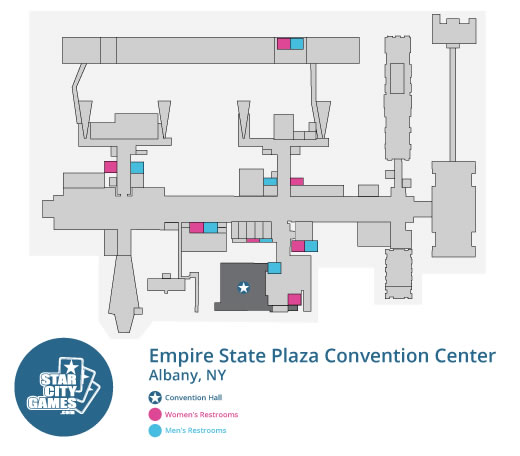 Once more we are blessed with a Bountiful Harvest of food and beverage nearby. Many of the businesses near the convention center close early on Sunday, though, so you may have to extend your reach a bit to find late night bites.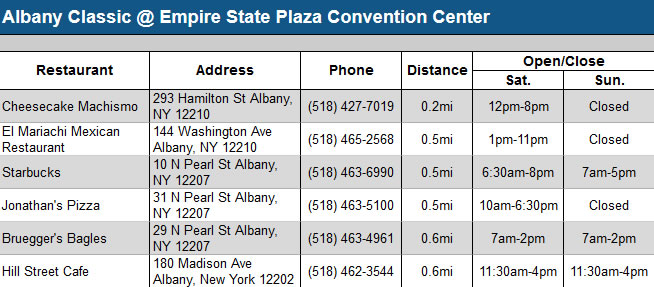 In Albany we also have a wonderful pair of alterists joining us!
Jaclyn Foglia will be painting and selling her custom card alterations at this event! She specializes in border extensions and enjoys doing season alters, especially winter. Check out her Facebook page.
A recent Fine Arts graduate from William Paterson University, Jen Romanek enjoys all genres of art but is a painter at heart. Magic: The Gathering cards piqued her interest, especially the challenge of creating different worlds on a single playing card. For the past three years, Jen has been creating custom pieces, and now she brings her talent to the StarCityGames.com Open Series. For examples of her work and to contact her for commissions, visit her website.
No live coverage for the Classic as per usual, but you can follow the action on Twitter by using the hashtag #SCGNY and get pairings and standings using @SCGPairings.
Good luck, have fun, and reach the mountaintop!
Video and Coverage Content Associate and Social Media Busy Bee for StarCityGames.com