Welcome to the second part of my Dissension review, this time with the ol' Rakdos Guild together with the Black cards. I will be using the same rating as before: 1 being godawful, and 5 being the stone nuts.
Constructed: 1
Limited: 1
Best Use: None.
As soon as you empty your hand, this card will deal double the damage to you, which means that your opponent had better not have a lot of creatures in play or you will die very quickly. To be honest, it also means that the card is not very good. It has a huge casting cost and bad synergy, and making your burn cards better when you don't have cards in your hand means this card is unplayable in all formats.
Constructed: 4
Limited: 4
Best Use: RB aggro beats.
The first deck I built on the Beta server was a Rakdos beatdown deck, and this guy was by far the best card in the games I played. A huge threat that helps empty your hand to get to hellbent means this card is a perfect fit for the deck, and probably the MVP in many games. In Limited you simply pitch a couple of excess land to get a huge flyer that will finish the game very quickly. A great card, well worth its disadvantage. It does die fairly easy, but we can't win 'em all… Beware the bounce spells, too.
Constructed: 2
Limited: 2
Best Use: Finisher… better hope you are on a high enough life total.
By now, everyone knows that this is an Earthquake without the good part. It's a finisher, and nothing more. It's not the best, and it is dirt poor compared to Red versions, but beggars can't be choosers. Sometimes this is the card you are looking for in your mono Black aggro deck. I don't see this ever making the cut in the current block full of multicolors, but maybe in the future. In Limited it can be a fine card in a fast aggro deck that needs something to deal those last couple of points, but those decks are not very good in the current format, nor are they popular. The odds of you wanting to play this card main are therefore very low.
Constructed: 2
Limited: 1
Best Use: Poor man's Distress.
When you are playing this card, you will want to hit with it, so the draw a card clause means close to nothing. Even if you then hit, you will then not be able to gain real card advantage… and you'll have just have played a worse card than Distress, where you at least have an option based on their hand instead of nothing. At least Cabal Therapy gave you the option of hitting doubles, but this card doesn't even do that. This is a better top-deck than that card in the late game… but that's about all. In Limited you will never know what is in your opponent's hand, as it'll be filled with one-ofs, so I don't see this ever being played except for the cycle effect.
Constructed: 3
Limited: 4
Best Use: Aggro RB, versus creature kill.
If you draw this early in Limited, it will be very easy to set up the effect to be completely one-sided. Just don't trade in the early game, and then put your Stinkweed Imp in front of their four-drop. This card will be a huge beating every time, and the body is pretty good, as double strike is one of the best creature abilities. In Constructed it is but a sideboard card, but a great way to recover from a Wrath of God or any other removal your opponent might play to kill your guys.
Constructed: 3
Limited: 3
Best Use: Hellbent decks.
A little overhyped as the best discard spell since Cabal Therapy. I feel like this card is okay, but will, more often than not, disappoint heavily. Best in a speed deck where you empty your hand before casting, it will often gain you some card-advantage at a reasonable cost. There's a better discard spell in this set, though, which I feel would have to be played before this even makes the cut. It is also behind Avatar of Discord as a Hellbent enabler, meaning it is second-rate at both of the things it does.
In Limited, the effect can often be a lot like Probe, where you play it when you have a better board position and just win after that. It is a worse topdeck, and therefore not a very early pick; 8th and later, I would say.
Constructed: 1
Limited: 3
Best Use: Limited Hellbent.
Even if you have a dedicated hellbent deck, four mana is a lot for what you get, which is a worse card than Moroii. That card doesn't see play, and neither will this, as it's not even a Moroii most of the time.
In Limited a 2/2 flyer for four is already fine, and the hellbent is just gravy. This may be the premier card, fist pick quality… if you are looking to draft hellbent, but below par if you are after a different RBx strategy. Always solid, though.
Constructed: 2
Limited: 3
Best Use: Hellbent decks again.
This card is best in a hellbent deck, but it is also a little expensive to fit in such a build. You want to empty your hand as soon as possible, and playing a bunch of these guys will mean your other cards will not benefit soon enough from the hellbent mechanic. In Limited this is huge, even on turn 7, so just hold it until you get down to the last card in your hand… and then you should have a formidable monster. Don't play it with card-drawing though, or play it with two cards left in your hand. Also, beware the draw phase.
Constructed: 3
Limited: 2
Best Use: Black speed.
In Limited it is not worth a spell to play this guy, so you need to discard some excess land. Early in the game you will need your land, so the card contradicts itself. Add to that the fact that he is not too exciting – he will trade with a lot of three-drops – and you have a guy that is not worth the effort most of the time. In Constructed, this guy can easily become the core of a fast weenie deck that doesn't need the cards, or wants to get rid of them. It is still not very exciting though, and a lot worse than Watchwolf.
Constructed: 1
Limited: 2
Best Use: For beating the all-multicolour deck.
In Constructed, 4/2 for five is simply weak, even if a card does have insane abilities. This guy trades with every two-drop imaginable, making him completely unplayable. In Limited you'll be happy if you play against Golgari Rotwurms and Streetbreaker Wurms… but other than that, this will be a mediocre guy that trades with a Transluminant or a couple of tokens.
A 2/2 for four has to have one great ability to see play, and this does not. There are a lot better Eidolons around, and they won't get played either. It's a body in Limited, and sometimes that is what you need. When you get it back it's fine I guess, but never exciting. Once again, there are a couple of Eidolons with far greater abilities.
Constructed: 1
Limited: 2
Best Use: Decks that have a huge amount of multicolors.
Constructed: 3
Limited: 3
Best Use: Hell. Bent.
I don't know what to say, other then this is a great creature for a hellbent deck, and is an auto-inclusion if that deck ever becomes reality. It's an efficient creature in Limited that I would always pick high and play, if I could pay the BR on turn 2.
Constructed: 3
Limited: 3
Best Use: Rat discard decks.
A decent guy that will often sneak in a couple of points no matter what, especially if you clear away the excess lands he has with a Ravenous Rats here or there. Other than that, it isn't very exciting, and it is definitely not worth building a deck around it… but if there is a discard deck, this will be a fine addition. In Limited this will mostly take a land, but still, it is a fine creature. The haste is pretty good, and it is card advantage in a format where card advantage is key, albeit a little unexciting.
Constructed: 4
Limited: 2
Best Use: Vintage.
This card has already received a lot of press, so I'll try and keep it short. Great in any Classic deck with Rituals, Lion's Eye Diamond, or any combo. A card clearly made for that format, and it will often be subpar in any other format as it requires a lot of work everywhere else to get it running. In Limited, you will often not be able to play this card in time or be able to get a double, so this will never be a great card in your deck.
Constructed: 2
Limited: 3
Best Use: Removal heavy decks.
This card has surprised me, in that it is a lot better then I thought it was. In Limited often they will only be able to chump it, which is worth a couple of cards most of the time since you are trying to get to hellbent anyway. With a lot of removal as backup this will often be even better, as it is hard to kill. Make sure you board him out against the Red mage though, as getting this burned will lose you the game. This is not an auto-play on turn 3! That is why it is a lot worse in constructed, because Chars are everywhere, and that is a card you definitely do not want to see. There are also a lot of options in the three slot, and all of them seem to be better than this guy.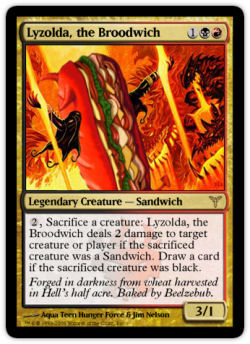 Constructed: 2
Limited: 4
Best Use: A deck chock-full of RB multicolour guys.
This girl is my pick for one of the most overhyped cards in the set. For three mana you get a very vulnerable creature with an ability that is only good if you have mana up and a bunch of Red and Black dudes. That is a lot of things that need to happen, and I doubt it will happen often enough in Constructed. Even then, cantrip shocks aren't very exciting, and most of the time you would rather have the sacrificed creature in play.
In Limited this card is only as good as the number of Red and/or Black guys in your deck… but it's not horrible on its own. Removal is good, and that is why she is as well, but she is not as exciting as she looks. She is very hard to splash while reaching her full potential.
Constructed: 2
Limited: 3
Best Use: Late game Limited "Bomb".
While this card is not card-advantage per se, it is a very potent late game card, trading it and a land for two business spells. Acting like a mini Compulsive Research, this card can swing games by itself. It is very bad early game, and you don't want a lot of cards like this in your deck, meaning you can probably pick some up fairly late.
In Constructed, the best role I see for this card is a sideboard option against decks with lots of removal or Wrath, giving you some late-game oomph. There seem to be better options now, with bombs like Death's Denied, but it is definitely possible in Block or the future.
Constructed: 1
Limited: 2
Best Use: Finisher in your Limited beat deck.
In Constructed this is just a joke, and I am not even going to discuss it. For Limited sometimes you need to be able to do those last six points, and then this card is very good. It can also shut down a tapper, or kill a Guildmage in a pinch, but as it is not good at developing the board, it will not be a card I will play most of the time. It is great versus decks with a lot of Drift of Phantasms and Junktrollers, as it basically shuts those down.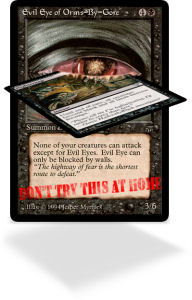 Constructed: 1
Limited: 1
Best Use: If you throw it at the right angle, you could put someone's eye out!
What this card is missing is "Draw a Card," an ability that would make this fairly playable. As it is now, it acts like a bad version of Overmaster, or a trick involving "protection from color" creatures. Not worth the card in any format, as there are better options.
Constructed: 1
Limited: 1
Best Use: It's a rare, so maybe you can sell it to some kid for a quarter.
At that cost, you better get some amazing stuff in your enchantment, and this is not amazing stuff. Greed never saw much play, and this card is definitely worse than Greed. And that is only if you have the hellbent ability active. Three mana to activate it, one to draw a card, and two life? It all seems very expensive for very limited effects.
Constructed: 1
Limited: 1
Best Use: Terry Soh Proxy.
If you want discard, there are better options everywhere. If you want to deal damage, well, you're dealing damage another way. Just not worth the card. It would be okay if it was a 3/1 creature or something, but now? No.
Constructed: 1
Limited: 3
Best Use: Ya man! It be da Ragamuffyn! (Hellbent.)
So you did all this work emptying your hand, and then, finally, you did it just to… start drawing more cards. That doesn't make sense to me. Just compare this guy to Dark Confidant or Ninja of Deep Hours, if you want good card drawing in a guy. I don't even think this card would be that exciting if you didn't have to sacrifice something.
In Limited this is another good late-game card, and it will not be worthless in the early game, because it is still a Grey Ogre.
Constructed: 3
Limited: 1
Best Use: Sideboard MVP.
Fetters and Hierarchs are everywhere, as are Firemane angels and Helixes. This card destroys decks that run those cards, and is an absolute MVP in the sideboard of a speedy RB deck. Other than that it doesn't do anything, meaning I won't go over a three, and it's unplayable in Limited even if your opponent has one or two lifegain spells.
Constructed: 4
Limited: 4
Best Use: Hellbent again!
Terry Soh submitted one of the most absurdly good cards I had ever seen, and of course Wizards had to neuter it. What they left us with is still a fine creature, that will be a huge threat against combo and control decks a like. They removed the clause that you had to have a card in your own hand, making it even better if you have reached hellbent, as it will be Duress on a stick. Up until that point it will help you get there, and it already has a great body to battle with. In Limited it is great early game, as it is a very good creature, and it will help you play around tricks. It's not a bomb like it is in Constructed, since it is very hard to cast.
Constructed: 3
Limited: 5
Best Use: Absolute Limited bomb.
An absolute first pick if you can use the first ability, as he will kill any utility creature as well as dominate combat as long as he is out. The second ability is gravy, and not even needed.
In Constructed, the abilities are a lot less relevant, and the card has a lot more competition… but it is still a bear with an ability, so it is always fine.
Constructed: 1
Limited: 4
Best Use: Draft it, play it, throw it away.
Seen a lot of Prodigal Sorcerers in Constructed lately? Yeah, me neither. Seen a lot of Tim-like creatures dominate Limited games? Yeah, me too. Fangtail, Gelectrode, and Hypervolt Grasp are all very early picks, and so is this.
Constructed: 2
Limited: 4
Best Use: Big flying finisher.
Now that is one risky proposition, guv'ner. In Constructed, I feel you are better off playing stuff like Kokusho, as a bounce spell will ruin your day and lose you the game, not to mention an instant removal spell. Remember Greater Harvester? Well, this guy's a lot like that… except a little more risky and a little harder hitting. In Limited, you can manage the risk a lot better, and at the very least we will be an unbeatable blocker with flying. All you need to do is figure out how to cast him, and when you are going to attack with him.
Constructed: 2
Limited: 3
Best Use: Guess… yup, the rat deck.
Compared to the viable six-drops, this card is far worse. All it really has going for it is flavor, and despite it being great fun getting an Ink-Eyes, this will never be viable in Constructed. Pretty decent in Limited even if you don't have any rats – as a 4/4 fear guy should be enough for any deck – but he gets better and better the more rats you have.
Constructed: 2
Limited: 2
Best Use: Aggro decks that need versatility.
Cards like this have always been around, and were never played much. Sure, it can be used on offence and as a kill spell, but on offence it means you set yourself up to be two-for-oned, and as a kill spell it can't find enough worthwhile targets to warrant a card. This means that it is too limited for Constructed use. I would board it in Limited if my opponent had a bunch of tims or tappers, but I hardly see myself playing this very often.
Constructed: 3
Limited: 4
Best Use: Decks that can't use Mortify or Putrefy.
One of the best removal spells in the set, so obviously a high pick in draft. Removal = good. In Constructed this gives you options, and adds to the creature kill arsenal that Black already has. Dark Banishing has always been in sideboards, and this will have a similar role. This also has the advantage that it works very well with hellbent: not being used, but still being out of your hand.
Constructed: 1
Limited: 3
Best Use: Hellbent for Limited.
A 3/3 for five with no ability once it is in play, and a mediocre one when it finally does trigger, will never see Constructed play. In Limited, it is a fine body, without any disadvantage whatsoever, and based on that alone it will deserve a spot in your deck. When you finally get its ability to do something it will probably not die easily, but hey, that's all just gravy anyway.
Constructed: 1
Limited: 2
Best Use: Not completely useless, but very close.
It's hard to say something about this card, as it is just very bad. A Frozen Shade that will do nothing until turn 62382 when you finally empty your hand, or that can start blocking around turn 4, when you finally have enough mana to pump him efficiently. Might as well just play Frozen Shade, if you ask me. In Limited its not a complete dud, because it does something at least and it's not very expensive, but this card will never be good (or even halfway decent). Maybe I should just give it a 1 anyway.
Constructed: 2
Limited: 5
Best Use: Blowing people out in draft.
Remember Shower of Coals? Well, while it is not quite that, it is very close to the real deal. A bomb in Limited, but in Constructed you will almost never find targets to use it optimally. Like a lot of hellbent cards in the set, you should judge the card on what it does normally, and the rest should be gravy… and on both accounts this card is very good indeed. If you ever cast this while hellbent and lose the game, something is terribly wrong with your draft deck. In Constructed, stick to Wrath or Putrefy.
Constructed: 2
Limited: 3
Best Use: Limited, again.
Assassins are usually very good in Limited, but this one probably only kills 2/2's by itself. It gets a lot better in Graft decks, where you can make it bigger and crush just about everything. It is a first pick there, but in other decks you need a lot of mana to make it work, and I don't like that very much. In Constructed, this only kills little guys, and maybe that is something you want out of the board. Still, it costs a lot of mana, but it's not completely impossible.
Constructed: 1
Limited: 2
Best Use: Birds Proxy.
I am not going to talk about this card for Constructed, except for two words. Spectral Searchlight. In Limited, this card is about as bad as in Constructed, but sometimes you do need that fixer, and then this is a passable last resort. I played it myself the other day, tapped it for mana twice and then chump-blocked. It is not really a card worth considering, but sometimes you have to lie with the beasts.
Constructed: 3
Limited: 2
Best Use: Sideboard versus Control, in a Control deck.
This card is insane in control matchups where games go long and counterspells are not involved: basically the BW mirror, and that is where it belongs. Maindeck, this will be dead versus too many decks, and it is also fairly slow, but in Block it can fill a hole left by Persecute. In Limited this will always be too late, and therefore should never be played unless you know both decks are insane wall-type control decks. Leave it in the board. Also compare it to the Black Myojin, which was a little better…
Constructed: 4
Limited: 4
Best Use: BR Land destruction or control.
Versatile, and great removal. An auto-pick in Limited. For Constructed this is a bit expensive, but being an instant and killing lands as well make this a potent card in BR control type decks, or of course, as the extra Stone Rains in a land destruction deck. The Putrefy clone of this set, which means that only UB doesn't have it's own premier kill spell. Poor Blue always gets the shaft. [I believe the term here is "lol." — Craig]
…
That's it for this guild, and it seems like despite getting some good cards, that it's main mechanic — hellbent – only barely has enough viable cards to be a side-theme in a beatdown deck. The cards are too Limited in scope and function. Most of the enablers are great, but the cards themselves are simply not good enough.
More tomorrow.
Jeroen.