Here we are a few days from a Block Pro Tour that I won't be attending. My knowledge of the format feels a lot like it did before Kobe, which may explain how I finished in Kobe. In fact, I'm rather certain that it does explain it. Once again I've had less time than I would have liked to devote to the topic, and this time I did it all without a team. I have several qualified players to thank for sharing some of their ideas and insights with me, and I hope that I offered them help that made it worthwhile. As of the submission of this article, I am "going dark" and will no longer be sharing the information I learn. I have had a request from a good friend to see if I can help out, and I cannot honorably refuse such a worthy cause. I'm all about the honor.
Today's primary focus is the last deck I worked on before I called it a day: Five-color Green control, with White as the secondary color. The goal as I've said before is to get the most of the good cards in the format that you can and sling the big spells to the best of your ability. This is at the very least a noble attempt to achieve that objective. The basic building blocks are clear. Kodama's Reach and Sakura-Tribe Elder form the core of the mana, and with Tendo Ice Bridge backing them up you start with thirteen sources of every color you can spare a basic land for. The mana won't be perfect, but it will get the job done with minimal suffering. After that comes Time of Need, since all the best cards are legends. Kodama of the North Tree, Meluko of the Clouded Mirror and Godo, Bandit Warlord join the party here. At first I tried to not use Godo, but I soon discovered I was kidding myself. Umezawa's Jitte is just too important. Speaking of Jitte, you can't run Jitte without men to put it on. If you don't run Jitte, you end up running Wear Away or Terashi's Grasp or otherwise looking foolish.
The missing piece of the puzzle came from someone who I shall keep nameless to protect the innocent. He noted that he liked putting Sosuke's Summons into the control deck, which was an idea I had not thought of before. It wasn't an original thought, but I hadn't seen it before or thought of it myself. With Time of Need to get Seshiro the Anointed, even random snakes threaten to end the game at any time. I made the leap quickly that it let you play Umezawa's Jitte as he was pointing out that it also lets you play Orochi Sustainer. That accelerates your mana even more, giving you a shot at casting Final Judgment and other such cards in plenty of time. With Sustainer and Tribe-Elder in the deck Summons gives you a lot of extra power. Now the deck also has uses for Umezawa's Jitte and the Dragon's Fang.
The reason the deck is based in White is that White gives you the two remaining cards that want badly to play with the big boys and that I think are better than the black options: Final Judgment and Myojin of Cleansing Fire. Final Judgment costs six mana and it is worth that and more. With this mana base getting to six mana is no big deal. Getting to eight is best described as inevitable. If you look at the Magic Online replays or otherwise keep an eye on test games, you'll notice the Green decks will normally hit eight without a problem. Why not take advantage of that? Myojin can be retrieved with Time of Need and it trumps Kokusho, Meluko and Kodama. It even trumps two of them together, making it hard for them to establish advantage since you can just put Myojin out and leave it there. Equip it with a Jitte and laugh. If you choose to use your tutors that way you'll have ten Wraths in your deck, more than half of which leave you with a good man to finish the job. Creature-based opponents, which is everyone, have a very hard time dealing with that. You have a strong answer to any creature they play other than Godo, and a good stopgap against him as well. They will often be stuck without a good response to several of your threats.
Here is the list I would strongly consider taking into battle if for some reason I had to play:
4 Umezawa's Jitte

1 Tatsumasa, the Dragon's Fang
4 Final Judgment

4 Time of Need

4 Sosuke's Summons

4 Kodama's Reach

1 Seshiro the Anointed

3 Orochi Sustainer

4 Sakura-Tribe Elder

3 Myojin of Cleansing Fire

2 Meluko the Clouded Mirror

2 Kodama of the South Tree

1 Godo, Bandit Warlord
1 Mountain

1 Island

3 Plains

7 Forest

1 Okina, Temple of the Grandfathers

3 Cloudcrest Lake

3 Tranquil Garden

4 Tendo Ice Bridge
Sideboard

1 Swamp

4 Hero's Demise

4 Cranial Extraction

3 Shizuko, Caller of Autumn

1 Hokori, Dust Drinker

2 Wear Away
Call that the "sane" version of the sideboard. Note that I'm nervous about Okina because I don't want it to mysteriously vanish against someone who needs his mana less than I do but that's probably a risk you have to take. There are too many legends to pump. The sideboard may need to include something crazy to gain large advantage like Myojin of Seeing Winds, in which case you'd swap a Forest and Cloudcrest Lake for an Island and a Tranquil Garden. The third Blue will provide itself by the time you need it. The basic play of this deck is simple: Play good Magic. Develop your mana, trade your Wraths for their threats and attack them with good men. Use your resources efficiently. It has the feel I want decks to have, that you have all the power if you figure out how to use it. It's hard not to have plenty of good stuff. The last cut in the deck was the fourth Sustainer to make room for the last land, and of course the numbers can be tinkered with. I probably am playing one Myojin more than I should and I pretty much know it. Feel free to choose another legend to take its place. I can see Godo, Yosei, Meluko or Kodama taking its place.
The sideboard lets you continue slinging the spells that matter most. If black is on call the Swamp is available and the deck is relatively easy to sideboard cards out of if you have to. The snakes are a subtheme that you can lose if a matchup calls for it, as are the wraths in others. In exchange out come some big guns. Cranial Extraction is by far the best shot at breaking up the Haze engine and other such craziness. Hero's Demise is obviously very good against the decks whose primary threats are legends. Wear Away is your general purpose answer to threats of the correct nature.
The other four slots are the Hokori department. Hokori is a serious pain in your ass. If you're untapped you'll probably be able to remove him, but you might not be untapped. At any rate he's a serious problem in need of a serious solution. There are two here. The general one is Shizuko. There will be decks out there that have little or no use for lots of extra Green mana. You have lots of good uses for that mana, so a third turn Shizuko creates a world you love. It also balances Hokori, giving you enough mana to cast things like Final Judgment or even Myojin of Cleansing Fire. Sustainer is also help against Hokori, and then you have the ultimate Hokori defense: Hokori! He's a Karate Master – you play him so you never have to look at him across the table. Sure, it means they get an untap this turn cycle and you don't. Hokori was just a pain in your ass there, as always, but he was a survivable pain. The decks that run him have no prayer of winning a long-term fight with this deck. All you need to do is earn the right to cast your spells.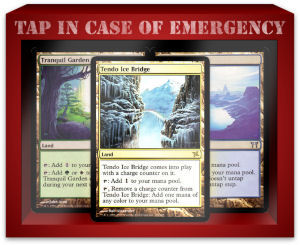 A few words here on the mana. I don't see many people using the depletion lands and I think that is a mistake. They're not ideal choices, but the format doesn't exactly give you a choice in the matter. The key is that you'll need the color from these cards once or at most twice in the game. Most of the time colorless land is fine. It is far more important to have the mana for Kodama, Meluko, Final Judgment or Myojin than to untap your lands afterwards. It also isn't all that important to keep the exact curve going. At three mana curves are important, but at five and six there's nothing too bad about going down by one land for a turn. Most games the six depletion lands won't ever tap for anything but colorless the same way it's rare to need to use Tendo Ice Bridge. They can be kept in reserve.
The limit on how many I use has a lot to do with the need for a certain number of basic lands to make Kodama's Reach and Sakura-Tribe Elder to assemble the pieces of the puzzle. The only two cards I want that the basic lands won't be able to support are Myojin of Seeing Winds, Myojin of Infinite Rage and Kokusho, the Evening Star. If you want either badly enough you can get it, and the Myojin aren't even that hard. That brings up another point, Myojin of Infinite Rage. If you wish, you can get that available the same way as the Blue one by using two Mountains. The four Tendo Ice Bridge make it highly unlikely that you will not have one by the time you hit ten, but you can throw in a few Pinecrest Ridge or (God forbid) that third Mountain to make it happen. That gives you one of the best one-two punches in the format, the Red and White Myojin together. Play the Red Myojin, use the White one, use the Red one. Aside from equipment they're probably the only two cards in play! Try to recover from that clock. It's all but impossible.
My testing of the deck was against Snakes, WW and Legends. I realize this is far from a comprehensive list, but time waits for no man. While I won't pretend to have played enough games to start quoting statistics, I am happy with all three. Your plan works. The Snakes are the most threatening of the three because of their ability to power the Summons through repeated clearings of the board, but assuming the Jitte war is a draw or better, the legends will win this fight. The deck has two weaknesses. The first is that it cannot gain life. This will be devastating if it goes up against a deck that is trying to win via direct damage. You won't be helpless, but it makes things difficult. There are a number of sideboard options for this problem. Genju of the Fields is one good answer. The other problem is that the only way for you to win is for you to attack. If someone – say a Hana Kami player – shuts down that road to victory, then you lose the game. Again the sideboard can get you out, but there are only so many slots and even that solution will be incomplete.
To summarize, I love playing this deck against normal creature decks who plan to attack you. The same goes for the Legend decks that try to play on the same level. What this deck fears is an opponent who doesn't want to play the creature game. That opponent is trouble. Full-blown Hana Kami will take more or less every game one and with proper sideboarding games two and three as well. Burn decks, be they splice decks or mono-Red attempts at Sligh, will go to the head and your only defense to that is the unreliable Jitte. The other natural enemy you face is Hokori. The sideboard can answer some of these threats, but it cannot answer all of them with only fifteen cards. You will have to choose your poison.
The alternate build of the deck that incorporates the doomsday scenarios looks like this:
4 Umezawa's Jitte

1 Tatsumasa, the Dragon's Fang
4 Final Judgment

4 Time of Need

4 Sosuke's Summons

4 Kodama's Reach

1 Seshiro the Anointed

3 Orochi Sustainer

4 Sakura-Tribe Elder

3 Myojin of Cleansing Fire

2 Meluko the Clouded Mirror

2 Kodama of the South Tree

1 Godo, Bandit Warlord
1 Mountain

2 Island

3 Plains

6 Forest

1 Okina, Temple of the Grandfathers

2 Cloudcrest Lake

4 Tranquil Garden

4 Tendo Ice Bridge
Sideboard

2 Mountain

2 Myojin of Infinite Rage

1 Godo, Bandit Warlord

4 Shizuko, Caller of Autumn

1 Hokori, Dust Drinker

4 Wear Away

1 Kodama of the South Tree
The problem there is that without Extraction you will always lose the Extraction war and if they know to name Myojin of Infinite Rage then you're not going to go home a winner. Can you get both, with the assumption that Hero's Demise is something this deck can live without? There are certainly some "I have some space" cards in that quick sideboard there, so suppose it became something like this:
Sideboard

2 Mountain

1 Swamp

4 Cranial Extraction

2 Myojin of Infinite Rage

3 Shizuko, Caller of Autumn

1 Hokori, Dust Drinker

2 Wear Away
With both Extraction and Myojin you have a chance to win the Extraction war and you force them to name Extraction on their first one if they win it, which gives you time to perhaps cast Myojin. You've given up Hero's Demise to get the Myojin and left the rest intact. A last option is to do further violence to your mana to free up an extra slot or two in the board. It comes down to knowing what is out there and knowing what will get the job done. There are five jobs that look most important: Hokori/Shizuko, Hero's Demise, Cranial Extraction, Myojin of Infinite Rage and finally Wear Away. Each requires a good chunk of your space, so at least one other than Wear Away has to be left behind. Alternatively you can wreck your mana base to free up space. What is the right answer? That's for you to figure out.
That should be a good overview. Now for the wrap-up, where I'll go over the major concepts and what became of them.
White Weenie

It seems that my testing against the White deck was abnormal because no one else reported the kinds of results I was getting. I'm going to assume for now that I got lucky and that White has more game than I was giving it credit for. It's not the worst deck, and there will certainly be some players who show with it trying to win a few matches. I don't expect it to end up anywhere near the top as it lacks the power and gives up too many of the good things in life. While it may be the best deck for abusing a Jitte, it's far from the best at making sure it has one. This deck helps keep things honest by packing Samurai of the Pale Curtain and Hokori and by beating the absolute tar out of Red.
W/R Legends

I never cared much for this deck. The advantages it gets are that it gets to come out quickly and still have a good high end. With a lot of good equipment and copies of Godo things can get out of hand quickly for the opponent. However in the end I find the quick attack not strong enough to kill people and the cards used put the deck at a long-term disadvantage. Other than Hokori, the deck doesn't seem to present any difficult problems for its competition and I don't feel that it has enough protection for it. Without Indomitable Will there are too many ways out of the problem.
Red

It has some good matchups, it has some bad ones. I didn't get a chance to talk about it, but the basic idea is to use Ishi-Ishi and Zo-Zu among other annoyances to add enough damage to the early attack that direct damage can bring it home. If Red was a major deck then people would use answers like Vital Surge and Genju of the Fields to crush it, but that can't be an option right now. The deck also has zero chance against WW. This deck is rather terrible, but in objective terms there are no decks in this block that aren't. If there's a future Auction of the People, don't bid too high on the deck that wins Philadelphia.
Black

I'm sorry, I don't buy this approach. I never did. You give up too much and get so little in return. Opponents packing the Green mana cards are going to overpower you and I have no idea how you intend to stop them. Discard can only go so far, and decks that don't have power don't win block tournaments.
Hana Kami (full version)

I dismissed it earlier this week as impractical. It's still the flower in the room, as it makes perfect sense to build a deck that will never take game one from the Hana Kami deck and will rarely win the match, but there are too many weaknesses. If someone can fix it, they're a genius, but once you add the engine and the mana there aren't enough slots left to do much of anything. All bases cannot be covered, and then there are issues like time. Two additional things help sink this deck: You're putting your fate in your opponents' hands, and you're taking away his chance to make mistakes that matter.
Hana Kami (hybrid)

I've noticed something about all the decks that are running incidental Hana Kami and Soulless Revival in their legend decks: They never use the engine. However many replays I watch, there's never any Hana Kami abuse. Sometimes they bring back a spell, but it's very rare for anyone to turn it into card advantage and almost never do they do it enough to make it worth their time. They'd be better off with other cards. It's not like Gifts Ungiven would become bad if a little imagination was used.
Legends

The deck is solid, packed with good creatures and removal but all those cards are less than cheap. That's the curse of every deck in the format, so it's not all that bad. It's hard to be more efficient in this format than trading blows from the big legends and after sideboarding they get to add some cheap flip cards that help fight those wars. There are enough strange interactions between the legends and the removal and utility creatures that it seems likely that skillful players will have a big edge when playing these decks. That's a big plus. The problem is that you're forced to build a lot of your deck defensively without much upside from your removal, both creature and Wear Away. They can strand you, you can't strand them. One suspicion I have is that at least after sideboarding the legend decks aren't using enough copies of the legends. My guess is that lack of the ability to use Jitte will be their Achilles heel.
Honden

This deck is the victim of splash damage from Umezawa's Jitte, and it requires large amounts of investment. When Honden wins, it wins big, but too many things can go wrong. There is slow and then there is slow, and even when you draw the cards you want removal can beat you. The plan of Cranial Extraction for Wear Away is cute but that's the kind of time that you do not have. I can't see a deck this draw dependant and this investment heavy getting to the top eight.
Blue Splice

If there's one big question mark for me it is whether I've missed something here. Ire of Kaminari is a very good card in the right context as is Horobi's Whisper. I kept looking at White builds with Candle's Glow, Black ones with Whisper, Green ones with Kodama's Reach and Vital Surge and everything in between. If it weren't for the widespread use of Hokori, Cranial Extraction, Kodama of the North Tree and Kokusho, the Evening Star, I would like this plan a lot more but it seems a lot like the good cards out there are designed to frustrate this strategy. You're too fragile, and there is little question that a Blue or Black player that wants your head can find a way to get it.
G/W/u(r/b) Control

As I'm sure you know I think this deck has a lot of the right stuff. In the wrong world its weaknesses become deadly, and the danger is that you're ignoring the true heart of the format by walking into Hokori and crazy engines that can shrug off your defenses and your primary plan of attack rendering your deck terrible. If things go according to plan and most decks are normal then in my book this deck becomes the favorite. There are a lot of advantages to this approach and the flaws could turn out not to matter. If the exotics show up in numbers and start winning, it will be a long day.
Snakes

Snakes are a solid deck with a lot of ways to overrun their opponents and a lot of meaningful decisions to make. Snakes also have Time of Need with a lot of good targets to deal with potential quirky opponents and the mana base to make adjustments and sideboard or even maindeck answers like Cranial Extraction. There are a lot of ways to go with the deck, and I'm getting more respect for Kodama's Reach as a card that is just too good for you not to use even with all your other mana cards. Snakes should be there at the end, and I think the deck should appeal to a lot of players.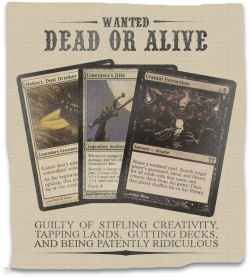 That is an impressive list of survivors! Even in the worst case, this format will almost certainly have four decks that can compete for the title and room for several more. At least three of them will offer room for variant builds and play interesting matches. To me that counts as success. As usual there are some cards that seem to be stifling creativity, in this case Umezawa's Jitte, Cranial Extraction and Hokori, Dust Drinker. The theory that putting Rising Waters on a creature would solve its problems was interesting but naïve. Cranial Extraction unfortunately tends to hurt interesting concepts more than basic ones, and Umezawa's Jitte is patently ridiculous.
I'll be back next week after the Tour with a post-tournament analysis. I'll praise those who chose wisely, slam those who chose poorly – myself included. The line I hope to write on Monday is that I have managed to nail most of a format with only minimal outside assistance or even communication and a drastically reduced testing schedule. If I'm even in the right ballpark I'll consider it at least a minor victory. I won't be there because while Boston is close enough to Philadelphia to make the trip an option, I can't justify it without being part of the coverage team (the Powers That Be likely have until Thursday to change that and make me a reasonable offer, if they so desire). Until then, I wish everyone luck at the Tour, which is the same as wishing everyone nothing at all, so perhaps I shouldn't have said anything. Hypocrites, all of you!