Welcome back to the Grand Prix Atlanta countdown blog!
Yesterday
, I showed you your travel options and places to stay this weekend at Grand
Prix Atlanta. Whether you're flying into Hartsfield-Jackson Atlanta
International Airport or packing five deep into your friend's Honda Civic,
you're one step closer to getting to the Georgia World Congress Center for
all of the festivities at Grand Prix Atlanta!
When I'm at any Magic tournament, one of my favorite things to do is try
out the local cuisine. Yes, in theory, you could eat convention center
delicacies all day, but why do that when Atlanta has such an amazing food
scene? So today, I'll be going over a few awesome restaurant options while
you're in The A.
Ebrik Coffee Room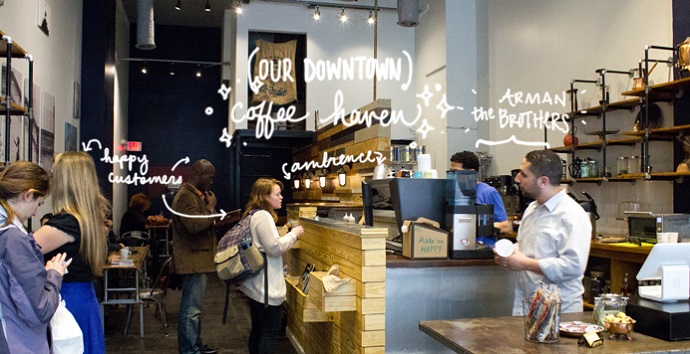 Yes, I might be starting off the Atlanta food blog with a post about a
beverage I don't drink, but I know plenty of people love their morning
caffeine, so away we go:

As soon as I took the first sip, I had to pause, hold the drink out,
stare at it a moment, shake my head, and say "Wow!" I don't know what
they did to my mocha frappe, but it was so much better than anything I
had ever ordered at [you know where] I couldn't even sip it… I
slurped it all the way down in record time, and with each slurp, I
swear I shook my head and said, "This is so good!" Will definitely be
back when I am anywhere near the area!"


Ebrik has a great selection of caffeinated beverages and local goods
from the Highland Bakery; some non-caffeinated beverages too if you opt
out

of

coffee. They also have a small selection of books to read while you
relax with your hot cup of joe. Plentiful seating with a lot of outlets
and free WiFi makes this place the perfect spot for students and other
patrons alike.

Ebrik Coffee Room is a few blocks away from the Georgia World Congress
Center, so if you've got some time between rounds, give a place not named
Starbucks a try. I'm sure you won't be disappointed.
Ammazza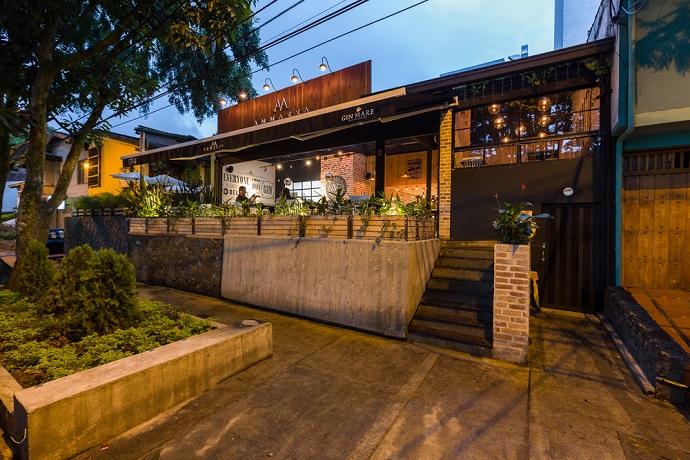 If it's pizza you want, downtown Atlanta does it surprisingly well. There
are plenty of options to choose from, but after a few conversations with
some Atlanta locals, all of them recommended Ammazza rather highly:

When creating Ammazza, we wanted to combine two of our favorite things
– pizza, beer – and put them in an open, neighborhood-friendly space
that invites people to come and go as they please. With a vast
selection of over 30 well-thought-out beers, we then set out with an
ambitious goal – to create the best pizza money could buy.


We worked with the simple truth that people recognize quality, so we
decided to create a pizza using the best ingredients. This means that
instead of limiting ourselves to Neapolitan-style or NY-style pizzas,
we felt that we had to combine the characteristics we liked from each
style to create a truly unique pizza experience.


Beginning with the dough, which is cooked in a 900-degree wood fire
oven, it includes Caputo 00 flour, fresh yeast, water, sea salt, and is
carefully prepared as we let it rise for 3 days before serving it.
Unlike true Neapolitan pizzas, we did not want to limit ourselves to
ingredients that come from a single region in Italy. Though these can
yield a great pizza, we found that in order to reach our goal, we had
to admit that there were more fresh and more flavorful ingredients from
other regions of the world, especially in our own back yard! As a
result, we make our own fresh mozzarella daily, source vegetables from
regional farms, and use meats cured and prepared by the Spotted Trotter
in Kirkwood. All this allows us to offer a pizza that is robust in
local flavors that is unique to our very own region.

If you're like me, you're gonna be up late each day at the GP. Fortunately,
so will Ammazza, as they're open until midnight on Friday and Saturday and
only a thirteen-minute Uber away from the Georgia World Congress Center. So
get out there and try the

[card name="Inferno"]Inferno
[/card]
with sopressata and peppers or the Ammazzare with Italian sausage and
Vidalia onions and thank me later.
View Ammazza's beer menu here
and food menu here.
The Vortex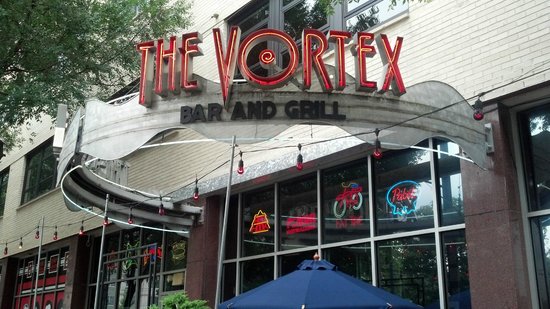 Honored with "Best Burger" awards by both local and national publications,
this family-owned restaurant has a great menu and a unique sense of humor:

Since their ultimate goal was to have fun at work, they declared The
Vortex an "Official Idiot-Free Zone." The siblings simply refused to
tolerate bad behavior from rude or demanding customers. People who
annoyed them were regularly tossed out of their bar, often physically.
This garnered them a certain degree of notoriety for their
unconventional approach to customer service. Their big personalities
and offbeat sense of humor became hallmarks of the new bar. They had
succeeded in creating a cool, secret hideout for themselves. They were
having fun, and the business prospered.


We have never taken ourselves too seriously. We don't think anyone
should. We just want to hang-out with cool people. So on the day we
encountered our first rude customer, we decided to take on the
challenge of educating people about how to behave in public. More
precisely, how to behave in our bar. We began by compiling a set of
"House Rules." Every time we ran across somebody who acted like a great
big jerk, we'd add another rule to the list. We eventually titled this
compilation of rules, "Stuff You Really Need To Know," and printed it
on the cover of our menu.

Good food and a sense of humor? I can't sign up fast enough! All kidding
aside, The Vortex is recommended by many, is only a few minutes away from
the Grand Prix, has award winning food, and is open until 3:00am on Friday
and Saturday. What's not to love?

View The Vortex's food menu here.
Delia's Chicken Sausage Stand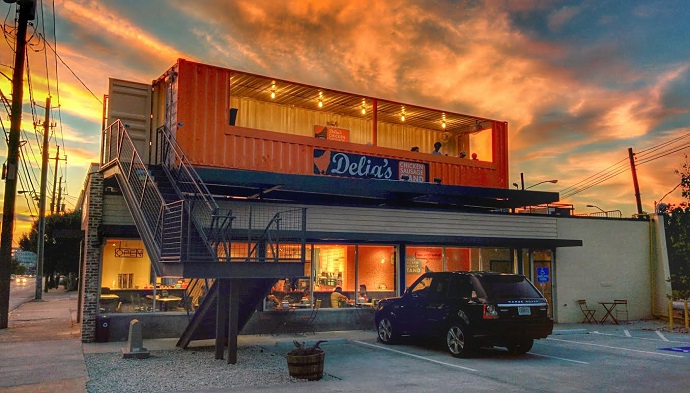 This is a pork-free zone, my friends. And if you're familiar with chicken
sausage, that's totally okay! But if you're looking for a Krispy Kreme
donut with your chicken sausage patty, you're somehow in luck:

At Delia's Chicken Sausage Stand, owner Delia Champion has perfected
her sausage recipe over the last fifteen years. The organic,
hormone-free, preservative-free chicken sausage provides a more
flavorful, healthier alternative to fast food. All dishes are prepared
with care…from scratch…and presented in a fun and memorable manner –
100% Goodness is guaranteed with each bite! Visit Delia's Chicken
Sausage Stand to enjoy a "Slinger," a delicious handcrafted chicken
sausage link on a hoagie. Or try a Slider… our signature Chicken
Sausage patty on a soft bun. For the And for those who dare…try our
famous "Double D Delight", made with a grilled Krispy Kreme donut,
cherry cream cheese and chicken sausage patty. It's so cluckin' good.

I'm not sure I can handle the Double D Delight, but if you can, Delia's
Chicken Sausage Stand is open 24 hours on weekends. Happen to be
vegetarian? Not a problem! You can make any slinger or slider
vegetarian-friendly. All you have to do is tell them to cluck off (their
words, not mine)!
View the Delia's Chicken Sausage Stand food menu here.
Sweet Georgia's Juke Joint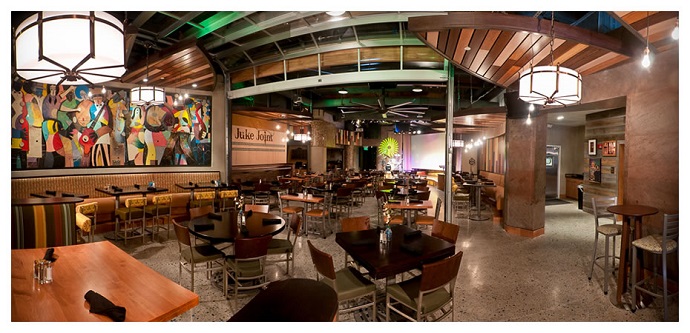 During my numerous trips to Atlanta for the SCG Tour, there's one place I
always look forward to and this trip for GP Atlanta will be no different:

Juke Joint brings a much needed new dining option to Peachtree Street
and Atlanta's downtown corridor. The wide array of offerings begin with
"Snacks to Start," such as Crispy Crawfish Tails (masa crisped with
corn nibblers and sun-kissed citron tomato jam), the Southern Starter
(fried green tomatoes, crispy vidalia onions and fried okra, topped
with herbed goat cheese and red pepper aioli), and our Freshwater Rock
Shrimp + Lump Crab Cake (fresh lump crab meat and rock shrimp with
coleslaw, sweet apple corn relish and jalapeo tartar sauce) are
crowd-pleasing favorites. Alongside a variety of soups, salads, and
signature sandwiches, the Juke Joint menu also features a
mouth-watering "Plates" section. Indulge in selections such as Smoked
Sliced Beef Brisket (served with seasoned steak fries), Peach Glazed
Alaskan Grilled Salmon (grilled and glazed with caramelized peaches and
served over garlic mashed potatoes), and a St. Louis Pork Rib Rack
(hickory smoked, grilled and glazed with our signature barbecue sauce,
served with seasoned steak fries) amongst others. Lunchtime diners can
choose from an abbreviated list of midday plates to satiate their
appetites.

What that anecdote unfortunately leaves out is the fantastic live music
they have playing while you enjoy your meal. You haven't lived until you've
seen

Patrick Sullivan

start dancing to a cover of Bruno Mars's "Uptown Funk" – trust me. I cannot
recommend Sweet Georgia's Juke Joint highly enough, and if you head there
during your time in Atlanta, you'll very likely see me there.
View Sweet Georgia's Juke Joint's food and drink menu

here

.
CheeseCaked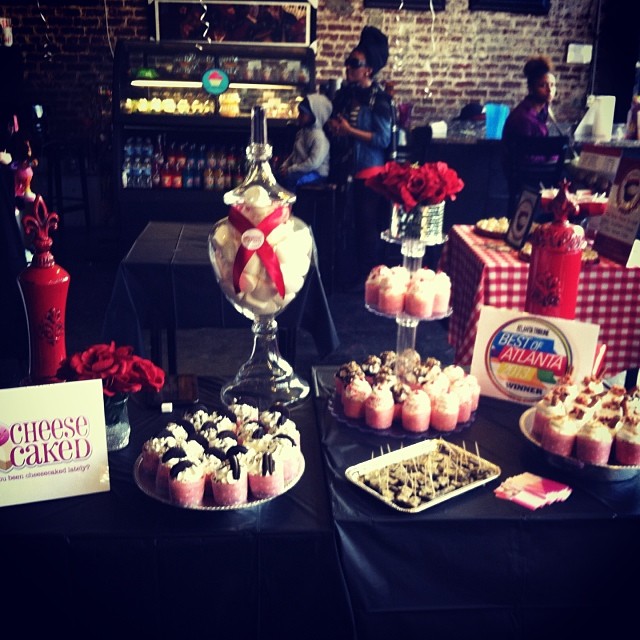 Not to be confused with the terrible U/R Mirrodin Block Constructed deck
CheeseQuake from 2004, CheeseCaked is your best option for a unique dessert
option that's very close to the GP:

CheeseCaked specializes in turning your favorite desserts into amazing
cheesecake flavors. We specialize in flavors such as White Chocolate,
Raspberry Swirl, Caramel Apple Pie, Peanut Butter, Red Velvet, Pink
Lemonade and many more.


It all started with grandma's sweet potato cheesecake and her secrets
to successful baking. During those precious moments, Shawn Brown
discovered her natural artistic ability to revitalize a simple
cheesecake recipe. Thus forming CheeseCaked; a gourmet cheesecake
boutique selling a variety of personal sized cheese cakes in an
assortment of flavors.


CheeseCaked has added imagination and extra love from the generation
recipes. Healthy eating is a big part of the CheeseCaked brand, which
is why we are devoted to creating a variety of options for the weight
conscious customer. We also provide sugar free and vegan products.

And in case you don't believe me about CheeseQuake being a U/R Mirrodin
Block Constructed deck from 2004, here's further proof that I've played far
too much Magic over the last fifteen years:
Creatures (12)
Lands (24) View CheeseCaked's food menu here.
Now that you know more about how to make your belly happy, you're all set
for Grand Prix Atlanta! Tomorrow's final entry into the Grand Prix Atlanta
countdown blog will have a few miscellaneous news items and notes to help
prepare you for one heck of a weekend. See ya then!
Previous Grand Prix Atlanta Blogs