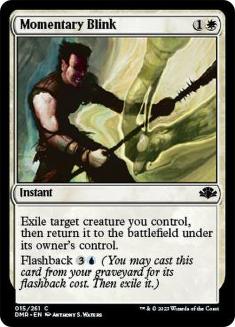 Momentary Blink is a bit of a special card in Magic history. It's rare a card hits on the intersection of actually powerful and broadly loved the way Momentary Blink has. People like blinking stuff. They play creatures with enters-the-battlefield triggers because they like getting the value there, and they like getting that value again. But one Flicker isn't enough by itself, and as we have seen with Yorion, Sky Nomad, there's a limit where it's way too much and boring. Momentary Blink kinda slides right in the middle there and makes a pretty perfect card.
Innistrad: Midnight Hunt tries to reclaim most of that design spark with Hallowed Respite, a card easily shortcutted to Momentary Blink with some nice extra quirks. But wait, there's more. Croaking Counterpart may as well be Hallowed Respite. Once you think about the fact you have to target the initial creature and not the Frog token on a flashback, the two cards look more similar. A 1/1 Frog is a bit more than a +1/+1 counter, warranting the increased cost, but you still get those all important triggers.
What kind of nonsense can we get up to with these two powerful triggered ability enablers?