Earlier today, Wizards of the Coast (WotC) published a product overview for all the varying packs, bundles, and precons available for Kaldheim. Check out all the different ways you can enjoy the new set.
Set Boosters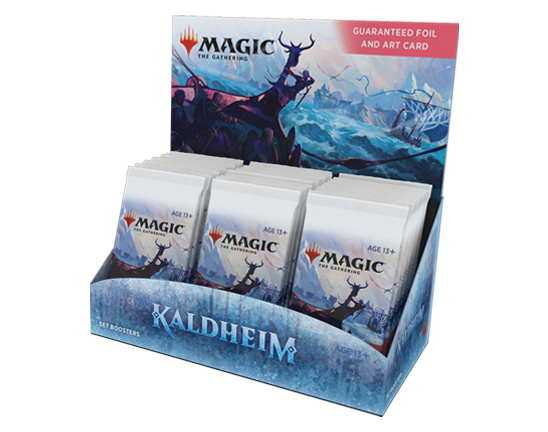 Set Boosters are back making their second appearance following their debut in Zendikar Rising. Set Boosters are meant for cracking and offer the best opening experience. Set Boosters and Theme Boosters will contain twenty (20) new and Standard-legal
cards (though they are aimed at casual play) that will only be available in Set and Theme Boosters. See the Set and Theme Booster specific cards here.
Set Boosters contain twelve (12) cards along with an art card and a token/ad/mini game card/chance at a card from The List. Displays of Set Boosters include 30 packs. The full breakdown of what comes in a Set Boosters is listed below:
1 Snow land (basic or dual land, possibly foil)
1 Rare or mythic rare (can be showcase or borderless)
1 Snow common or uncommon, showcase uncommon, or exclusive rare (see below)
1 Foil card of any rarity (can be showcase or borderless)
1 Non-foil card of any rarity (can be showcase or borderless)
7 Commons and uncommons
1 Art card (1 in 20 are foil-stamped)
1 Ad card or card from The List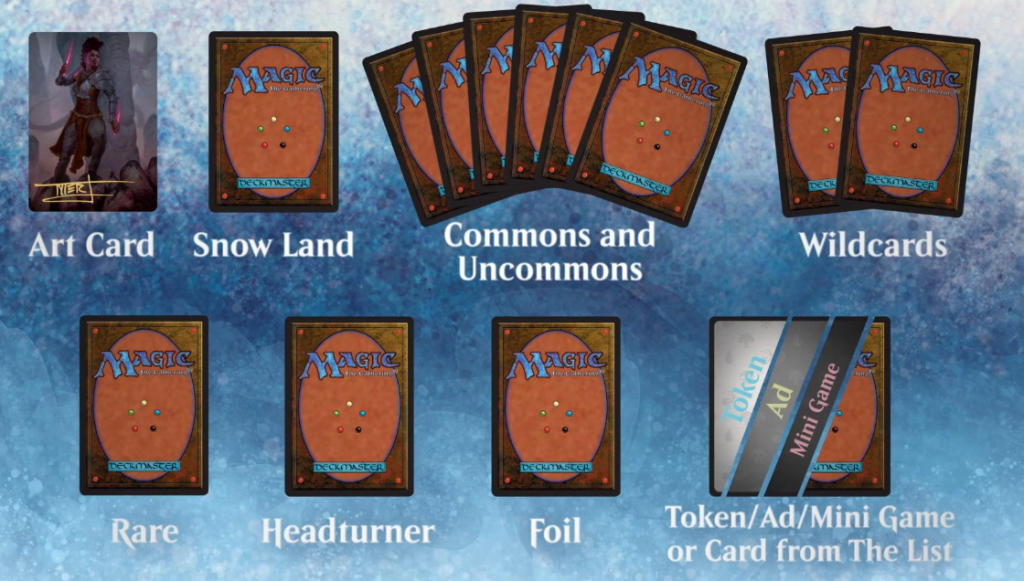 Draft Boosters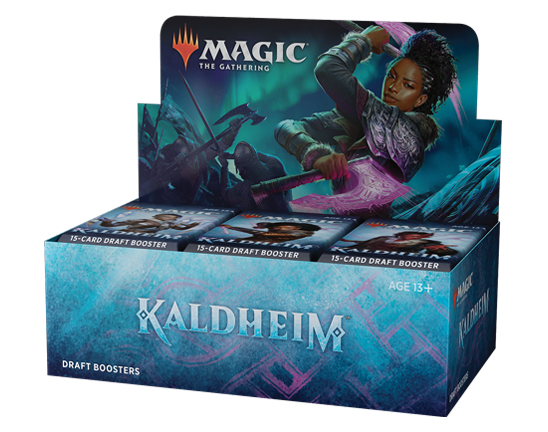 Draft Boosters packs remain the same and are still the best way to play Limited. Kaldheim Draft Boosters have a chance at containing borderless or showcase cards. Draft Boosters have fifteen (15) cards and come in displays of 36 packs. Foil Buy-A-Box promos might be available at your local game store with the purchase of a Draft Booster display box.
Collector Boosters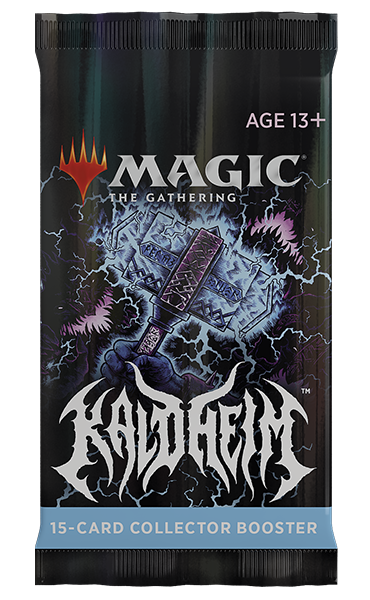 Collector Boosters return again as the best way to find those flashy and most-rare versions of cards from the set. They include the chance at cards like borderless planeswalkers, foil and non-foil showcase cards, guaranteed foil, and guaranteed alternate frame cards. Collector Boosters contain fifteen (15) cards and come in displays of twelve (12) packs. Their full pack breakdown is listed below:
5 Foil common or snow dual land
2 Foil uncommon
1 Foil showcase, foil borderless, or foil extended-art rare or mythic rare
1 Non-foil showcase or borderless rare or mythic rare
1 Foil rare or mythic rare
1 Non-foil extended-art rare or mythic rare
1 Non-foil rare Saga, rare or mythic rare Commander deck card, or Set/Theme Booster rare
1 Foil showcase uncommon
1 Non-foil showcase uncommon
1 Foil snow basic land
1 Foil double-sided token
Theme Boosters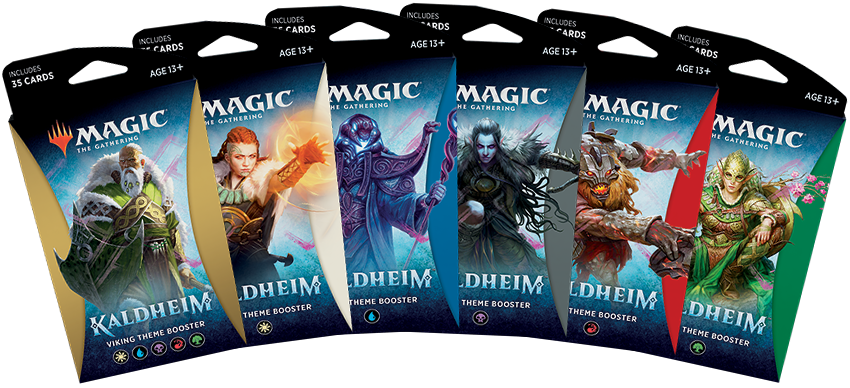 Theme Boosters are designed and aimed at new and casual players, providing plenty of cards in certain colors of archetypes. Six different packs are available and contain 33-34 uncommon/common cards and 1-2 rares or mythics, including chances at the cards only available in Set or Theme Boosters.
Commander Precons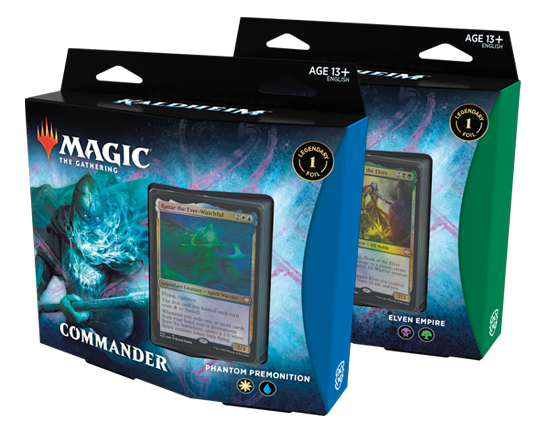 Kaldheim has two new Commander preconstructed decks, each containing 100 cards, including eight (8) new cards in each deck. Both decks have a foil commander, ten (10) double-sided tokens, and a life wheel. The Golgari deck is named Elven Empire and the Azorius deck is named Phantom Premonition.
Kaldheim Bundle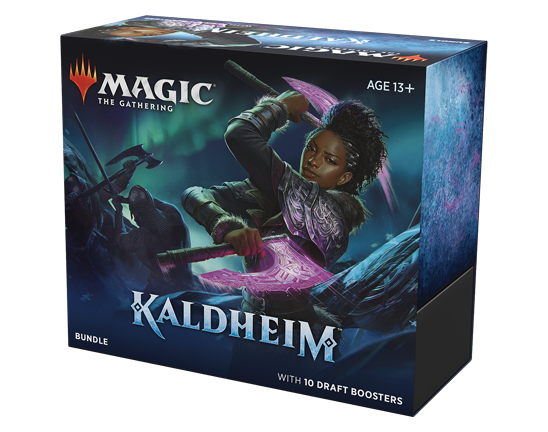 The bundle comes with ten (10) packs and bunch of extras. Bundles are designed as great gifts or as a way to get a bunch of cards to get an idea of the set. The full bundle breakdown is listed below:
10 Draft Boosters
20 Foil basic lands (not snow)
20 Non-foil basic lands (not snow)
1 Bundle-exclusive alt-art promo
1 Bundle-exclusive oversized spindown
1 Card storage box
Prerelease Pack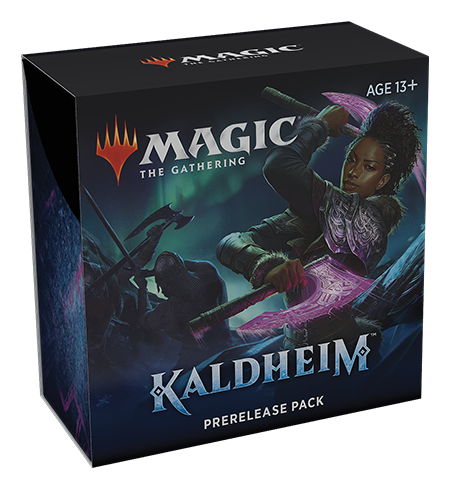 The Prerelease Pack is back and contains all the usual suspects for a great experience of opening and playing the set for the first time. While most stores are still not able to run Prerelease events yet, packs can be purchased and played with at home or online with friends. The Prerelease pack contents are listed below:
6 Draft Boosters
1 Foil date-stamped rare or mythic rare
1 MTG Arena code card
1 Spindown
1 Reusable box with divider
Which product are you looking to pick up or open first?
Kaldheim is currently scheduled to release on February 5. You can check out our official Kaldheim Preview Gallery here.